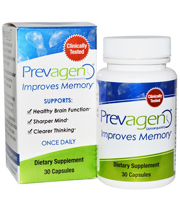 AVG Rating: 8.3/10
The major FTC lawsuit and lack of sufficient studies for their key major ingredient prevents this from being a top rated nootropic. There are some major unresolved issues which show how lacking this is. Check out the table of contents for more information.
Read our analyses of the top 10 rated nootropics in this quick and easy guide.
Prevagen Overview
Prevagen uses a single main active ingredient which is intended to reduce "mild memory problems" which are caused by aging. This unique ingredient has been tested in studies paid for by the company, but it's lacking sufficient 3rd party reviews.
All that's required is a single capsule in the morning, and with this it's meant to provide support.
The company is Quincy Biosciences and they have been established for 13 years now, they're a Wisconsin based company which offers their brand in many different retail stores.
Prevagen Claims
Their explanation for what it can offer is simple and clear, it's meant to reduce the trouble caused by aging. This includes supporting memory and reducing cognitive impairment but only if it's mild. This is supposed to help with thinking and overall brain function to put it simply.
There isn't much else though they do link to three separate studies, two of which were for safety.
For improved mental clarity and mood support we recommend checking out the top 10 nootropic list.
Prevagen Ingredients
Depending on the specific version, there's varying amounts of the main ingredient with a nutrient added:
Apoaequorin is a protein found in jellyfish which has nutrients and amino acids within it. It's been used to help support mental function. This is lacking research however, and it may lead to side effects.
Vitamin D is an important vitamin which affects mood and sleep.
We linked a full guide of our compiled research which shows the top 10 nootropics.
The Science Behind Prevagen
There are some studies that the company provides but t's important to notice that these were paid for by them, which may mean there's bias.
If we look at Web MD for example, it's clear that he main active ingredient Apoaquorin is lacking studies. This is regarded as lacking studies to showcase if it's safe to use. They also add how it may cause side effects such as:
"headache, dizziness, and nausea"
Other symptoms may be more dangerous such as heart or nervous system issues. The major point is that the information about the use of this ingredient is lacking, therefore it's impossible to say if it's actually going to work, or if it's safe to use.
This is exactly why the FTC has targeted the company for making what they alleged was:
"deceptive memory, cognitive improvement claims"
They have tried twice now to stop the company from making these kinds of claims, and it was voted on unanimously at 2-0. Because of the ongoing nature of this suit, it's impossible to know what may happen in the future, and whether or not the company will be forced to change their claims.
More information is provided in this guide that provides the top 10 nootropics.
Word on the Street About Prevagen
The mixed reviews made it clear that people often saw it wasn't as good as it was claimed. There were some side effects and no benefits of any kind in some experiences. People had the following to say:
"it's a risk I am not willing to take"
"Side effects were completely bad"
'"this dangerous ingredient has caused heart issues"
"took some time but I think it delivered"
We examined in detail all the best available nootropic supplements currently sold.
Is Prevagen Worth a Try?
Because of the mixed reviews, FTC lawsuit, and the questionable main ingredient, it's hard to see much value in this. There is a lot of concern about both the effectiveness and safety of this formula, and it's clear the science is lacking.
It's because of this controversy that the FTC has decided to target them for false advertising claims. We highly recommend waiting to see the results of this before considering this supplement. Even as such, the main active ingredient is poorly studied and lacking real proof.
Read about your best available options when it comes to nootropic benefits.
Prevagen vs Procera
Procera comes in many different versions and their basic formula has a proprietary blend in Procera has three active ingredients including two plant extracts and an amino acid. Vinpocetine can be useful but it also has the possibility for side effects. The same can be said for Huperzine A, which also has serious potential dangerous include reduced heart rate and involuntary contractions.
Prevagen vs Alpha Brain
Alpha Brain is a nootropic which uses clinically studied ingredients including the useful Bacopa Monnieri and certain amino acids. There's been a lot of debate from users about the actual likely effects and whether or not the positive experiences are placebo based.
The division is clear wit the current 600 critical reviews on Amazon and 739 positive experiences.
Prevagen vs Cognium
Cognium is used for bran health and features just a single active ingredient. It's supposed to deliver effects within a 4 week period, and it's all-natural.
wsbarberschool.com/wp-content/languages/new/read-book-online.html

The sole active ingredient is a silk protein made by silkworm cocoon which is rich in amino acids.
Despite this unique ingredients addition, it has not been positively received by all. Customers often said it did nothing and that while it didn't cause side effects, they saw no benefits.
Prevagen vs Adderall
Adderall is a prescription drug made solely to help improve hyperactivity and a lack of control. This is only available if a doctor prescribes it and as such, is only intended for certain people who have serious disorders.
wsbarberschool.com/wp-content/languages/new/essays-online-to-read.html

There are some dangerous potential side effects which can result from even recommended dosage strength levels, and it is banned by many athletic groups because of it. Side effects can be very dangerous as it can affect the brain and body.
Prevagen vs Cebria
Cebria was made specially to target memory loss cause by aging. They mention how this can start to take a toll once people hit 5, and there's a possibility for losing 50% of memory by 50.
The ingredients are fairly simple in that a lot of it is amino acids which are found naturally in food. There's also 10,000% vitamin B12, 1,000% vitamin B6, and 200% folic acid which is a seriously high amount. Also included is unnecessary blue food coloring which may be dangerous and which is also not helpful in any way. Reviews were mixed and on Amazon it's split down the middle with some enjoying it and others claiming it did nothing.
Prevagen FAQ
What are some common Prevagen reviews?
It ranged from side effects, improvements in cognition, a lack of effects, and mild benefits which may be placebo according to users.
Is there a Prevagen Wiki page?
No, but they are mentioned in the Aequorin Wiki page.
What are the Prevagen ingredients?
The basic formula includes the sole active ingredient apoaequorin.
Can I get Prevagen at Walmart?
Yes they offer it at Walmart.
Is there a Prevagen Amazon page?
Yes, all versions of this are featured there.
Can I get Prevagen in Canada?
Since it's offered online there is shipping to Canada and some stores do carry it.
wsbarberschool.com/wp-content/languages/new/college-essay-writing-service.html

Is Prevagen sold at CVS?
Yes it's available at CVS.
What is the current Prevagen price?
Their regular strength 30 count bottle is sold at $34.99 on Amazon.
What happened with the Prevagen class action lawsuit?
The FTC filed against them in 2023 and it appears it's ongoing.
Where to buy Prevagen?
Many websites and stores offer it including Amazon, Walmart, CVS, GNC, and many other locations.
What are common Prevagen side effects?
Some experienced memory loss, dyslexia, and general unease.
What happened with the Prevagen lawsuit?
Because of exaggerated health claims the FTC targeted them for possible unproven claims.
Is there info about Prevagen on WebMD?
Not at this time.
What's there to know about Prevagen and jellyfish?
This is the sole active ingredient used in their formula and it's a unique extract used for general brain health.
Is Prevagen sold at Costco?
It's not sold at Costco.
So What Really Works?
The brand we most preferred for nootropic support is the supplement known as Memotenz.  This has ingredients which are backed by numerous 3rd party studies which where not paid for by the company. There's also a lot of positive feedback from customers who saw real changes to their mood, attention span, memory formation, and general cognitive health.
There are only ingredients in this which are backed by years of studies which show their reliability. The price is also reasonable and there is nothing in this which can lead to dependence. We recommend looking at their website or reading our review to learn about what Memotenz has to offer for cognitive health.
Click the link for a full review of the highest rated nootropic supplements currently out.