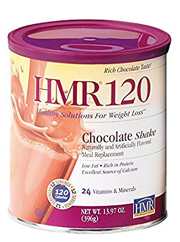 AVG Rating: 2.7/10
Your health is the most important thing you have. That's why you should be extra careful about what you put into it. Why? Even when diet products such as shakes claim that they're healthy, that doesn't always mean that they are. Despite having nutrients like protein, fiber, and vitamins, they could still be full of things that could make you feel ill. Moreover, the ingredients in the shake might be less effective than other alternatives. That's why we're going in-depth today to learn about the ingredients in one shake that's been popular in web browser searches recently.
Check out this brand-new list of the Top Ten best shakes for weight loss.
HMR Shakes Overview
HMR Shakes are diet shakes intended to be used as a part of a weight loss regimen run by HMR, the company that makes them. They come in a few flavors, including chocolate and vanilla. While they're usually available from the HMR company as a part of their diet packages (which run up to $300 for three weeks of shakes, meals, and supplements), the shakes can be found on their own. Each box of packets (18 total) costs about $44.25, which breaks down to about $2.40 per shake.
HMR Shakes is made by HMR , a diet product company that's a part of Merck, a large international pharmaceutical company. HMR itself appears to have a pretty good reputation, with no real outstanding customer service problems or lawsuits pending. Their parent company Merck, on the other hand, has run into trouble several times in the past few decades for offenses ranging from funding a fake medical journal to promote their products, using cancer-causing ingredients, and Medicaid fraud.
Click here for the finest nutritional shakes on the market.
HMR Shakes Claims
HMR Shakes are supposed to be quality, healthy, effective shake to use either as a meal replacement or as a snack. The product contains no gluten, and comes not only with protein, but also carbs, minerals, and vitamins. On the diet plan the company has, the shakes are supposed to lead to weight loss when used as a replacement for a full meal.
Click here to read about the Top 10 diet shakes.
HMR Shakes Ingredients
HMR Shakes has a large list of ingredients, which include the following:
Fructose
Xanthan gum
Corn syrup solids
Cellulose gum
Calcium caseinate
Calcium caseinate is the main source of protein in this shake mix, made from milk products. Fructose is a fruit-derived sugar used as a sweetener, but it's associated with inducing higher appetites and putting on weight (Yale Medical School). Xanthan gum is a thickener, and it comes with potential side effects like flatulence and bloating (WebMD).
Corn syrup solids are corn-derived sweeteners used in processed foods, which have been associated not only with diabetes, but obesity as well (Nutricentre).
Check out this link for our list of the best diet shakes on the market.
The Science Behind HMR Shakes
The idea behind this shake seems to be to provide a large amount of protein (16g) in a comparatively low-calorie format (170 calories per shake). By using a shake as a meal replacement, you're taking in fewer calories than you would have with a higher-calorie meal, and a caloric deficit over time will lead to weight loss.
While there's a decent amount of protein in this product, there are a number of problems. In addition to the fact that it contains several sweeteners and artificial ingredients (which could cause side effects), they contain little to no fiber (0-2g). Fiber is an important part of a weight loss regimen as it helps the body to feel fuller and not desire to snack as much, and so it's sad that it was left out. Most other meal replacement shakes contain it.
There's also a large amount of sugar – around 19g – per shake, which adds extra calories and could cause food cravings due to a radical flux in blood sugar levels.
These are the best shakes for meal replacement and diets.
Word on the Street About HMR Shakes
We checked out Amazon for customer reviews, and not all of them were positive.
"I've managed to keep the weight off with these shakes" said one, while others said "they're delicious" and "tastes like ice cream."
Other customers said "there's way too much sugar" and "doesn't keep you full." Another customer said they "didn't like the taste."
These are the best shakes for meal replacement.
Is HMR Shakes Worth Trying?
There are a couple problems with this shake. Not only does it contain artificial binders and thickeners that can cause side effects, there are lots and lots of sweeteners in it as well. They contain up to 19g of sugar per shake, which is almost the daily recommended sugar limit for adult women (25g) – making this one of the sugariest shakes we've ever reviewed. Too much sugar can keep you from hitting your weight loss goals, and we wouldn't recommend any diet product that has that much sugar in it. They also have almost no fiber, meaning it is less likely to satisfy you and keep you full so that you don't feel tempted to snack or overeat later.
Overall, these shakes don't impress us. We wouldn't use them.
Click here for our new list of the Top 10 best shakes for losing weight.
HMR Shakes vs Shakeology
These products are both meant as meal replacement shakes. They're about the same calorie-wise (~167-170), but HMR Shakes contain way more sugar than Shakeology. Shakeology also has more fiber and protein. Shakeology uses stevia and organic cane sugar, while HMR uses corn-based sweeteners and fructose. Shakeology includes more nutrients than HMR, but that leads us to the next big difference: the price. HMR Shakes cost about $45 for 18 servings, while Shakeology costs $130 for 30 servings, making Shakeology way more expensive, although you're technically getting more.
HMR Shakes vs Slim Fast
These products are very similar. Both are meant to replace meals as part of a fitness regimen. Slim Fast is much cheaper than HMR, coming in around $12 for 12 servings, while HMR costs $45 for 18 servings. Slim Fast contains less protein (12g) than HMR (~17), but its mix has almost no sugar (<1g), while HMR contains almost 19g of sugar per serving. Both can be purchased online, but Slim Fast can also be bought commonly in stores, making it more widespread.
Frequently Asked Questions
Do you know where to buy HMR Shakes?
You can buy it at the HMR website, Amazon, and Ebay.
Where can I read a review of HMR Shakes?
You can find them on Amazon, or you can read reviews by affiliate marketers.
How good is the nutrition information for HMR Shakes?
The nutrition is okay, but it contains lots of sugar and almost no fiber, which is a big negative in our book.
What are the ingredients in HMR Shakes?
They include milk products, vitamin and mineral supplements, milk-based protein, fructose, and xanthan gum.
Can I buy HMR Shakes on Amazon?
Yes, you can buy several different varieties.
Are there recipes for using with HMR Shakes?
Yes, the company offers a few of them.
Where do I find HMR Shakes for sale?
HMR's official website, Amazon, and Ebay.
What are HMR 800 Shakes?
That's one of their diet shake versions. It contains a slightly different nutritional profile than HMR 120 and 500.
Click here for our list of the best weight loss shakes.
So What Really Works?
We've looked at tons of different kinds of weight loss shakes, but the best one by far is 18Shake. It is made from natural ingredients and has no artificial flavors or ingredients, so you don't have to worry about side effects. It's also low in sugar. This shake is made in a cGMP-qualified lab that surpasses standards of product quality, so you know you can trust that it'll be a quality shake.
The company also offers a money-back guarantee to maintain customer satisfaction.
For more about 18Shake, our pick for the best weight loss shake, click here.