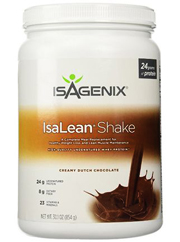 AVG Rating: 2.9/10
A meal replacement shake powder that is extremely expensive compared to other similar products and has produced many complaints about its taste. Read our full breakdown of IsaLean to find out if it delivers on its claims or falls short.
Click here to get informed about the top 10 meal replacement shakes that are available now.
IsaLean Overview
IsaLean is a meal replacement shake that is designed to promote healthy weight loss and assist in the building of lean muscles. There are 24 grams of protein in each serving, along with 8 grams of fiber, and 23 different vitamins and minerals. It is also sold in four different flavors – chocolate mint, creamy Dutch chocolate, vanilla, and strawberry cream.
The manufacturer behind the product is a company named Isagenix, based out of Gilbert, Arizona. The company has received several complaints regarding their money back guarantee that supposedly was not honored.
jaymorrisonacademy.com/wp-content/languages/new/algebra-homework-help.html

The product is sold in jars containing about 14 servings of the powder, and users are advised to add two scoops to about 8-counces of water.
Find out which meal replacement shakes made our top 10 list for 2023 through this link.
IsaLean Claims
The benefits of IsaLean are laid out clearly through the product website. The main claim is that it can help to achieve weight loss goals because of its low-glycemic formula and high amounts of protein. They also claim that the protein is beneficial for those who are looking to build lean muscle. Their final claim is that the amount of vitamins and minerals will help the user to stay active by nourishing their body.
All of these claims are fairly regular for a meal replacement shake, and they do not go into very much detail to help separate itself from the competition. There is a distinct lack of in-depth information to assist the user understanding why they should dedicate their money to this product over the many other choices.
Learn about some of the other meal replacement options through our top 10 list here.
IsaLean Ingredients
The formula for IsaLean shakes can vary somewhat based on their flavor, but they are essentially the same. Their site provides the nutritional facts for each of the flavors, which provides some specific dosage information, so users can be informed regarding what they are putting into their bodies. Here are the ingredients included in IsaLean:
Whey Protein Concentrate
Milk Protein Concentrate
Fructose
Sunflower Oil Powder
Xanthan Gum
Olive Oil Powder
Vitamins and Minerals
Lactase
Bromelain
Apple Juice Powder
Yucca Root Powder
Niacin
Folic Acid
While we do support the use of whey protein concentrate in the formula, there are some other ingredients that concern us. Specifically, milk protein concentrate is a cheaper extract of milk that is not always thoroughly checked for safety and can increase the chances of side effects occurring because it does not always kill toxins such as melamine. Additionally, fructose is a sweetener that can actually increase your appetite, while leading to issues such as headaches and increased fat storage.
Avoid negative side effects by learning about the top 10 meal replacement shakes that are now available.
The Science Behind IsaLean
Unfortunately, while the website for IsaLean makes several scientific-sounding claims regarding their product, they do not provide much in the way of scientific or clinical information to support said claims. They state that the product features a "superior branched-chain amino acid profile", but they do not explain exactly what that means or the benefit that it will provide to users.
Furthermore, while there is information made available regarding what goes into the powder, they do not offer up any studies or testing to support how it performs or demonstrate the benefit that users can expect.
jaymorrisonacademy.com/wp-content/languages/new/help-writing-essay.html

Follow this link to educate yourself about the best options for meal replacements that are available now.
Word on the Street About IsaLean
IsaLean is sold through a variety of retailers online, which provide an ample amount of objective consumer reviews regarding the product. This includes the product Amazon page, which features over 500 reviews currently. We found that there were several complaints regarding not just the effectiveness, but the taste, and the price.
jaymorrisonacademy.com/wp-content/languages/new/best-rated-resume-writing-services.html

As we mentioned, the product is sold in four different flavors, but none of them seemed to appeal to many users. As one customer stated: "It was far too thick. At first the flavor wasn't bad, but there is a very bitter aftertaste, and I wasn't able to finish it. Overall, a waste of money." Another customer had an issue getting the powder to mix: "It clumps together even when you mix it in a blender and tastes like cardboard."
If taste is one of the most important factors in a meal replacement shake, check out our top 10 list here.
Is IsaLean Worth a Try?
Because of the consistent complaints regarding the taste and consistency of the product, as well as the high price compared to other meal replacements, we suggest you skip IsaLean. Based on the user reviews that we saw, it seemed that a large amount of users didn't even get to the point of being able to tell if the product works or not, because they could not stomach the taste and had issues getting the powder to blend with the water.
Furthermore, each jar of IsaLean only contains 14 servings, which, depending on how often the user takes the product, will only last between one to two weeks. Consider that each jar costs over $50 before shipping and handling, and that means that users could be paying hundreds of dollars a month to use IsaLean consistently, which is frankly ridiculous.
Discover a cheaper and more affordable meal replacement option, through our new top 10 list.
IsaLean vs Shakeology
Shakeology are meal replacement shake powders that come in a variety of flavors. Like IsaLean, Shakeology uses fructose in its formula, which can lead to increased fat storage and weight gain. There is less protein that is offered by Shakeology compared to IsaLean, and shockingly, the price for Shakeology is actually higher.
IsaLean vs SlimFast
SlimFast is a popular brand of weight loss products, most notably their meal replacement shakes. They are comparable to IsaLean in the amount of protein along with the vitamins and minerals that they provide in each serving, but SlimFast is far more affordable than IsaLean and has received better consumer reviews regarding its taste.
IsaLean FAQ
Are nutrition facts for the product shared?
Yes, the nutrition facts label is shared through the product website.
Is IsaLean dairy free?
No, the product contains several different dairy products.
How have the user reviews for IsaLean been?
For the most part, user reviews for IsaLean have been negative and complained about the taste.
Where is the best place to buy IsaLean?
It is available through its own website, as well as other retailers like Amazon.
How much is a month's supply of IsaLean?
Each jar only last two weeks at the most, so a month's supply would cost over $100.
Is IsaLean sold in retail stores?
Yes, IsaLean is available in some retail stores.
What are the primary ingredients in IsaLean?
There are a long list of ingredients used in IsaLean, which is posted on their website.
Find out which meal replacement shakes taste the best through our top 10 list.
So What Really Works?
Weight loss does not have to be such a difficult and frustrating endeavor if you are able to find a meal replacement shake that tastes good and provides results. Unfortunately, there are not many options that really work when it comes weight loss shakes, which is why we are happy to inform you about 18Shake. It is a powdered meal replacement that comes in too delicious flavors – chocolate and vanilla – and is just 90 calories per serving.
It is able to achieve results using a natural, effective blend of ingredients, all of which are formulated to help reduce hunger, provide a good source of protein, and taste great. Additionally, it can also provide a boost in energy and includes 18 vitamins and minerals to improve overall wellness.
Learn all there is to know about 18Shake and what it can do for you through the official website here.