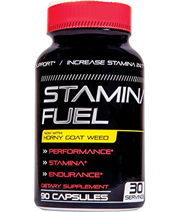 AVG Rating: 3.6/10
A supplement that claims to improve sexual performance and stamina levels, but may use fake reviews to sell their product and use some troubling ingredients. To find out if the supplement can provide benefits that mitigate its weaknesses, then read on. Just start by scrolling down a little bit and clicking on the table of contents.
Inform yourself about the best male enhancement supplements that are currently available by following this link and viewing a top 10 list.
Stamina Fuel Overview
Stamina Fuel is a male enhancement product that is designed to increase stamina, both sexual and athletic performance, and endurance. It aims to achieve these benefits by increasing testosterone and nitric oxide. The increase in nitric oxide is intended to improve blood flow throughout the body, which can allow for bigger, stronger erections, and more nutrients being delivered where they are needed. Meanwhile, the increase in testosterone will help boost stamina and increase libido so the user is ready to perform sexually when the moment arrives.
The product is manufactured by a company that also goes by the name Stamina Fuel. They are based out of Miami, Florida, and provide some contact information to consumers including a phone number and email address. It is sold in bottles containing 90 capsules, which should each last approximately 30 days, for a price of $23.99 plus shipping and handling. The company also offers a 30-day money back guarantee.
Click this link to learn more about what male enhancement products are considered to be the most effective and the best value on the market now.
Stamina Fuel Claims
Stamina Fuel makes a number of claims regarding how it can benefit the user and improve their sexual and physical health. These claims include maintaining blood flow, increasing libido, naturally increasing length and girth, promoting more stamina, and boosting testosterone levels. What stick out to us among these claims is their contention that their product can increase length and girth of the penis. They do not clarify as to whether this means user's will see an increase in the size and girth of their erections, or of the penis in general.
As researchers have repeatedly pointed out, increasing the size of your penis by using supplements is simply not possible. The fact that the site does not make it clear if they are referring to the overall size of the penis or just the erection seems intentionally misleading. Beyond that, some of the other claims are strangely unspecific, including how it promotes increased stamina through blood flow, as well as the statement that the product has "been successfully proven in millions of customers throughout the world" with nothing to back that statement up.
Find the male enhancement supplement you've been searching for by viewing this list of the top 10 supplements currently being sold.
Stamina Fuel Ingredients
The website for Stamina Fuel provides a decent amount of transparency when it comes to the ingredients that are included within the formula. Included on the site is a view of the supplement facts label along with the specific dosages of each ingredient that are used. The site does not provide any description of the ingredients that are used or their intended purposes, which is relevant because the formula uses a long list of ingredients, so it can be difficult for potential users to determine what each ingredient is supposed to do and if it is necessary. Here is a full list of the ingredients that are used in product:
L-Arginine
Epimedium Herb Powder
Tongkat Ali Root Powder
Maca Root Powder
Asian Ginseng Root Powder
Tribulus Fruit Powder
Saw Palmetto Berry Powder
Pumpkin Seed Powder
Muira Puama Bark Powder
Ginkgo Leaf Powder
Cayeen Pepper Fruit Powder
Oat Straw Herb Powder
Licorice Root Extract
Among those ingredients, there are several that are beneficial to sexual performance and overall human health. L-Arginine is an amino acid that is used to increase the width of veins within the body, so that more blood can flow freely throughout. Tongkat Ali is commonly used as an effective aphrodisiac as well as a testosterone booster. While Maca Root is thought to be one of the most effective supplements for improving sexual health. It has been used for centuries because it functions as a mild stimulant as well as a strong aphrodisiac and is considered to be very safe.
Meanwhile, the ingredient in Stamina Fuel that we are most concerned about Ginkgo Leaf Powder. It is an herb that has been used for hundreds of years to treat issues such as anxiety, dementia, vision problems, and more, while also acting as a stimulant that can improve mental function. That said, it is also associated with some very serious side effects, including seizure, heart attack, constipation, and even bleeding from the eyes. The potential risks are so great, that users should seeks medical advice before taking it.
Additionally, there is a warning on the website to not take more than 3 capsules a day, and that there is a chance users could experience erections that last for 4 hours.
Inform yourself as to what ingredients are most commonly used in the top male enhancement supplements by viewing this top 10 list.
The Science Behind Stamina Fuel
There is not much provided in terms of scientific information regarding Stamina Fuel. Overall, the description of the product is limited, and the claims made seem intentionally vague, so as not to have to provide specifics. The only aspect that we saw that was close to a scientific explanation was when the site stated that the product works by boosting nitric oxide which leads to more blood flow. This is far from insightful, however, as it is a commonly known fact.
There are specifics offered regarding the ingredients, such as dosage information, but the site does not go into any detail regarding the function of the ingredients, or how they are supposed to help the user achieve the benefits promoted by the product. The site does state that results of the product will improve over time, but does not state how long it will take to achieve the full level of benefits.
Finally find the solution to your sexual performance issues that you have been searching for among this top 10 list of male enhancement supplements.
Word on the Street About Stamina Fuel
Fortunately for prospective buyers, there are a seemingly endless amount of consumer reviews of Stamina Fuel available online. On the product's Amazon page, there are currently over 1,000 reviews. That said, one thing we consistently found among negative reviews were the accusation that many of the positive reviews were fake. There is no proof of this, but it is strange that there are so many positive reviews on Amazon, while other sources, such as the company's Better Business Bureau page, suggest that consumers are overwhelmingly dissatisfied with the company and the product.
Speaking of the Better Business Bureau page for the company, it reveals that over the last couple of years there have been dozens of consumer complaints filed against the company and it currently holds a 100% negative rating.
Based on the reviews that we saw, there were not a lot of reports of negative side effects being experienced, but countless reviews stating that the product just did not work or provide any noticeable benefit. As one user stated, "I have used the product for 3 months to give it a fair shot, but I have seen no positive results and will not be buying any more." Another user said, "The positive reviews posted are fakes. I believed the fake reviews and followed the directions for the product and nothing happened."
Don't get suckered into buying a male enhancement product based on big promises, when you could be using a product that actually delivers among this top 10 list.
Is Stamina Fuel Worth a Try?
Because of questions regarding the veracity of the consumer reviews and very poor ratings from the Better Business Bureau, this is a supplement that users should skip. As mentioned, there are many consumers who have used the product who question whether the positive reviews posted on the product's Amazon page are real, and admittedly it is strange that a relatively unknown product features over 1,000 reviews currently. Even with the questionable positive reviews, there is no shortage of negative reactions as well, as there are a couple hundred consumers reviews that state the product simply does not do anything at all. At best the reviews can be described as inconsistent.
Beyond that there are some ingredients included within the product that have us concerned because of the possibility of severe negative side effects. Furthermore, the product web page makes some vague claims regarding the supplement improving the size of the user's penis, but offers no evidence to back up their claim, likely because there is no evidence that can support such a claim.
There are many male enhancement supplements that can back up the claims they make regarding their benefits, and they can be viewed through this top 10 list.
Stamina Fuel vs Staminol
Staminol is a product that is made by GNC and designed to enhance sexual performance and support healthy function of the prostate, in addition to increasing stamina as the name would imply. It is sold at a cheaper price than Stamina Fuel and requires the user to take less capsules per day. Both supplements use some similar ingredients, including muira puama, saw palmetto, and horny goat weed.
Stamina Fuel vs Virectin
Virectin is a fairly popular male enhancement product, that focuses primarily on sexual health and not improving the user's physique or adding muscle. That said, Virectin, like Stamina Fuel, does claim to improve stamina and energy levels, in addition to improving confidence and sexual performance. Ginkgo biloba is used is Virectin, while Stamina Fuel uses ginkgo leaf powder. Both products use saw palmetto and horny goat weed.
Stamina Fuel vs Nugenix
Nugenix is another supplement that is popular on the market for its ability to boost testosterone and have a positive effect on user's sexual health. It is considerably more expensive than Stamina Fuel at more than double the price. Unlike Stamina Fuel, Nugenix uses a proprietary formula, which means that not all the ingredient's specific dosage information is revealed.
buy albuterol online apwh.org/wp-content/languages/new/albuterol.html no prescription

Additionally, there is not much overlap as far as the ingredients that are used.
Stamina Fuel vs Staminon
Staminon is a male enhancement pills that claims to address sexual health issues such as erectile dysfunction, premature ejaculation, and impotency through the use of natural, and powerful ingredients. The product website for Staminon only lists two active ingredients – tongkat ali, and horny goat weed. Both of those ingredients are utilized in Stamina Fuel, and unlike Staminon, they provide specific dosage information, so the consumer can be better informed regarding what they are putting into their bodies.
Stamina Fuel FAQ
In what dosage should Stamina Fuel be used?
The product advises users to take 3 capsules every day for best results. It does not indicate if the capsules should be taken all at once or be split up throughout the day.
Where can reviews for Stamina Fuel be viewed?
Through Stamina Fuel's Amazon page there are over 1,000 customer reviews available to view. The reviews are mixed overall, but access to so many of them gives a full picture of what to expect if they choose to use the product.
Are there side effects that I should be aware of when taking Stamina Fuel?
Unfortunately, there are some potential negative side effects that can occur when taking Stamina Fuel, primarily from the use of Ginkgo Leaf Powder. Some of the side effects that can occur include seizure, heart attack, bleeding, constipation, and liver damage.
Can Stamina Fuel be purchased through Amazon, GNC, and Walmart?
The product is available for purchase through Amazon, but is not currently sold through GNC and Walmart.
buy valtrex online apwh.org/wp-content/languages/new/valtrex.html no prescription

Is Stamina Fuel available as a drink?
No, Stamina Fuel is not sold in liquid form, and is only available in capsules currently.
Will Stamina Fuel boost testosterone within the user?
One of the benefits that Stamina Fuel claims to provide is an increase in testosterone levels, along with more nitric oxide, and higher energy and stamina levels.
buy vardenafil online apwh.org/wp-content/languages/new/vardenafil.html no prescription

Does Stamina Fuel provide a full list of ingredients for users to view?
The website for Stamina Fuel does offer a full list of ingredients that can be viewed by the consumer, along with a look at the supplement facts label, and specific dosage information for each ingredient.
It's normal to have questions regarding male enhancement products, so get those questions answered by viewing this top 10 list.
So What Really Works?*
Our research team knows that frustrations are common when attempting to find a male enhancement supplement that is affordable and effective. To address these frustrations, we have found that Viritenz is the best option for improving your sexual health that is currently available for purchase. The supplement is sold for an affordable price, and the manufacturer offers several different options for discounts, and it takes a well-rounded, thorough approach to sexual health that addresses several different areas that can lead to an improved sexual performance.
The benefits that Viritenz can provide include an improvement in the user's erections, both in size and strength, stamina in the bedroom, sensitivity and pleasure received, and a libido. Furthermore, because of the increase in blood flow that the product will provide, users may also see an improvement in their athletic performance. The ingredients that the supplement uses are all-natural and have been studied for their effectiveness.
Check out the Viritenz website for more information regarding how the supplement is designed to improve your sexual health and satisfaction.