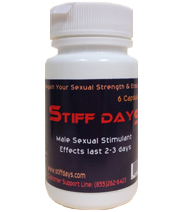 AVG Rating: 5.5/10
In the past the FDA advised customers to no longer use this since it was contaminated with a prescription drug which was potentially unsafe. It's unknown if they have made drastic changes, but it is known in 2023 the company's other supplement also had the exact same banned substance. To find out what we uncovered about Stiff Days, check out our table of contents where you can browse important sections.
To start enjoying more virility, libido, and overall sex drive, we advise looking at the top 10 male enhancement products.
Stiff Days Overview
We don't know for certain if they still add banned substances in their products, but it has been proven they at least had some sort of issue with manufacturing in the past. This supplement also has a lot of rarely used ingredients which are not often backed by real science.
There is also no money back guarantee on opened bottles or bottles which weren't damaged. The lack of positive customer feedback also shows how it is likely going to be too weak. The real issue with this supplement is that there's not a single good reason why it should be trusted.
Discover what brands were considered the best for male enhancement out of many types of reviewed products.
Stiff Days Claims
This is made to bring "rock solid erections" after 30 minutes of a single serving. Each serving is meant to bring 72 hours of effects with more stamina and a shorter recovery time so sex can begin again. Overall sexual performance is also suggested with a "scientific formula"
They recommend using only 1 to 2 capsules about 30 minutes before sex, preferably on am empty stomach. They say there are no "common side effects" which are seen in other products". Not only is this claimed but they say that if side effects from similar supplements were an issue in the past, that Stiff Days is the better alternative since it does not cause these kinds of symptoms. No evidence is given to support their claims, and customers often did complain about symptoms.
We also uncovered a major issue. The FDA found that Stiff Days:
"contains hidden drug ingredient"
Not only did they find the same active ingredient used in Viagra, but they advised customers to:
"not purchase or use Stiff Days"
They determined that the possible side effects that can occur from this are not only potentially very serious, but that they can be damaging to long-term health. They advised throwing it away if you have it, and avoiding it altogether.
Yet another exactly similar issue happened in 2023 when the FDA noted that their new formulation of this meant for night time use was also contaminated with the same exact ingredient. In 2023 they said that people should not use this either.
kidneyurostonecentre.com/wp-content/languages/new/augmentin.html

What this means is that they decided to twice try and get away with using banned prescription ingredients, and fortunately the FDA stopped them.
Whether or not the Stiff Days sold on their website is free from this prescription drug is unknown, but it's a lot to assume that they wouldn't try and do it a 3rd time after cheating customers out of making a truly natural supplement.
Enjoy more blood flow, testosterone, male enhancement, and overall sexual vigor by trying a product from the top 10 list.
Stiff Days Ingredients
As it's spelled on the official website, misspellings included:
Ginkgo Leaf
Yi Ye Cao
Huang Jing
Lemon Peel
Rou Gui
Dandelion Leaf
Tongkat Ali
Orange Peel
Turnera Aphrodisiaca
Beet Root
Cayenne 40m H.U
Alfalfa
Sheng Jiang
Kelp
Bo He
White Willow Bark
Dulse Leaf
Wheat Grass
Barley Grass
Huang Qi
Wu Wei Zi
Hui Jiao Zi
L-Arginine monohydrate
Arginine Alphaketoglutarate
Alpha Letoiscoaproate
Corcydeps Sinensis
Ganoderma Lucidum
Lentiunula Edodes
Auricularia Auticula
Spirulina
Chlorella
Spinach
A lot of this is found in ancient Chinese medicine texts, and it's intended for overall virility, energy, mood, and health.
Hui Jiao Zi is a strange ingredient because Google automatically wants to correct this to Hui Xiao Zi, as the way I's spelled on Stiff Days website is likely wrong. This ingredient is lacking information, other than the fact it's used in other brands which also fail to mention what it's for.
Wu Wei Zi is better known as the shisandra berry which is intended as an adaptogen allowing the body to better adapt to stress. This can help prevent the natural breakdown which can occur from stress overload.
Spirulina and Chlorella are kinds of algae which are rich in nutrients. This can have numerous potential health benefits, but it's important to select a version which is free off heavy metals. These contaminants can be very dangerous if they are not properly extracted from clean waters.
Auricularia Auticula is another misspelled ingredient, it's actually known as Auricula, not Auticula. This is known as wood ear, a kind of fungus that is used as a good. It has rich trace minerals and is low in calories. This is intended to have medical qualities according to ancient China medicine, but science is lacking to support it
A lot is included in this which is already used, and none of it is described in detail by the official website.
Read about the kinds of male enhancement support you can start noticing by reviewing our full top 10 list of products.
The Science Behind Stiff Days
This is supposedly going to last a total of 72 hours with a single serving. No evidence is cited to back this up, so it's unknown if they actually performed any science to make sure this is truthful.
It would have been helpful had there been some sort of explanation into the intended effects of these ingredients, especially when they add so many. There's a lot in this which is intended to support health. Many of these ingredients are only used in ancient Chinese medicine, which is why they are lacking current studies.
Without being able to examine any actual science, it's unclear what this is capable of. Worse yet, the official website makes claims that this is scientifically formulated, yet they never actually provide any solid evidence so curious customers can know about what they're putting into their bodies.
A lot of these ingredients have to come from sources which are tested for impurities since they may because dangerous side effects if they're not certified tested. It's highly important to be able to know for certain what kind of science has been researched or performed so that the company responsible mentions how they came up with a formula. The fact they use so many ingredients would likely mean there was some reason why they choose these additives, it is a unique blend. Without more details it's impossible to take them seriously and to know it's going to be free from side effects.
We offer a descriptive explanation on what the best supplements are for male virility and overall sexual enhancement.
Word on the Street about Stiff Days
"Doesn't work at all. This is a really useless supplement that you can do without the hassle"
"The drawbacks included a headache with some rage which made me really physical stimulated. Also caused constipation for around 24 hours"
"Had some side effects including nausea for about a full day. I don't see much benefit from this"
"Saw an improvement but it did lead to stomach discomfort which kind of went away with some water. I'll continue to take it to see how it works"
Few reviews are available online, but the general feedback was often negative. Side effects were an issue, and some even commented that the old batches of this did work better. The two customers who mentioned this also said that they found out it had Viagra in it, which caused concern.
The best products which can optimize male sexual performance and overall virility where all carefully selected; here's what we found.
Is Stiff Days Worth a Try?
There's not a single good reason why anyone should trust this. The company was called out twice in just 2 years for using a banned substance used only in prescriptions. What this means is that they have decided to continue to fool the public into thinking what they were taking was natural and safe, only to use unknown amounts of an ingredient which can only be used safely in certain strengths.
The company clearly does not care about customer safety; they twice decided to trick consumers, possibly putting their health at stake. The possible side effects which can result can be very dangerous, causing long-term irreversible damage in some. There is not a single good reason why anyone should trust that they would be in good health after supplementing with this formula.
They also only offer a cheap money back guarantee if what they send to customers is in some way damaged or defective. No money back returns are offered on ineffective or harmful supplements. This would at the very least help bring ease to customers who may be concerned about contamination with prescriptions.
To start enjoying a noticeably improved sex life we recommend seeing which supplements were the best according to our top 10 list.
Stiff Days vs Viagra
The ironic thing about pinning these 2 brands together is that Stiff Days actually added the key active ingredient in Viagra into their supplement. This is illegal of course and at the very least with Viagra you know it's going to be recommended by a doctor.
This doesn't mean that it's going to work as directed without side effects, for some it may not deliver optimal results.
kidneyurostonecentre.com/wp-content/languages/new/vibramycin.html

It really depends on the user, and it's impossible to know beforehand what kind of an impact it may have.
Stiff Days vs Stiff Nights
The FDA discovered in early 2023 that Stiff Nights contained a banned prescription ingredient called sildenafil. You used to be able to get Stiff Nights behind the counter of gas station stores where it's sold in 2 dosage capsules, pills each.
The fact that the company was called out for using these banned ingredients say a lot about their attention to quality control. When a company has these kinds of ingredients in their supplements it likely was done on purpose, often to increase the possible effects. It's never advised to take unknown amounts of a prescription due to the damage it may cause.
kidneyurostonecentre.com/wp-content/languages/new/zithromax.html

Stiff Days FAQ
Where can I get a Stiff Days discount?
There is no promo code or discount offer provided, only a slightly reduced price on bulk purchases.
Is there a place to get Stiff Days wholesale?
The official website offers 100 pills maximum, which should last 50 days if used daily.
Where are Stiff Days pills for sale?
Their official website sells these pills, but they only offer returns if there is an issue with shipment and the package is defective.
Can I find Stiff Days on Amazon?
No, it's not sold on Amazon.
What can you tell me about the Stiff Days Recall?
Back in 2023 the FDA send a public notice to stop using and purchasing Stiff Days since it was found to contain banned prescription ingredients which should only be taken if a doctor recommends it. Some claim the company changed their formula but it's unknown if this is true.
What are the Stiff Days pills ingredients?
White Willow Bark, Hui Jiao Zi, Wheat Grass, Beet Root, Orange Peel, Cordyceps sinensis, Ganoderma Dandelion Leaf, Barley Grass, Dulse Leaf, Kelp, Alfalfa, Lemon Peel, Rou Gui, Lentiunula Edodes, Huang Qi, Turnera Aphrodisiaca, 40M H.U., Sheng Jiang, Bo He, Arginine Alphaketoglutarate, Arginine Ketoiscoaproate, Wu Wei Zi, Ginkgo Leaf, Spirulina, Chlorella, Yi Ye Cao,  Tongkat Ali, Spinach, L-Arginine Monohydrate, lucidum, Huang Jing, Cayenne Auricularia auricula.
What are common Stiff Days complaints?
Very little was said about it, but the few people that tried it often said it failed to offer any male enhancement benefits. Some side effects were mentioned and this included headaches, constipation, heart burn, stomach pain, and indigestion.
Is Stiff Days sold in stores?
No, only online and without a possibility for returns.
Does Stiff Days contain Sildenafil?
We do know that at one time it didn't in fact the FDA said they were confirmed to contain this ingredient in 2023. It's unclear whether or not the company continues to add this ingredient. It's also a fact they added this same ingredient in another slightly different version, so it's known they continue to make similar mistakes.
Is there a Stiff Days replacement?
There is an official website which still sells this supplement, but it's unclear if they have since reformulated. No details are provided by the creators to help explain what kinds of changes they have done, if any.
The best possible support for a sustained impact on male enhancement is possible through the top 10 rated products.
So What Really Works?
It was clear which brands were the best for male enhancement and out of these top 10 brands. Viritenz was the clear favorite. The amount of feedback given by customers was overwhelmingly positive, and many noticed a great improvement of their libido, virility, testosterone, and sexual vigor. The way it works is by providing key ingredients which can affect blood flow, mood, energy, and sexual responsiveness.
There are ingredients which are backed by science including amino acids, aphrodisiacs, and nutrients. All this amounts to an all-around effective blend which can optimize sexual health. To read more on the specifics which support Viritenz as the best male enhancement product, check out this full review.