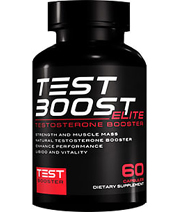 AVG Rating: 4.3/10
A testosterone booster and male enhancement supplement that fails to disclose all its ingredients and utilizes shady business practices. To find out if it is able to overcome its weaknesses then read on for more detailed information. To begin, just scroll down and click on the table of contents.
Learn detailed information regarding the top 10 male enhancement supplements that are currently available by clicking this link.
Test Boost Elite Overview
Test Boost Elite is a supplement that is designed to promote increased blood circulation throughout the body, as well as increase the production of testosterone. By increasing blood flow, the user can experience benefits such as bigger, stronger erections and higher energy levels. With increases in testosterone, it is possible that more body fat will be eliminated, and users will be able to add lean muscle while losing body fat, in addition to experiencing a higher libido and sex drive.
The product is not sold through independent retailers, and is instead made available only through a free trial offer on the product website. The free trial is similar to the offers made by many other supplements, in that it only charges a small fee for shipping and handling, but when the trial ends, the user is automatically signed up for their auto-delivery service and is charged the full price for the product.
Click here to find out more about the male enhancement supplements that have been identified as the most beneficial.
Test Boost Elite Claims
The claims that are made by the manufacturer of Test Boost Elite are presented in bullet points on the product website. They include such claims as improving muscle gains, using only natural ingredients, more sexual stamina, faster weight loss, and helping men to feel more powerful. Unfortunately, there is not much to back up those claims.
While the product claims to use only natural ingredients, it does not provide a full list of ingredients that it uses and does not allow the user to view the supplement facts label, so there is no real way to confirm this claim. Another claim we are unsure about is that the product makes men feel for powerful. It's unclear exactly what that means, and the site does not go into detail. It seems like something a manufacture would say because it sounds good, but doesn't have much substance.
The more specific claims that it makes, such as improved stamina, and muscle gains are only supported by before and after pictures of men, though it cannot be confirmed that the men shown used the product in question.
Use a male enhancement product that backs up its claims with verifiable evidence and testimonials, like those that can be found on this top 10 list.
Test Boost Elite Ingredients
A full list of ingredients is not provided by the Test Boost Elite website, and neither are some other key details such as the supplement facts label or specific dosage information. This lack of transparency is unfortunate and puts potential consumers in a difficult position as they attempt to discern if the product is well-suited for their particular needs or if it will have any potentially dangerous side effects or interactions with other medications that they are taking. That said, we were able to find a significant number of ingredients that are used in the formula, and they are listed here:
Zinc
Horny Goat Weed
Tribulus Terrestris
Fenugreek
Maca Root
Tongkat Ali
Panax Ginseng
Yohimbe Bark
There are some quality ingredients included within the product, such as Tribulus Terrestris, Zinc, Maca Root, and Tongkat Ali. Tribulus Terrestris is valuable for allowing the body and mind to take better advantage of free testosterone that already exists in the user's system, while Tongkat Ali functions as an aphrodisiac that can increase the production of testosterone and reduce estrogen.
Zinc is a well-known and essential mineral that plays a key role in regulating several body functions and keeping the immune system strong. Finally, maca root is derived from a plant and can be used as an aphrodisiac as well as a natural energy booster that can also improve cognitive abilities.
On the other hand, there are multiple ingredients that have potentially damaging side effects, such as Yohimbe Bark, Fenugreek, and Diindolylmethane. Yohimbe bark is so dangerous that its pure form is not allowed to be used in over-the-counter products and can cause serious, potentially deadly side effects like paralysis, seizure, and heart attack. Fenugreek is commonly used to improve libido and athletic performance, but when it is used in high doses it can cause congestions, diarrhea, and bloating. Diindolylmethane can potentially block the effects of estrogen, but is also understudied with unknown possible side effects.
There are many safe alternatives on the market for male enhancement, many of which can be found among this top 10 list.
The Science Behind Test Boost Elite
Unsurprisingly there is little in the way of substantive, scientific evidence produced on the product website. As mentioned, the product does not even offer a full list of ingredients, so that it also does not offer clinical information or studies to the support the claims it makes regarding the effectiveness of the product, unfortunately, is somewhat expected.
The only thing that is close to a scientific statement on the website is that men after the age of 25 experience a decline in testosterone. Unfortunately, even this statement may be false, as it is generally accepted that it isn't until 30 when most men start to see their testosterone levels go down. Beyond that, the site only makes general statements regarding what the product can do for the user, but doesn't even attempt to include any studies or science to bolster its arguments.
Verifiable science is an important aspect of trusting a male enhancement supplement, so find supplements that actually incorporate research among this top 10 list.
Word on the Street About Test Boost Elite
The effects of male enhancement products can vary from person to person, which is why it is important to get a range of reactions from consumers who have used the product. Unfortunately, because the product is not sold through retailers such as Amazon and GNC it is difficult to locate a substantial amount of objective consumer reviews regarding Test Boost Elite, but we were still able to find some reviews.
Most of the reviews we did find were either outright negative or underwhelmed with the results of the product. One consumer stated their dissatisfaction by saying, "I've tried several testosterone boosters, and this is easily the worst!" Additionally, multiple consumers complained about their issues with the misleading free trial that is offered, with one consumer saying, "This is a scam. I thought I was just ordering a trial, but I was charged twice for a product that I never got."
If there is a positive, we did not find any reviews complaining of side effects from the product, but that should be little comfort to potential consumers given that it seems the product is only available through a free trial that is not free at all, and does not provide consistent results. The only review that was remotely positive that we found was one stating that they received a small boost in energy, but that was the extent of the benefits they saw.
Locate a male enhancement product that can put its money where its mouth is by taking a look at this expertly compiled top 10 list.
Is Test Boost Elite Worth a Try?
Because the product does not provide a full list of ingredients, and consumers have been consistently underwhelmed by the results, so we advise consumers to look elsewhere. When a manufacturer is not confident enough in their product to even share all the ingredients that it uses, consumers should not give it the benefit of the doubt. Furthermore, taking a supplement of which you're not completely sure of the ingredients is unwise and potentially dangerous.
The product uses the questionable free trial method that is commonly used by several disreputable male enhancement products and testosterone boosters. It automatically signs up consumers for their auto-delivery service when they attempt to take advantage of their free trial. Combining the untrustworthy purchasing method it utilizes with the lack of specifics regarding the ingredients, this is a supplement that seems designed to take advantage of consumers rather than help them.
Inform yourself about male enhancement supplements that are worthy of your trust on this top 10 list of the most worthwhile supplements.
Test Boost Elite vs Nugenix
As one of the more popular male enhancement products that is currently sold on the market, Nugenix is made available from trusted retailers like GNC and Amazon, unlike Test Boost Elite. It also does not utilize the free trial method that can leave users frustrated or feeling misled. That said, Nugenix has received its fair share of negative reviews, including side effects, but it also presents more scientific evidence to back up its claims.
Test Boost Elite vs Pharmafreak
Pharmafreak is a brand that actually produces several supplements, one of which, Test Freak, claims to have similar benefits to Test Boost Elite. Both products state that they can help with the building of muscle, as well as increases in testosterone, and utilize some of the same ingredients like tribulus terrestris and fenugreek. That said, Test Freak does not focus much on improving sexual health.
Test Boost Elite vs Max Nitric Oxide
Max Nitric Oxide and Test Boost Elite share an unfortunate commonality, in that they both cannot be purchased directly, and instead use the same shady free trial method to sell their product. Additionally, Max Nitric Oxide is not as focused on sexual health or testosterone boosting, though it does promise some similar benefits like improved athletic performance and muscle recovery.
Test Boost Elite vs Steel Libido
As you may guess from the name, Steel Libido is focused primarily on improving sexual health and performance, rather than muscle building and testosterone. Unlike Test Boost Elite, it provides a full list of ingredients and dosage information, utilizing some similar ingredients like Maca, Horny goat wee, and Yohimbe, but also adds ingredients like L-arginine, bioperine, and ashwagandha to improve its effectiveness.
Test Boost Elite FAQ
What are some side effects to be aware of when taking Test Boost Elite?
The negative side effects that can occur as a result mostly come from the inclusion of Fenugreek extract. Bloating, diarrhea, and an unusual smell in urine are possible, as well as higher blood pressure.
What sort of reviews has Test Boost Elite received?
Unfortunately, there are not any consumer reviews that we have been able to locate for Testo Boost Elite, but there are a number of product review sites that have evaluated the product and have had generally negative things to say, including concerns that the formula is not well-rounded enough to be effective.
Is Test Boost Elite available for purchase from retailers like GNC or Amazon?
Testo Boost Elite is not sold through any popular retailers such as GNC or Amazon, and is only available for purchase through the number of websites that seem to be offshoots of the manufacturer.
Does Test Boost Elite boost nitric oxide levels within the user?
The website for Test Boost Elite does not make any claim to boosting the nitric oxide levels of the user, and the ingredients that are used within the product do not address nitric oxide levels.
Where can I find Test Boost Elite for sale?
The product is not offered directly for sale anywhere online, as the product website only offers a free trial. It is only after the free trial ends that the user is charged the full price of the product automatically, which has led to many dissatisfied and angry customers.
Do I have to worry about hair loss with Test Boost Elite?
Hair loss is a possible side effect with use of steroids, but Test Boost Elite is not a steroid, so hair loss is one side effect that users do not have to worry about, though they should be concerned with some other possible side effects.
What is the website through which I can find Test Boost Elite?
Test Boost Elite is offered through multiple websites all of which feature a very similar domain, including Testboostelite.com, Testboostelite.org, and Testboostelite.net.
What is the price of Test Boost Elite?
The website for Test Boost Elite does not offer a specific price for the product, instead        featuring a free trial offer. This may be because the actual price is extremely high, at $119.92 for a month's supply, which the consumer is charged immediately after the free trial ends.
Don't settle for a male enhancement product that doesn't deliver the results you're looking for, when there are better options available in this top 10 list here.
So What Really Works?
Finding the right male enhancement product can lead to a lot of frustration for the average consumer, which is why a group of experienced review experts have conducted thorough research and found that Viritenz is the best option currently on the market. It features an affordable price compared to most other supplements, along with a blend of natural ingredients that are generally safe and among the most effective additives that can be used in a male enhancement product. These ingredients include renowned additives such as Tribulus Terrestris, Tongkat Ali, and Maca Root.
Some of the effects that Viritenz can provide include improved blood flow throughout the body, particularly to the groin area, which can lead to bigger, stronger erections. Additionally, users can experience more stamina allowing them to better satisfy their partner, and increased sensitivity leading to more pleasure for themselves.
If you're searching for a solution to your sexual performance issues, learn more about what Viritenz has to offer by clicking here.