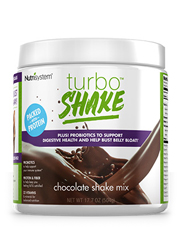 AVG Rating: 2.9/10
It doesn't matter if you're a big brand with a huge advertising budget and highly-paid actors, or if you're a smaller outfit just getting started: if you're going to sell meal replacement shakes, they have to be affordable, high-quality, tasty, and contain amazing ingredients that actually work. Unfortunately not all shakes are as good as they make themselves out to be, and one of those is the subject of our review today.
Check out this list of the Top 10 best meal replacement shakes that money can buy.
TurboShake Overview
TurboShake is a meal replacement shake that comes in two different flavors, chocolate and vanilla. It's supposed to help people who either are on a weight-loss diet or just want something they can drink easily as a replacement for a fully-cooked meal. People don't always have the time or resources to cook low-calorie meals, and so with meal replacement shakes they can instead just twist off a cap and drink the equivalent of a full meal, without having to waste extra time.
TurboShake is made by Nutrisystem, a fitness company based in Pennsylvania. You may have seen commercials or other advertisements for this company. While it has an A+ rating and accreditation from the Better Business Bureau, there record of a staggering 397 customer complaints – a huge red flag. Some of these complaints seem to have to do with being charged for things that weren't delivered, and others complained that the products were unhealthy. Other people complained that they were roped into an auto-billing scheme that charged them monthly for things they didn't want.
Yikes.
TurboShake costs $25 for a box of 7 packets, which breaks down to about $3 per glass. Not the cheapest.
Click here for the critic's picks of the best diet shakes available for purchase.
TurboShake Claims
This company doesn't make many claims about what their shake does, and they definitely don't go into detail about how it's supposed to work. These shakes are meant to be taken as a meal replacement, so that you can lose weight faster by consuming fewer calories. They claim that the shake contains a blend of probiotics, bacteria that help promote digestive health. They also say that the shake will "help shrink your belly" and keep you sated for longer.
Shrink your belly? We're not sure exactly how it's supposed to do that, and they don't really explain how either. All they offer is that it will help "as part of a balanced diet and healthy lifestyle." Not much information for such a grand claim.
For diet shakes that really work, check out our new list of the Top 10 choices.
TurboShake Ingredients
TurboShakes have common ingredients you can find in lots of weight loss and meal replacement shakes. Here's a partial list of some of the ingredients:
Whey Protein Concentrate
Inulin
Stevia Leaf
Manganese Sulfate
Xanthan Gum
Monk Fruit Extracts
Soy Lecithin
Zinc Sulfate
Whey protein is one of the most common sources of protein in meal replacement shakes, and stevia is a fine natural sweetener that works as an alternative to sugar – it can give you the same sweetness for less. There are also lots of vitamins and minerals from standard sources like manganese sulfate and zinc sulfate.
Not all of these ingredients are good, however. We're a little wary about the addition of inulin, a fiber derived from chicory that's used for constipation (WebMD) and which can cause discomfort in the stomach. They've also included lots of sugar for a diet shake – 8 grams per serving, which is almost half of what the recommended amount for an adult women (20g).
Experts are in agreement that these are the best weight-loss shakes you can buy.
The Science Behind TurboShake
Nutrisystem doesn't provide any real documentation about how their shake works, so we can only extrapolate based on some of the ingredients. Shakes like this aim to provide a low-calorie replacement for a meal that nonetheless contains vitamins and minerals you need, so that while you're consuming fewer calories, you're still getting nutrition. They also contain protein and fiber so that you don't feel starving between meals.
There are 15g of protein per serving, which is good, but what's up with all the sugar? Why did they add so much sugar when they already have stevia? Extra sugar is just wasted calories and can also lead to sugar highs which, though they give you energy, lead to crashes. That's the last thing you want.
Check out our new list of the finest meal replacement shakes on the market.
Word on the Street About TurboShake
TurboShake used to be available on sites like Amazon, but their products seem to have since been pulled – why? We're not sure. There are positive customer reviews, but there are plenty of negative ones.
Lots of people complain about "how the artificial sweetener tastes," saying that it's fake and leaves a bad taste in the mouth. Others complain about how much they cost, saying "I can get other similar products for cheaper."
Other people said that the taste was "alright" – not exactly a glowing opinion.
These are the absolute best shakes for weight loss, based on expert reviews.
Is TurboShake Worth Trying?
There are tons of shakes out there that all claim to be what you're looking for in a meal replacement shake. TurboShake is just one of many, so it really needs to stand out, but does it? Not really. Its ingredients are standard, and some (like inulin) come with some potential side effects. It contains lots of sugar for a diet shake, something we think is counterproductive.
Last but not least, of course, are customer reviews. While there are some positive ones, others think that the taste leaves a lot to be desired, with others claiming that it's middling and that they can get the same kind of shake cheaper elsewhere. And don't forget those hundreds of customer complaints about the company, Nutrisystem. Those alone are cause for concern.
There's nothing special about TurboShake, and until they change their formula, we can't say it's worth trying.
You ought to check out this list of the Top 10 best meal replacement shakes for purchase.
TurboShake vs Nutricrush
These are both nutritional shakes that come in packets you can mix in water (or milk), and both come in flavors like chocolate. Both claim to help curb hunger and keep you fuller longer, but TurboShake goes the extra step and claims to help shrink the belly, something it doesn't really expand upon. Nutricrush is cheaper, with packets of 5 going for $8.98 at Walmart.com, while TurboShake can cost $25 for a packet of 7 – two more, but for a price increase of $15. There also seems to be a slightly-higher percentage of positive reviews to be found of Nutricrush.
Frequently Asked Questions
Where do I read reviews of Nutrisystem Turbo Shakes?
You can find them at weight loss blogs – you're also read one right now!
Can I get TurboShake at Walmart?
Yes, it's available there last we checked.
Can I get Nutrisystem Turbo Shakes on Amazon?
We looked and it looks like the product's been mostly pulled.
What ingredients are in Nutrisystem Turbo Shakes?
Whey protein concentrate, fructose, dietary fiber, calcium caseinate, cocoa, natural flavor, nonfat milk, soy lecithin, guar gum, xanthan gum, sunflower oil, cornstarch, cocoa extract, salt, maltodextrin, medium chain triglycerides, monk fruit extract (sweetener), carrageenan, modified cornstarch, magnesium oxide, sodium caseinate, stevia leaf extract, vitamin c, bacillus coagulans gbi-30 6086, tocopherols (to protect flavor), mono and diglycerides, sugar, whey, vitamin e (alpha tocopherol acetate), ferrous sulfate, niacinamide, zinc sulfate, gum arabic, copper gluconate, d-calcium pantothenate, vitamin a palmitate, manganese sulfate, pyridoxine hydrochloride, riboflavin, thiamin mononitrate, chromium nicotinate glycinate chelate, folic acid, biotin, potassium iodide, vitamin k (phytonadione), magnesium carbonate, vitamin d3, vitamin b12 (cyanocobalamin).
Do TurboShakes have good nutrition?
They have protein and carbohydrates, in addition to vitamins and minerals, but it has a lot of sugar for a nutritional shake.
Is there an alternative to the Nutrisystem Turbo Shake?
Literally all other meal replacement shakes.
How are Turbo Shakes vs Nutricrush?
Check out the section above where we review and compare the two.
Are Nutrisystem Turbo Shakes to be found on Ebay?
Yes.
Do you know how to make Turbo Shakes?
Mix the packet with 8 oz of water, cover, shake vigorously (40 times).
Do Nutrisystem Turbo Shakes come in vanilla?
Yes.
Are Nutrisystem Turbo Shakes at Walmart?
Yes.
Click this link to read more about the Top Ten nutritional shakes, bar none.
So What Really Works?
There's no reason to use any health product that's less than the best. When your health is at stake, you owe it to yourself to use products that outperform the competition. Right now, the best nutritional shake we've ever seen is 18Shake. It's made from quality ingredients and has all the nutrition you need, including vitamins, minerals, carbs, and protein. There are no artificial ingredients, and it contains a special form of fiber that curbs hunger more powerfully than other similar products.
18Shake is made in the USA in a GMP-certified facility, so you know the product you're getting is clean and made by professionals. The company is so confident you'll love it that they offer a 30-day money back guarantee if you're not satisfied. Sounds like a win to us.
Click this link to read more about 18Shake, the best nutritional shake on the market, and take control of your health once and for all.