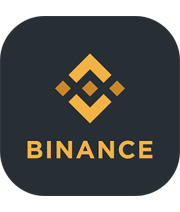 AVG Rating: 5.5/10
What is Binance?
Binance offers both a coin and a marketplace to exchange cryptocurrency.
Their website also provides an updated market so those interested can learn about what the changes of value are in cryptocurrency.
We will help explain all the important details so you learn all about Binance and what it offers to traders.
Fundamentals of Binance
You get the opportunity to either go with their basic or advance feature, making it customizable for beginning traders or more experienced users. Their panel will appear similar to this:
You can view how the market is doing, look at the historical data, and create orders.  To actually start an account you first must register by going to the 'Funds' section underneath the 'Deposits Withdrawal' section which is listed like this:
You will then be able to choose the cryptocurrency you're interested in. You can take advantage of the public wallet, or for more security send your funds to another wallet address. After submitting your cryptocurrency you're then be able to begin making trades of you choosing. If you are beginning we'd recommend using the 'Basic' feature, as it's more simplified and catered towards newcomers.
For more advanced uses you can take advantage of limit and market orders. You'd be able to set up an automatic sale of your cryptocurrency in the case of the market crashing, preventing any further loses you're not comfortable with.
Fees for Trading
Every trade has a tacked on 0.1% fee in order to maintain the service. If you use their coin the BNB, you'll be able to get a discount up to 50% equaling 0.05%.  This rate changes for how long an account is set up, with a slight decrease each year and the discount not offered on the fifth year.
There is a full outline of how this works on their official website where you can learn about the specifics.
Offered Cryptocurrencies
Many kinds of coins are offered here including some lesser known alt coins. You can expect to find the major names including Bitcoin, Bitcoin Cash, Ethereum, Litecoin, and Ark. You can read the full list by visiting their official website.
Next to each coin is the minimum withdrawal amount, as well as what the total transaction fee is, which is taken out of the transaction. For example, for Bitcoin you must take out a minimum of 0.002 and process a transaction fee of 0.001 BTC. Their website does say this fee is adjusted to the blockchain conditions, so this may vary depending on when you go to make a trade.
Limits to Transferring
You can deposit as much cryptocurrency as you'd like, but you're not able to add any fiat currency. If you'd like to extend the withdrawal limit you are going to have to submit extra identification to ensure the account is secure.
This basic level allows a maximum of 2 Bitcoin a day, or the equivalent of the cryptocurrency of your choice. You can sign up for Google Authenticator and their two-factor security process for an additional 100 Bit coin maximum limit.
alvitacare.com/wp-content/languages/new/tadalafil.html

To star this you have to submit a selfie, passport ID, and provide your gender.  This also makes it more secure for the user, since it's much harder to fake a claim without this sensitive information being provided.
Company Safety
Before becoming public the company was able to secure around a grand total of $15 million. This is why they have their coin and offer a wide array of different cryptocurrencies.
The company also provides a lot of information through public statement and via their social media following. The CEO Changpeng Zhao also publishes information regularly to let people know where the company stands, and what they can expect. He has published articles on Linked In that anyone can read to stay informed about any new developments.
Fund Security
The company has a lot of tips and suggestions on how to ensure security. Most of the general suggestions are made, and they help explain what steps to take. People generally say they didn't have any issues with security, but like any other transaction, it's important for the user to take safety precautions.
There isn't much of an explanation about how they operate their security protocols, but they do offer consumers the right to set up additional measures to ensure all information is secure.
Consumer Trust
You can find a lot of information in their FAQ section to help explain how they work, and they give suggestions to find answers. A ticket can also be created in order to have direct communication for any specific issues related to account activity.
If you'd like to reach out they do have a direct line of contact:
Email: [email protected]
There is an open community on Reddit where many questions are answered, as well as where many people open discussions about the process. This is frequented by people who work for Binance who often answer questions.
A chat platform is also offered for direct communication in case of any unique problems.
Binance vs BitTrex
Many kinds of different coins are offered on BitTrex, including lesser known alt coins. You can also look at updated information about market changes. The company also has a team that has specialized in security, which helps to ensure any information is stored privately. The company operates out of the US, and they also have an official Reddit page.
Binance vs Coinbase
Both offer say account registration and with Coinbase they offer the trade of fiat currency to Ethereum. Fees can vary depending on the amount you're looking to trade. Coinbase has a limited amount of offered coins, and with Binance you have the option to get more alt coins. Both offer analytics and they have long been used as effective ways to transfer cryptocurrency.
Binance vs Bitfinex
Bitfinex is a major player in cryptocurrency, accounting for 10% of all online exchanges. They did have to deal with a loss of $72 million after a hack occurred in 2023. They also do not offer withdrawal of USD funds, and any currency must be changed into something else. At the time of this review, there are still many unanswered questions about the future of Bitfinex.
Binance vs Bitstamp
Bitstamp was the first licensed group of Europe and they offer direct deposit for more common forms of payment. You can submit your credit card or provide a bank transfer for example, as opposed to being only offered the opportunity to make a trade. The company retains 98% of customer data on cold storage to ensure no important details are leaked.
Binance vs Kraken
Some Kraken users have said that their accounts were suddenly frozen and overall, the consumer rating is often higher for Binance. Kraken is a US based company and Binance operates out of China.
alvitacare.com/wp-content/languages/new/cymbalta.html

With Kraken there is a maximum taken fee of 0.26%, which varies depending on the users account and asking trade.
Binance FAQ
Where is the Binance exchange website?
It is highly important to bookmark this to prevent possible phishing, once visited you can log into your account and then you'll be able to start trading.
alvitacare.com/wp-content/languages/new/clomid.html

Where is the Binance exchange login?
The web address is www.binance.com/login.html.
What's the official Binance website?
Go to www.binance.com to see their full website.
What is Binance?
Binance offers the exchange of different cryptocurrencies as well as the sale of a Binance coin.
How to buy Binance?
After you register for an account you can look up the cryptocurrency you're looking to get, see what the market value is like, and then you'll be able to start setting up a transaction.
Where can I buy Binance coin?
Their official website offers sales of BNB for USDT, or you can trade it for Bitcoin.
What is the Binance price?
Their official website has updated market price listings where you can learn about fluctuations. Since the market is growing and changing, it's advised to stay up to date by looking at their website.
What is Binance coin?
This is the companies own coin which uses the Ethereum platform and is used to trade cryptocurrency. The company offers discounts on trading when BNB is used as opposed to Bitcoin.
What are common Binance reviews?
User experiences vary and on CryptoCompare they have a 3.6 average rating out of 5.People generally said it was easy to use and that the market was updated to their liking.
What can you tell me about Binance ICO?
Their coin (BNB) has a current total supply of 197,192,382 and has seen good growth since it appeared in 2023 they are no longer an ICO, the coin is live and has been transacted.
What does the Binance Wiki say about it?
There isn't much information about it other than a Bitcoin Wiki page, but they often only mention news about other forms of cryptocurrency.
What do I have to do to ensure a Binance sign up?
Visit their official website and on the top right corner hit 'Register', at this stage you submit your name, email and password of your choosing.
Summary
The wide array of cryptocurrency offers people the opportunity to invest in alt coins of many different kinds. They also have a clear market update so people can learn about what the cost would be to trade crypto.
The website is easy to use and offers a lot of information for those who want to learn more.  For more advanced users, they offer more tools so users can trade to their liking. The low fees can be reduced further by using BNB coin, and the company displays all the necessary information to make an informed decision before having to register.
Read this next