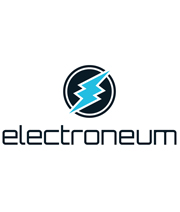 AVG Rating: 7.1/10
Cryptocurrency has been around for years, but it still hasn't quite caught on with the majority of people. Part of that has to do with how accessible cryptocurrency is: typically, you have to create accounts with special websites and go through complex trading procedures just to acquire some crypto. Electroneum (ETN) aims to change that.
They're a new cryptocurrency that's focused on user friendliness and ease-of-access, and their hope is that their simplification of the whole crypto process will put them on top.
Learn more about Electroneum by checking out our guide below. And if you're in the market for other great coins that are poised to take off in 2023, read our new list here.
Electroneum: How It Works
Electroneum is, like most other cryptocurrencies, a way for people to conduct transactions using a blockchain, a record of transactions that's secure and verifiable. It's based on Monero, a Bitcoin spinoff blockchain protocol that makes payments secure and money untraceable for maximum anonymity. Bitcoin's problem is that anyone can view anyone else's wallet balance. Electroneum keeps things private with a stealth address, a single-use public key that allows senders and receivers to send and receive money without there being any public record of who either individual is now how much is being transacted.
This method allows the blockchain to record the transaction, while preventing people from being able to see who sent who what, keeping things as private as possible.
The transactions with Electroneum are supposed to be very fast, with fees being higher or lower depending on network traffic.
To make things easier for people, Electroneum promotes CPU mining, which means that people with ASICs (expensive, specialized circuit chips that mine currencies like Bitcoin) won't have an unfair advantage over ordinary people who just want to use their computer's CPU to mine.
The Electroneum App
One of the main ways Electroneum wants to make their currency more user-friendly is their mobile app. Right now you can get it on Android, and their iOS app is coming in 2023.
Like most crypto apps it provides an interface with your digital wallet, and allows you to receive or send Electroneum on the go.
The app has rewards for people who try to grow the community as well. For example, if you invite five friends, you're automatically entered into 5000 ETN drawing (and so are your friends). More and more cryptocurrencies are offering people rewards for using them, and some of them can be found on our list 2023's best altcoins.
Mining
One of the newest features of Electroneum is their mobile mining feature. With the app, your phone's CPU can be used to do "simulated" mining, which won't overheat your phone or drain your battery. Unlike "actual" mining, it doesn't create new blocks in the chain – it's more of a game of sorts, to promote interaction with Electroneum and get people involved. Even though you're not really mining, they still reward you for it.
The History of Electroneum
When Electroneum had their ICO, they maxed out at $40 million. While they had a good start, things quickly turned sour: they were hit by a DDoS attack that hit their servers before they could release the app, causing them to have to shut things down for over 24 hours while they tried to clean and patch things up.
Eventually they got things back in order and early adopters were given the coins they were entitled to. 690 million ETN were sent and received in the first day alone, showing that people were already excited to be using the new currency.
The Electroneum Team
The team behind Electrum is primarily based in England. There's 12 of them, headed by Richard Ells (who founded SiteWizard and Retoral.com) and James Atkinson, a developer with over a decade of experience. Dean Cole, another experienced app and web developer, is the manager of the blockchain. The rest of the team is made up of not only directors and project managers, but investors as well. This wide-ranging team likely means there's a diverse array of minds behind what's going on, allowing the service to benefit from different perspectives.
Their Partners
Partnerships are extremely important in new software ventures, particularly in crypto, as it helps currencies to gain traction and much-needed public promotion. Recently, Electroneum formed a partnership with XIUS, a company that deals in telecommunication payments. They hope to use their mobile mining feature as a way to offfset phone costs.
They've also partnered with BMedia, a social media and e-commerce business in Japan, with the hope of using their 500,000+ followers on Facebook as a way to start promotion of the currency.
Electroneum's upping their game by forming partnerships, but they're not the only ones. Check out these other coins that are networking and getting support from some major companies.
Gaming Online
Cryptocurrency and online gaming are a natural pair, and Electroneum wants to become the king of in-game currency. The hope is that players would receive ETN as rewards for quests and objectives, instead of just in-game "gold coins," and if they could then convert that to other cryptocurrencies (or even to fiat money) it would make gamers want to play more, since they're getting real-life rewards for in-game accomplishments. Some games are using fiat money for in-game purchases (like weapons, character outfits, and so on), and Electroneum could possibly replace that, too.
Rolling the Dice: Electroneum and Gambling
Some gambling websites already accept Bitcoin as a currency. Unfortunately, it's hard to get Bitcoin outside the United States – much online gambling is hosted on non-U.S. servers – and if it's hard to get Bitcoin, it's hard to use. Electroneum wants to get in and make theirs the cryptocurrency of choice by making it easy and cheap to acquire and transfer ETN in online gambling games.
Electroneum and Mining
As we said earlier, the Electroneum team wants Electroneum mining to be easy and fair. By using an algorithm that's more accepting of CPU mining, those who have just their computer CPUs at their disposal won't get shut out by owners of expensive ASIC setups. The team has also made it easy to start. All you need to do is download the program and you can begin mining immediately. With mining simplified, it should be easy to get new miners onboard, and in bigger numbers.
The Supply of Electroneum
Investors in the initial coin offering (ICO) were rewarded with a share of the initial 4.4 billion coin offering. Team members got a share, and much of the rest of the coins were put into circulation. The reason there are so many ETN coins – 21 billion total, once they're all mined – is to avoid "fractions" of coins being used in transactions. The team felt that miners would feel more satisfied at getting whole coins instead of pieces, like what's happened with Bitcoin.
After coins are mined, miners should still be able to make profits with transaction fees.
The Trading History
The price at the ICO for each ETN was $0.01, and since then it has gone up and down to settle around $0.04. This is quite low, but not unheard of, for a new cryptocurrency. Typically coins will start low and climb up as they're adopted, but it can be slow going. Since Electroneum is still so new, there's no reason for it to be massively profitable, but the value could go up with the release of the iOS app. This would make it more accessible to more people, and the more people buy in, the higher the value goes.
Where to Buy Electroneum
This is where Electroneum has hit a snag. Right now, you can only get Electroneum at Cryptopia. Other exchanges haven't adopted it yet. That means that if you typically use Bittrex, Poloniex, or Binance, you're out of luck right now. But all is not lost: Electroneum's team is applying to these bigger exchanges in hopes of being traded there. Keep your eyes peeled to see how things develop.
Where to Store Electroneum
Most cryptocurrencies have their own wallets, and the same goes for Electroneum. You can get their official wallet software on their website. It can be used for setting up online or offline wallets. There aren't any hardware wallets, so if you're looking for the maximum amount of security, you're out of luck for the moment. Hopefully later on Electroneum will be available for hardware wallets, especially if the currency goes up in value.
Electroneum vs Monero
These are very similar services. Why? Electroneum is based on Monero's code. That means they both have an emphasis on privacy and anonymity, camouflaging transactions and wallets so that people can't see how much certain wallets – such as yours – hold. The code also allows both to be easily added to without having to do drastic reworking of network code. Electroneum is more focused on usability, while Monero seems fine with being complex and less accessible to the average person. Monero also doesn't seem to have any designs to spread, while Electroneum plans to move into online gaming, gambling, and mobile markets.
Electroneum vs Bitcoin
These are fairly similar, in that they're both cryptocurrencies that work with blockchain transactions. While Bitcoin is all about verifiabilty and public openness, allowing people to trace your IP address to your wallet if they wanted to. Electroneum uses Monero code as its base, allowing people's addresses, wallets, and transactions to have no connections, publicly, for anonymity's sake. Electroneum is also making inroads to try to be more accessible to new users, while Bitcoin remains difficult to get in some countries and can sometimes be difficult to convert and use for some people.
Electroneum vs Ethereum
There are a few similarities between these two. Both are cryptocurrencies built on blockchain software. Electroneum, again, is more privacy-oriented for people who don't want to have public records of their money or transactions. Ethereum is a whole platform, which allows the use of things tokens and creation of new software, making it highly moddable, while Electroneum doesn't look as robust yet. Electroneum is harder to get, while Ethereum is available from all major crypto exchanges.
Frequently Asked Questions
Is there an Electroneum app?
Yes, you can download it on Android and iOS (2023).
Are there reviews of Electroneum?
Yes, you can read some on Medium, crypto blogs, and Reddit.
Is Electroneum on Facebook?
Yes, they've got a presence there.
How do I buy Electroneum?
You can buy it on Cryptopia only, for now.
Where can I read news about Electroneum?
You can read news at their official Twitter or Facebook pages.
Is Electroneum on Twitter?
Yes.
Is there a Electroneum wallet?
Yes, it's downloadable from their main site, and allows management of ETN, as well as simulated mining.
What's the login for Electroneum?
Each person has their own login information for the main service.
Is there going to be an Electroneum app for iOS?
Yes, it should be released in 2023.
Is there an Electroneum mining app?
Sort of. The official app allows you to do "simulated" mining, which gets you rewards, but not actual coins. This is to prevent people from quickly mining coins at all hours with little CPU power.
Is Electroneum a good investment?
We'll see. 2023 might see them grow, and if they do, the value of the coin will go up.
Is Electroneum legit?
They're not a scam, if that's what you mean.
What is Electroneum?
It's a user-friendly cryptocurrency that has a high degree of privacy in transactions.
Do you know how to buy Electroneum with Coinbase?
You can't right now.
Is Electroneum available at Cryptopia?
Yes.
Conclusion
Electroneum isn't a humble little cryptocurrency by any standards. Rather, it has big plans for the future, and is looking to completely dominate the market by combining accessibility, ease-of-use, and building it into a currency that can be used not only for gambling but also online gaming, something which could bring it an audience of millions. If Electroneum's vision becomes a reality, it could end up being one of the premier cryptocurrencies on the market.
Impressed by Electroneum, but want more coins to look at? Follow this link to our list of 2023's most promising cryptocurrencies.
Read this next