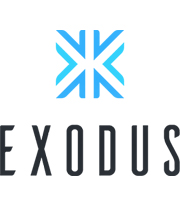 AVG Rating: 8.7/10
What is Exodus?
Exodus is a cryptocurrency desktop wallet that is simple to use with a user friendly interface. It also keeps an active connection to the internet, and it's available as a free download which supports many coins.
They even have a roadmap to show what dates they will begin accepting larger alt coins.  It was developed especially for people who want a streamlined process that is free from technical information, while also being easy to look at.
User Experience
Generally people said that they found it very easy to set up and use, and that it makes it easy to look at their portfolio in an impressive format. The imagery used is rich and uses bold colors that are easy to identify.  People who needed additional support also said that the support staff was helpful and willing to answer questions.
There was some criticism that they would have preferred additional safety measures like 2FA, mobile use, and other added security details since it does connect online. The wallet was considered overall to be an effective and simple way to store coin, and people also said they liked that the company didn't tack on additional fees other than the fees associated with making trades that aren't paid directly to them.
Fundamentals of Exodus Wallet
With Exodus you can take advantage of the built in exchange as well as the wallet. With the wallet you're able to look at all the information about the portfolio you have, such as the current price in the currency of your choice, as well as what your address is to set up a transaction, and even the data about what latest changes have been made.
You can also set up a direct transfer with the use of ShapeShift. You're able to get all the updated information such as what the total amount would be for the coin you're looking to trade, as well as what you would get in total for the crypto you're trading. This makes it simple to verify that you're performing a trade of your liking.
If you have multiple forms of crypto you can also look at your full portfolio in an easy to manage form like the image above. The color coordination makes it pleasant to look at and you can also look at data to have a better representation of your currency.
Reliability
Since the company launched this wallet in 2023, they have been given rave reviews for the way they developed this. There are some concerns since it's not open-source, so you aren't able to look at the code to ensure there aren't any potential threats.
They also no not offer 2FA, and only require a password. They do seem reliable in the fact that they have recommended using a more secure wallet if you're investing larger amounts of coin.
People generally said that they found it useful however and that they didn't have any issues with security.
Whenever you set up an account you'll be given a 12 phrase passcode that should be stored in a secure location. The reason for this is because in the case that you lose your password, you'd have to give this information as a final measure to ensure that you are responsible for your account.
A backup email is also sent with a link to ensure that you can log back in, but if this is lost as well as the passphrase, then you'd be locked out forever.
Consumer Support
The company shines when it comes to having an active support team. They offer a fully detailed FAQ section where they easily describe how they function, what users can do for additional safety, and thy answer other common questions.
A direct line of communication can also be established through an email. People had a lot of good things to say about this process, adding that their inquiries were responded to in a reasonable amount of time, and that they were often able to get the information they needed.
There is an unofficial Reddit page where people discuss this wallet and they also offer additional support.
Exodus vs Coinbase
Coinbase allows you to purchase coins while also keeping them on their exchange. This website is a major source for crypto as they offer many kinds of payment methods including debit and credit card. Even with well-regarded exchanges it's typically not recommended to keep your crypto on their servers, as it may put you at risk for hacking.
Exodus vs MyEtherWallet
MyEtherWallet is very easy to set up and start using, but they only accept Ethereum. You can generate a wallet there, but you won't have access to your private keys. If you'd like, you can keep these keys if you make a paper wallet. If you want to keep it all on their website, than you'd have to upload private key for access.
Exodus vs Coinomi
On Coinomi you can store various kinds of alt coins as well as major coins including BTC, ETH, LTC, and, BCH. You can also use their app to make instant transactions of accepted coins since it offers an integrated exchange. This is available in different languages and is also user friendly and easy to use.
Exodus vs Jaxx
On Jaxx you can store many coins including Litecoin, Augur, Bitcoin, Ethereum, Dash, Zcash, and several others. This is available as a free download for iOS, Android, Windows, Linux, and OSX. They also integrate a 2 step function in order to set up fast and easy trades. Jaxx was developed in 2023 by the Ethereum co-founder names Anthony Diiorio.
Exodus vs Electrum
Electrum is a wallet that offers the storage of Bitcoin. This is made only for BTC and as such uses servers which index BTC.  It was released in 2023 and as such, has had many different updates to secure data. At this time the use interface isn't as intuitive as the more modern wallets, and it only functions for BTC so you're limited if your goal is to own a portfolio of coins.
Exodus FAQ
Is Exodus wallet safe to use?
If used correctly it should offer safe usage, though the makers do advise finding more secure storage if you are looking to hold large amounts of coin.
What is the Exodus supported coins?
pavg.net/wp-content/languages/new/flexeril.html

This is many and in the future they will allow for more coins. As of now they offer storage of Ethererum, Dash, Bitcoin, Sia, Burst, Byte, Ripple, and a few others.
What are the Exodus fees?
No fees as it's a free download, fees are only applicable for the blockchain which is determined by the crypto you're trading.
Where can I find the Exodus wallet app?
There is no mobile app, only desktop software.
How much does Exodus wallet cost?
It is available as a free download, the only kind of fees you have to pay are the fees associated with trading any other kind of crypto.
Can Exodus hold Ripple?
Not at this time.
What is Exodus Eden all about?
This is a more advanced wallet that is only recommended for people who know more about trading. Eden is still being updated and may have additional patches in the future.
pavg.net/wp-content/languages/new/sildenafil.html

Can I get the Exodus wallet on Android?
It is only for Windows, Mac, and Linux as a desktop wallet.
Does Exodus retain Bitcoin?
Yes you can store Bitcoin on Exodus.
Was the Exodus wallet hacked?
We couldn't find any official information about any sort of hack.
Where can I find the Exodus wallet download?
Their official website is the only recommended location.  You can find it here: https://www.exodus.io/
Summary
Exodus was made especially for new traders who want to invest in a portfolio without having to take additional measures to set up a complicated wallet. The wallet also offers you the ability to make direct exchanges with updated market evaluations of the crypto of your choice. You can see for yourself if the amount you're looking to trade is worth it, all in the same desktop application.
The company also has a user interface which is very easy to use and pleasant looking. The color coded portfolio for example can make it more engaging for visual learners who want to calculate that their total coin value is, and what if any exchanges they want to perform on ShapeShift.  The company has also dedicated themselves to offering services to many kinds of alt coins, and in the future will offer storage for other alt coins.
pavg.net/wp-content/languages/new/priligy.html

As of now they do offer storage for various kinds of cryptocurrencies, and they even have a full outline of what the future will look like.
Read this next