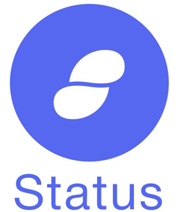 AVG Rating: 8.3/10
With the growth of the Ethereum blockchain, its safety measures, and the development of new decentralized applications (dapps) for it, what's preventing the majority of people from using it? Well, the answer is accessibility. Every blockchain comes with its own learning curve, and so unless you're somewhere technically proficient and already know how the system works, you might not be too hot on getting into it.
buy zofran generic https://mexicanpharmacyonlinerx.net/zofran.html over the counter

That's what Status wants to change. They want to make the whole Ethereum network accessible from your smartphone. And the best part? They're already well on their way.
So exactly what is Status, how does it work, and how can you benefit from it? Check out our guide to find out. And be sure to check our new list of the best altcoins of 2023, if you haven't already.
How Status Works
Status is basically a browser that works as a node in the Ethereum network, allowing users instant access to all Ethereum apps via their phones. In a way, it's like a mini operating system that works on your phone independent of its software.
The idea behind Status is to find a way around the current social media environment, which is slanted in favor of advertisers and owners: owners create the networks, try to get users to join their service, and try and keep them; advertisers give owners money in return for user information and advertising space; users use the networks, but can't control the network or the state of its advertising, leaving them with no power.
Status changes all that by introducing Status Network Tokens (SNTs) which allow users to have a say in how the network expands or makes decisions. Users get to control their own information, which is almost unheard of in the social media world.
The Network
This platform is not only free, but also open-source, with users being encouraged to build apps that use the platform and that can be accessed there.
The SNT is used to power the network. While the network is technically "free," users will need SNT to use some features. SNT also gives users the right to have a say in the development of the network and influence its future.
Right now, users are identified with keys (strings of numbers and letters), but the team is working ona  way to allow users to have proper usernames that are associated with individual keys. To prevent spam accounts from being formed, Status only allows accounts that have SNT to register usernames. You'll also need SNT to deposit in order to reserve a username.
The Client
Right now you can only get the Status Client app on iOS and Android.
Status has what's called a Decentralized Push Notification Market, which allows users to opt out or opt in of different services, choose what nodes provide them service, and what kind of notifications to get. The downside is that you have to pay for whatever service you decide to opt in to. One good thing, however, is that Status don't make any profits from user information sales to advertisers.
As we mentioned above, users can have stakes in the Status network and vote on what direction its development should take. The amount of SNT you have determines the amount of "vote tokens" you have in any vote, which you can cast. SNT isn't used to pay for these votes, however – it just signifies how much influence you're given.
The network lets users curate content, to approve or disapprove of what's being displayed to them.
Currently there's a decent little list of apps available to users of Status, including Gnosis (a crowd-sourced "prediction" service), Oasis Exchange (allows exchange between Ethereum and ERC-20 tokens) and Etherisc (an instant insurance claim service).
Later on, Status plans to introduce an app directory, a Teller Network app that lets users exchange cash for crypto with nearby users, and a Sticker Market for buying and selling unique online sticker images.
New Developments
A number of new features have been announced or put into development.
In late January, Status released the latest alpha version of the Status app, with offline messaging, ERC-20 token support, and other improvements.
In November of 2023, they unveiled their Hardwallet, an open-source and modifiable hardware wallet that works with Ethereum, SNT, as well as ERC-20-compliant tokens. Other cryptocurrencies with their own wallets can be seen at our new list of the best altcoins of 2023.
November also saw the announcement of Open Bounty, a way to connect developers with organizations and businesses that want to farm out work on Status's marketplace. Developers can sign up to work on projects they choose, with rewards coming in the form of SNT or ERC-20 tokens.
Status Token Trading
Status has a huge emphasis on development, taking over 50% of its budget, with the rest going towards security, legal fees, and marketing. This is promising, showing that the company is mostly invested in making a good product, not just marketing themselves.
Status was pretty popular when it started out. When they had their Contribution Period, they sold out in less than 24 hours, with ,000,000 being raised in total.
buy cialis generic https://cialisnextdaydeliveryusa.com over the counter

There are around 6.8 billion SNT in total, of which about 50% are in circulation.
The SNT went on the market in July of 2023, where it began at around $0.05. It didn't do very well over the course of the year until December, when it hit $0.65. In early 2023, however, the price dropped again along with the rest of the crypto market. Recently it's been hovering between $0.20 and $0.25, and it's thought that it could have to do with how badly Bitcoin's been doing. After all, if the most popular cryptocurrency is doing badly, that'll surely affect the rest of them too.
Storing Status
Since SNT is ERC-20-compatible, you can store it in a number of different wallets. If you're find with an online software wallet, you can go with MyEtherWallet – it's one of the most popular Ethereum-compatible wallets around, if not the most. You can also try MetaMask.
However, if you prefer hardware wallets, you can use the Trezor or Ledger Nano S wallets to store them. These will give you increased security, since you can disconnect them and keep them offline, leaving them safe from hackers. Newer users might prefer the software option, since it's generally free, while hardware wallets can cost upwards of $100.
The Team Behind Status
This is one of the biggest crypto-related companies we've ever seen. They have over 40 team members, with 10 advisers on board as well. True to their budget allocation, the majority of team members focus on development of the service as well as apps, while the others manage the community and do marketing, among other things.
The project was founded by Carl Bennets and Jarrad Hope, developers who have worked together on many previous projects, including most notably a software distribution network, the profits from which they used to fund Status until they held their ICO.
Status vs Toshi
These are pretty similar projects. Both of them are open-source browsers that work on mobile phones, giving users access to the Ethereum network. Both allow users to not only access apps, but also payments and messaging services. The main differences seem to spring from the ideology behind them – Status was made so that people can have a say in their social media experience and control their information, while Toshi seems to have been founded simply as a way to connect people conveniently to the Ethereum network.
buy zocor generic https://mexicanpharmacyonlinerx.net/zocor.html over the counter

Both have a system that ranks users: Status bases theirs on how many SNT you have, while Toshi users are ranked by other users.
Frequently Asked Questions
Can I read about the Status Network Token on Reddit?
Yes, there's a dedicated community there.
What is SNT, in relation to Status?
SNT is the name of the currency, shortened from Status Network Token.
Is there a Status coin Reddit?
Yes.
Where can I read Status coin news?
On Reddit, crypto blogs, and on Twitter.
What is the Status token?
It's a token that gives users voting power and the ability to access certain apps.
What's the price prediction for the Status coin?
It could depend on when they release the full version of the service.
What was the Status ICO price?
It sold for 0.0001 ETH.
Is there a Status coin Twitter?
The Status platform does have an official Twitter account.
How do I buy Status coin?
You can buy it on Huobi, Bittrex, and Binance, among others.
What is SNT coin?
It's a token that gives users privileges in the Status network.
Is Status considered "crypto"?
In a way, yes.
What was the Status ICO date?
June 20th, 2023, it seems.
What's the current price of Status?
Around $0.20.
Conclusion
As blockchain technology catches on, people are going to be looking for the easiest way to get involved. If they're relegated to a complex series of downloads, account formation, buying and selling and figuring things out from message boards, it might turn a lot of them away. Instead, Status wants to make it as easy as downloading an app and signing in, giving people instant access. Focusing on mobile technology is also likely to make it popular, as many people these days use their smart phones more often than their computers. By giving people easier access to the Ethereum network and everything it has to offer, there's a chance that Status – and networks like it – can introduce huge amounts of people to blockchain technology, and guarantee its legitimacy as the new way to interact, transact, and create online.
Status isn't the only Ethereum-based network out there though – check out our list of the best altcoins of 2023 to see its competition.
Read this next