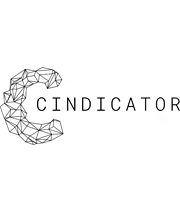 AVG Rating: 7.3/10
If you're into cryptocurrency, you've probably wished you could get an extra edge in predicting market trends, so you can get the most out of your investments. But going manually through the whole mess of information, history, reports, and current events can be a time-consuming slog, and you might not even end up with predictions that work out. That's what Cindicator is here to change. Cindicator is a service for financial analysis that uses something called Hybrid Intelligence to help people manage their investments better.
It uses a combination of artificial intelligence and human intelligence to put together reports that people can use to invest more wisely. Human analysts add their expertise and knowledge, and the AI takes that information and streamlines it to make it more ideal. Users can manage their capital from the app using the information gained from these reports, and the service compensates the humans that contribute to the analyses in the first place, creating a platform where everyone involved can get something out of it.
While the service currently is meant only for financial analysis, the system could one day be used to provide analysis and prediction in science, business, and politics as well. Cindicator is only one of the many crypto platforms out there changing the scene, and you can find more on our list of top altcoins of 2023.
How Cindicator Works Pt 1: The Human Side
As we mentioned, this system uses two ways to provide users with accurate prediction models. The first part of that? Human analysts.
Cindicator has a community of over 50,000 different analysts, some professional and some not. Without them, there wouldn't be a Cindicator at all. The pool is diverse so that there's less of a chance of biases affecting the overall analyses.
These analysts are asked questions every day, issued by the Cindicator app, and their answers produce what's called the Collective Intelligence Platform. Different analysts have difference areas of expertise,  and the questions asked will depend on what the specialty is. For example, a more traditional stock analyst may be asked about how Apple's stock will do over the next week, while someone in crypto will be asked questions about Bitcoin and Ethereum.
And there's some serious incentive for getting predictions right. At the end of each month there's a cash prize given to the most accurate forecasters with the highest ratings (the more accurate you are, the higher your rating will be).
How Cindicator Works Pt 2: The Machine Side
With the predictions from the Collective Intelligence Platform collected, the machine learning side takes those predictions and compares and contrasts those predictions with data taken right from the market, creating thousands of models for even more precise predictions about how the markets will do.
The system takes into account a number of things when making their models, including making a judgment of the track record and accuracy of each analyst, and uses a model that can predict how accurate a prediction is likely to be based on similar analyses. The artificial intelligence and machine learning systems also adapt and change depending on how the market goes, so that it always uses the most reliable and proven data and predictions to power the way they work.
The two main kinds of models the machine side of Cindicator produces are superforecasting and the "wisdom of the crowd" model.
The superforecasting model puts analysts into groups based on how similar their predictions are, trying to find out how likely they are to be influenced by trends and by how often they make mistakes.
The wisdom of the crowd model creates a number of different models and compares them to raw market data, in an effort to find which are the most accurate and which are least accurate.
How Cindicator Works Pt 3: The Userbase
After the humans and machines do their job, the users can finally reap the results using the Cindicator tokens. The amount of tokens you have determines how many features you can access, acting as a sort of "reward" for how much stake you've put into Cindicator tokens (or CND).
At the lowest level you only have access to some crypto prediction indicators, while higher levels allow you access to additional features like price level indicators and traditional stock predictions.
When you get an analysis you "pay" for it using CND, which goes into the pool of CND that pays the humans in the Collective Intelligence Platform.
Cindicator and the Market
Cindicator had its Initial Coin Offering (ICO) in September of 2023, and it started out very small (around $.01 to $.02), but as of early January it climbed higher and as of the end of the month it was hovering around $.20. Its price isn't very high, making it a potentially good investment – and if you'd like more low-cost coins to consider investing in, our new altcoin list for 2023 has a good selection to choose from.
Where Do I Buy Cindicator Tokens and How Are They Stored?
Right now you can buy Cindicator Tokens (CND) on HitBTC, Binance, and Mercatox. You can pay for it in Bitcoins or in Ethereum.
What form does the token take? It's an ERC-20 token, based on the rules and protocols that govern similar tokens built on the Ethereum blockchain. As a result, you can store it in any wallet that is compatible with ERC-20 tokens, including Meta Mask, MyEtherWallet, and Parity. If you prefer to use a "hard" wallet you can store them on a Trezor or a Ledger Nano. The latter would probably be safest, statistically speaking.
Cindicator vs Enigma
These services are not exactly the same. Cindicator is an app used for predicting financial trends, while Enigma is technically just a blockchain service based on decentralization and security, although it has been used to develop something similar to Cindicator called Catalyst, which instead of being a way to get models to use to invest, is meant more as a program to use to test your own theories against historical data. Cindicator has its own ecosystem and coin exchange, while Enigma has none of that.
buy lasix online www.conci.com/wp-content/languages/new/lasix.html no prescription

Cindicator vs Verge
These are also quite different. Cindicator is a financial trend predictor that uses a coin as its method of "payment" for services, while Verge is more of a standard, traditional cryptocurrency meant for use in everyday transactions. Cindicator can be stored on ERC-20-compatible wallets, while Verge comes with its own wallet for storage.
buy lipitor online www.conci.com/wp-content/languages/new/lipitor.html no prescription

They can both be purchased at HitBTC.
Cindicator vs Tron
These currencies have very little in common. Cindicator is an app for financial predictions while Tron is a blockchain-based app for sharing creative content on their own global platform. They've got different press, too: while Cindicator is on the up-and-up, Tron has been in the middle of a PR quagmire, accused of lying about partnerships as well as plagiarizing another cryptocurrency's white paper.
Frequently Asked Questions
What is Cindicator coin?
Cindicator coin or (CND) is a token used to pay for transactions done in the Cindicator app.
Is there a community for Cindicator on Reddit?
Yes, if you check out Reddit you'll find that there's an entire subreddit dedicated just to Cindicator.
Where can I read a review of Cindicator?
You can see user and industry opinions on Cindicator on sites like Medium and Coincodex.
Where can I read news about Cindicator?
You can keep tabs on it by checking out crypto blogs, as well as the service's own Twitter account.
What's the price prediction for Cindicator?
Right now its overall trend has been going up (at least through January), but you'll have to check the markets yourself to make your own opinion.
Is Cindicator "CND"?
Yes, that's the short form of "Cindicator tokens" and is used to reference it in the marketplace.
What is the current price of Cindicator coin?
As of the end of January, the price was around $.20-$.24.
Is Cindicator a cryptocurrency?
Yes, although right now it isn't as generally useful as Ethereum or Bitcoin.
What is the Cindicator app?
The app is where users take advantage of the information put together by the Hybrid Intelligence database.
Does Cindicator have a Twitter?
buy clomid online www.conci.com/wp-content/languages/new/clomid.html no prescription


Yes, Cindicator is active on Twitter.
Who's on the Cindicator team?
The team is comprised of a large group of mathematicians, developers, analysts, and investors.
Can I buy Cindicator on Etherdelta?
Right now, the answer to that is no.
What is Cindicator?
It's an app that uses a combination of real-life analyses and artificial intelligence data analysis to create accurate predictions users can use to make better investments.
Conclusion
People have always wished for some sort of way to predict the future, something that can take the "gambling" aspect out of investing. We don't have crystal balls, yet, but with its combination of respected analysts and artificial intelligence, Cindicator may provide people the edge they need to get ahead in an uncertain industry.
The system that Cindicator is pioneering could eventually change the way people look at investing, but until it's fully-developed, it can be hard to know what to invest in. That's why we're offering our own researched list of the top altcoins to invest in in 2023 – check it out here.
Read this next