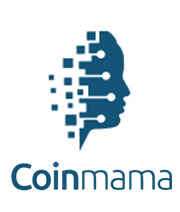 AVG Rating: 5.5/10
What exactly is Coinmama?
Coinmama allows the purchase of Bitcoin or Ethereum with a credit or debit card to your digital wallet of choice. The transaction process is immediate and it's offered worldwide in different countries. They currently offer only 2 forms of cryptocurrency, but they are working on servicing other forms of currency.
They only serve to allow the buying of cryptocurrency so their process is streamlined and focused on a single task. We'll explain further what Coinmama is all about and what to look for.
The Fundamentals of Coinmama
You have to begin by setting up an account by registering on their official website. You submit our details in the input form:
After you create the password of your choice you'll receive an email shortly where you can verify that you set up an account.  You'll then go into your account where you'll have to verify your account further to ensure safety. You'll need some sort of government ID such as a driver's license or passport.
When your account is verified you can check on the account screen where it should say if it is or isn't yet accessible for purchase. After this stage you can go into the 'Buy' tab where you can get the cryptocurrency of your choice (Ethereum or Bitcoin at this time).
A wallet address is needed and at this time, Coinmama is only open for purchase, they do not distribute digital wallets. Once you give your wallet address you'll be able to complete the payment and have immediate cryptocurrency transferred into your account.
How is Coinmama kept safe?
As you can see from the image above, they use a 256- Bit SLL encrypting and Trust Guard on their website to ensure that no information is leaked. They allow users to come up with their own password as well. For larger transactions of up to $50,000 they require an additional ID or a utility bill. For $50,000 or more there is another step which they require direct communication to learn more about.
The company is based out of Israel and has a large team as well as a history of safe transactions.
Their customer service tram is also available 24/7, with peak hours listed on their official website.
They are also certified as a MSB or Money Services Businesses by the Financial Crimes Enforcement Network Department of Treasury. This is an extra safeguard to ensure that they are registered and took the time to try and become more legitimate.
Who can use Coinmama?
Their services are open in 217 countries and 23 different US states. You can read about where they operate in by looking at their Coinmama Support section. The minimum they ask for to purchase is $60 USD or whatever the transfer rate would be to EUR.
Fundamentals of Coinmama
Their process is very streamlined and easy to understand since they serve a single purpose, which is to provide a place to buy either Bitcoin or Ethereum. Their FAQ section also offers more details such as what the limits are and what kind of certification they require. They do not offer any fiat currency transfer, but keep the process simple by making it all about buying.
The amount of necessary documentation depends on the amount you're looking to purchase. The support staff is available and they make it clear what their terms and conditions are.
They also have a locked in cryptocurrency rate at the time of purchase, so if there is a change in value you get exactly the amount you originally purchased.
Coinmama vs Coinbase
Coinbase offers support for fewer countries and they currently have around a 3.99% fee on transactions. They also provide full digital currency exchange for over 190 countries. The buying and selling is offered on their website and they offer a free app.
The company has had over $50 billion exchanged in currency, and they have an easy registration policy. They were also in the news for their goal of expanding the usage and worth of cryptocurrency into the general economy.
Coinmama vs CEX.IO
Many major cryptocurrencies can be traded with CEX.IO, and they even have an unlimited withdrawal amount for certain users. They are known for their high amount of trading, and they have 24/7 chat available for immediate support.
Their company is located in the UK, and currently has very low trading fees depending on the specifics behind the transaction. They also require documentation to ensure that the account is verified.
Coinmama vs Bitstamp
Bitstamp allows the trade of Bitcoin, Bitcoin Cash, Ether, XRP, and Litecoin. They are transparent about what they offer and have a full explanation for what they offer. For trading major credit cards are accepted, and 98% of their digital funds are secure with offline storage.
They also certify that they are operating as a legitimate business by opening themselves up for auditing every year.
Coinmama vs Bitpanda
Bitpanda is based out of Austria and they offer two-factor-authentication for added safety if the user chooses to have it. Fees can vary depending on what is requested. With Bitpanda you can also use different forms of payment including bank transfer, PayPal, and other unique methods of payment.
The lowest possible verification is simple a phone number though this dos limit the amount you're able to get a month. With more verification you can get different tiers.
Coinmama vs Bittrex
Bittrex offers over 190 different cryptocurrency exchanges, and they offer quickly updated changes in the market to show what the value is. Their fees are also low and they are based out of the US. You can use their Bittrex wallet to store cryptocurrency as well.
The signup process is also fast and described as easy by many users. Their higher amount of less-often used coin also makes it a unique find on the market.
Coinmama FAQ
What are the Coinmama fees?
A purchase fee of 5.50% is tacked on, as well as a 5.00% fee on credit or debit card transactions.
What is the consensus of Coinmama on Reddit?
It's hard to get much of a read on what it can offer because people often had questions as opposed to opinions on Coinmama.
What is needed for Coinmama verification?
Setting up a password and offering some sort of verified government ID. The process is free.
Is there a Coinmama coupon?
Some coupon websites offer a discount offer such as 5% off.
Is there a Coinmama app?
They do not currently offer an App; everything is handled on their official website.
What does the Coinmama Wiki page say about it?
There is a Bitcoin Wiki page which has a person's opinion about it but no actual facts.
What is the total Coinmama verification time?
No specific timeframe is given as its' on an account by account basis.
Are there any Coinmama withdrawal fees?
There is a withdrawal dally limit, but no attached fee.
What is the total Coinmama exchange rate?
This is updated constantly but a Bitcoin sells for $11,829 USD or a single Ethereum is $1,111 USD.
Is Coinmama safe?
The general consensus online is that it's a safe way to purchase crypto.
How long does Coinmama take to verify?
Documents are reviewed by the support staff so as soon as it is checked, it should be verified.
What are the Coinmama business hours?
They are open 24/7 but they do say the best time to reach them is Sunday through Thursday at 9:00-18:00 GMT.
What is the Coinmama phone number?
Only an email is currently offered, be aware there is a phone support scam and they do not have a phone number set up.
Can I get Coinmama for 5% off?
There are ongoing 5% off discount offers on different coupon websites.
buy prednisone online http://pmilv.com/wp-content/languages/new/cheap/prednisone.html no prescription

How to set up a Coinmama account?
Registering is free and you simply visit their official website and give them your name, country of origin, and make your password. You then verify your account by providing some of government ID.
buy veklury online http://pmilv.com/wp-content/languages/new/cheap/veklury.html no prescription

After this you can select you currency of choice.
Can I get Coinmama in Oregon?
At this time it's not available in Oregon, the nearest state is California.
Coinmama Summary
Their simplified approach to digital currency buying makes the process easy and fast, so even beginners can know what to expect. They specialize this for people who want to get either Ethereum or Bitcoin, and they are in the process of allowing other cryptocurrencies to be purchased. It's especially made for people who want a quick transfer into their digital wallets, and since they focus on a single thing, this makes it easier for people who just one of two popular cryptocurrencies.
Read this next