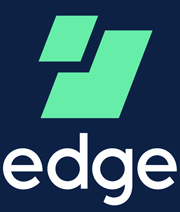 AVG Rating: 7.8/10
What is Edge?
Edge is a mobile wallet that offers exchanges, multiple coin storage, and in the future will also allow buying and selling with fiat currency. Logging into accounts is made easy and you can add additional security with a Touch ID or PIN number.  They currently offer support for Bitcoin, Ethereum, Litecoin, Bitcoin Cash, Dash, Augur REP, and Wings.  They were originally known as Airbitz but have since changed their name but kept the same team.
The simple transition of crypto also makes it quick to make adjustments to your portfolio.  All information is kept secure with encryption which means that the company does not have any details about user's sensitive information.  They also do not require any private details before setting up an account such as an ID or email.
Jump right to our exclusive guide which showcases the very best coins of the year.
User Experience
Users on Android and iOS shared the same kind of experience. Right now they have a 4.7 out of 5 rating for Apple users, and on Google Play they have a slightly lower score at 3.5 out of 5. Most gave it a great review with 5 stars being the most common.
Some Android users said that they had issues on their phones, but this seems to be only a few amounts of people, and the company actually commented on how they updated and patched the previous error.
People generally said that they really found it pleasant to look and easy to activate.
www.seehowcan.com/wp-content/languages/new/top-resume-writing-services.html

The build-in crypto exchange was especially appreciated from users who felt that it worked seamlessly, offering fast transactions all in one place.
Uses also really enjoyed the fact it was a free download and that it is fairly light, clocking in at 20.3 megabytes on iOS.
Fundamentals of Edge Wallet
In the future there will be in app purchases of crypto with fiat currency but as of now, it focuses on a secure way to store and exchange crypto. You can also send crypto to another address and receive it.
If you'd like to authenticate either Wings or Augur, you can do so on Edge. They provide a code which you can and there you can begin exchanging. This can be done on any device including a computer or phone.
When you begin working with Edge you have the ability to see all of what's possible in an easy to understand interface imaged above.
www.seehowcan.com/wp-content/languages/new/editing-services.html

This makes it easy to understand what to do without having to have an extensive background in crypto. An ongoing development is also occurring since they have liked together with Kraken, Bitrefill, and others.
www.seehowcan.com/wp-content/languages/new/dissertation-editing-services.html

This will open up the ability to access a bitcoin debit card, gift cards, and much more.
Another great feature of Edge is their partnership with different companies in order to make purchases with crypto. It gives users the option to make direct transfers to business which may offer a discount for sending crypto. At this time it appears it will only be offered for those who use their mobile app, and will not be applied to purchases made on other devices.
Our research came up with the following top rated coins; click here to review for yourself.
Reliability
They've been around since 2023 and it appears the company has increased in their scope and vision. Their teaming up with many different companies is only going to make Edge grow more, and they also have a secure backing by not retaining user's sensitive information.
This is fully decentralized in the spirit of crypto, and Edge is not going to hold onto assets like other wallets may have. All the information is kept in the user's hands, as it is only held on a device. This means that the safety and use is strictly on the consumer, making sure that Edge does not interfere in case of a potential jack.
Another great thing about this company is that even in the worst case scenario f a shutdown, funds are still in user's hands. Judging from their growth and long-held service in the world of crypto, it appears fairly certain that Edge wallet and the company behind it is safe and reliable to use.
Consumer Support
On the official website they have an official support page where you can browse different topics, or type in the search bar to find a relevant topic.
They allow people to look at trouble shooting, features, starting tips, and much more. For more direct questions they also have a contact page and it appears they are active on all social media. A direct phone number is also provided for people to leave a voicemail to be contacted later.
It is recommended to open up a ticket instead however for a faster response.  Judging from all the available data, it's a good sight and shows the companies dedication to providing real support. The ease of use and easy to work with interface also makes it user friendly for even beginners to crypto.
Read all about the best rated coins of the year in our thoroughly researched guide.
Edge vs Trezor
The Trezor is a hardware wallet that supports various coins like DASH, Zcash, Bitcoin Cash, Ethereum, Dogecoin, Bitcoin, Litecoin, ERC-20 tokens, and much more. This is highly rated as a wallet since it ensures that users can retain their data, and not have it online where it may be susceptible to hacking.
Tis wallet currently retails for $149 on Amazon, though it often has price fluctuations. People generally enjoyed using it due to its portable size, security, ease of use, and adaptability. Trezor is also a popular wallet due to its ease of use and secure storage. It can be run on Apple, Android, Linux, and Windows. In the case of theft or loss, the only way to access it would be to provide a few different passphrases which ensures only the creator has access to their funds.
Edge vs Nano
Nano is another hardware wallet that supports the storage of many coins including Bitcoin, Ethereum, Dogecoin, Zcash, Ripple, Qtum, Litecoin, Ark, and a few others. This is a less expensive hardware wallet which like other wallets, ensures that private keys are in the hands of the user only.
It's also complete source for all to review, and it offers quick transactions. The portability and ease of use are two major reasons why people often enjoy using this wallet. It retailed originally $129.99 on Amazon, though this price is consistently reduced to less than $100 on most dates. Nano is also a major hardware wallet which is often considered to be in the top 5.
Edge FAQ
Is the Edge security reliable?
Those interested in learning more about the security aspects can take the developer route and look at relevant data to determine if it fits your needs. The official website front page has a security section on the bottom to learn more.
Does the Edge wallet work?
It's fully functional as a free download and you can check it out and see what it offers. There have been a lot of people who have used this wallet successfully without any loss of funds or compromises.
Will the Edge wallet work on iOS?
Yes it does, it is a free download as well.
Does the Edge wallet hold Bitcoin?
Bitcoin can be stored on Edge wallet.
Is there an Edge Wallet Reddit page?
No official page is up, but there has been a lot of discussion on Reddit from different posters.
Is the Edge wallet Beta available?
It is no longer in its Beta stage and is now fully available though there is still a waiting period for improved transactions.
What's a common Edge wallet review?
People generally liked the ease of use and interactive interface.  Many said it was pleasant to look at and fast acting. The fast transaction when using the app was also praised. Often there was the common consensus that it was simple.
buy flagyl online https://healthcoachmichelle.com/wp-content/languages/new/online/flagyl.html no prescription

What can you tell me about Edge Wallet and Airbitz?
AirBitz has now been rebranded to Edge but it's all done by the same team, only the name has changed.
Does the Edge Wallet have SegWit support?
Yes they do offer SegWit or Segregated Witness support for Bitcoin and Litecoin.
Summary
Edge is providing ongoing development and partnerships which make it an even more functional wallet. Even if your goal is only to have a secure place to store your crypto, Edge offers full security and only the user would have access to sensitive keys. The company does no retain any personal information which ensures that consumers are safe if the website where to go down, or if there was an issue with security.
For people who want more than a wallet, it offers a full exchange where you can convert your crypto. As of right now they offer support for many major coins like Ethereum and Bitcoin, as well as other platforms like Augur. They also offer quick and easy solution to send money to business, some of which may offer an additional discount.
buy augmentin online https://healthcoachmichelle.com/wp-content/languages/new/online/augmentin.html no prescription

For people interested in having a wallet that's easy to work with and streamline for simple real-world use, Edge wallet may be a reliable solution.
We've outlined what coins are the best of the year in this informative guide.
Read this next