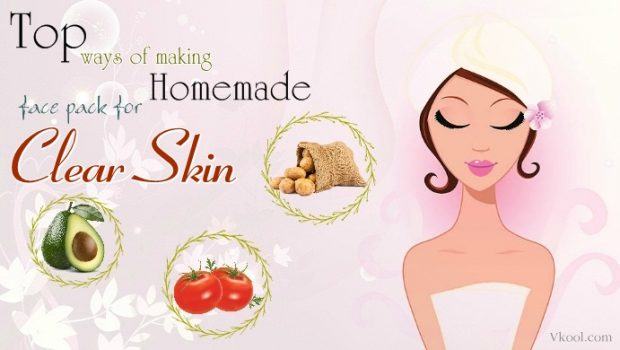 Overview
Most of the women want to own a clear and beautiful skin. But it is not easy to keep a clear and healthy skin due to today's busy schedules, harsh rays of the sun and polluted environment. Plus, improper skin care, unhealthy food choices, poor diet, etc, make the skin lifeless, dull and prone to pigmentation, pimples, and acne. To deal with the problems related to beauty, you can rely on skin and beauty products such as creams, lotions, and gels that promise immediate glow and brightness. However, you should limit using these products because most are full of bleach, toxins, and chemicals. Instead, you should try using natural tips to get rid of skin problems and get a clear skin. In this article, we, VKool.com, have listed the simple ways of making homemade face pack for clear skin. Let's get started!
Top 14 Ways Of Making Homemade Face Pack For Clear Skin
1. Potato Face Pack For Clear Skin
Potatoes are good for achieving clear skin naturally, decreasing age spots and pigmentation and removing skin tan. They are enriched with vitamin C, A, and B, as well as phosphorus, potassium, iron and protein, all of which help to improve the health of the skin. According to a study, vitamin C is helpful for promoting the ability of collagen to improve overall skin texture and smooth wrinkles [1]. Besides, they are also effective at reducing dark circles under eyes, preventing wrinkles and enhancing the complexion. To make the face pack for clear skin with potatoes, follow the steps below:
Recipe 1: Potato & Milk Pack
Firstly, peel and grate a big potato and later squeeze out its juice. Then, add 2 tbsp of milk, 1 tbsp of honey and the potato juice in a glass bowl and mix them together properly. Start applying this pack to the face & neck and wash off after 15 minutes with lukewarm water. To get remarkable results, apply this pack two times weekly.
Recipe 2: Potato & Carrot Pack
Get 1 small carrot and 1 medium sized potato at first and later peel off the skin. Then, cut the potato and carrot into small pieces and afterward, boil them together. Mash them finely and add 1 tsp of sweet almond oil to this mixture. Start applying this pack to the face & neck and keep it on for 20 minutes before washing off with normal water.
2. Baking Soda Face Pack For Clear Skin
Baking soda contains antibacterial, antifungal, anti-inflammatory and antiseptic properties. Therefore, it is a powerful ingredient for treating skin issues. Particularly, it's a good exfoliating agent, which can remove dead cells. Furthermore, it assists in balancing the skin's pH level, which is very important for clearing skin. Try the method below to make this baking soda for clear skin:
Recipe 1:
Prepare ½ tsp of baking soda, 1 tsp of raw honey and 1 drop of lavender essential oil. Next, whip up all these things to a thick paste. After that, slather this pack onto your clean face with your clean fingertips. Lastly, rinse off gently using warm water after 5 to 10 minutes and pat dry using a soft towel.
Recipe 2:
Get ½ tsp of baking soda, 1 tsp of yogurt and 1 drop of lemon essential oil. In a small bowl, mix up these ingredients till you attain a creamy mixture. Start slathering this pack onto your face and keep it on for around 5 to 10 minutes. Thereafter, rinse the pack off by using tepid water and lastly, pat your face dry by using a clean towel.
3. Tomato Face Pack For Clear Skin
Tomatoes contain the acidic nature, which helps to fight pimples and acne. Additionally, they also have the antioxidants and lycopene, which helps to retain moisture in the skin and combat cellular damage. According to a study, the lycopene present in tomatoes helps to provide protection from photodamage [3]. Therefore, tomatoes are a great choice to get a clear skin at home. To make this tomato face pack for clear skin, please do this:
Recipe 1:
Take some tomatoes at first and later mash these tomatoes into a pulp. Then, add a spoon of curd and some oatmeal. Start applying this mixture to your face & neck. Leave the application on for few minutes and wash it off afterward.
Recipe 2:
Take a tomato and mash it into a paste. Then, mix 2-3 drops of lemon juice and ½ spoon of dried lemon peel powder in it. Thereafter, apply this pack to your face and leave it on for ten minutes before washing with lukewarm water.
4. Wheat Germ Face Pack
Both wheat germ oil and wheat germ have been used topically and internally for ages for treating different skin conditions. Wheat germ has the capacity to nourish the skin since it is rich in vitamin E and D. Vitamin E in it helps to prevent skin damage and support the collagen formation to keep even skin tone.  You can make this wheat germ face pack for clear skin as follows:
Recipe:
Simply, prepare a mixture of ½ spoon of oatmeal and 1 spoon of wheat germ oil. Add 1 spoon each of olive oil and fresh milk cream to the mixture. Begin to apply the mixture to your face and after a period of 10 minutes, wash your face using lukewarm water.
5. Carrot Face Pack For Clear Skin
Carrots are an effective ingredient in the prevention and treatment of various skin ailments. This vegetable is rich in the antioxidants that can treat skin conditions such as pimples and acne, dermatitis, rashes, as well as other skin problems caused by vitamin A deficiency. The consumption of carrots daily also helps to keep the skin healthy and vibrant since they are loaded with antioxidants and vitamin C. In addition, vitamin C in it aids the production of collagen in the body. It also assists in preventing wrinkles and locking the process of aging.
Recipe 1:
Take 1-2 fresh carrots and grind it. Mix with ½ tablespoon of honey and apply this pack to your face. Leave the pack to dry for a period of 15 minutes and finally, use cold water to remove it.
Recipe 2:
Crush a carrot to make a paste of it. Later do the same process with papaya. Then, mix both of them together and add a little milk to it. Thereafter, apply this pack to your face and wash your face mildly after 20 minutes with tepid water.
6. Oatmeal Face Pack
According to a study in 2023, colloidal oatmeal is considered as a natural and effective ingredient used for forming many personal care products [4]. Oatmeal can help to remove dead cells, deposits, and dirt from the skin. Besides, it also helps to unclog the pores and decrease the chances of pimple and acne breakouts. Oatmeal also aids in soothing out the dryness of the skin on the face since it is high in natural vitamin. Here is the recipe that explains you on how to make this oatmeal face pack for clear skin at home:
Recipe 1:
Prepare ½ spoon of oatmeal and enough amounts of water and milk. Mix all the ingredients together and apply to your face. Keep the application on for the duration of 15 minutes and use cold water to clean it.
Recipe 2:
Get 2 tbsp of oatmeal, juice of half a lemon, 2 tbsp of Multani mitti or kaolin clay and 4 tbsp of full cream milk. Mix them together to make a pack. Apply on your face with this pack and wait for 20 minutes. Afterward, use cold water to wash your face and pat dry. Finally, apply a light moisturizer.
7. Olive Oil Face Pack For Clear Skin
Olive oil helps to hydrate and moisturize dry skin and prevent the appearance of the skin aging signs such as wrinkles, age spots, and fine lines. It is also packed with vitamin C, D, and E as well as antioxidants, which helps to regenerate and moisturize the skin. Plus, olive oil [5] also contains essential fatty acids and thus works as a natural moisturizer. Along with that, this oil is good for maintaining the elasticity of the skin and keeping it supple, glowing and smooth. Here's how to make this olive oil face pack for clear skin:
Recipe:
Take a spoon of olive oil and ½ spoon of lemon juice. Mix the two ingredients together and start applying to your face. Keep your application on for 15 minutes and clean it with water.
Want More Content Like This In Your Inbox?
Join The Discussion