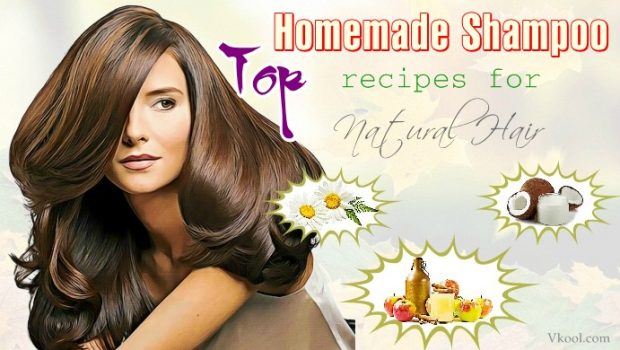 Always appearing on the top priorities for the beauty category with the skin or the teeth, human hair often receives a lot of attention. As not all people having the beautiful hair, it is important for them to learn how to take care of their own treasure. While some people are looking for commercial hair wash and other products containing chemicals, the homemade shampoo recipes become the favorite options for many women and man, who want to protect their hair from side effects of these unnatural ingredients. Luckily, there are many herbs that can become the ingredients for the homemade shampoo recipes, making it easier for everyone to take care of their hair at home. Even though the options are various, each recipe will be suitable for certain types of hair. Therefore, it is important for you to choose the appropriate one among them. In this article, VKool.com will introduce 24 effective homemade shampoo recipes for the hair to help you make a better decision. Therefore, if you want to help the better hair, don't miss this article.
Top 24 Homemade Shampoo Recipes For Natural Hair
1. Apple Cider Vinegar
The very first option in the list of homemade shampoo recipes is the apple cider vinegar. With the power of balancing the hair's natural pH level and closing the hair cuticles, apple cider vinegar is not only used in many skin care products but also applied in form of shampoo or conditioner. Your hair is believed to be shinier and more supple thank to the vinegar boosting the blood circulation. Moreover, this ingredient will also help you solve the tangled hair more easily when the cuticles are closed.
How to use:
Simply add a tablespoon of the apple cider vinegar into a cup of clean water.
Dilute the mixture and use it as the shampoo, followed by the mild shampoo.
In case your hair is long, you can add the double amount of vinegar to increase the effect.
See more: 10 Medical And Common Uses For Apple Cider Vinegar Are Exposed
2. Lavender Essential Oil And Shea Butter
For anyone having the damaged and dry hair, the lavender essential oil and the shea butter can be a good choice among the homemade shampoo recipes to try at home. This combination is very effective in restoring moisture, which will ensure a strong hair.  To do it at home, you will need:
Ingredients:
Liquid castile soap – 200 ml
Organic shea butter – 15 ml
Lavender essential oil – 8 to 12 drops
Sodium bicarbonate- 1 ½ teaspoons
Distilled water – 50 ml
How to use:
Melt the shea butter by putting it in the boiling water and let it cool down to the room temperature.
Add sodium bicarbonate in the distilled water and mix well.
Put the liquid castile soap in the mixture and then, stir well for at least half a minute.  Remember not to form too much foam in this mixture.
Add more melted shea butter as well as the lavender essential oil into the mixture before blending it well.
Apply this mixture to your daily shampoo to get the healthy hair.
Learn more: How To Use Lavender Oil For Skin, Hair, Health: 20 Tips
3. Beer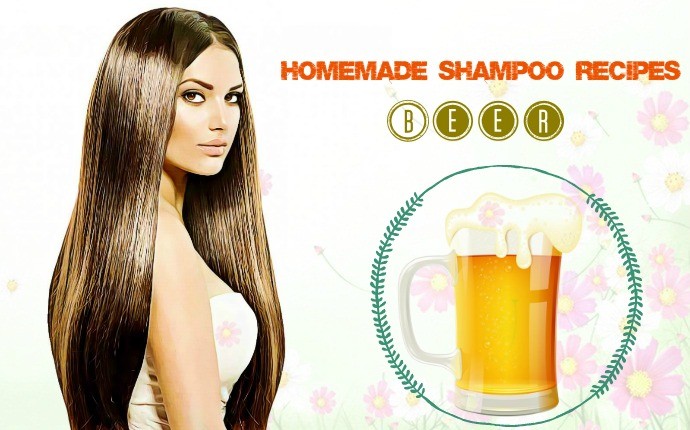 One of the most popular ingredients that appear in many the homemade shampoo recipes is beer. Similar to apple cider vinegar, beer can shine your hair and restore the damaged hair with its sources of protein contained in the malt and hops. This recipe is especially suitable for people with curly hair due to its effectiveness.
How to use:
Rinse your hair with your favorite shampoo in the same way that you do every day.
Prepare beer that is open for around one day.
Use this beer to pour directly into your hair before gently massaging your hair for a few minutes.
Rinse your hair with warm water afterward. Do not use hot water in this step.
Read more: Total Hair Regrowth Review – Will John's Guide Work?
4. Green Tea, Honey, And Olive Oil
If you are fulfilling your list of homemade shampoo recipes, this combination will deserve a spot. As a generous source of antioxidant properties, green tea can work well with honey and olive oil to reduce hair loss, eliminate the gray hair and make your hair healthier.
Ingredients:
Liquid castile soap – 1 cup
Organic green tea leaves – A handful
Organic olive oil – 1 tablespoon
Organic raw honey – 1 teaspoon
Distilled water – 1 cup
How to use:
Put all the green tea leaves in the distilled water and then, boil it.
Keep steeping it for approximately 30 minutes.
Strain the green tea before adding the liquid castile soap, olive oil, and also honey in this mixture.
Mix well and use this combination as your usual shampoo.
See more: Homemade Green Tea Face Mask Recipe: 26 Best Solutions
5. Rosemary And Shampoo Bar
Rosemary and shampoo bar that contains lavender essential oils will be the next choice in the homemade shampoo recipes suggested in this article.  Let see what you need to prepare for this recipe.
Ingredients:
Shampoo bar (having ingredients such as rosemary, tea tree oil, and lavender essential oil) – 1 bar
Dried rosemary – a tablespoon or fresh rosemary- 3-inch twig
Water – 3 cups
Xanthan gum – ¼ teaspoon (optional)
How to use:
Grind this shampoo bar properly and then, mix it well with the rosemary and water.
Dissolve the mixture completely by cooking it for a while.
Keep stirring frequently to remove the heat out of the mixture.
When the mixture gets cooled down to the room temperature, remove the rosemary in case you put the rosemary twig in and add a little bit of the xanthan gum in.
Pour the mixture into an empty pump-style bottle or shampoo container and use it as the usual shampoo.
Note: A detox or transition period can appear during the first week using this shampoo, making your hair more greasy than usual. However, once your hair gets familiar with the homemade rosemary shampoo, this condition will stop and your hair will look healthier, glossier and cleaner.
Learn more: 10 Health Benefits Of Rosemary
6. Gelatin
Another potential option for homemade shampoo recipes that will be suggested in this article is using gelatin. This recipe can make your hair shinier and thicker due to the keratin proteins it contains. The gelatin can not only save the damaged hair but also nourish the entire strand. Let see how to create one of the effective homemade shampoo recipes at home [1].
Ingredients:
Gelatin powder – 1 tablespoon
Water – A little
Egg yolk – 2
How to use:
Mix the gelatin powder together with the water and allow it to stay aside for at least half an hour.
Using a warm bath to heat this mixture until the gelatin gets melted completely into the water.
Let it cool down and put the egg yolk into that mixture.
Mix them well and wash your hair with this shampoo.
Allow this mixture to stay on your hair for about 10 to 12 minutes for the better results.
This recipe is specially used for oily and normal hair. The effectiveness of it will not let you down.
Read more: Hair growth treatments
Want More Content Like This In Your Inbox?
Join The Discussion