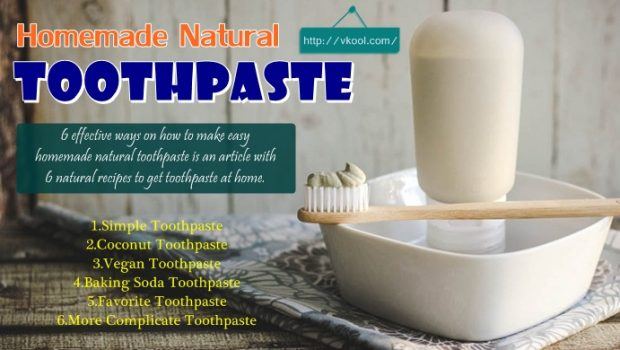 Toothpaste is an essential stuff for the teeth health in particular and the mouth cleanness in common. It is easy to find the cheap or expensive toothpaste with versatile advantages on the market but no one makes sure they are really effective without any harmful effects on the health.   The source of synthetic dyes, sodium hydroxide, titanium dioxide, artificial sweeteners, sodium lauryl sulfate, triclosan, and sodium fluoride presented in conventional toothpaste can directly the health if swallowed.
Fluoride is considered as the most controversial ingredient, which has been proved by the experts. This is the reason why homemade natural toothpaste is highly recommended instead of the chemical ones. It is not actually easy to purchase enough ingredients and make natural toothpaste on your own but you should try to make and consume them because of your health.
It is time VKool.com showed you 6 effective ways on how to make easy homemade natural toothpaste to do at home. All the recommended recipes are really effective and safe to maintain the dental health. For those who want to keep and improve the dental health, let try these recipes mentioned in our article.
6 Effective Ways On How To Make Easy Homemade Natural Toothpaste
1. Simple Toothpaste
Toothpaste plays an important role in maintaining the Dental Health, so you should pay more attention to use a suitable one. Simple toothpaste is alike a name of homemade natural toothpaste that is quite easy to make.  This toothpaste is just used for an application, thus, you should adjust the measurement to get enough amount paste on your brush.
Ingredients:
1 teaspoon of baking soda
1/2 teaspoon of finely ground sea salt
Peppermint, citrus, or clove oil
Some water
Process:
Add the amount of baking soda, sea salt, several drops of water, and a few drops of an essential oil to a small bowl and mix them well until forming a thick paste.
Scoop the toothpaste onto the toothbrush then brush your teeth
Maintain making and using this simple toothpaste each day to get nice teeth.
2. Coconut Toothpaste
This homemade natural toothpaste is called coconut toothpaste because it uses coconut oil as the flavor taste. Coconut oil contains antibacterial properties, which make it ideal to clean the mouth thoroughly. This toothpaste swaps out the glycerin while coconut and essential oils create the subtle taste of baking soda and hydrogen peroxide. Here is the formula of this homemade natural toothpaste for your healthy teeth.
Ingredients:
6 teaspoons of baking soda
2 tablespoons of warm coconut oil
1/4 teaspoon of hydrogen peroxide
Peppermint, citrus, or clove oil
Process:
Add the baking soda, hydrogen peroxide, coconut oil, and an essential oil to a bowl then mix them well until achieving a fine paste texture.
If the mixture is dry, add some coconut oil; If it is runny, add a bit baking soda.
Store the toothpaste in an opaque container and use it other normal toothpaste.
Learn more: 14 Best coconut oil beauty recipes
3. Vegan Toothpaste
Vegan toothpaste is known as the homemade natural toothpaste that is good for your health. Almost of commercial toothpaste contain glycerin to keep the product's texture. It is originally animal glycerin if vegetable glycerin is not mentioned. This is the formula of a vegan toothpaste containing glycerin, for your choice:
Ingredients:
4 tablespoons of baking soda
2 teaspoons of vegetable glycerin
1/2 teaspoon of guar gum
Peppermint, citrus, or clove oil
8 tablespoons water
Process:
Put all the baking soda, vegetable glycerin, guar gum, and water in a pot then cook over the low heat and keep stirring them for 5 minutes.
When the mixture becomes a paste-like texture, let it cool.
Add an essential oil to the paste.
Store the toothpaste in a sterile jar and at the room temperature.
Use this toothpaste every day.
See more: 12 natural home remedies for wisdom tooth pain relief
4. Baking Soda Toothpaste
Baking soda toothpaste is other simple homemade natural toothpaste that is based on baking soda as the main ingredient. All the ingredients of this toothpaste are not hard to purchase indeed and the process is detailed as follows:
Ingredients:
2 tablespoons of baking soda
4 tablespoons coconut oil
1 tablespoon of xylitol powder
Trace minerals
Peppermint essential oil
Clove or cinnamon essential oil
1 toothpaste tube.
Process:
Put all the baking soda, xylitol powder into a bowl.
Add 30 drops of trace minerals and 20 drops of each peppermint oil and clove (cinnamon) oil to the bowl and mix well.
Store the homemade natural toothpaste in a glass jar.
Add a few drops of water to the paste if it begins to dry out.
See more: 13 household and beauty uses of baking soda you should know
5. Favorite Toothpaste
This is homemade natural toothpaste that is a combination of coconut oil, bentonite clay, sea salt, and peppermint essential oil. It takes a few minutes to look through how beneficial these ingredients are for the teeth care.
Firstly, Coconut oil, as mentioned above, contains antibacterial properties that are very useful in keeping the mouth clean.
Meanwhile, bentonite clay also has antibacterial properties, making it become a polishing cleanser used to improve the digestive health. Bentonite clay also helps remineralize the teeth so that it is included in this toothpaste.
Plus, sea salt also contains antibacterial properties and helps scrub the teeth gently.
Finally, Peppermint essential oil makes you love the toothpaste due to its minty freshness.
Ingredients:
4 tablespoons of bentonite clay
4 tablespoons of coconut oil
½ teaspoon of sea salt
Peppermint essential oil
Filtered water
Process:
Add the clay, coconut oil, and sea salt to a small bowl and mix them well.
Add 1 tablespoon of filtered water to the mixture and cream the ingredients together with the spoon back until it becomes consistent.
Add 10 to 15 drops of peppermint oil to the paste and mix them again.
Store the toothpaste in an airtight container and use it daily.
Read more: Conversation confidence review – is Eduard Ezeanu's book useful?
6. More Complicate Toothpaste
This homemade natural toothpaste includes more ingredients than above- mentioned recipes. But it is quite easy to buy them from online shops with the brands trusted for certain vitamins and supplements that are good for your teeth health. Here is the detailed process:
Ingredients:
2 tablespoons of bentonite clay
3 Tablespoons of xylitol powder
4 Tablespoons of warm coconut oil
Trace minerals
Cinnamon and clove essential oils
Water
30 drops Concentrace trace minerals
3 Tbsp. water (possibly more)
Process:
Put all the bentonite clay and xylitol powder in a bowl and pulse until becoming well mixed.
Add coconut oil, 30 drops of trace minerals, 20 drops of each essential oil, and 3 tablespoons of water.
Mix the mixture until smooth and add some water if necessary to get a consistency.
Store the toothpaste in a glass jar and use it every day.
Related article: How To Remove Teeth Stains Naturally At Home – 9 Tips
10 Burning Mouth Syndrome Home Remedies
After reading the article on 6 effective ways on how to make easy homemade natural toothpaste in our main Beauty page, hope that you can make some toothpaste that is suitable and safe for your dental health. However, you should try these recipes carefully because they can give effects to your teeth or other health problems. Please leave your questions below and share with us if you know other ways to make homemade natural toothpaste.
Want More Content Like This In Your Inbox?
Join The Discussion