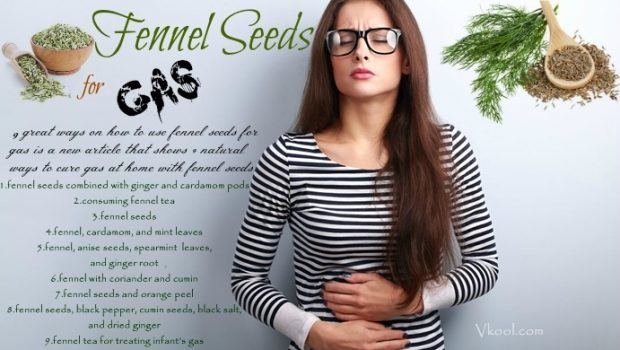 People suffering from gas know that it can be annoying and often embarrassing. This condition can be caused by many factors such as oily or spicy foods, excessive alcohol consumption, viral or bacterial infections, not properly chewing the food, stress, etc.
Fennel is known as an aromatic herb which has licorice type flavor. In fact, every part of this herb has several medicinal benefits as well as helps in dealing with this gas problem.
In this article, VKool.com will show you 9 useful ways on how to use fennel seeds for gas without any side effect. This article listed the best methods that use this oil along with some other natural ingredients to treat gas effectively at home from reliable sources.
10 Useful Ways To Use Fennel Seeds For Gas
How Can Fennel Seeds Help In Treating Gas?
These following properties of fennel below show how it helps in treating several digestive type diseases including gas.
Fennel seeds contain anti-spasmodic, anti-microbial, anti-inflammatory, and anti-bacterial properties, which aids in stimulating the gas production in your stomach and gives you a quick relief from various stomach problems such as gas and bloating and gas.
In addition, it is a powerful and natural carminative, which means that fennel seeds have the ability to remove gas from the intestinal tract as well as give you a better digestion.
Besides, fennel seeds are high in minerals such as iron, manganese, selenium, potassium, vitamin E, C and B, fenchone, anethole, estragole, magnesium, etc, which aids your contracted intestinal muscles in relaxing and thereby getting you a smooth functioning of your intestinal tract.
Moreover, fennel contains excellent antioxidants which will protect your body from being damaged by free radicals and increase free movement in your small intestines.
1. Fennel Seeds Combined With Ginger And Cardamom Pods
Ingredients:
Fennel seeds – 1 teaspoon
Fresh ginger – a small slice
Boiling water – 1 cup
Cardamom pods – a little
Remedy:
At first, you mix all these ingredients well
You stir them well and let them steep for about 5 to 7 minutes.
Now, you drink this warm tea for 3 times per day to get a relief from gas.
Keep repeating this process as you need.
See more: 13 amazing health benefits of cardamom for men & women
2. Consuming Fennel Tea
This is the simplest way in the list of 9 tips on how to use fennel seeds for gas you should try. In fact, fennel tea has volatile oils which increase the gastric juice production. This, in turn, aids you in having a better digestion. The fennel tea is very safe for everyone.
Remedy:
You firstly put a little water into a tea pan and boil it for a few minutes.
Then you add in this pan a bunch of crushed fennel seeds along with tea leaves.
You continue to boil them for 10 minutes.
Next, you add a little jaggery syrup and ¼ cup of milk in this boiling mixture.
After that, you strain the water and drink this tea to instantly relieve this condition.
3. Fennel Seeds
Try using this remedy as one of the simple ways for using fennel seeds for gas.
First of all, you pour ½ teaspoon of fennel seeds (crushed) in 1 cup of boiling water.
You steep this for 10 to 12 minutes and drink this solution when you feel gas.
Or you may chew fennel seeds (a spoonful) after taking your meals.
Remember to store these seeds in a small bowl or pill cases.
Keep chewing this when you have indigestion and the stomach gas. Besides, this remedy also helps you to fresh your breath.
Learn more: The e-book of Heartburn no more

4. Fennel, Cardamom, And Mint Leaves
The combination of fennel, cardamom, and mint leaves is also an effective way of healing gas you should try.
You just put all fresh fennel, cardamom, and mint leaves in water and then boil them for a few minutes.
After the water boils, you strain the mixture water and drink it.
Or you may simply chew some fresh fennel leaves for getting a better digestion.
5. Fennel, Anise Seeds, Spearmint Leaves, And Ginger Root
Ingredients:                                      
Water – 1 quart
Fennel seeds – 1 teaspoon
Anise seeds – ½ teaspoon
Ginger root – 1 small slice
Spearmint leaves – a handful
Remedy:
You firstly boil the water and then add the fennel seeds, ginger root, and anise seeds in it.
Next, you simmer this mixture for 5 to 7 minutes in 1 covered pot.
After that, you take it out of the heat and put the spearmint leaves in it.
You continue to steep for about 20 minutes and consume a cup of this tea or more based on your condition.
See more: Top 10 tips on how to use ginger for diarrhea
To get more information about tips on how to use fennel seeds for gas, stay with for our next post!
6. Fennel With Coriander And Cumin
Fennel has a high source of volatile oil that stimulates the gastric juice production and thereby assisting you in treating gas and bloating. Try using this treatment when you suffer from gas and bloating to ease this disease.
First of all, let prepare cumin, coriander, and fennel at an equal ratio.
Then you mix them well and consume ¼ teaspoon of this mixture before meals.
You should consume this mixture regularly to keep gas and bloating at bay.
Read more: 10 Health benefits of cumin you should know
7. Fennel Seeds And Orange Peel
Ingredients:
Orange peel – 1 tablespoon
Fennel seeds – 1 tablespoon
Water – 2 cups
Remedy:
You just pour the fennel seeds and orange peel into the water.
Then you boil them for a few minutes.
You steep this tea and add a little honey make it sweeter if you want.
You drink this tea when you have stomach problems.
You may refrigerate this tea for about 2 days.
See more: Health benefits of oranges in the body that amaze you
8. Fennel Seeds, Black Pepper, Cumin Seeds, Black Salt, And Dried Ginger
The last way in the list of 9 tips on how to use fennel seeds for gas is to use these seeds combined with black pepper, cumin seeds, black salt, and dried ginger.
You just prepare black pepper (25 grams), dried ginger (50 grams), fennel seeds (50 grams), black salt (50 grams), and cumin seeds (50 grams).
Then you chop or grind all these ingredients well and to make a mixture.
Now, you simply consume ½ teaspoon of this mixture with lukewarm water for every 4 to 5 hours.
Learn more: 18 black & white pepper health benefits & risks research
9. Fennel Tea For Treating Infant's Gas
Ingredients:
Water – 2 cups
Fennel seeds – 1 tablespoon
Remedy:
Now, you firstly pour the water into a pan.
Then you add the fennel seeds and let it boil for 10 to 12 minutes.
After that, you take the pan out of the heat and cover it.
You let it be aside and wait for a few minutes until it cools.
Next, you strain the tea and remove the seeds.
You let your baby consume this approximately ½ teaspoon for every 25 minutes till you feel more uncomfortable.
You can store this for a day.
Warning:
Follow these tips below to get a fast relief from gas as well as other stomach problems:
Remember always to chew green fennel seeds which taste like licorice because it helps in getting a better digestion instead of yellowish seeds.
It is not recommended for women during pregnancy and breastfeeding women. In addition, people who are allergic to celery, mugwort, carrots, etc. have also ability to be allergic to this.
Fennel seeds have some effects when you take it with other drugs such as ibuprofen, naproxen, amoxapine, tetracycline, etc
Fennel seeds will raise the risk of skin sensitivity.
If you are suffering from breast cancer, remember not to use fennel.
Keep following these methods occasionally to keep this problem at bay in future.
To get more information related to health problems, go to our main Health page. After studying the writing of 9 useful methods on how to use fennel seeds for gas, hope that this article will help you learn more some easy and simple ways to use this seed for treating gas. All these remedies are safe, natural, cost effective as well as easily available for treating gas. But, remember that you have to try the remedies only after carrying out a small test to check your body reaction, and then continue using them to keep gas at bay. If you have any question or comment, please leave them below, I will respond you as soon as possible. Also, you can share your experiences with us if you know other ways on how to use fennel seeds for gas.
Recommended links: 13 health and nutritional benefits of sesame seeds for everyone
17 amazing tips in the list of health and beauty benefits of Flaxseeds you have to know
Want More Content Like This In Your Inbox?
Join The Discussion