Healthy salad recipes do not have to taste boring. In fact, there are still some salads which can make you and any other who tastes them say these salad recipes are addictive! During the summer, it will be very great if you have a big raw salad for lunch or end up your day with a light salad. Summer is a time when people tend to eat lighter and do not want to heat up the kitchen. Therefore, making salad and enjoying them become especially wonderful in summer days.
Easy Healthy Salad Recipes – Best Recipes For People At All Age
Unlike healthy homemade ones, typical salads with store-bought dressings do not usually contain enough nutrients to stabilize your body as a whole meal. Making salad dressings and preparing ingredients which are wholesome, fresh at home is actually very simple and they are much healthier than overly-processed, sugar-laden salad dressings, which are sold at the store.

More important, these healthy salad recipes also taste wonderful that you will never want to go back to opt for the convenient or canned salad bought from store again! In the article today, I would like to show you some of the best healthy salad recipes you can make with your family members!
1. Arugula Salad With Creamy Avocado-Citrus Vinaigrette Dressing
For those people who have never eaten arugula before, I think that you actually should try this dark leafy green once. Arugula has a distinct and delicious spicy flavor that can be paired with fruits nicely. You will definitely love it! The arugula provides a lot of vitamins and nutrients, and the avocado makes this healthy salad full enough to be served as a meal. You will love the added citrus in the dressing which gives it the tangy flavor. You should not hesitate to substitute some fresh cilantros and basils for dried herbs if you like.
Salad Ingredients:
2 ounces cherry tomatoes, halved
2 ounces kalamata olives, halved
1 cup spinach leaves
2 cups baby arugula leaves
Vinaigrette Ingredients:
cold water for thinning
1 basil leaf, chopped
3 tbsp chopped cilantro
1 tbsp honey
1/4 cup Extra Virgin olive oil (or use 1/8 cup olive oil + 1/8 cup water)
1/2 tsp salt
1/2 tsp black pepper
2 tbsp rice wine vinegar (or try apple cider vinegar)
2 tbsp fresh grapefruit juice
2 tbsp fresh lime juice
1/4 cup finely chopped red onion
1 large, ripe avocado- peeled and pitted
2. BBQ Tofu Edamame Pineapple Spinach Salad With Nectarine Balsamic Dressing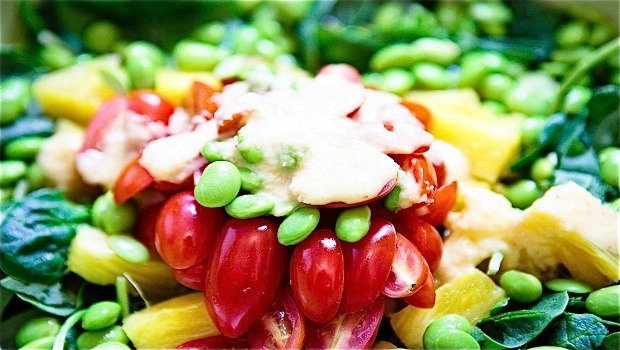 This is also one of the best healthy salad recipes which contain everything you ever wanted in a salad. I absolutely love tofu, pineapple, spinach, and avocado. Therefore, I think that putting all of them together in a large bowl and mix them well is really a great idea!
You can find the shelled edamame in any local health food store, and if they do not have it, you totally can use chickpeas instead. I usually use apple cider vinegar instead of other vinegars to make this salad, so you can also do this freely. This salad contains a lot of plant-based protein from the edamame, vitamins from the baby spinach, and healthy fats from the olive oil and avocado. That is an sufficiently nutritious meal replacement for people at all ages!
Tofu Ingredients:
1 T Bragg Liquid Aminos (or tamari/soy sauce)
1 T balsamic vinegar
1/3 cup + 1-2 T barbecue sauce, separated
1 package of extra-firm tofu, press and drain overnight or up to twenty four hours
Dressing Ingredients:
dash of garlic powder
dash of cayenne pepper
¼ tsp salt
½ tsp powdered stevia
1 tsp Dijon mustard
1 nectarine, pitted, and roughly chopped (peeling is optional)
1/8 cup apple juice (orange juice would be good too)
¼ cup + 1 T white balsamic vinegar
3. Immunity Salad With Raw Spinach Garlic Dressing
This out of the easy healthy salad recipes you are about to learn have the power of boosting the immune system effectively. This can be an added bonus to the meal-replacing aspects. Citrus (from the lemon or orange) has antioxidants, garlic is anti-fungal, and carrots have carotenoids that will help to enhance your immunity very well. Nevertheless, the cashews in this salad provide the satisfying amount of protein and healthy fats that make this an entire and nutritious meal. You will also be able to take double the amount of leafy green nutrients and raw enzymes with the kale for the actual salad and the spinach in the dressing! If you want this salad to be totally raw, you should not toast the cashews. In addition, feel free to leave out the oranges and apples and replace them with everything you love, such as tasty and healthy bell peppers!
Salad Ingredients:
1/4 C cashews toasted in a pan
1 large orange, segmented
1 large apple, cubed
4 C raw kale pieces
Dressing Ingredients:
1/4 tsp salt
2 small cloves garlic
Juice of 1/2 meyer lemon, seeds removed
1 C raw spinach
1 carrot
1/2 C water + 1/4 C water
4. Tuscan Kale Salad With Lemon-Shallot Dressing + Parmela
If you do not like kale salads, you will think differently after trying this tasty beauty salad. The bitter flavor from kale actually will go away when you massage it enough to appear wilted or when it marinates.
Parmela is a dairy-free cheese substitute, but you can use the brand Parma or regular Parmesan freely. Kale is a leafy green that has a lot of vitamins enough to complete a meal and make you feel full. This salad recipe also contains rich amounts of healthy fats from the walnuts and avocado which finish it off. You could also sprinkle some nutritional yeast on there to get some protein and Bvitamins.
Ingredients:
Parmela – Parmesan Style Aged Nut Cheese for garnish or topping
1 avocado, peeled and diced for topping/garnish
2 tablespoons raw walnuts
4 1/2 tablespoons extra-virgin olive oil
1/4 teaspoon ground fresh black pepper
1/4 teaspoon salt
3 tablespoons shallot, finely minced
3 tablespoons fresh lemon juice (about 1 medium lemon)
15-20 fresh Tuscan kale leaves, carefully rinse them, sterm, and center ribs cut away and discarded, rip or chop the leaves coarsely
5. Blueberry Salad With Coconut Cilantro Dressing
You may not enjoy the combination of fruits and greens as a healthy salad, but you will be able to clear this thought in your mind after trying this salad recipe. Blueberry salad with coconut cilantro dressing is best served on a summer evening as a light dinner because blueberries are very delicious and fresh, reducing the heat inside your body. You can also use blackberries, raspberries, or strawberries if you love them. You can eat this salad alone or with a cup of nutritious smoothie depending on how hungry you are. Pumpkin seeds provide a little bit of protein, making this a refreshing and balanced meal. Coconut oil makes you feel full and adds a lot of nutrients into the salad, especially healthy fats. The salad is bursting with antioxidants from the greens and blueberries.
Ingredients:
1 pint fresh organic blueberries
¼ tsp. fresh lemon zest
½ tsp. sesame seeds
1 Tbsp. pumpkin seeds
2 Tbsp. finely chopped fresh cilantro
¼ tsp. freshly ground pepper
¼ tsp. sea salt
2 Tbsp. melted coconut oil
1 Tbsp. freshly squeezed lemon juice
4 cups organic mixed salad greens
6. Creamy Kale Salad
This is one of the best salads in the world. Seriously, I do not think the nutritional yeast is optional in this recipe. It makes the salad so addicting and cheesy even without dairy. There is something you can do to make this salad a little better.
You just need to marinate it in some lemon juice or let it marinate in the dressing a little bit for at least fifteen minutes. This will help to eliminate the bitterness. To make this salad recipe become a lighter dressing, you should reduce the amount of dressing for one bunch of kale or add another couple bunches of kale. You can also make the dressing and store it for using later.
Ingredients:
1 cup of water
1 tsp of maple syrup or liquid sweetener
1/3 cup of nutritional yeast (optional)
1 clove of garlic or ½ tablespoon of garlic powder
1 tablespoon of salt
3 lemons juiced
1 red pepper roughly chopped
2 ½ cups of cashews
1 bunch of kale De-stemmed and washed thoroughly
7. Raw Kale Salad With Sundried Tomato Cashew Dressing
The next one in the list of easy healthy salad recipes I want to show moms today is the raw kale salad with sundried tomato cashew dressing.
This is among the best salad recipes because it does not taste like other boring healthy food! It tastes like a pizza-themed salad due to the tomatoes and oregano. You should add some nutritional yeasts (dairy-free source of protein and Bvitamins) to make it taste like a cheesy pizza. Or else, you can add freshly grated Parmesan or other cheese to achieve the similar taste. The raw kale provides a lot of enzymes and nutrients while the cashews will give you a high level of protein and healthy fats. That makes this become a fully-balanced, tasty, and healthy salad!
Ingredients:
Salt and pepper, to taste
1tsp dried oregano
1/2T olive oil
4 sundried tomatoes, chopped
2/3 cup almond milk
1 cup raw cashews, soaked at least 8 hours
1 lemon, juiced
1 bunch kale, cut in ribbons
8. Cherry Farro Salad With Sweet Vinaigrette
Here is a tasty salad using whole grain that not only tastes good but is good for you! The flavors are sweet and refreshing while the farro and crunchy nuts give it wonderful texture!
Vinaigrette ingredients:
2 teaspoons white sugar
1/4 cup apple cider vinegar
1/2 teaspoon salt
1/4 cup pure maple syrup
1/4 cup extra-virgin olive oil
Salad ingredients:
2 tablespoons chopped flat-leaf parsley
3/4 cup dried cherries
1 cup chopped tart green apple
1/2 teaspoon dried basil
1/2 teaspoon dried oregano
1 cup farro
2 1/2 cups chicken broth or vegetable broth
1/4 cup chopped walnuts
9. Berry Delicious Summer Salad
Juicy, sweet blueberries are the key flavor of this quick-toss salad, but it is equally good to be served with a mix of summer berries. Walnuts and creamy gorgonzola cheese complement the perfect mix of leafy greens. You can pair these fresh ingredients with grilled chicken, pork, or beef for a simple yet elegant menu that is simple enough to serve anytime.
Ingredients:
Bottled vinaigrette
1/4 cup chopped and toasted walnuts or pecans
1/2 cup crumbled Gorgonzola or blue cheese
2 cups fresh blueberries
8 cups mixed salad greens
10. Cha-Cha Chicken Salad
Trimmed with a festive border of fresh berries and herbs and shaped in a cake pan, this is one of the best healthy salad recipes which double as an easy and quick centerpiece for summer days. You can serve it as an appetizer with sliced breads and assorted crackers or a luncheon entrée.
Ingredients:
Garnishes: fresh herbs, raspberries, blackberries, sliced peaches
1 cup chopped roasted, salted almonds
2/3 cup orange-flavored sweetened dried cranberries
1 (8-oz.) can crushed pineapple
6 cups chopped cooked chicken
1 teaspoon salt
2 teaspoons curry powder
1 cup mayonnaise
1 (8-oz.) package cream cheese, softened
11. Potato Cobb Salad
This is also one of the easy healthy salad recipes I would like to introduce today in this untapped list. Instead of being tossed together in a bowl, the ingredients in this colorful salad can be well-arranged on a platter. The potatoes can be cooked and marinated overnight – ready to assemble just before serving.
Ingredients:
Freshly ground pepper to taste
6 to 8 slices bacon, cooked and crumbled
4 ounces crumbled blue cheese
2 cups (8 ounces) shredded sharp Cheddar cheese
12 small green onions, sliced
3 large tomatoes, seeded and diced
1 tablespoon fresh lemon juice
2 large avocados
8 cups mixed salad greens
1 (16-ounce) bottle olive oil-and-vinegar dressing, divided
3/4 teaspoon salt
3 pounds Yukon gold potatoes
12. Lemon-Basil Shrimp Salad
In this salad, the shrimp will make a terrific appetizer. Do not skip the fresh lemon juice and rind in the lemon-basil marinade. This will make this salad more special. The shrimp and the Parmesan Baskets, as well as the dressing will all be made a day ahead.
Ingredients:
Fresh Lemon Vinaigrette
8 Parmesan Baskets (optional)
16 cups salad greens
1/2 cup chopped fresh basil
Lemon-Basil Marinade
1 yellow bell pepper, sliced
1 red bell pepper, sliced
1 large red onion, sliced
3 pounds unpeeled, cooked large shrimp
13. Mustard Dill Tortellini Salad Skewers
These festive party pick-ups will take quick start with refrigerated cheese tortellini. If you do not have a lot of time, you just need to toss the ingredients together in a large bowl and set out some forks.
Ingredients:
Mustard-Dill Vinaigrette
1 pt. grape tomatoes, cut in half
68 (4-inch) wooden skewers
1 (8-oz.) package frozen sugar snap peas
1 (9-oz.) package refrigerated cheese tortellini
14. Grilled Peach And Mozzarella Salad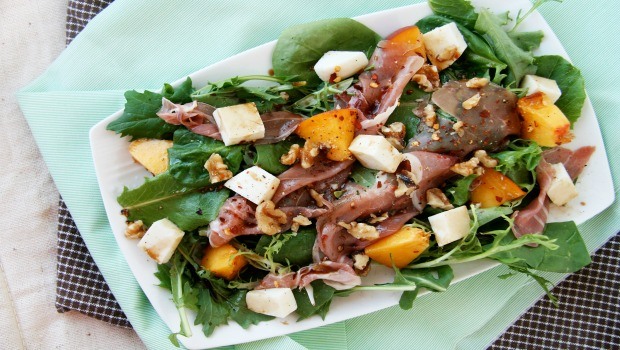 Fresh peaches replace tomatoes in this Southern twist on Insalata Caprese. Tequila spiked with a drizzle of cilantro vinaigrette adds the finishing touch.
Ingredients:
Garnish: fresh cilantro sprigs
3/4 pound fresh mozzarella, cut into 16 (1/4-inch) slices
1 (6-oz.) package baby arugula or watercress, thoroughly washed
Vegetable cooking spray
1/3 cup olive oil
1 1/2 tablespoons tequila (optional)
3/4 teaspoon chili powder
3/4 teaspoon ground cumin
1/2 cup fresh lime juice
1 teaspoon lime zest
1 teaspoon salt
3 tablespoons honey
1/4 cup chopped fresh cilantro
3 green onions, sliced
5 peaches (not white)
15. Green Bean, Grape, And Pasta Salad
This is actually one of the best healthy salad recipes you should try right tonight! If you are a big fan of broccoli salad, you will love the combination of these colorful ingredients. Cook the pasta al dente, so it is firm enough to be held when it is tossed with the tangy-sweet salad dressing. This salad is also very good for your digestive system.
Ingredients:
Salt to taste
1/3 cup diced red onion
2 cups seedless red grapes, cut in half
1 teaspoon salt
1/3 cup red wine vinegar
1/3 cup sugar
1 cup mayonnaise
1 (8-oz.) package penne pasta
1 pound thin fresh green beans, trimmed and cut in half
8 bacon slices
1 cup chopped pecans
16. Fresh Pesto Pasta Salad
Toss Parmesan cheese, toasted pine nuts, and chopped fresh basil with a flavorful garlic vinaigrette and still-warm pasta shells – and you have got the perfect side dish for a summer sandwich.
Ingredients:
1 (16-ounce) package small shell pasta
1/3 cup red wine vinegar
1 tablespoon sugar
1 teaspoon seasoned pepper
1/2 teaspoon salt
1 teaspoon Dijon mustard
1 garlic clove, pressed
3/4 cup olive oil
1 cup chopped fresh basil
1 (3-ounce) package shredded Parmesan cheese
1/2 cup toasted pine nuts
Garnishes: small, yellow pear-shaped tomatoes grape tomatoes; gourmet mixed baby salad greens
17. Spinach And Strawberry Salad
A homemade sesame-poppy seed dressing will make this simple-to-fix salad very special. You can prepare the spinach, dressing, and vegetable toppings right away – then just cover and chill.
Ingredients:
Salt and freshly ground pepper to taste
Bottled red wine vinaigrette
1/2 cup sliced toasted almonds
1 (4-oz.) package crumbled blue cheese
1 (16-oz.) container strawberries, quartered
2 (6-oz.) bags baby spinach
1/4 red onion, thinly sliced
18. Chilled Vegetable Salad
A favorite at backyard cookouts, this colorful confetti of tender and crisp vegetables is marinated in a tangy and sweet homemade dressing.
Ingredients:
1/4 teaspoon pepper
1/2 teaspoon salt
1 (11-ounce) can white shoepeg corn, drained
1 (14 1/2-ounce) can French-cut green beans, drained
1 (15 1/4-ounce) can small sweet green peas, drained
1 (7-ounce) jar diced pimiento, undrained
3 celery ribs, sliced
1 medium onion, chopped
1 medium-size green bell pepper, chopped
1/2 cup vegetable oil
3/4 cup cider vinegar
1 cup sugar
19. Lemon-Tarragon Chicken Salad
This is one of the best easy healthy salad recipes made from chicken which is like money in the bank when it comes to simple entertaining. A wreath of thin green beans creates a simple yet striking garnish.
Ingredients:
Garnish: halved lemon slices
2 cups seedless red grapes, cut in half (optional)
1/2 small sweet onion, finely chopped
2 celery stalks, finely chopped
3 cups chopped cooked chicken
1/2 teaspoon freshly ground pepper
1 teaspoon salt
1 tablespoon fresh lemon juice
1 teaspoon grated lemon rind
1 tablespoon chopped fresh tarragon
3/4 cup mayonnaise
1/2 cup chopped pecans
20. Sugar Snap – Snow Pea Salad
Brightly flavored and light with fresh ginger, this Asian-inspired medley of frozen and fresh peas is among the best easy salad recipes which just take you a few minutes to prepare before enjoying together with you family members! This is also the best salad recipe for today's article! What you need to do is just trying these healthy salads and living a healthier life with more enjoyable daily meals!
Ingredients:
1 cup frozen baby English peas, thawed
1 tablespoon black or regular sesame seeds
1 teaspoon sugar
2 teaspoons minced fresh ginger
1 tablespoon canola oil
1 tablespoon white vinegar
1 tablespoon pomegranate or cranberry juice
1 tablespoon soy sauce
1 1/2 cups trimmed fresh snow peas (about 6 oz.)
1 1/2 cups trimmed fresh sugar snap peas (about 5 oz.)
This is the list of 20 easy healthy salad recipes that are very simple for people to prepare and enjoy with their family's members together. This list will help my readers who are visiting VKool.com enjoy their daily meals and improve overall health noticeably without spending too much money, time, and efforts.
If you think that my list of best healthy salad recipes are very useful for you and other people around you, do not hesitate to share this entire list with them and remember to let me see your feedbacks in the comment form below!
Want More Content Like This In Your Inbox?
Join The Discussion