Making your own juices is much simpler than you can imagine. If you like totally organic vegetables and fruits, you always know that is exactly what you are getting. You can use interesting garnishes, frozen fruits, and seasonal fruits – everything you love. Today I will show you the best healthy juice recipes which are very good for your skin, your muscles, your mind and body. In addition, they are also very delicious! Try yourself and feel how wonderful they are!
1. Apple, Apricot, And Peach Juice:
The first thing in the listof the best healthy juice recipes I want to show you is a sweet combination of fruits. I am sure that thisspecial juice – the combination of apple, apricot, and peachwill become your favorite right after enjoying it the first time. The apricots add a new and interesting flavor you will not be able to find anywhere else. The best thing about this juice is that it brings abouta large amount of nutrients.
Ingredients:
– 2 apples
– 2 apricots
– 2 peaches
Processing:
Wash the fruits, cut each in half and discard the seeds, core, and pits. Cut the fruits into smaller pieces and put them into a juicer.
2. Fresh Apple Juice:
Apple juice is one of the most common juice that you might heard about. It is a perfect drink for breakfast as it offers a high amount of antioxidants, helping to prevent a myriad of health issues. You can also use apple juice for making smoothies.
Ingredients:
– Peels and core from 3 apples, discard seeds
– 1/4 cup of white sugar
– 5 cups of water
Processing:
Put the cores, peels, and water into a saucepan. Boil the mixture, then reduce heat and simmer itfor 30 minutes, stirring occasionally. Drain and discard the chunks. Then,stir it in sugar and mix until it is dissolved. You should drink it when it is cool to improve the taste. This mixture is really good for your health, especially great for improving your skin and digestive system. Therefore, you should drink them regularly. Actually, this is one of the best healthy juice recipes for anyone.
3. Cranberries Juice: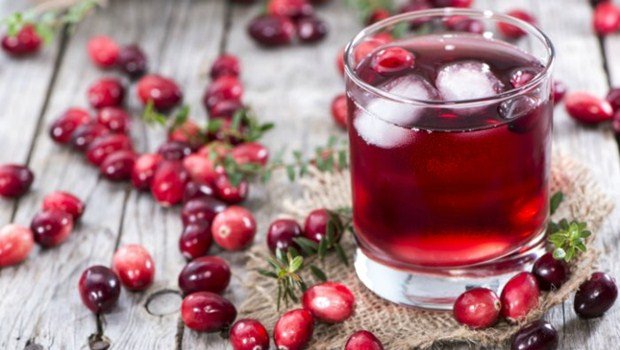 Another out of delicious healthy juice recipes for you is cranberry juice.Cranberries have a delicious and tart flavor, making them perfect for you to make juices. They are also extremely healthy with a high level of antioxidants. Cranberry juice is actually a good choice for you when the summer comes. Besides,you can use cranberries to mix cocktails at a party.
Ingredients:
– 1/2 cup of orange juice
– 1/2 cup of lemon juice
– 1 1/2 cups of sugar
– 8 cups of frozen or fresh cranberries
– 2 quarts water
Processing:
Place the cranberries in a pot and pour water into the pot in order to cover the berries. Boil the mixture and simmer inabout 20 minutes. Strain the cranberries, press it with a spoon to take the juice. Discard the fruit. Pour the juice back into the pot and add orange juice, lemon juice, and sugar. Boil and cook the mixture until all the sugar is dissolved. Enjoy the cool juice for tastier.
4. Vegetable Juice Cocktail:
If you love vegetable juice, this will be a perfectly delicious juice recipes for you. It has got a tang and amazing flavor which will become your favorite. In addition, it isjam-packed with a plethora of crucial nutrients your body will need. You will never regret after enjoying this! Vegetable juice is also one of the best healthy juice recipes for all of you to enjoy in a regular basis. Do not miss it!
Ingredients:
– 1/4 cup salt, or to taste
– 1 cup white sugar
– 1 tablespoon Worcestershire sauce, or to taste
– 6 quarts water, or more as needed
– 1/3 cup lemon juice
– 2 teaspoons prepared horseradish
– 1 teaspoon black pepper
– 1/4 cup sugar
– 3 cloves garlic, peeled
– 4 carrots
– 2 medium beets
– 1 green bell pepper, seeded and chopped
– 3 large onions, peeled and cut into chunks
– 2 cups chopped celery
– 15 pounds fresh tomatoes
Processing:
Process the garlic, beets, bell pepper, carrots, onion, celery, and tomatoesin a juicer. Transfer the liquid to a big pot and stir in the sugar, lemon juice, horseradish, pepper, and water to create a thin consistency. Boil theliquid for 20 minutes. Spoon the juice into quart jars, leaving a 3/4-inch gap at the top. Stir 1 teaspoon of salt and 1 tablespoon of sugar into the juice in each jar. Wipe the jars, place rings and lids on them and process in about 35 minutes.
5. Apple And Kiwi Juice:
Both kiwis and apples are jam-packed with nutrients, including vitamin C, fiber, and antioxidants. You should combinethese two fruits and enjoy this healthy juice regularly. This is also one of the best healthy juice recipes that you will ever have.
Ingredients:
– 3 kiwis
– 2 apples
Processing:
Peel the kiwis and chop into smaller pieces. Wash the apples, cut them into quarters and remove the core. Put the ingredients into a juicer. Stir it before you drink it.
6. Detox:
Root vegetables are veryhealthy for you. Therefore, they are perfect to be added into your list of delicious healthy juice recipes. You may not think this juice is tasty, but it is actually does! Beets and carrotshave inherently sweet flavorsthatcan be mixed flawlessly with the apple.
Ingredients:
– 1 cup of water
– 1 medium apple, cored and cubed
– 4 medium carrots, scrubbed and sliced
– 1 medium beet, scrubbed and coarsely chopped
– 2 tablespoons of fresh chopped ginger
7. "Good Morning" Juice:
For an energetic and active day, you should start the day with this juice! Spinach is healthy veggie, giving you a high level of vitamin to boost your energy and help to get your day started off right. Strawberries and carrots provide just enough sweetness to balance out the tartness of the apples.
Ingredients:
– Rinse and bunch together 1 cup of fresh full-grown spinach or fresh baby spinach – do not need to chop.
– 3 raw large carrots
– 3 medium gala, apples, golden delicious, empire and fuji apples
– 3 large and/or extra-large strawberries, rinsed and greens removed
8. Antioxidant Supreme:
Antioxidant supreme – just as its name – is jam-packed withuseful antioxidants. They actually come from blueberries. Mango provides a dose of tropical flavor, so you might never want another juice. In addition, drinking a glass of this juiceevery day will keep you looking and feeling younger.
Ingredients:
– 1 cup of fresh blueberries (or frozen, thawed)
– 1 cup of fresh strawberries, halved (or frozen, thawed)
– 2 cups of peeled and coarsely chopped mango
– 1/4 cup water
9. Vegetable Fruit Juice:
Vegetables and fruit are wonderful to be combined. If you are worrying about the flavor, do not be – the fruits provide all the sweetness you might need. In addition, both kale and carrots are actually quite sweet, and they lend a healthy, lovelyflavor that perfectly complements the berries, oranges, andapples.
Ingredients:
– 1 cup blackberries
– 3-4 large kale leaves
– 1 orange
– 2 large carrots
– 2 gala apples
10. Total Health Booster:
This one is aptly named toobecause you wll get vitamins A, B, C, and E at the same time. It provides you with just the energynecessary for your bodywhen starting the day, and the mix of ingredients can do favors for your skin. This is actually one of the best healthy juice recipes and also a natural beauty assistant.
Ingredients:
– 1/2 cup cherries (fresh with pits removed or frozen and thawed)
– 2 medium soft pears, cored and cubed
– 1 medium apple, cored and cubed
11. Tropical Morning:
This juice is very aptly named. It is a wonderful juice for early morning. Actually, you might be tempted to give your body a rest for good. The combination of mango and peaches is really amazing, and the coconut water – as you know – is super healthy.
Ingredients:
1 teaspoon agave nectar
– ½ cup coconut water
– 1 freshly squeezed orange
– 1 cup diced and peeled mango
– 1 cup diced peaches
12. Power Gulp:
A lot of these healthy juice recipes are for your total body health. Now is time for a special green juicewhich is really wonderful. The vegetables mix beautifully with the fruits, coming together for a refreshing, sweet, crisp drink that is a boost for your daily energy. You will get a lot of essential nutrients especially from the kale.
Ingredients:
– 1/2 cup water
– 1 small Granny Smith apple, cored and cut into chunks
– 1 English cucumber, thickly sliced
– 1 cup seedless green grapes
– 1 cup sliced kale
13. Lemon Lime Ginger Ale Juice:
This juice is perfect for being enjoyed inthe summer. The limes and lemons will give you a noticeable boost of vitamin C. You will receive all the sweetness you need from the grapes and the apples.
Ingredients:
– sparkling mineral water
– 1/4 lemon
– 1/2 lime
– ½ inch fresh ginger (less if you find the taste too strong)
– 1 apple, cored and sliced
– handful of grapes
Those are my suggestions of 13 best healthy juice recipes that are very good for health and easy to make for my readers who are visiting Vkool.com.
If you think that my healthy juice recipes writing is useful for other people you know, please let me see your comments and feedback! Remember to share this list with your friends and family!
Want More Content Like This In Your Inbox?
Join The Discussion