Blemishes are skin imperfections as pigmentation marks, dark spots and acne-marks.  Blemishes are often caused by stress and oil-clogged pores.
Skin Blemishes can spoil your look. Many teenagers have skin blemishes and acne on face at several points of time in their lives. Many adults have facial blemishes, too. Good news is blemishes can be controlled with a healthy diet and natural remedies. Read on this article on how to remove blemishes and dark spots from face on VKool site to enhance your beauty without blemishes.
How To Remove Blemishes And Dark Spots
1. Prevention Is Always Better Than Treatment
To get rid of blemishes, the best way is to prevent them from occurring.  Start treating your whiteheads, blackheads and acne as soon as you spot them on your skin. Don't pick your pimples and acne or forcefully extract white heads and black heads.
2. Daily Skin Care
Remember to follow your daily skin care by washing the face daily with the right cleanser that can help prevent and solve your skin conditions such as excessive oil, blackheads, white heads and dryness. Also, avoid using harsh face wash as they can worsen acne.
3. Avoid Harsh Sun Exposure
Harmful sunrays can irritate acne and cause blemishes. To mitigate the damage from the harsh sunlight, remember to apply a sunscreen on the skin. For your face skin, the sunscreen with SPF 15 to 30 is ideal and for the body, the sunscreen with SPF above 30 can work. Plus, remember to apply a sunscreen after each 30 minutes of sun exposure. Read on: Anti aging herbs and spices for longevity you should know
4. Rosewater
Rosewater contains antibacterial agents so that it works like a skin toner. Rosewater is particularly good for soothing the skin, especially after exposing in the sun. Directly spray rosewater on your face to prevent and treat your blemishes. Alternatively, add lavender oil to your rosewater to give your face skin a radiant glow. You can apply rosewater on your face everyday as it is gentle for different types of skin.
5. Ice Compressing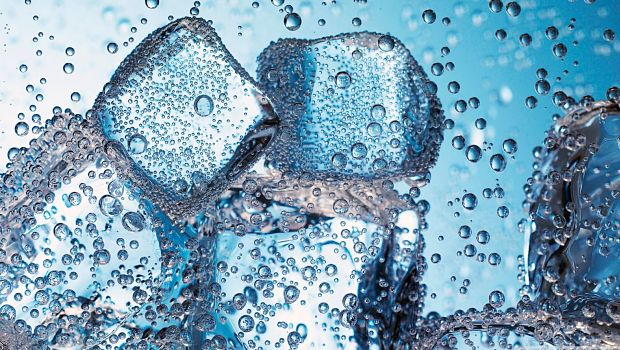 Take some pieces of ice cube to massage your face for 5 minutes daily that can help remove your blemishes naturally and effectively. You can do this exercise twice a day, in the morning and at night. This can help reduce inflammation, cool your face and prevent new skin blemishes. Use this exercise as soon as you notice a blemish occurring to prevent swelling and redness.
Read on: How to increase collagen production by eating the right foods
6. Coconut Oil
Coconut oil can benefit you to treat blemishes in a short time. Caprylic acid presents in coconut oil can lift impurities from your skin. Also, the oil can help lighten your skin in a few weeks. Simply, use coconut oil to shield your skin from harsh sunlight before going to the beach. In another way, use coconut oil as a night lotion that can give you a glowing complexion. The oil is also good for cooking, so you can use it to cook and digest for improving your overall health as well as your skin health internally.
7. Sandalwood Paste
Next to natural ways on how to remove blemishes, try sandalwood. Start by mixing sandalwood powder with glycerin and rosewater. Next, apply this mixture on your face. Sandalwood is an ancient home remedy for keeping skin clear, blemish free and acne free.
8. Potato
Rub a few slices of a raw potato on your blemishes that can help lessen your pigmentation marks. Alternatively, apply raw potato juice on your blemishes that can help lighten your pigmentation marks. This remedy can work fast, repeat it regularly for several weeks and notice significant improvements on your face.
9. Papaya & Milk
Beside raw potatoes, you can try applying papaya for removing blemishes naturally at home. Mix mashes ripe papaya with a little milk, then apply this mixture on your face that can help lessen different types of skin blemishes and pigmentation marks.
10. Aloe Vera
Aloe vera is a time-tested remedy for skin problems, including skin blemishes. Simply, apply aloe vera gel on your face for 30 minutes everyday and notice your brighter and clearer skin without blemishes. To get better results, add 3 to 4 capsules of vitamin E into your aloe vera.
11. Lemongrass Oil
Next to effective ways on how to remove blemishes, try lemongrass oil. Lemongrass oil is sold in drug stores. This essential oil contains antiseptic properties that can help eliminate skin impurities fast. Also, lemongrass can help lighten your complexion and dark spot on face. Because this oil is so potent, hence you just need to mix several drops of this oil in a medium bottle of witch hazel as a natural anti-blemish toner.
Read on: How to exfoliate skin before or after shower at home naturally
12. Lavender Oil
Lavender is famous for its relaxing property. The lavender oil is also beneficial for treating skin infections, lightening blemishes and improving cyst-like acne. Simply, you can mix lavender oil with witch hazel as a toner, and spray this solution on your skin to eliminate your blemishes while sleeping.
13. Black Soap
Black soap made from peel of plantain is a natural cleanser that can help exfoliate your skin and lighten your skin and tone your complexion. Use this soap as any facial cleanser to remove blemishes gently and effectively. You can buy black soap in food stores, or use any variety of black soap containing essential oils such as lemongrass and tea tree to erase blemishes and breakouts.
14. Shea Butter
Shea butter is a natural moisturizer that can help nourish your skin while protecting your skin from free radicals causing your blemishes. This butter can help protect complexion from harmful sun rays and prevent new blemishes and skin disorders from forming. To make use of this natural remedy, apply it to the skin after you have cleansed and toned your face for your glowing skin. There are varieties of shea butter that include lavender oil or lemongrass oil so that they can effectively remove bacteria from your face while adding more moisture and nutrient to your complexion.
15. Egg White
Next to common ways on how to remove blemishes, this is egg whites. Egg white contains sulfur that can help to dry up whiteheads and blackheads for enhancing your lighter and healthier complexion. The egg whites also help tighten your skin and prevent the formation of new blemishes. Whip an egg white; and then apply this to your face as a facial mask. Leave it on the face for about 30 minutes. Next, rinse it off with lukewarm water. If your face is oily, repeat this solution every 2 day to keep your face being free from blemishes.
16. Fresh Lemon Juice
Lemon juice is good for skin like a chemical peel thanks to the help of citric acid found in lemon. This acid can help remove dead skin cells, lighten your skin, and make your complexion more youthful and brighter. Simply, squeeze lemon juice from ½ lemon, then apply the juice on your face directly. Alternatively, you can mix lemon juice with egg whites an honey as an anti-blemish mask that helps clear up acne and enhance your complexion for being younger.
17. Mashed Strawberries
Strawberry is rich in citric acid and this fruit is best for sensitive skin. As strawberry is less harsh on skin than lemon, so you can mash several fruits to have a paste, then apply the mashed strawberry paste on your blemishes for 20 to 30 minutes. Next, rinse off with water. Alternatively, you can mix mashed strawberries with honey to enhance their benefits for your skin blemishes.
18. Honey
Next to simple ways on how to remove blemishes, try honey. This remedy can naturally lighten your skin and remove breakouts and blemishes. Honey is antibacterial and it can quickly remove infection from skin to dry out blackheads and whiteheads. Simply take a little honey and apply it on the affected areas directly. Leave it on for about 10 minutes. Then, wash it off with water. Ideally, you should apply this natural anti-blemish remedy for 3 times a week.
19. Oatmeal & Milk
Oatmeal is not only great to cook, but also a natural exfoliant that can help remove dead skin cells from skin and keep skin pores being blocked with debris and oil, which can cause blemishes. Oatmeal is particularly effective for exfoliating sensitive and dry skin. Mix oatmeal with milk, then directly apply this mixture to your face to remove skin blemishes and breakouts. Milk has lactic acid and this acid can aid in lightening skin, preventing and reducing wrinkles and fine lines.
Bottom line:
There are a lot of remedies you can apply to get rid of blemishes. These 19 tips above are commonly recommended using. Hope that you can make use of them to eliminate your blemishes effectively. For any comment about this article on how to remove blemishes and dark spots from face, please drop it at the end of the post!
Want More Content Like This In Your Inbox?
Join The Discussion