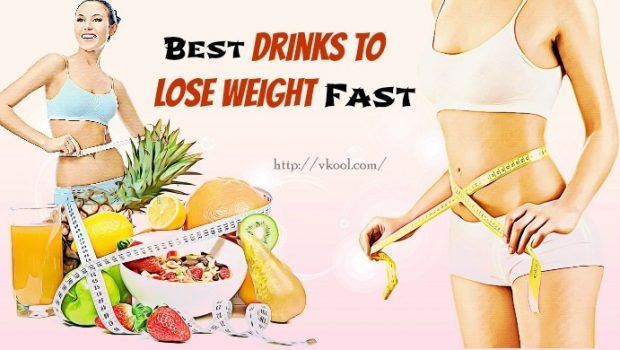 The secret to lose weight is not only focusing on what to eat but also about caring what to drink. Maybe popular energy drinks, fruit juices, and soft drinks are loaded with carbohydrates and added sugars that can destroy your weight loss plan.
If you want to lose some extra pounds, then maybe you already know that the best way to do is combining exercising with a healthy, nutritious, and balanced diet plan. Nevertheless, there are some drinks that can speed up the fat burning process and help to lose weight faster than you could in normal, and here you will find 13 out of the best drinks to lose weight that you should integrate into your daily diet if you want to get fit fast without using any supplements, drugs, or pills which can lead to dangerous side effects.
13 Best Drinks To Lose Weight Ever:

1. Coconut Water:
The first out of drinks to lose weight I want to show you is coconut water – a tasty drink that many people love, especially in summer.
Coconut water contains more electrolytes than most energy drinks and fruit juices without artificial flavorings plus and extra sugar.
This juice can help to speed up your metabolism naturally and give you more energy. Thus, you can stay strong and energetic throughout the day while still can lose weight faster.
2. Yogurt Based Smoothies:
This drink is recommended not only because the thickness of the smoothie kills your appetite but also because yogurt is loaded with calcium.
Many researchers discovered that you can lose 81% more belly fat and 61% fat if you add yogurt to your daily diet because the calcium yogurt contains can help you burn fat and also limit the amount of fat that your body produces.
Try to add Greek Yogurt to your smoothies, as well as some whey protein and fruits to make your smoothies more powerful for weight loss!

3. Whey Protein:
Whey protein can help your body release appetite suppressing hormones that restrain your cravings.
In a recent research, people who drank either casein or whey, 90 minutes later, were allowed to eat freely at a buffet table. The fact is that they ate significantly less calories than those who did not drank casein or whey.
4. Fat-Free Milk:
Milk is a very rich source of calcium, which can boost the fat loss process by increasing fat breakdown in fat cells. This does not mean that you should drink too much milk every day. What you should do is adding milk to your daily diet in moderation to speed up your weight loss process.
5. Water:
Plain old water is also one of the best drinks to lose weight that gives you amazing result that you never dare thought before! Actually, your body needs a lot of water to facilitate the fat breakdown inside your body. Drinking water helps to flush out toxins and energize your body throughout the day so that your body will be able to perform at its best. You should remember that drinking gallons of water is not the only answer for losing weight. You still need to facilitate an appropriate exercise regime and go on a proper diet. Drinking water will help to keep your body lean, clean, and help all of the organs inside your body work properly instead of working overtime.
Want More Content Like This In Your Inbox?
Join The Discussion