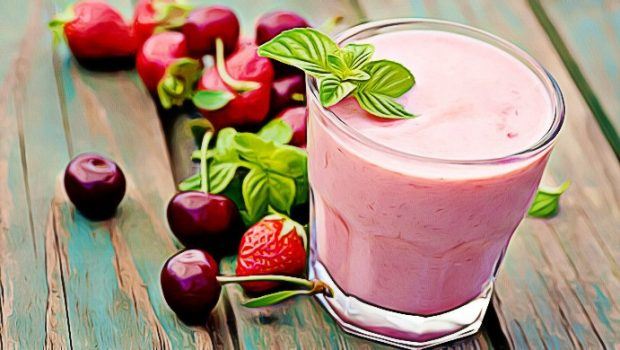 What is better than ending your meal with a glass of tasty milkshake? It will be even better if it is low-fat milkshake that can aid in your weight loss plan. A milkshake is a delicious treat and it is also simple to makeif you have some necessary ingredients in hand. Put everything you want into a juicer and turn on the machine. After just about 5-10 seconds, you will have a smooth treat to end up the meal the best way! If you are looking for easy healthy milkshake recipes to lose weight, you have come to the right place. Maybe this list of healthy milkshake recipes will become your best friend!
Easy Healthy Milkshake Recipes To Lose Weight – The Tasty Combinations
One of my favorite ingredients to add to the smoothie or diet shakes is low-fat yogurt and low-fat milk. Whether you are making a low-fat milk-based shake or an iced-based shake, you should use them. Check out the following healthy milkshake recipes to lose weight and see how wonderfully you can use these ingredients.
1. Strawberry Cherry Diet Milkshake
This is the last of easy healthy milkshake recipes that I want you to remember. This is definitely one of the most perfect healthy milkshake to lose weight because it just provides 182 calories. In addition, berries, cherries are the two antioxidant-rich fruits that can help you improve your immune system and overall health.

Ingredients:
10 strawberries
Half a cup of mulberryfruits
Half a cup of cherry, remove seeds
Low-fat vanilla cream
Low-fat skimmed milk
2.Nutella Banana Milkshake
Another out of easy healthy milkshake recipes to lose weight that I am leaving you is perhaps the best – the Nutella banana milkshake. I just say this because Nutella is the favorite flavor of many people in the world. Maybe you not feel the same, but you will love it after enjoying it as long as you make it by yourself. I said that this recipe is the best becauseit just requires 2 ingredients – perfect for a lazy day! All you need is frozen bananas and Nutella, and you still can enjoy a heavenly healthy drink after all!
Ingredients:
1/4 cup Nutella
2 frozen bananas, sliced 
3. Skinny Funfetti Milkshake
The next recipe is a funny-looking-and-makingmilkshake! The best part is that it is very healthy because it does not provide too much fat; and especially, it can help to improve your mood. The ingredients are simple and wholesome, but do not forget to add colorful rainbow sprinkles on the top to make it looks eye-catchingand tasty!
Ingredients:
Sprinkles
1 teaspoon vanilla extract
1/4 cup vanilla Greek yogurt (or regular yogurt)
1/4 cup vanilla almond milk (or regular milk)
2 ripe large bananas, peeled, cut into chunks, & frozen
4. Mango Milkshake
Who says milkshakes have to be all about chocolate and cookies? You can make a fruity milkshakeasa frozen favorite for a flavorful and refreshing drink! The ingredients are easy to find as they are available in the supermarkets.Therefore, you can whip this smooth mixturewithin no time. This is also an interesting way to cool off after a hot day or at the end of the day!
Ingredients:
1 green Cardamom,seeded and crushed (optional)
2 scoops of Mango ice cream or Vanilla ice cream(optional)
2 cups cold Milk
2-3 tbsp Sugar
1 ripen Mango
5. Boozy Snickerdoodle Shake
If you are looking for a boozy milkshakerecipe, this bourbon-spiked number will fill your desire. If you are a fan of the Snickerdoodle cookie, you will actually love thisSnickerdoodle cookie – based milkshake! This recipe uses homemade ingredients, so it might take a little more time, but you will feel satisfied with the results.
Ingredients:
toffee bits for garnish (optional)
1-2 oz bourbon
4 large scoops of cinnamon ice cream
Cinnamon Ice Cream:
1/4 teaspoon kosher salt
1 teaspoon ground cinnamon
1 cup low-fat milk
1 teaspoon vanilla extract
2 cups heavy cream
1/2 cup sugar
5 large egg yolks
6. Dates Milkshake
Dates are a wonderful kind of the fruit family. Although they have a sweetpleasant, flavor andprovide a lot of great health benefits, people do not know to utilize it in dessert recipes. Therefore, today Iam very glad to give you a special date milkshake recipe. In case you were not aware, date is very great for intestinal disorders, anemia and are loaded with vitamins,fiber, and minerals!
Ingredients:
Sugar or honey to taste
Three fourth cup cold milk
Quarter cup Warm milk
Five Deseeded Dates
7.Coffee-Mocha Diet Shake
Regardless of which of the diet shake recipe you make, you can pour it into a beautiful glass, and enjoy this easy homemade, nutrient-dense, healthy drink. It can not only help you lose weight, but it also tastes amazing. Try making this wonderful and healthy milkshake recipe at home and surprise your friends and family. You can also help other people keep fit with this tasty drink!
Ingredients:
1 scoop powder protein supplement, if you like
1 (6-ounce) container vanilla or plain low-fat yogurt
Ice
1 teaspoon Splenda
1 teaspoon cocoa powder
1 teaspoon instant coffee
8.Banana-Chocolate-Vanilla Diet Shake
Ingredients: 
This out of the healthy milkshake recipes is very healthy and easy to make. It contains chocolate, banana, and do not worry, you will not be able to gain weight because instead of using regular milk or yogurt, you will use low-fat yogurt and skim milk. How wonderful it is!
1 (6-ounce) container vanilla or plain low-fat yogurt
1 teaspoon cocoa powder
1 teaspoon Splenda
1 cup skim milk
1 teaspoon vanilla extract
1 frozen banana, sliced
9. Berry Berry Special Diet Shake Recipes
This healthy milkshake recipe is the sweet mixture of many kinds of the berry family. You will need many kinds of fruit. However, do not worry because these fruits are very easy to be found in any food store or supermarket. This milkshake is also very good for your skin. Thus, you should drink it in a regular basis. What you can achieve will make you totally satisfied!
Ingredients: 
1 (6-ounce) container strawberry or blueberry low-fat yogurt
1 banana, sliced
Handful of raspberries
Handful of blueberries
3 to 4 strawberries
1 cup cranberry juice
Low-fat milk
10. Mandarin-Mango Diet Shake
This is one of the best easy healthy milkshake recipes to lose weight that will help you achieve healthy skin and slender physique within a very short period of time!
Ingredients: 
1 (6-ounce) container mango-flavored low-fat yogurt
Protein supplements from the nutrition store, follow the label directions
1 cup ice
2 mangos, diced
2 cans mandarin oranges
11. Strawberry-Orange-Banana Diet Shake
This recipe is very simple. You just need some strawberries, an orange, a banana, and low-fat yogurt in hand and blend them. After everything is done, you will have a smooth drink which is very good for your digestive system and your overall health! Besides, you do not need to worry about your weight because it provides just a little amount of calories.
Ingredients: 
1 (6-ounce) container strawberry-banana low-fat yogurt
About 1 cup ice
1 cup strawberries
1 to 2 sliced bananas
2 cups orange juice
12. Green Pina Colada Protein
This protein drink is very good if you want to boost your energy before starting a hard-working day. However, it is also one of the best easy healthy milkshake recipes to lose weight because it provides just a little amount of calories.
Ingredients:
1 frozen banana
Half a cup of frozen mango
1 spoon of coconut milk
1 spoon of protein powder
Half a cup of frozen pineapple
13. Coconut Strawberry Protein
Milkshakes which are low in calories, providing protein is always a great choice for the chubby girl.
One of the most popular milkshake due to its delicious flavor is what made ​​from:
1 tablespoon of protein powder
1 tablespoon of milk
1/4 cup coconut milk
Half cup of skim milk.
¼ cup of berries (strawberries or mulberry fruit).
14. Skinny Cookies And Cream Milkshake
Not all tasty milkshake recipes have to be full of calories and guilt. This milkshake recipe utilizes low-fat milk, reduced fat Oreo cookie, and frozen bananas for a drool-worthy frozen treat that will satisfy your sweet tooth! If you have ever tried frozen banana ice-cream, then you will know how healthy and delicious this milkshake is!
Ingredients:
3 reduced-fat Oreos
1/2 cup fat-free frozen whipped topping, such as Cool Whip
1/4 cup low-fat milk (or soy or almond)
2 ripe large bananas, peeled, cut into chunks, & frozen
This is the list of 14 easy healthy milkshake recipes to lose weight that I combined after reading a lot of prestigious information sources. All of the information in this article is proven by science, so readers who are visiting VKool.com should trust in it and apply the tips it shows.
If you think that my healthy milkshake recipes article should be shared with other people, feel free to do this! I also welcome all of your feedbacks and comments, so leave them below to let me see!
Want More Content Like This In Your Inbox?
Join The Discussion