You can use all vegetables kinds to make the soup because they're low in calories. One fresh bowl of homemade soup is very low in calories while one canned soup has more calories and preservatives. A cup of homemade soup will contain 45 calories while one cup of canned soup contains 120 calories as well as more sodium. Especially, the vegetable soup diet will help you to cut down on the calories, bad sugar, starches etc. In this article, VKool.com will show you vegetable soup diet: 22 homemade recipes. The writing collected a list of vegetable soup diet recipes from reliable sources. Here are the 22 homemade vegetable soup diet recipes for you. Cook them now!
Vegetable Soup Diet: 22 Homemade Recipes You Should Make Now
1. Fat Burning Soup
Most vegetables are high in nutrients, and low in calories. Easily, you can make one soup with any vegetable kind you want. The fat burning soup is one of the most popular soups.
Cut 6 medium size onions, 3 tomatoes, 1 small head of cabbage, 1 beam of celery, 2 green bell peppers, into small pieces and next put into a boiling pot of water sufficient to cover the vegetables.
Then, add 1 cube of vegetable seasoning and bouillon and after that boil on high heat for around 10 minutes.
Decrease the heat to the medium low and cook till vegetables become soft. Include fresh herbs and serve.
Read on: The Book Of Fat Burning

2. Basic Broth
This is also one of the most popular vegetable soup diet recipes.
Boil water (6.5 liters) in one large pot and heat this at a high temperature.
Then, put potatoes, 2 turnips, 10 large carrots, garlic, 4 stalks of celery, parsley (a bunch), and ½ beam coriander in this boiling water.
Add one tablespoon of salt, black peppercorns, and cumin. Cover with a lid.
As the broth starts to boil, decrease the heat to the medium, allow to simmer for two hours.
3. Italian Zero
This soup includes large onions, 2 zucchini, fennel bulb, 2 cloves of garlic, a quarter of red or green cabbage, 1 pepper, 300 g spinach, 3 large tomatoes, red pepper (a quarter teaspoon), a tablespoon of oregano and cumin, a small sprig of basil and parsley. Finally, include salt pepper to taste.
4. Broccoli Broth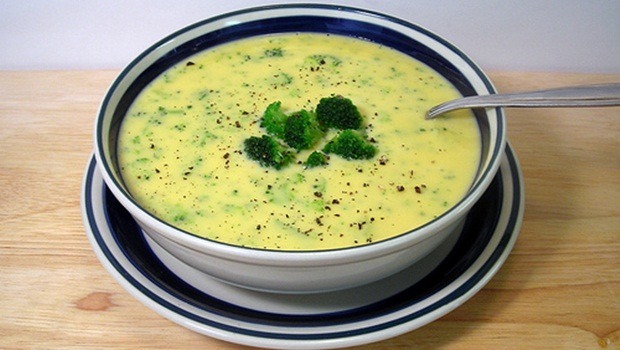 This is also a great vegetable soup diet. Here are easy steps to make it:
1.      Add 1 cup of thinly sliced onions, half cup of thinly sliced carrots, half teaspoon of finely chopped garlic and 2 teaspoons of chopped celery, a cup of broccoli florets, salt, in hot water (2½ cups). Mix well and then cook on one medium flame for about 2-3 minutes, stirring occasionally.
2.      Add the pepper and then mix well. Serve hot.
Learn more: 16 Health And Nutritional Advantages Of Broccoli
5. Pumpkin Soup
This is also a good vegetable soup diet. Here are detailed guides for you to make it:
1.      Add 1 chopped onion and 1 clove garlic crushed, dried chilli (a pinch), 2 roughly chopped sweet potato and roughly chopped pumpkin flesh and cook for several minutes, next add 1.2 litres of vegetable stock or water.
2.       Season it with ground black pepper and salt. Cover and then bring to the boil. Afterwards, simmer for about 25 minutes till the sweet potato and pumpkin are tender.
3.      Blend all in one processor in batches till smooth. Come back to the pan and lightly warm through. And serve.
6. Minted Peas Soup
Here are step by step directions to make this vegetable soup:
1.      Simmer spring onion and frozen minted peas in water.
2.      Once boiled, blend them in a processor.
3.      After that, reheat lightly and season with salt and pepper. Ladle into small cups or bowls and saucers, later sprinkle with these reserved spring onion tops.
7. Tomato Basil Soup
This is also a popular vegetable soup diet. You can make it as follows:
1.      Cook minced garlic in 3 cups of less sodium and fat-free chicken broth, chopped tomatoes and salt; bring to a boil.
2.      Decrease the heat and simmer for around 20 minutes. Then, stir in basil.
3.      Put the soup in one blender and process till smooth.
4.      After that, pour pureed soup into one bowl. Garnish with leaves of basil, if desired.
Learn more: Top 13 Health Advantages Of Tomatoes For Men
8. Cabbage Soup
This is also an effective vegetable soup diet. Here are detailed guides:
1.      Preheat some olive oil in one large pan over the medium heat. Next add chopped onions and then stir to allow the onions to become covered with oil.
2.      After that, add chopped cabbage. As the cabbage and onions are tender, add one litre of broth. Decrease the heat.
3.      Cover this pan for about 15 minutes or till this cabbage is tender. Thereafter, add tabasco sauce and one spoon of sugar.
9. Mushroom Soup
Instructions:
1.      Boil snow peas, thinly sliced mushrooms and chopped bok choy in vegetable broth till tender.
2.      Add pepper and salt to season and finally serve hot.
10. Vegetable Broth
Procedure:
1.      Include finely chopped winter squash, cabbage, turnip, parsnip, onion, ginger, celery, garlic, carrot in water and boil.
2.      Then, simmer until cooked.
3.      After that, add salt, fresh herbs and pepper and serve.
11. Mixed Vegetable Soup
It's a yummy vegetable soup which you can make in one jiffy. Bay leaves include to the flavor, and you may sprinkle the black pepper powder for one spicy tinge. It's also okay to include some lemon juice to improve the flavor.
Get this:
Chopped cabbage
Chopped tomatoes
Chopped onions
Chopped capsicum
Bay leaves
Oil
Black pepper
Salt
Do this:
First of all, sauté the onions.
Add the vegetables and next boil with water.
Add salt and pepper and simmer.
Now serve the soup hot.
There are many vegetable soup diet recipes presented in this post, keep reading it!
12. Cauliflower Soup
You can serve this soup piping hot to family and kids on the chilly winter evenings. Here is step by step instruction to make this soup:
Ingredients:
Chopped onion
Garlic cloves
Olive oil
Cauliflower florets
Pure cream
Potatoes, chopped
Chicken stock
Do this:
Sauté the onion and garlic.
Next add the cauliflower florets and potato.
Then, add this stock and boil as well.
Add pure cream and after that, cook for a while.
Learn more: 9 Creative & Easy Healthy Cauliflower Dishes
13. Carrot Coriander Soup
This is also a great vegetable soup diet. You can make it as follows:
Ingredients:
Sliced onion
Ground coriander
Vegetable oil
Ground black pepper
Sliced carrots
Salt
Vegetable stock
Roughly chopped coriander
Procedure:
Sauté the onion and next add carrot.
Then, pour in the ground coriander and cook.
Afterwards, add this stock and boil until vegetables are soft.
Before you put the flame off, you sprinkle coriander leaves.
Learn more: 28 Health & Beauty Advantages Of Carrot, Carrot Juice & Carrot Oil
14. Creamy Spinach Soup
It is one nutritious soup which tastes great. Here are detailed instructions to make it at home:
Ingredients:
Sliced onions
Sliced garlic
Butter
Baby Spinach
Nutmeg
Chicken stock
Single cream
Lemon juice
Method:
Sauté the onions in the butter.
Then pour in this stock and after that, boil for some time.
Then, add this spinach and stir.
Puree this soup with a blender.
Afterwards, season with nutmeg, pepper, and salt.
Reheat and later add the lemon juice.
Before serving the soup, you add the cream and then stir well.
Learn more: Easy And Healthy Cooked Spinach Dishes
15. Moroccan Coriander Vegetable Soup
Yield: 8-12 servings
Get this:
25 c. olive oil
1 head garlic
3 medium yellow onions
3 tbsp. ground coriander
3 tbsp. ground cumin
One tsp. red pepper flakes
Fresh flat-leaf parsley (2 bunch)
Kosher salt
2 bunch cilantro
2 lb. red potatoes
2 lb. sweet potatoes
2 lb. Butternut Squash
4 can chickpeas
1 lb. carrots
Low-sodium vegetable broth (6 qt)
3 cinnamon sticks
2 c. cooked couscous
Honey
1 c. fresh cilantro
Instructions:
Heat the oil in one large stockpot over the medium heat. Add these onions and cook, stirring often, until tender, seven to eight minutes. Add the cumin, coriander, garlic, red pepper, and salt (1 tablespoon) and cook, stirring, for two minutes.
Meanwhile, tie the cilantro and parsley together using kitchen twine.
Add these herb bundles to that pot together with the potatoes, squash, carrots, broth, cinnamon sticks, and chickpeas and bring to one boil. Reduce heat, moderately cover and simmer, stirring constantly, until these vegetables are tender, around 25 to 30 minutes.
Remove the cinnamon sticks and the herbs, then stir in the honey, if using.
Serve with chopped cilantro and couscous, if desired.
16. Vegetable And Spring Chicken Soup
This is also an excellent vegetable soup diet.
Yield: 6 servings
You need:
3 can chicken broth
Orzo (3 tablespoons) (rice-shaped pasta)
50 c. small zucchini or sliced baby and/or yellow squash
8 oz. skinless, boneless chicken breasts
4 scallions, sliced
1 tablespoon each snipped dill and lemon juice
50 c. frozen peas
Instructions:
Take broth to a boil in one large saucepan. Next stir in orzo; boil nine minutes or till almost tender.
Stir in white part of scallions and squash; cook one minute. Add peas and chicken; decrease heat and simmer, stirring often, 1 minute or till chicken is cooked through and orzo and vegetables are tender.
After that, remove from the heat and stir in dill, lemon juice and scallion greens.
Learn more: 23 Quick And Easy Chicken Dishes For Dinner For Families!
17. Barley, Beef And Mushroom Soup
This is also a popular vegetable soup diet. Here are easy steps for you to follow:
Yield: 6 servings
Get this:
Lean beef chuck (12 oz) for stew
Reduced-sodium chicken broth (4 c)
2 c. water
12 oz. shiitake mushrooms
One can dice tomatoes with onion and garlic
2 large carrots
1 large white turnip
Barley (1 c) (not quick- cooking)
0.50 tsp. each dried thyme and pepper
2 large shallots
0.25 c. snipped fresh dill
Procedure:
Mix all ingredients exclude dill in a larger or 4-qt slow-cooker. Cover and then cook on low seven to nine hours until vegetables and beef are tender.
Then, stir dill into soup as well as ladle into bowls.
Learn more: 11 Health And Nutritional Advantages Of Beef
18. Double-Mushroom Barley Soup
Yield: 6 servings
Get this:
Safflower or canola oil (2 tsp)
Coarsely chopped onions (2 c)
1 clove garlic
50 c. pearl barley
6 c. vegetable Stock
50 lb. fresh mushrooms
2 large carrots
Sliced dried mushrooms (0.50 oz)
2 large stalks celery
50 tbsp. dill weed
2 large bay leaves
Ground black pepper
Salt
Additional vegetable stock
Instructions:
In 6-quart pressure cooker, you heat oil over the medium high heat. Add garlic and onions and cook one minute. Then, add vegetable stock, barley, dried and fresh mushrooms, carrots, celery, dill weed, bay leaves, salt, and pepper.
After that, lock lid into place, you heat to high pressure over the high heat. Decrease heat to just enough to keep high pressure and cook eighteen minutes. Allow pressure to drop naturally or you can use quick-release method. Afterwards, remove lid, opening this away from you, to let any remaining steam escape.
Thereafter, discard bay leaves from the soup and add more salt, dill weed, and pepper to taste. The soup will thicken significantly on standing. Thin to expected consistency with extra vegetable stock.
19. Spring Vegetable And Quick Barley Soup
This is also a popular vegetable soup diet.
Yield: 9 servings
Ingredients:
1 tbsp. vegetable oil
1 medium onion
3 medium carrots
1 large leek
Sliced Fresh mushrooms (2 c)
Coarsely chopped Swiss chard ( 3 c)
3 c. water
1 qt. chicken or vegetable broth
50 teaspoon of ground black pepper
50 tsp. salt
1 c. quick-cooking barley
How to make it:
In 6-quart saucepot, you heat oil over the medium heat. Add onion, carrots, and leek; sauté five minutes. Add mushrooms and chard; cook one minute. Add water, salt, pepper, and broth; heat to boiling over the high heat. Then, stir in barley. Decrease heat to low; after that, cover and simmer about 15 minutes.
In order to serve, divide the soup among serving bowls as well as serve immediately.
20. Split Pea Soup
Yield: 4 servings
Ingredients:
Dried green split peas (1 lb)
2 c. diced onions
1 c. diced celery
50 c. diced carrots
50 tsp. pepper
2 tsp. minced garlic
25 lb. ham hock(s)
3 chicken bouillon cubes
How to make it:
Put all ingredients and water (seven cups) in a larger or 5 1⁄2-qt slow-cooker.
Cover and next cook on high six hours or low twelve hours until the peas are very soft along with fall apart.
Remove ham. As cool enough to handle, you cut meat off the dice, bone and return to soup. Then, serve with cornbread, or you cut cornbread in cubes, then toast in oven and now serve as croutons.
21. Ham And Yellow Split Pea Soup
This is also a great vegetable soup diet. Here are detailed directions for you to follow:
Yield: 6 servings
Ingredients:
3 can chicken broth
One bag dried yellow split peas
3 c. water
1 lb. smoked ham
50 c. diced onion
1 lb. yellow tomatoes
50 c. diced peeled carrots
2 parsnips
50 c. diced peeled turnips
25 c. diced celery
1 tablespoon chopped fresh marjoram
25 c. frozen or fresh corn kernels
2 bay leaves
1 tsp. salt
50 teaspoon of freshly ground black pepper
croutons
snipped fresh chives
Do this:
In saucepan, bring water and broth to a boil. In a larger or 5-qt slow cooker, mix remaining ingredients, except salt, chives and croutons. Add hot broth mixture.
Then, cover and cook on low 7 to 8 hours or high around 3 1/2 to 4 hours, until soup is thickened and peas have broken down. Stir in salt. After that, discard bay leaves.
Then, ladle into bowls. Now garnish with snipped fresh chives and croutons.
22. Tomato And Split Pea Soup With Bacon
Here are detailed directions to make this vegetable soup diet:
Yield: 4 servings
Ingredients:
4 slice smoked bacon
2 tbsp. Dijon mustard
One can petite diced tomatoes
kosher salt
Green split peas (1.50 c)
Pepper
4 clove garlic
2 stalk celery
2 medium carrots
1 large onion
Croutons
6 sprig fresh thyme
Crisp bacon
Chopped parsley
Do this:
Microwave these bacon slices on high for about 3 minutes.
Meanwhile, in a five- to six-quart slow cooker, you combine the tomatoes (consisting of their juices), 5 cups water, mustard, and half teaspoon each pepper and salt.
Add this partially cooked bacon together with the split peas, carrots, garlic, celery, thyme, and onion and stir to combine. Now, cook, covered, till these peas have broken down and the vegetables are tender, 4 to 5 hours on high or 7 to 8 hours on low.
Remove and discard the thyme and bacon slices. Divide among bowls and then top with croutons, parsley, and bacon if desired.
To get more information associated with diet & health, go to our main Diet page. After reading the article of vegetable soup diet: 22 homemade recipes, hope that you will learn more some vegetable soup diet recipes. If you have any question or comment, please leave them below, I will respond you as soon as possible. Also, you can share the experience if you know any other vegetable soup diet recipes to us.
Recommended articles:
List Of 18 Best Soup Recipes For Weight Loss In Your Diet
8 Quick And Easy Homemade Soup Recipes For Lunch And Dinner
21 Best Easy Healthy Soup Dishes For People At All Ages
Want More Content Like This In Your Inbox?
Join The Discussion