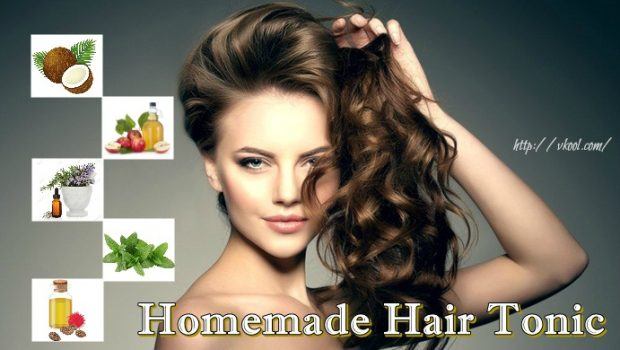 For nourishing the hair, hair tonics are necessary. Today, in the market, there are a ton of types of hair care products making your hair look beautiful. The hair tonic is a kind of hair product, which can deal with many of your hair issues easily such as removal of dandruff, dryness in the hair, and treating scalp infections. Hair tonic softens and strengthens your hair. It also repairs split ends and damaged hair. However, the hair tonic products may not give maximum results because they are packed with parabens and chemicals. As a result, it can cause dryness of the hair and hair fall. Homemade hair tonic recipes are the best options among all for shiny and healthy hairs. Read on to know more these recipes from VKool.com.
Top 8 Homemade Hair Tonic Recipes For Beautiful And Healthy Hair
1. Homemade Hair Tonic Using Fenugreek Seed And Castor Oil
Both fenugreek seed and castor oil are effective in taking care of your hair. Fenugreek seeds possess many good qualities working amazingly on the hairs. It helps to prevent the scalp from dandruff and reduce hair fall. So, it makes the hair strong and black as well. Castor oil, on the other hand, is the best cure for dry hair and curly hair care. Besides, it reduces frizz immediately and gives a silky and smooth hair. Last but not least, it enhances the hair texture and repairs damaged lifeless hair.
You will need:
Fenugreek seeds – ½ cup
Castor oil
Process:
Heat a pan at first and pour some castor oil in it. Then, add fenugreek seeds (1/2 cup) in the oil and now warm it up until the seeds of fenugreek get dark in color. After that, strain the seeds to get only the oil.
Your hair tonic is now ready to use.
Slowly massage these soaked fenugreek seeds on your scalp and leave it for minimum two hours.
Finally, wash it using cool water and shampoo.
2. Homemade Hair Tonic Using Nettle
Nettle can help fight hair loss and promote hair growth because it is rich in iron. Consuming nettle tea can also help treat hair loss because iron can aid with circulation to your scalp, hence encouraging hair growth. Here is the recipe to make this homemade hair tonic:
You will need:
Dried nettle – 5 tablespoons or fresh nettle leaves – a large (gloved) handful
Fresh water – 2 cups
Your favorite essential oil – a few drops
Process:
Place in a pot if using fresh nettle and later cover with water (2 cups) and bring it to a boil. Then, let it simmer for ten minutes.
Cool and strain the liquid. After that, add in your favorite essential oil (a few drops). Store in your fridge for up to six months.
Bring water to a boil if using dried nettle. Later pour over the herb, allowing it to steep for twenty minutes prior to cooling, straining, as well as adding your essential oil.
In order to use, pour over the tonic in the shower and comb or massage in. Let it settle for 5-10 minutes and finally, rinse.
3. Homemade Hair Tonic Using Coconut Oil And Apple Cider Vinegar
Coconut oil in this recipe tames frizzy hair as well as unmanageable hair beautifully. Naturally, it helps to soften the rough and curly hairs. Apart from that, this essential oil enhances hair growth and helps recover highly damaged hair as well. Apple cider vinegar helps clean the scalp and acts as a good conditioner to your hair. Last but not least, it makes the hair straighter naturally. How to make this homemade hair tonic? Try following the recipe below:
You will need:
Apple cider vinegar – 10-12 drops
Coconut oil (as per the length and volume of your hair)
Process:
In a nozzle bottle, mix the above things. Then, apply on the hairs anytime with this hair tonic before two to three hours of hair washing.
This tonic will result in nourished and shiny hair.
Remember to condition the hair one time in a week.
4. Homemade Hair Tonic Using Horsetail
This homemade hair tonic is also great for hair care. The silica present in horsetail acts as a natural substance, which can help keep the hair grow strong and trigger it from thinning.
You will need:
Fresh horsetail – a handful
Fresh water
Process:
Take a pot of water and bring it to a boil. Later lower to a simmer and finally, add the horsetail to it.
Steep for twenty minutes and strain the liquid afterwards.
Pour this cooled liquid over the hair after shampooing. Then, take a warm towel and wrap your head in it for 20 minutes. Finally, rinse it off.
5. Homemade Hair Tonic With Olive And Rosemary Oil
Olive oil is great for the hairs, body, face, nails, and consumption. Basically, it helps to curb hair fall and reduces roughness and dryness of hair. Apart from that, it also improves the hair texture naturally. Rosemary essential oil owns many benefits. Rosemary leaves reduce the growth of gray hairs and prevent baldness in men. Besides, it promotes hair growth and makes the hair shiny and long.  Almond oil is full of vitamin E, which treats dandruff and itchy scalp. Plus, this oil prevents split ends and deeply conditions your hair, thus making it smooth and soft. To make this homemade hair tonic, follow the recipe below:
You will need:
Take enough amount of rosemary oil (according to the length and volume of your hair)
Olive oil – 3 spoons
Sweet almond oil – 1-2 spoons
Process:
Mix all the oils together and warm them up on the gas. Your hair tonic is now ready to use.
Now apply on your scalp first with the hair tonic and with your hands, massage gently on the top. And gradually massage the back part of your head. Finally, coming to the ends, you apply the rest of tonic onto it.
You can either wrap a hair cap on your head or tie your hair in a bun.
Keep it for 2 hours in your hairs and keep it all day or night for best results.
Finally, follow it with your shampoo and conditioner.
6. Homemade Hair Tonic With Parsley Seed And Rosemary
Rosemary brings a particularly dramatic shine to the dark hair while parsley supposedly helps with the problem of lice. To make this homemade hair tonic, try following the method below:
You will need:
Crushed parsley seeds – 2 tablespoons
Chopped rosemary – ½ cup
Process:
Firstly, crush up parsley seeds (2 tablespoons), and chop rosemary to collect ½ cup. Then, bring water (a few cups) to a boil and add the herbs to it. After that, steep for 20 minutes, cool and strain this liquid.
Pour the rinse over the head and take a warm towel, and wrap in it for 60 minutes.
Do not rinse off and let your hair dry naturally.
7. Homemade Hair Tonic Using Hibiscus Leaves And Basil Leaves
This homemade hair tonic is loaded with natural and herbal nutrients. It'll nourish the hair roots and make it strong and healthy. Let's see the recipe:
You will need:
Basil leaves – a handful
Hibiscus – A few leaves
Hibiscus – 3-4 flowers
Process:
Firstly, in a pan, boil some water and later add the basil leaves, hibiscus leaves, and hibiscus flowers in it.
Next, cover the pan and leave the solution to steep for around thirty minutes. After that, strain it and your hair tonic is now ready for use.
Apply on your head with the tonic and massage on the hair and scalp with hands for nine minutes.
Leave for 30 minutes and lastly, rinse with fresh water.
8. Homemade Hair Tonic Using Coconut Oil
Coconut oil may be the best oil for taking care of the hair. The method is:
You will need:
Coconut oil – 1 cup
Aloe Vera juice – 2 tablespoons
Sunflower seed oil – 2 tablespoons
Vegetable glycerin – 1 tablespoon
Process:
Blend all the ingredients by using a blender to attain a creamy like paste. This homemade hair tonic is now ready for use.
Then, apply and spread all over your hair evenly. Leave for 60 minutes and then rinse it off.
Related articles:
25 Natural Hair Rinse Recipes Tor Different Types Of Hair
14 Best DIY Hair Mask Recipes For Hair Growth
For any informative article, please visit our main Hair Care page. Using those natural hair tonics will nourish the hair and make it look good-naturally. For any question, you can leave in the comment box below. If you like this post, please share it.
Want More Content Like This In Your Inbox?
Join The Discussion