In the dry weather of the summer, the hair can become dry and brittle, particularly when people spend time on the beach or a swimming pool. People can use commercial products available on the market to treat or prevent this hair damage. These products may contain harsh chemical, which is able to nourish and strengthen the hair, but they can also damage it in the long period.
Be independent on using chemical products, you should try some home treatments that are not cheap but also easy to apply. And homemade hair oil is recommended to be the good one for caring and nourishing hair as well as scalp. Massaging hair oil on a regular basis helps you soften the hair and make it more manageable. There are many recipes of hair oil with a variety of natural ingredients you can do by yourself at home, which is so simple and effective.
In this post, VKool.com introduces 7 natural recipes of homemade hair oil that use home ingredients to nourish your hair. The list in this post is the best methods and natural tips to take care of the hair without any side effect gathering from reliable sources. Keep reading it to gasp these useful remedies to care your hair effectively.
Top 7 Natural Homemade Hair Oil Treatments
1. Coconut And Curry Leave Hair Oil
Coconut oil is known as a common ingredient in beauty recipes including hair- caring hair recipes. It is because that coconut oil is very rich vitamins, minerals that make the hair silkier, straighter and have a more delicious smell. In addition, curry leaves are also very beneficial in boosting the health of the hair. Therefore, the combination of coconut oil and curry leaves makes an excellent homemade hair oil.
Ingredients:
100 ml of coconut oil
A bunch of curries leaves
Direction:
Remove the stem out of the curry leaves and wash them clearly with water.
Let the leaves be dry and grind them to a paste.
Hit the coconut oil with a low flame in a pan, and then add the curry leaves paste to the oil. Continuing boiling the mixture until the green color of this paste change to dark color.
Turn off the flame and leave the oil to be cool
Pour the hair homemade oil into desired bottles and they are ready to be used.
Notice: You can just use coconut oil as a homemade hair oil for all types of hair. You should massage your scalp with pure coconut oil once in a week to get a nicer hair after few months.  Remember to shampoo your hair again with an herbal one.
Learn more: Homemade coconut oil shampoo recipe: 9 effective solutions

2. Amla Hair Oil  
Amla oil, or known as Indian gooseberry, is very famous for its ability to prevent the hair loss and boost the hair growth. Amla homemade shampoo using Amla powder as the main ingredient will provide your hair with the best result as its advantage more quickly. The hair loss will reduce while the pre-condition of your hair against infection or dandruff will increase.
Ingredients:
50 grams dried Amla
500 ml gingerly oil/ coconut oil
Direction:
Mix up the dried Amla with the gingerly oil or coconut oil, boil them.
Let the mixture cool and filter it.
Use this oil regularly to nourish your hair.
Besides this simple recipe, you can apply a more complicated homemade hair oil to get better results.
Ingredients:
2 teaspoon of amla powder
1 teaspoon of fenugreek powder
1 cup of coconut oil
Direction:
Mix up the amla and fenugreek powder together.
Add the coconut oil to the mixture to create a paste.
Heat the mixture over a low flame and when you seeing the amla paste become brown, stop heating (avoid letting the paste get black)
Leave the oil to be cool, sieve it and pour it into a glass bottle to use after.
Keep it for at least 2 weeks without refrigeration then remember to apply the oil 2 or 3 times a week.
Read more: Total hair regrowth review – will John's guide work?
3. Hibiscus Flower Hair Oil
Hibiscus is used to make another homemade hair oil. It is a great plant product for hair because it helps in preventing dandruff and hair loss. Hibiscus is also used in natural shampoo conditioner and women often use it for a thicker hair. You can use its leaves or flowers in the homemade hair oil recipe.
Ingredients:
3 leaves of hibiscus
1 cup of coconut oil
Direction:
Take 3 fresh leaves of hibiscus and slice them into small pieces, and then crush it in a mixer or grinder (Not necessary to make it a paste)
Get 1/2 or cup of crushed hibiscus or more depending on your hair length and thickness, and then heat it in low flame.
Pour a cup of your favorite oil like coconut oil and mix them well, continue heating it in low flame.
When the fumes start appearing, add 3 leaves of tulsi if available, and add few grains of corn or fenugreek, or rice.
Turn off the flame and let it be cool, sieve the oil into a glass bottle.
You can try on another homemade hair oil recipe from hibiscus that is quite easy.
Ingredients:
15- 20 dried hibiscus flowers
100 ml coconut oil
Direction:
Dry 15 to 20 hibiscus flowers in the sun.
Heat the coconut oil and add the dried flower into, boil the mixture for a few minutes.
Keep the mixture 2 days then filter and bottle them.
Apply the oil once or twice a week to get a nicer hair.
See more: 27 DIY hair conditioning treatments for damaged hair
4. Brahmi Hair Oil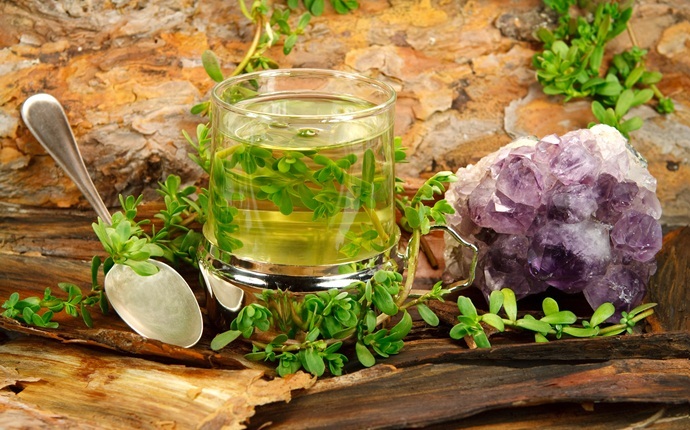 This homemade hair oil is good for the total health of the hair. Brahmi is known as a medicinal plant that enhances the memory. The leaf of this plant has been used to enhance hair growth for a long time.
Ingredients:
1 cup of coconut oil
5 to 10 teaspoons of Brahmi powder
Few grains of fenugreek
Direction:
Heat the coconut oil in a pan or pot.
Add the Brahmi powder to the oil, mix them well, and continue heating the mixture over a low flame.
Add the grains of fenugreek as the mixture starts fuming just put a few grains. Watch the fenugreek pops up, and turn off the flame at that time (avoid letting the Brahmi paste become too black or dark)
Leave the oil to cool, sieve it into a glass or a bottle. The homemade hair oil for enhancing hair growth is ready.
Notice: Take few teaspoons of the oil whenever you want, apply it to the hair and massage gently. Afterward, leave it to stay for 10 or 15 minutes before taking a bath.
Learn more: Natural home remedies for white hair prematurely
5. Tulsi Hair Oil Recipe
Tulsi in the hot oil is beneficial in preventing bumps on the scalp.
Therefore, it is used for itchy scalp. If you have hot or sweaty scalp, homemade tulsi hair oil is helpful to you.
Ingredients:
1 to 2 bunches of tulsi leaves (tulsi powder if available)
½ cup of coconut oil
Direction:
Chop the tulsi leaves in a mixer, crush it to make 10 teaspoons of tulsi paste.
Add the coconut oil to the paste, mix them well and start to heat the mixture in the low flame.
Put few grains of fenugreek or corn as the fumes start, and when the grains pops up then switch off the flame.
Let the oil cool, sieve it into a proper bottle.
Notice: Remember to warm the oil before applying to your hair, massage it for 20 minutes then take a bath.
See more: 11 health benefits of holy basil tea
6. Neem Hair Oil
Neem leaves are used in a homemade hair oil because it has the ability protecting people from dandruff. While chemical products, this neem oil is considered to be a good treatment.
Ingredients:
1 to 2 bunches of neem leaves
5 to 10 teaspoon of coconut oil
Direction:
Dry few neem leaves
Boil the coconut oil, then add the neem leaves into the oil.
Switch off the flame after that.
When the oil turns green, filter and put it in a glass bottle.
Soak your hair 30 minutes after applying it to your scalp. Wash and condition your hair, as usual, every week.
Read more: 41 homemade natural face toner recipes
7. Coconut Milk, Brahmi, Aloe Vera And Tulsi Hair Oil

This is the most complicated recipe of homemade hair oil that may bring better results to the hair. The most important thing is finding the best type of coconut that should be fully ripe and dried. You should follow the below recipe:
Ingredients:
1 cup of coconut oil
1 cup of coconut milk
5 teaspoons of Brahmi powder
.2 teaspoons of Aloe vera
.1 teaspoon of Tulsi leaf paste
Direction:
Mix Brahmi powder with aloe vera and tulsi leaf paste.
Pour the coconut milk into the mixture and mix them well.
Continue adding coconut oil and mix again and start heating the mixture in low flame.
Use a long spoon to stir the mixture. When the fumes appear, add few grains of corn, rice or fenugreek till it pops up then switch off the flame. (Avoid letting the contents too dark or get burned)
Leave the oil cool, sieve it and pour it into a suitable bottle.
Apply this homemade hair oil once a week in the basis. It is possible that the first application can cause temporary hair loss, but don't worry and keep using it because it will take care of your hair effectively after that.
See more: Natural aloe vera faces mask: 31 homemade recipes
Related article: 25 ways to make natural protein pack for hair- homemade recipes
To get more content related to beauty tips, go to the main Beauty page. After reading these recipes of the homemade hair oil, hope that you will know more some easy ways to take care of our hair with home ingredients by ourselves. All these recipes are natural, safe, as well as easily found for your hair health. Remember to try the recipes just after carrying out a simple test to check your body reaction, then decide to use them or not. If you have any concern, leave them below, then I will respond soon.
Want More Content Like This In Your Inbox?
Join The Discussion