Eggs are a super food that is good for our health. They can be prepared in a lot of interesting ways. There are many ways to cook eggs such as omelets or scrambled eggs. Did you try making egg salad? This way may sound delectable. But egg salad recipes are really easy to make and delicious too. Now let's have a look at these egg salad recipes at VKool.com. Certainly, you will love these recipes.
10 Easy And Healthy Egg Salas Recipes To Try Out Today
1. Celery Egg Salad
This celery egg salad is very easy to make and makes great sandwiches.

You will need:
2 teaspoons of lemon juice
½ teaspoon of pepper
¼ cup of mayonnaise
1 teaspoon of minced onion
6 finely chopped hard-cooked eggs
½ cup of finely chopped dried celery
Process:
First of all, mix pepper, lemon juice, mayo and onion together. Next, add eggs and celery and stir.
Now cover it and allow it to set.
Finally, serve chilled wrapped in a few lettuce leaves.
Read on: 20 Best Easy Recipes With Celery
2. Egg And Crawfish Salad
This is also one of the easiest egg salad recipes to try at home.
You will need:
1 tablespoon of hot Louisiana sauce
2 chopped finely dill pickles,
3hopped hard boiled eggs
1 pound Crawfish or shrimp, chopped
Salt to taste
1 teaspoon of red cayenne pepper
2 tablespoons of mayonnaise
1 teaspoon of poupon mustard
Process:
First of all, cook the crawfish. Next, take a saucepan and then, add two quarts of water.
Bring the water to a boil and add 2 teaspoons of salt and ½ teaspoon of red pepper.
Now peel these crawfish tails and after this, add them to the hot, seasoned water.
Afterward, take the saucepan out of the heat. Drain the crawfish and allow it to cool.
Chop crawfish and add pickles and chopped hard-boiled eggs to it.
Now mix the hot sauce, mayo and mustard and then add it to this egg mixture.
You can also add more pepper and salt if required.
3. Egg And Mayonnaise Salad
This is considered as one of the simplest egg salad recipes.
You will need:
8 eggs
1 tablespoon of mayonnaise
2 tablespoons of mustard (prepared in Dijon-style)
1 teaspoon of paprika
Dried pepper and salt for seasoning
1 teaspoon of dill weed
½ red onion, minced
Process:
Place eggs in a saucepan. Next, use cold water to cover the eggs and then, boil the water.
Cover and remove from the heat.
Leave the eggs to remain in that hot water for around 12 to 15 minutes.
Then, remove the eggs from the hot water and allow them to cool. After this, peel and chop the eggs.
Combine mayonnaise, paprika, egg, mustard, dill, salt, onion and pepper in a large bowl.
Then, mash all these ingredients with the help of a fork or a wooden spoon.
Finally, serve this salad together with crisp lettuce.
Or you can spread this on bread to create a sandwich.
Read on: 10 Easy Healthy Homemade Recipes With Mayonnaise
4. Baked Egg Salad
You will need:
2 tablespoons of dill relish
1 ½ tablespoons of yellow mustard
12 large eggs
1 ½ teaspoons of garlic powder
1/3 cup of mayo of olive oil
Process:
First of all, you need to preheat your microwave oven to 325ºF.
Then, place eggs in the muffin tin. Now bake the eggs for 30 minutes until they become like boiled eggs.
Then, remove the pan from your oven and allow the eggs to cool on the wire rack for about 10 minutes.
Now remove the eggs and take the cold water, put them in it. Keep them until they completely have cooled.
Afterward, tap those eggs to gently break their shells.
Peel off their shells and then chop those eggs into pieces.
Now mix chopped eggs and all the above ingredients together in a large bowl.
At last, serve it on bread to make one nice sandwich.
5. The Sweet Egg Salad
Looking for healthy egg salad recipes, you should not miss this one.
You will need:
3 tablespoons of mayonnaise, low fat
¼ teaspoon of pepper, freshly ground
3 tablespoons of plain and non-fat yogurt
2 teaspoons of mustard
3 tablespoons of sweet onion, chopped
8 hard-boiled eggs
½ cup of thinly sliced celery
¼ cup of sweet gherkin pickles, chopped
Salt for seasoning
Process:
Take a bowl and next, mix mayo, pepper, yogurt, mustard and salt in it.
Now cut these eggs into halves. Then, discard 4 eggs' yolk.
Now add egg whites to that mixture and the rest of yolks of 4 eggs.
Mash the eggs according to the required consistency.
At last, gently stir in onion, celery and gherkins.
6. Bacon-Egg Loaded Salad
This is also one of the yummiest egg salad recipes to try at home.
You will need:
8 ounces bacon
4 celery stalks, minced
½ cup of mayonnaise
1 ½ tablespoons of sweet pickle relish
1 ½ tablespoons of yellow mustard, prepared
½ cup of yellow onion, minced
1 ½ cup of dill weed, dried
1 teaspoon of Worcestershire sauce
2 teaspoons of chili-garlic sauce
1 teaspoon of black pepper, ground
1/2 teaspoon of paprika
12 hard-boiled eggs (shells removed)
Salt to taste
Process:
The first step is to put a large skillet on medium heat.
Next, place bacon in it and leave it to cook. Then, turn this bacon once in one while so that they turn crispy, say for around 10 minutes.
Now take out the bacon slices on a paper towel. Leave the slices to cool and then crumble.
After this, mix celery, onion, chili-garlic sauce, mayo, mustard, black pepper, crumbled bacon, Worcestershire sauce, salt and dried dill weed in a large bowl.
Add eggs and then break the egg whites and the yolks using one potato masher so that these eggs mix with the bacon mixture properly. Then, stir the egg pieces.
Cover the bowl using a plastic wrap.
Lastly, refrigerate for one hour and then serve.
7. Egg And Tofu Salad
This is one of the healthiest egg salad recipes due to the high proteins in eggs and calcium in tofu.
You will need:
1 bunch of scallions
2 tablespoons of tamari
½ firm tofu cake
2 large cloves of garlic, minced
2 stalks of celery
2 ½ tablespoons of lime juice, freshly squeezed
1 can baby corn that is sliced in half
2 eggs, boiled
1 tablespoon of chili paste
1 roasted large red bell pepper
Bunch of mint leaves
Bunch of basil leaves
Balsamic vinegar to marinate
1 tablespoon of olive oil
Process:
Take a pan and next roast this red bell pepper.
Now skin as well as seed the bell pepper. Then, cut it into strips.
Then, take one bowl and marinate basil and mint leaves in balsamic vinegar and olive oil.
After this, cut the tofu into many cube-shaped small pieces.
Now marinate the pieces with tamari, garlic, chili paste, lime juice, and scallions.
Keep the marinated mixture in your fridge for a few hours. Then, toss periodically.
Afterward, drain the marinade and set it aside.
Take one non-stick pan and then drizzle an enough amount of oil to fry that tofu.
Now fry that tofu until all the sides of tofu become brown.
Take the tofu out of the pan. Sauté corn and celery in the same pan.
Add the tofu, marinade, and allow the whole mixture to cook for one minute.
Finally, serve this salad.
Read on: 20 Best Easy Healthy Salad Ideas For People At All Age!
8. Deviled Egg Salad
You will need:
¼ cup of green onion, chopped
½ cup of celery, chopped
12 hardboiled eggs, peeled
3 tablespoons of Dijon mustard
1 tablespoon of white wine, sherry or cider vinegar
½ cup of red bell pepper, chopped
1/3 cup of mayonnaise
A few drops of any Tabasco or hot sauce
¼ teaspoon of paprika
Salt and black pepper to taste
Process:
First of all, place the eggs in one saucepan and cover the eggs with water.
Now boil the eggs and then remove from the heat.
Afterward, cover and allow the eggs to stay as they are for twelve minutes.
Put chopped eggs in a large bowl.
Then, add other vegetables like red bell pepper, celery, and green onion and now mix well.
Mix mustard, vinegar, Tabasco and mayonnaise in another small bowl.
Stir this dressing gently and then, add to that bowl with eggs and vegetables.
Add black pepper, paprika and salt to taste.
Finally, serve this salad chilled on a bread, toast or butter lettuce pieces.
9. Egg Salad Classic Style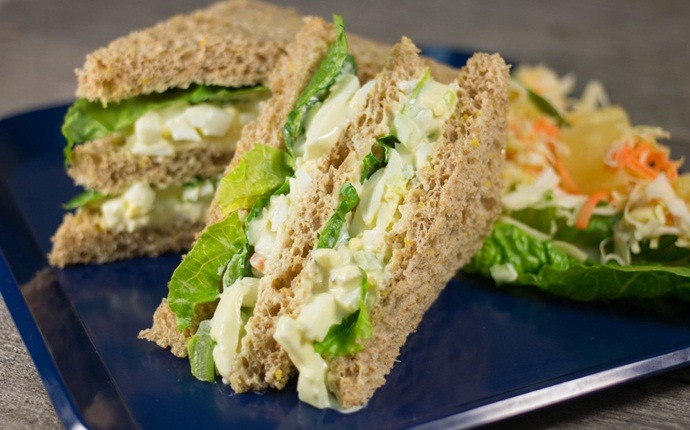 You will need:
6 peeled hard steamed eggs
1 ½ teaspoons of fresh lemon juice
½ teaspoon of lemon zest
¼-cup of mayonnaise
1/3 cup of celery, finely diced
¼ cup of sliced scallions, only pale white and green parts
1 tablespoon of fresh parsley leaves, minced
Kosher salt for seasoning
Freshly ground black pepper
Radishes, lettuce and bread, thinly sliced
Process:
First of all, take a bowl and combine mayo, eggs, scallions, lemon juice, celery and parsley in it.
Add peeled eggs, crumble using your fingers so that they're mashed evenly, and then mix properly with other ingredients by using a whisk. Smash well.
Season with salt and pepper.
Serve with lettuce, bread, and sliced radishes.
You can preserve this kind of egg salad recipes in the refrigerator for 3 days.
10. Light Egg Salad
You will need:
10 large hard-boiled eggs (four yolks removed)
2/3 cup of Greek yogurt
1 tablespoon of mayonnaise
2 teaspoons of mustard, prepared
1 teaspoon of agave nectar
1/4 teaspoon of onion powder
A pinch of garlic powder
1 tablespoon of  dill weed, fresh
Ground black pepper  and salt for seasoning
Process:
First of all, break the eggs' shell and dice them.
Place diced eggs in a large bowl.
Combine all the other ingredients in another small bowl until a combined mixture is formed.
Now pour these egg dices and then coat them with that mixture.
Finally, serve it with tomatoes, avocados, or even spinach.
Read on: 31 Healthy Summer Salad Recipes
Recommended articles:
Top 9 Beauty & Health Advantages Of Eating Eggs
Eat, Drink And Shrink Recipes Review
You can go to our main Health page in order to get more information linked to easy and healthy recipes. Do you know any other traditional and delicious egg salad recipes? Share your thoughts with us in the comments section below!
Want More Content Like This In Your Inbox?
Join The Discussion