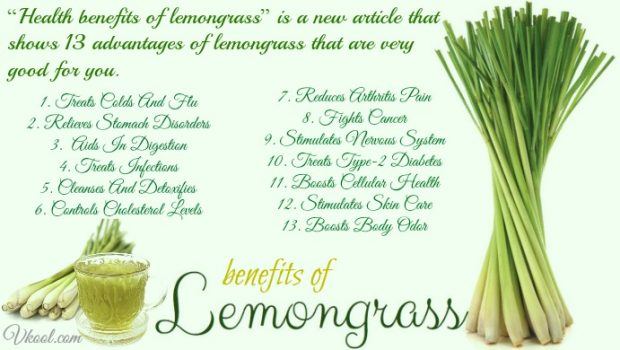 Lemongrass, as well as fever grass, is a permanent plant that has thin and long leaves. It is common in Asian area with has a lemon as its name. But lemongrass tastes sweeter and milder than lemon. This plant is very rich in types of vitamin, folic acid, manganese, magnesium, calcium, iron, zinc, copper, potassium and phosphorus that are all nutrients for your health. Therefore, it is used much in health cuisine, especially in Asian countries.
The health benefits of lemongrass include the treatment of fever, aches, infections, edema, rheumatism and the relief of insomnia, stomach disorders, and respiratory disorders. This herb contains defensive antioxidants that can protect your body from antibiotic-resistant, Staphylococcus aureus, and help maintain the optimum nervous system, immune system, cholesterol levels, cellular health or even skin health. In addition, lemongrass is also helpful in treating cancer, type 2 diabetes, and obesity, when also aiding in detoxification.
It is easy to find dried lemongrass sold in the market. And you can also use lemongrass essential oil or even its supplements.
In this article, VKool.com will present you top 13 health benefits of lemongrass. This article listed the best advantages of lemongrass from reliable sources so that you can absolutely believe in.  However, it is only for the informational target and it is not aimed to give medical advice. Continue reading this writing to understand more!
Top 13 Health Benefits Of Lemongrass
1. Treats Colds And Flu
Lemongrass contains antifungal and antibacterial properties that help your body to cope with fever, coughs or other cold and flu symptoms. Because it is rich in vitamin C, it can boost the immune system to fight any infection.
You can use the lemongrass oil to ease headaches or pain in muscles and joints resulted from a cold and the flu.
Moreover, the herb is also useful in breaking down phlegm and mucus buildup, which can relieve the problems with breathing. So, it is very beneficial when treating bronchitis or asthma
This is the way to take the benefits of lemongrass for your health:
Firstly, boil some fresh strands of lemongrass, a small piece of cinnamon sticks and 2 or 3 cloves and a teaspoon of turmeric powder all in a cup of milk.
Then, strain and drink the beverage when it cools down.
Finally, drink this water once a day in a few days.
Read more: 28 home remedies for a cough for kids and adults

2. Relieves Stomach Disorders
Many types of research indicated that lemongrass essential oil contains anti-bacterial and anti-microbial properties that are helpful in fighting the infections caused by many pathogens like Helicobacter pylori or Escherichia coli.
The herb is also beneficial in preventing gastrointestinal disorders such as gastric ulcers, helping stimulate the bowel function, and improving the digesting procedure. Its anti-inflammatory properties can help in treating constipation, diarrhea, ulcerative colitis, nausea and stomach aches.
Learn more: Top 32 foods good for stomach ache & stomach ulcers
3.  Aids In Digestion
Lemongrass improves healthy digestion. This herb has antiseptic complexes that are effective in killing parasites or bad bacteria in the digestive tract while reproducing the useful bacteria in the intestine.
Lemongrass helps in treating some digestive problems such as indigestion, constipation, stomach spasms, heartburn, diarrhea, flatulence, bloating, cramps and vomiting. Additionally, it contains antimicrobial properties which can help in relieving gastroenteritis
To get a healthy digestive tract, try to drink lemongrass tea on a regular basis. But remember that lemongrass tea is not useful for small children.
See more: 26 best and worst foods for digestion problems
4. Treats Infections
Lemongrass acts as an antiseptic and it is very beneficial in treating infections such as sores, ringworm, Athlete's Foot, urinary and scabies tract infections due to its antimicrobial and anti-fungal properties.
Research showed that lemongrass applies healing effects on dermatological infections. For example, it exerts healing effects on yeast infections by restricting the growth of pathogens.
Another research provided supporting evidence that one of the benefits of lemongrass is the efficacy over patchouli, thyme, and cedar wood oil in treating various diseases like oral or vaginal candidiasis.
Learn more: 20 natural home remedies for sinus infection pain in adults & children
5. Cleanses And Detoxifies
If you consume lemongrass tea regularly, it will help cleanse and detoxify your body. Because lemongrass has the diuretic nature that plays a role in removing toxins, bad cholesterol, and uric acid out of your body, it can increase the quantity and frequency of urination. This urination is also helpful in cleaning out the kidneys.
Moreover, the cleansing properties of lemongrass tea can purify other parts of your body such as liver, kidneys, bladder or pancreas. This herb also helps increase the blood circulation that is really important for human health.
In conclusion, one of the benefits of lemongrass tea is to allow your body out of any harmful elements.
Read more: How to detoxify the body naturally at home – 17 simple tips
6. Controls Cholesterol Levels
Lemongrass can help reduce the engagement of cholesterol in the intestine because it has the anti-cholesterol and anti-atherosclerosis properties. Additionally, the herb boosts the oxidation of cholesterol in your blood, which helps protect your body from the buildup of atherosclerotic plaque.
A study conducted in 1989 indicated that people who have high cholesterol will get the reduction of cholesterol levels if they take 140 milligram lemongrass oil every day. And they also get a considerable declination in blood fats.
Besides that, the potassium content of lemongrass can help in lowering and regulating blood pressure, which reduces the risk of many diseases related to the heart.
Just drink one cup of lemongrass tea every day to lower the cholesterol level and decrease your blood pressure. And you can take in this herb from supplement after asking your doctor.
Read more: 27 natural home remedies for high blood pressure control
7. Reduces Arthritis Pain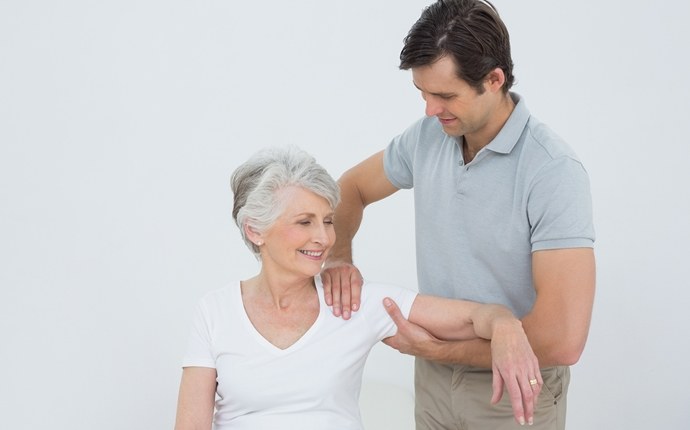 Lemongrass contains pain- relieving and anti-inflammatory properties that help treat arthritis, osteoarthritis, gout, rheumatism, and other kind of joint pains. The anti-inflammatory properties can restrain the activity of cyclooxygenase-2 that is known an enzyme involved in inflammation and causes pain, especially joint pain.
In addition, the herb helps alleviate muscle spasms and sprains by relaxing the muscles, which reduces the pain-related symptoms.
Follow the ways of using lemongrass below to treat your pains:
Mix lemongrass oil and coconut oil with ratio 1:2 and rub the mixture over your pain area. Keep it for a few hours before washing it off. Do this action every day for a few weeks.
Drink lemongrass tea twice a day for best results.
Learn more: 16 best tips on how to use ginger for arthritis treatment
8. Fights Cancer
The research of at a university of Israel proved that lemongrass tea can aid people to fight cancer. This herb has a component named citral that can kill the cancer cells while not damaging other healthy cells. It simply makes these cancer cells commit suicide.
Because of this advantage, cancer patients in this country are stimulated to drink the fresh lemongrass tea when experiencing chemotherapy or radiation treatments.
Another research conducted in 2023 indicated that lemongrass can help slow the development of breast cancer cells because of its citral.
Moreover, there are also other antioxidant properties of this plant that help reduce the risk of developing cancer by fighting all radicals.
See more: Top 11 cancer causing foods to avoid that you might eat everyday
9. Stimulates Nervous System
Lemongrass is nervine and considered to be a grateful tonic for the nervous system. This herb can stimulate the mind and help combat convulsions, vertigo, nervousness, and other neuronal disorders such as Parkinson's and Alzheimer's disease.
People also use lemongrass in therapeutic baths so that it assists in calming the nerves and helps alleviate the symptoms of fatigue and anxiety caused by stress.
10. Treats Type-2 Diabetes
The lemongrass has been proven to be helpful in treating Type-2 diabetes. Researchers have indicated that the citral in lemongrass can help conserve optimum levels of insulin and increase the tolerance of glucose in the human body.
Read more: 15 ways to prevent diabetes type 2 and obesity naturally
11. Boosts Cellular Health 
Lemongrass has antioxidant qualities that help prevent the body cells from the oxygen-derived free radicals. This herb also helps in cleansing blood and making the spleen stronger to discard tarnished red blood cells. In addition, lemongrass can improve the function of thymus glands to produce white blood cells. Plus, it stimulates the regeneration of cells because the potassium and folate content in the leaves and stem leaves of lemongrass helps in DNA synthesis and stimulates cell division.
12. Stimulates Skin Care
Besides the effective usefulness above, the benefits of lemongrass can be shown in beauty care, as it also plays a role in skin care. It has been considered to be a skin tonic and an effective cleanser for acne-prone or oily skin because of its antiseptic and astringent qualities. Plus, the herb helps strengthen the skin tissues and tone up the pores when also sterilizing them.
Your skin will have thorough care if you take lemongrass products in because the undiluted application may cause dermal irritation in some situations.
See more: The 4 cycle fat loss solution review – can Shaun Hadsall's diet work?
13. Boosts Body Odor
Lemongrass has cleansing and antibacterial properties that are beneficial in combating unpleasant body odor and protect your body from fungal and bacterial infections, so it is used much in the manufacture of deodorants. This herb can be also added to foot baths for sanitizing sore or odorous feet.
Recommended article:
10 Healthy benefits of dragon fruit
If you want to know more about benefits of other ingredients, please go to our main Health page. After reading the article of top 13 health benefits of lemongrass, hope that it can help you find out the best benefits of lemongrass. However, the article is only for the informational purpose; therefore, you should see your doctor in order to get the advice. If you have any question, please leave the comments below, I will respond you as soon as possible.  And if you know other health benefits of lemongrass, please leave them below.
Want More Content Like This In Your Inbox?
Join The Discussion