Mustard oil is one fatty vegetable oil that is extracted from the seeds of mustard. It is slightly pungent and dark yellow in color. Mustard oil is a rich amount of omega-6 and omega-3 fatty acids. Additionally, the oil contains a low amount of saturated fats. The oil has been used to treat various issues since ancient times. It's really beneficial for your health, hair and skin. Now VKool.com will exhibit you 20 benefits of mustard oil for health, hair & skin. Read on to understand more!
20 Benefits Of Mustard Oil For Health, Hair And Skin You Should Know
Mustard Oil Benefits For Health:
Mustard oil is not only helpful for your beauty care but also for your health. Mustard oil is low in saturated fats and is devoid of trans-fats. Besides, it is a rich amount of mono-unsaturated fats as well as polyunsaturated fatty acids like omega-3. Here are some outstanding benefits of mustard oil for health
1. Stimulant
Mustard oil works as one powerful stimulant by promoting the digestive, excretory and circulatory system. Besides, it promotes the secretion of digestive juices as well as bile from liver and spleen, which raise the food's peristaltic movement. Massaging this oil externally stimulates sweat glands and blood circulation, thus reducing the body temperature.
2. Increases Appetite
Mustard oil is a great appetizer that can stimulate gastric juices in your stomach. It irritates the intestinal lining to increases hunger. Thus, it can consider using this oil as cooking oil for those with poor appetite.
3. Weight Loss
Mustard oil has b-complex vitamins (Riboflavin, folates, niacin, and thiamine) all which help in hastening metabolism in human beings. Generally, a fast metabolism is one of the major keys to weight loss. Thus, you should add mustard oil in your daily diet for weight loss.
4. Heart Benefits
As you know mustard oil is very rich in polyunsaturated and monounsaturated fats (PUFA and MUFA respectively) and omega-6 and omega-3 fatty acids which help in balancing the cholesterol levels in your body. They help in increasing HDL or good cholesterol and decreasing LDL or bad cholesterol. As a result, the risk of heart diseases will be minimized. Thus, it can be a great substitute for saturated oils such as cheese, butter, etc.
5. Asthma Relief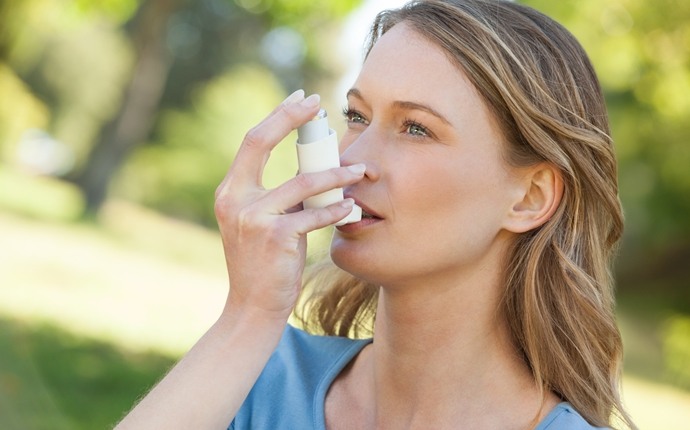 One of the best health benefits of mustard oil is to give instant relief from asthma and sinusitis too.
Simply, use brown mustard oil to massage your chest in order to improve airflow to the lungs. Alternatively, you can combine 1 tsp of mustard oil and 1 tsp of sugar and take a spoonful a few times a day. Another option is to swallow a combination of 1 tsp teaspoon of mustard oil and honey three times a day. All the remedies are effective in managing asthma.
Learn more: 12 Natural Solutions For Asthma Attacks In Adults

6. Fight Cancer
Reducing the risk of cancer is also one of the outstanding health benefits of mustard oil. The oil has a substance known as Glucosinolate which helps in preventing the creation of cancerous tumors due to its anti-carcinogenic properties. The phytonutrients give a protection against gastrointestinal and colorectal cancers.
7. Cure Cold And Cough
Mustard oil helps clean the congestion of nose and chest so that it is beneficial for people who are prone to cough and cold. For this, you need to apply a combination of 1 tsp of camphor and mustard oil on the chest and then lie back to allow the vapors to enter your lungs. Or you can add some spoonfuls of caraway seeds and mustard oil to a pot that is filled with boiling water and then inhale this steam. The strong aroma of the oil will warm up your respiratory system, thus giving protection against the build-up and formation of phlegm.
8. Anti-inflammatory Properties
Mustard oil comprises of the anti-bacterial properties that don't enable the presence of microbes. It helps in preventing unwanted growth of fungi, bacteria, as well as other such deadly microbes. It can cure all the infections in your colon, intestines, urinary tract, and other areas of the respiratory system and digestive system. Applying the oil can also treat bacterial infections on your skin. A massage using mustard oil helps eliminate arthritic and rheumatic pain and soothes sprained ankles as well as other joint pains and aches. For arthritic pain treatment, you just need to heat 3 to 4 cloves of garlic in 2 tbsp of mustard oil and then rub it on the sore joints for instant relief. Remember to immediately stop using mustard oil for the appearance of rashes or tingling or burning sensation.
9. Anti-fungal
Basically, the presence of allyl isothiocyanate in mustard oil also contains anti-fungal properties that prevent the growth of fungal. Therefore, this oil can cure rashes as well as other skin infections caused due to fungi.
10. Anti-bacterial
Mustard oil also contains anti-bacterial properties because it is high in glucosinolate which doesn't allow microbial presence. Hence, unwanted growth of fungi, bacteria, and other deadly microbes are prevented. As consumed, it will combat bacterial infections in your urinary tract, intestines, colon, and other areas of the digestive system and colds as well as coughs. As applied topically, it combats bacterial infections on the skin.
11. Prevents Malaria
Preventing malaria is one of the best benefits of mustard oil for health. Mustard oil works as a mosquito repellent and contains a sharp aroma that helps deter insects. Hence, it aids in preventing malaria as well as other insect-borne diseases.
Learn more: Top 13 Solutions For Malaria Fever
Mustard Oil Benefits For Skin
The oil is really beneficial for the skin. The aroma therapy treatments often use this oil. However, before you apply it topically, it is advised to test to make sure that you aren't allergic to it. Here are some its benefits for skin:
12. Tan And Dark Spots Removal
Mustard oil is also absolutely effective in getting rid of  tan and dark spots to offer you glowing skin in nature. For this purpose, make a face mask by combing mustard oil, curd, besan (Bengal gram flour), and a few lemon juice drops and then apply it on the face. Afterward, rinse by using cold water after around 10 to 15 minutes. You should follow this treatment thrice per week for best results.
13. Natural Sunscreen
Mustard oil contains high vitamin E levels. Thus, the oil helps give your skin a protection against the harsh ultraviolet rays as well as other pollutants, thereby preventing skin cancer. Besides working as a sun shield, vitamin E prevents wrinkles and aging.
Learn more: Basic Rules For Choosing Sunscreen For Dry, Oily And Sensitive Skin
14. Lightens The Skin
One of the best skin benefits of mustard oil is lightening the skin. To make your facial skin become smooth, you need to mix coconut oil and mustard oil and then apply the mixture on your face. Now massage your face in circles for around 5-6 minutes. At last, gently wipe your face by using a wet and smooth cotton cloth. This will activate blood circulation, thereby lightening your skin and getting rid of pimples as well.
15. Stimulates Sweat Glands
Mustard oil helps in stimulating the sweat glands and opening the pores of your skin whether applied topically or consumed. Thus, it helps reduce the body temperature and gets rid of unwanted toxins, salts and water from the body.
16. Lip Care
When chap sticks or lip balms prove to be ineffective, mustard oil is a great cure for dry chapped lips. You just apply about 1-2 mustard oil drops on your belly button before going to bed, and you'll never have chapped or dry lips. This is one ancient remedy which has demonstrated to be effective in softening and moisturizing your lips.
17. Treats Infections And Rashes
As all we know, mustard oil comprises of the anti-fungal and anti-bacterial properties. Hence, the oil is effective in curing rashes as well as other skin infections, thereby preventing your skin from dullness, dryness, and itching. Besides, mustard oil is effective in lowering skin inflammation and helps the quick healing of wounds and cuts thanks to its anti-inflammatory characteristics.
Mustard Oil Benefits For Hair
Mustard is a good remedy for a long, lustrous and thick hair. The oil gives essential nutrients to your hair follicles for the proper growth whether consumed or applied. Here are some of its advantages for hair:
18. Stimulates Hair Growth
General speaking, massaging your scalp using mustard oil will stimulate hair growth by boosting blood circulation in your scalp. The oil is loaded with minerals and vitamins, particularly, a rich amount of beta-carotene. And this beta-carotene helps get converted into vitamin A that is ideal for hair growth. Plus, it contains fatty acids, iron, magnesium and calcium, all of which enhance hair growth.
Learn more: Total Hair Regrowth Review
19. Prevents Hair Loss Plus Other Scalp Problems
Preventing hair loss is also considered as one of the best benefits of mustard oil for hair. Ii acts as one hair vitalizer to combat baldness and hair loss as well as deal with damaged and dry hair. It also helps in preventing scalp infections by restricting fungal growth and maintaining it hydrated. For this purpose, just apply a combination of warm mustard, coconut, almond and olive oils and then massage your hair for around 15 to 20 minutes. Now use a shower cap to cover your hair and finally, use a mild shampoo to wash your hair after about 2 to 3 hours. This will leave your hair long, lustrous and thick.
20. Prevents Pre-mature Greying
Last but not least, mustard oil darkens your hair naturally and is useful in preventing premature greying. Hence, you can massage the hair by using the oil every night to notice the different result instead of dyeing hair.
Recommended articles:
Top 16 Canola Oil Advantages For Hair, Skin And Health
6 Mineral Oil Advantages For Hair
You can go to our main Health page in order to get more information related to benefits of many kinds of oils, plants, food, etc. As we see, mustard oil is really effective in assisting you to get a healthy lifestyle. Do you know other benefits of mustard oil that are missing in this article? Share your thoughts with us in the comments box given below.
Want More Content Like This In Your Inbox?
Join The Discussion