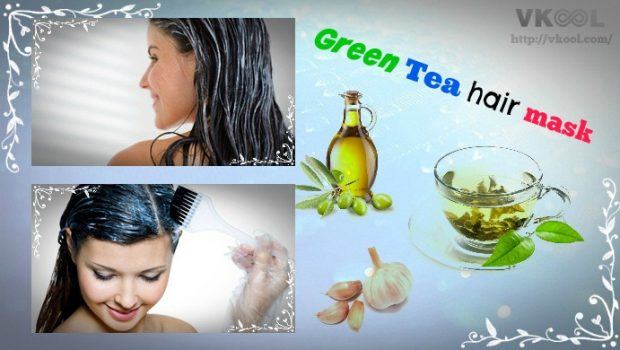 Women with shiny and healthy hair will look very attractive. In addition, healthy and strong hair enhances the beauty and personality of a woman. Many women around the world like using many chemical products to gain a healthy and strong hair. But these products may harm your hair. Instead using these products, you should choose natural solutions. And green tea is the best choice for you to attain healthy hair. Green tea contains the potential to diminish psoriasis and dandruff by reducing inflammations. Plus, it softens your hair roots and promotes hair growth. The Department of Dermatology, Seoul National University College of Medicine conducted a research and indicated that green tea contains the ability to enhance the growth of hair. Here, VKool is providing some easy and amazing green tea hair mask recipes.
6 Green Tea Hair Mask Recipes For Healthy And Strong Hair You Should Not Miss
1. Green Tea And Mustard Powder Hair Mask
Green tea hair mask is beneficial in restoring shine and moisture in your hair! This mask is very effective for promoting healthy hair growth as it is a powerful source of vitamin C, E and polyphenols. Mustard powder is a great natural remedy that prevents hair loss and stimulates hair growth. Vitamin A found in mustard powder is a good natural healer for the split, brittle, damaged, and thinning hair. Vitamin E in it is known for its antioxidant agents. It can cure seborrhea, inhibits hair loss, and protects against external aggression as well. Moreover, it comes with fatty acids, which are good for dry hair, because they effectively restore and moisturize fragile, very thin as well as weak strands.
You will need:
2 tbsp of fresh green tea
1 tbsp of mustard powder
1 egg yolk
Method:
Mix together all the ingredients until you obtain a creamy consistency. You can add more green tea if this mix becomes too thick.
Part hair down the center afterwards and apply the mixture. With the help of a cling wrap or shower cap, cover hair. Leave in for about 15 to 25 minutes.
Thereafter, rinse thoroughly, shampoo and condition as it is.
This treatment should be used 3-4 times a week to create thick, long, and luxurious hair.
2. Coconut Oil And Lemon With Green Tea Hair Mask
Generally, Green tea effectively acts in promoting hair growth due to its antioxidants. Further, it eliminates dandruff very well. Lemons are a powerhouse of vitamin C that aids in making hair longer and stronger. Plus, the anti-fungal property present in lemon juice fights dandruff causing fungus and gives cure from other scalp infection. Lemon juice contains the acidic property that acts wonder in preventing dandruff and removes accumulated dead cells, dust, as well as other unwanted deposits from hair and scalp. Coconut oil in this mask is fully loaded with antibiotics, antibacterial agents and works greatly in inhibiting various types of hair related problems. How to make this green tea hair mask? Follow these guides below:
You will need:
2 tbsp of green tea
4 tbsp of coconut oil
1 lemon
Method:
Firstly, take a lemon and remove the outer skin. Then, take one boil of water and add leaves of green tea and outer skin of this lemon in the bowl. After that, heat for some time.
Add coconut oil to the bowl as these two elements are getting heated. Heat the mixture for a couple of minutes.
Later remove the bowl from your stove and leave the mixture to cool for some time.
Now, take a small cloth piece and dip it in this mixture and massage your scalp and your hair strands with that mixture.
Wait for about 45 minutes and lastly, rinse off by using your regular shampoo. Apply this mask not more than thrice a month.
Read on: Health & Beauty Benefits Of Lemons Juice, Oil And Peel

3. Green Tea Hair Mask With Olive Oil And Garlic Cloves
Basically, green tea is very beneficial in protecting the hair from harsh chemical products' damage. Garlic is packed with compounds such as calcium, zinc as well as various other minerals. Plus, its properties of killing bacteria and germs help in combating against various bacterial infections. Moreover, garlic comprises of the compound called selenium that helps in treating the cancerous cells and enhances the hemoglobin flow in the body. Last but not least, garlic helps prevent hair fall and promotes hair growth as well. Olive oil has antioxidants that make the hair healthy and soft. It also acts as one natural conditioner that moisturizes and nourishes your scalp. It makes your hair look shiny and soft. Onion present in this mask is a powerhouse of important vitamins and minerals, such as vitamins B6 and C, calcium, magnesium, germanium, potassium and also contains a high sulfur content, all of which are essential for the hair.
You will need:
1 chopped onion
2 tbsp of green tea
2 tbsp of olive oil
Some garlic cloves
Method:
Grind the chopped onions and garlic cloves at first and add 1 tsp of cumin powder to the mixture.
Then, grind all the ingredients to obtain a smooth and fine paste. After this, add green tea to the paste.
Add olive oil and now mix all the ingredients well.
Then, apply on your hair and scalp with this mixture. Keep it for some time and massage for few minutes.
Lastly, wash your hair with the help of tepid water. This green tea hair mask is very useful in making the hair healthy and strong.
4. Green Tea Hair Mask With Honey
Basically, green tea is very beneficial in removing all hair related issues. Honey is fully loaded with medicinal agents, works wonder in making the hair strong and healthy as well. Recent studies have shown that honey can prove beneficial in keeping the scalp healthy and boosting hair growth due to its antibacterial and antioxidant properties.  This, this green tea hair mask is one of the greatest hair masks which makes the hair shine and beautiful as well.
You will need:
Few green tea leaves
1 tbsp of honey
1 tbsp of coconut oil
Method:
Take a cup of boiled water and add leaves of green tea to the bowl.
Then, add coconut oil and honey to it. Mix it and apply it on the hair and scalp as well.
Leave it for about 30 minutes and rinse it off.
Read on: Benefits And Recipes Of Honey For Hair Growth
5. Green Tea And Egg
Green tea makes the hair beautiful and shiny. Egg contains the vital minerals and vitamin and the lack of certain vitamins can lead to hair problems such as brittle hair, and excessive hair loss. Egg contains fatty acids which offer deep nourishment to your hair. Further, it consists of lecithin which will keep your scalp and hair in a good state. The egg also has vitamins such as A, B, D as well as E. Vitamin A helps in promoting your hair growth and lessens the hair loss while vitamin E will keep your hair texture smoother as well as well nourished. How to make this green tea hair mask at home? Here are easy steps for you to follow:
You will need:
2 eggs
A few green tea leaves
Method:
Firstly, take a boil and fill it with water. Then, place it on the stove and now heat that water for some time.
Add leaves of green tea in the bowl. Add eggs in that liquid as leaves are getting heated.
Mix this mixture thoroughly and combine 2 tea powder bags in this liquid. Lastly, mix all these ingredients.
After that, apply on the scalp and hair. Leave the hair mask to dry for 30 minutes.
With your finger tips, massage the hair in circular motions at one time. Then, take a head bath with tepid water with your regular shampoo.
Follow this process twice a week to lock moisture and shine in your hair.
6. Simple Green Tea Hair Mask
As you know, green tea is very rich in anti oxidants that prevent hair loss and boosts hair growth. Here is the recipe to make this green tea hair mask at home:
You will need:
Method:
Prepare a green tea and apply it all over your scalp.
Leave it for one hour without disturbing and rinse it off by using cool water.
Repeat this process regularly alternate weeks.
Read on: Total Hair Regrowth Review
Hope that our article will help you know more ways to use green tea for hair. You should follow these green tea hair mask recipes regularly for faster and better results. To read more our informative articles, you can visit our main Beauty page. Do you know other green tea hair mask recipes? Please share your thoughts with us in the comments box below.
Recommended articles:
Benefits Of Fresh Green Tea Leaves For Skin And Health
DIY Hair Mask Recipes For Hair Growth
Homemade Hair Masks For Hair Fall
Want More Content Like This In Your Inbox?
Join The Discussion