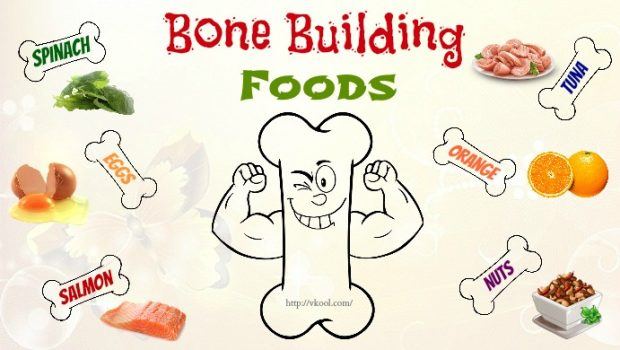 Normally, people may not pay their attention to taking care of their bone health. Until they become older, they realize that the bone health plays an important role in the overall health of the whole body. What we want to say is that you should consider your bone health as well. In fact, to improve the bone health, you can apply many methods but on this topic, we would like to focus on the way of eating. VKool.com wants to show you a list of best bone building foods that you should aware.
In order to strengthen your bone health, you need to supply a sufficient amount of required vitamins and nutrients, especially vitamin D and calcium. As you know, both of them cannot be ignored whenever talking about bones and joints, which mean vitamin D along with calcium, will be the target nutrients that are included in the best bone building foods. According to scientists, adult people up to 50 years old are recommended absorbing about 1000 milligrams of calcium. At the same time, they also need to meet the requirement of getting IUs (international units) of vitamin D every day. Meanwhile, people over 50 years old have to take 1200 milligrams of calcium as well as between 400 and 600 IUs of vitamin D, in general. They seem to be such a big figure that people do not know how to achieve that target. A good way to supply such an amount of vitamin D and calcium is to consume the following bone building foods that we are going to show you in this article. We hope that, after reading it, you can create a proper and healthy diet for yourself to increase the bone health.
The List of 10 Best Bone Building Foods To Boost Bone Health
1. Dairy Products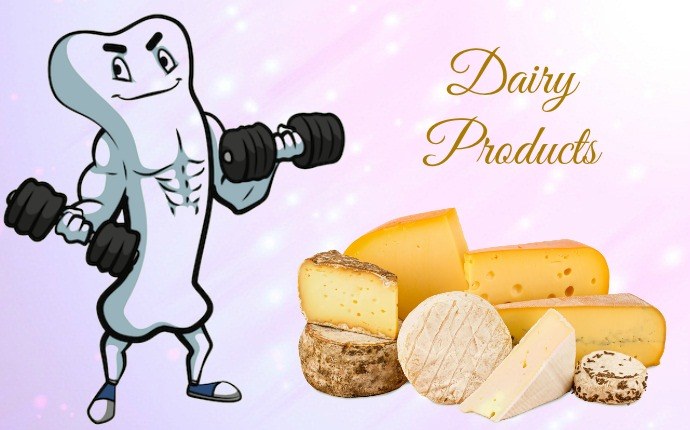 Of course, regarding vitamin D and calcium – rich foods, we cannot skip a wide range of dairy products because they have been significant sources of these nutrients. In this group of bone building foods, we highly recommend you drinking milk every day. Perhaps, many people think that they do not need to drink milk when they grow up and they assume that milk is only for children. However, this assumption seems to go adversely to what science approved. Milk is extremely good for bone building, our bones do not stop developing, and we need nutrients contained in milk to strengthen our bone health. According to scientists, we can increase the bone mass until we are 20 years old if you supply enough required nutrients. When we move on to the menopause there occurs the estrogen loss in our body, in turn, bones will lose calcium rapidly. At this stage, people are supposed to consume more foods and drinks that contain a high concentration of calcium and vitamin D because they have the ability to delay the bone mass loss. A glass of fat-free milk can provide you up to 30% of a dose of calcium that you need in a day. Milk that you buy in stores is fortified with vitamin D as well so that you can get double benefits when drinking milk. Although it costs you 90 calories per glass, you should drink milk to strengthen your bone health. In addition to drinking fresh milk itself, you can combine it with other ingredients to make some delicious smoothies.
Besides, yogurt is also another option among the best bone building foods that we recommend you consuming. Plain yogurt will be a better solution for you to boost the bone strength if you are afraid of weight gain when drinking milk. Like other bone building foods, yogurt also provides a significant amount of both vitamin D and calcium to your bones. Instead of milk, you can eat plain yogurt because one cup of it can supply 20% of vitamin D and 30% of calcium to your body. It is great if you can combine yogurt with fruits and other ingredients to make it tastier.
As a type of dairy products, cheese also plays an essential role in providing vitamin D and calcium to bones. Nevertheless, it does not mean that you should eat too much cheese in your diet. To have 30% of calcium needed per day, you need 1.5 ounces of cheddar cheese. Cheese also contains vitamin D but the amount of this nutrient is quite low. In general, you can add a proper amount of cheese to your diet, which is also another suggestion for bone building foods that you can apply.
We would like to introduce you a smoothie recipe that is good for your bones as well.
Ingredients:
Fat-free milk: 2/3 cup
Fresh berries or frozen berries: half a cup
Non-fat vanilla yogurt: ¼ cup
Ice cubes: 1 cup
Vanilla instant drink mix: 1 pack
Note: You can substitute berries by another fruit.
Direction:
Combine all the ingredients in a blender.
Blend them until smooth.
You can enjoy it immediately
Read more: Health and nutritional benefits of soy milk

2. Salmon
As you know, salmon is one of the healthiest foods on the planet. It is very rich in essential vitamins and nutrients, including vitamin D and calcium as well, which make salmon, become one of the best bone building foods in the world. Actually, regular fish intake can improve your bone health. Moreover, if you consume salmon instead of other fishes, the health effect on your bones will be significantly increased.
Researchers said that vitamin D is quite rare in nature but salmon is outstanding. It is considered as the most significant source of this vitamin. You may be surprised by the fact that one serving of salmon can supply the daily-required amount of vitamin D. Not only fresh but also canned salmon can provide beneficial nutrients to your bones. However, canned salmon includes salmon bones that are soft and edible so that it can add an extra source of calcium. Thanks to a high concentration of both calcium and vitamin D, salmon mainly contributes to protecting bone mass as well as improving the bone health, in general. An indispensable feature that we cannot skip is that salmon contains plenty of omega-3 fatty acids that are extremely healthy for your heart. All in all, we high recommend you adding salmon to your diet to take its health benefits.
Here is an interesting recipe to cook salmon. It is garlic-roasted salmon and Brussels sprouts, an easy home cook recipe for you to try.
Ingredients: (for six servings)
Wild-caught salmon fillet: 2 pounds
Brussels sprouts: 6 cups (trimmed and sliced)
White wine: 3/4 cup
Garlic: 14 large cloves
Olive oil: 1/4 cup
Freshly ground pepper: 3/4 teaspoon
Chopped fresh oregano: 2 tablespoons
Lemon wedges:
Salt: 1 teaspoon
Direction:
Set the oven to the heat of 450F
Skin and cut salmon into 6 equal portions
Mince two garlic cloves. Then mix with other ingredients including 1 tablespoon of oregano, oil, 1/4 teaspoon of pepper, and half a teaspoon of salt.
Next, halve the remaining part of garlic and then toss with Brussels sprouts. Add 3 tablespoons of oil in a roasting pan.
Place in the oven for 15 minutes. Remember to stir.
Add white wine to the oil mixture. Take the roasting pan out of the oven and stir the vegetables. Put the salmon on top.
Pour the wine mixture over the salmon. Add 1 tablespoon of oregano, half a teaspoon of pepper and salt.
Put it in the oven and let it be in 5-10 minutes more.
Enjoy the salmon with lemon wedges.
It is a simple process but requires you spend about 1 hour on preparing and cooking.
Read more: Health benefits of salmon fish
3. Spinach
Green leafy veggies are essential for our health. In fact, almost all of them are categorized as great bone building foods. However, among them, spinach seems to be the richest calcium-contained vegetable
If you are afraid that dairy product can make you gain weight, you can consume spinach, instead. It will be another good way to absorb calcium from natural sources. You may not know that in every one cup of spinach, there is more than 25% of the recommended amount of calcium that you need to absorb per day. Besides, it also contains fiber, iron, as well as vitamin A. Furthermore, like other green leafy veggies, spinach also contains a high concentration of bone-building nutrients, in addition to calcium. A large content of vitamin K and magnesium in spinach can help to form bone protein and prevent calcium loss in urine. In fact, researchers have shown that too little amount of vitamin K can increase the risk of hip fractures. Spinach will be a great solution if you are on the weight loss diet and are looking for some bone building foods.
A dish of spinach salad will make you satisfied. We would like to show you a recipe of spinach with bacon and mushrooms salad. It takes you about 25 minutes to make this salad. I hope that you will enjoy it.
Ingredients: (for 6 servings)
Fresh spinach leaves: 12 ounces
Bacon: 4 slices
Sliced fresh mushrooms: 3/4 cup
Chopped hard-cooked eggs: 4
Croutons: 3/4 cup
Ground black pepper: 1 pinch
Ranch salad dressing: 3/4 cup
Direction:
Fry 4 slices bacon in a large and deep skillet.
After 10 minutes, bacon will be crisp. Drain it on a plate with paper towel-line.
Then crumble it.
Toss the bacon, mushrooms, and spinach in a salad bowl.
Next, put the croutons and eggs on top.
Remember to season with ground black pepper and add ranch dressing as well.
Enjoy your spinach salad.
Learn more: Easy and healthy cooked spinach recipes
4. Eggs – Great Bone Building Foods
Perhaps, many of us know that eggs are among the calcium-rich foods. Eggs will be a good suggestion for your breakfast if you want to increase the content of calcium and vitamin D in your regular diet. According to researchers, an egg yolk contains about 22 milligrams of calcium and up to 66.3 milligrams of phosphorus; both of them are essential for the development of bones and improve the bone health, in general. As said before, vitamin D is quite rare in natural sources. Fortunately, eggs are one of those rare sources of vitamin D with more than 6% of recommended amount of vitamin D you need in a day. Vitamin D exists only in the yolks. Although it is only 6%, eggs are still one of the best bone building foods because they are always available and it takes you a small amount of time and effort to spend on cooking eggs.
Even though calcium, phosphorus, and vitamin D are almost carried by the egg yolk, the egg white also contains various nutrients and other vitamins. Therefore, you should not use only the yolk and forget the nutritious white egg.
We would like to introduce you a great recipe that is a combination of bone building foods, including eggs, cheese, milk, leeks, bacon, and so on.
Ingredients:
Free-range eggs: 3
Leeks: 300 grams
Bacon: 3 slices
Cheddar cheese: 75 grams
Milk: 250 ml
Green salad to serve (You can make a dish of spinach with bacon and mushrooms salad that we have already shown you)
Precooked pastry case
Direction:
Serve with salad
Bake for nearly 30 minutes to make sure it turns into golden.
Pour the mixture of eggs and other ingredients into a pastry case. Then place it onto a baking sheet.
Whisk up 3 eggs and stir through other ingredients.
Next, chop the bacon and fry it. After it turns into golden, grate the Cheddar cheese.
Sautee with oil to make them soft and sticky
Trim the leeks and then cut them into slices
Set the oven at 180C
5. Orange Juice
After having a breakfast with eggs, you can enjoy a glass of orange juice. Both of them are high sources of nutrients that are healthy for your bones. A glass of orange juice can be fortified to provide you up to 200-300 milligrams of calcium. In general, orange juice is not really a type of bone building foods but you can attach a glass of the juice in your meal to increase your bone health. In a study, researchers have found that, actually, the ascorbic acid included in orange juice contributes partly to enhancing the absorption of calcium so that it is very beneficial for your bones.
Of course, it is very easy to make a glass of orange juice. We hope that you can spend a little time and effort to squeeze a glass of orange juice and add it to your regular diet along with other bone building foods.
Learn more: Signs and symptoms of calcium deficiency in humans
6. Tuna
Along with salmon, tuna is also a good suggestion when you think of bone building foods. As said before, fatty fishes are very healthy for us, which contain many nutrients and vitamins. Tuna, a natural source of vitamin D, is categorized as a healthy food for bones. Like salmon, both fresh and canned tuna can provide you a significant concentration of vitamin D. It is up to 39% of the total amount of vitamin D that is recommended consuming in a day. Moreover, it is beneficial because of a high amount of omega-3 fatty acids, potassium, and magnesium, which are bone-strengthening nutrients. It is good to have a portion of fresh tuna in your diet but if you find it more convenient to use canned tuna, you can use it because they have quite the same effect on your bone health, in general. You are encouraged to consume more fish in your meals. Both tuna and salmon will be the best suggestion for your regular diet.
On the theme of bone building foods, we would like to provide you a new dish. It is a pity if you skip the following tuna recipe. Write it down on your cooking handbook and prepare for your family's meals later. The recipe's name is Cheesy tuna noodle casserole.
Ingredients: (for six servings)
Egg noodle: 12 ounces
Drained tuna: 6 ounces
Milk: 1/4 cup
Chopped onion: 1/4 cup
Vegetable oil: 2 tablespoons
Chopped green and red bell pepper: 1/4 cup each of them
Condensed cream of cheese soup: 1 can
Salt: 1/4 teaspoon
Italian seasoned bread crumbs: 1/4 cup
Ground black pepper
Direction:
Set the oven at 350F
Boil water in a large pot and then put egg noodles in the pot. Cook until the noodles dente and drain well.
During the time of cooking noodles, combine oil, onion, as well as both red and green bell peppers in a saucepan to stir.
Next, pour soup, milk, and tuna into the saucepan. Then season with salt and black pepper.
After that, fold noodles into the mixture of sauce.
Then pour the mixture of noodles and sauce into a casserole and sprinkle breadcrumbs.
Place it in the oven and bake for 20 to 30 minutes.
Enjoy your noodles.
It will take you nearly 1 hour to make this recipe.
Related article: How to get rid of fishy smell
7. Nuts – Interesting Bone Building Foods
Do you know that nuts are small powerhouses of essential nutrients, vitamins, minerals, and other healthy fats? I have a habit of eating some kinds of nuts in my snacks. I really love eating nuts because they are not only very tasty and but also healthy. If you are also a nuts lover, you may feel excited about the fact that scientists have shown that nuts can be great bone building foods that you should eat regularly.
According to researchers, our bones, actually, are not brittle and hard. Instead, they are categorized as a living organ that includes both live cells and fluids. Bones experience a daily process of breaking down and building up, thereby being able to remain strong condition and heal after a break. In nature, there are many types of nut all over the world. Among them, people often consume walnuts and almonds because they are the highest sources of bone building nutrients. Eating both walnuts and almonds can bring you an improving effect on your bone health. Specifically, almonds can contribute 20% of the total recommended amount of magnesium that is defined as an essential element for the bone health. Additionally, almonds also provide you calcium and other healthy nutrients. Regarding walnuts, they are a rich source of omega-3 fats that have the ability to prevent the bone breakdown as well as keep bone formation constant. In general, we highly recommend you eating walnuts for healthier bones.
Besides, Brazil nuts and pistachios are also bone building foods that contain a high concentration of potassium, magnesium, and vitamin B6. All of these nutrients are extremely good for your bones as well. Therefore, in addition to almonds and walnuts, you can seek for another suggestion.
Learn more: Health benefits of nuts and seeds for heart, brain, eye, and skin
8. Broccoli
Like spinach, we suppose you to eat broccoli, a type of dark green vegetables, in order to increase your bone health. In fact, broccoli is considered as a great natural source of calcium. Furthermore, it is very rich in vitamin C, dietary fiber, and nutrients.
If you want to have a tasty dish with broccoli, you should not skip our following recipe. We would like to teach you how to make special broccoli soup that will be a great suggestion for your bone health. It may take you more than 30 minutes to finish the process of cooking bone building foods.
Ingredients:
Broccoli florets: 8 cups
Chicken broth: 3 cups
Milk: 2 cups
Chopped onion: 1
Butter: 5 tablespoons
Celery, chopped: 1 stalk
All-purpose flour: 3 tablespoons
Ground black pepper
Direction:
Take a stock pot and melt 2 tablespoons of butter
Then add chopped onion and chopped celery to the pot. Stir them until tender
Combine with broccoli and chicken broth, then, cover the pot. Keep simmering for 10 minutes more.
After that pour the mixture into a blender and blend it until smooth.
Next, melt the remaining butter and stir in all-purpose flour. Pour milk into the pot.
Continue to stir the soup until it becomes thick and bubbly. Combine two types of soup together. Season with black pepper.
You can eat with bread. Have a nice breakfast!
Read more: Fat burning soup recipes review
9. Sardines
It seems that fishes contain a lot of bone building nutrients because there are up to three types of fish in the list of best bone building foods. In addition to superfoods like salmon and tuna, a tiny fish, named sardines, is also included in the list. Although sardines are tiny fishes, they, surprisingly, can provide you a significant amount of calcium and vitamin D. Especially, they are also a powerhouse of omega-3 fatty acids and phosphorus that are essential nutrients for the bone strengthening. In fact, the high concentration of omega-3 fatty acids contained in this tiny fish can not only decelerate the process of bone loss but also mainly contribute to preventing heart diseases and improving your heart health. If you have not heard about this type of fish, you should start searching more information about it because you will be surprised a lot by those facts. You can look for canned sardines in the supermarkets. These bone building foods will be great additional ingredients in salads and pasta. An interesting suggestion for you is to go out, buy some cans of sardines, and try our recipe below. With only 30 minutes, you will have a delicious plate of spaghetti.
Ingredients: (for 1 serving)
Dry spaghetti: 2 ounces
Rolled sardines with capers: 1 can
Chopped fresh tomatoes: 1
Olive oil: 2 tablespoons
Chopped onion: 1
Crushed red pepper flakes: 2 teaspoons
Italian bread crumbs: 1/3 cup
Cheese to taste
Direction:
Boil the spaghetti in a large pot for 8-10 minutes
Then take the noodles out and rinse with cold water.
Toss the noodles with olive oil and cover. Keep it warm.
Take another skillet and add 2 tablespoons of olive oil.
Stir in chopped onion and cook for 5 minutes over medium heat.
Next, put sardines in the skillet and cook for 5-8 minutes more, until sardines break apart.
Combine the main ingredient with tomatoes and keep cooking in a few minutes.
Add Italian bread crumbs to the skillet as well.
Finally, serve over spaghetti. Don't forget to top with grated cheese.
Learn more: Health and beauty benefits of fish oil
10. Tofu
Actually, it is so amazing that tofu appears in the list of healthy bone building foods. Thanks to its main ingredient, soybeans, tofu becomes one of the recommended foods for bone strengthening. Do you know that soybeans are among the high natural sources of calcium? In fact, scientists have proved that soybeans can provide you a high concentration of this bone-building nutrient. Therefore, you should add soybeans and products made from soybeans to your diet. That's is the reason why we would like to introduce you tofu.
However, besides containing calcium, tofu has other essential nutritious elements such as protein, iron, as well as bone improving factors like phosphorus, magnesium, and selenium. In general, we highly recommend you eating tofu in order to strengthen our bones and prevent the bone loss.
Do you want a recipe for tofu? Let's try tofu and avocado rice.
Ingredients: (for 4 servings)
Brown rice: 1 cup
Avocado: 1 (sliced)
Tofu: 14 ounces (cut into small pieces)
White miso: 2 tablespoons
Canola oil: 1/4 cup
Rice vinegar: 2 tablespoons
Pinto beans: 1 can (rinsed)
Scallions and red chilies: sufficient amount (sliced)
Kosher salt
Low-sodium soy sauce: 2 tablespoons
Direction:
Cook the rice first.
During the cooking rice time, heat 2 tablespoons of canola oil in a skillet.
Season tofu with half a teaspoon of salt. Cook and toss until tofu becomes golden. It is about 12-15 minutes.
Mix all the ingredients including rice vinegar, white miso, 2 tablespoons of canola oil, and soy sauce in a small bowl.
Then transfer the rice into a plate. Serve with tofu, avocado, beans, red chilies, and scallions. Don't forget to drizzle the dressing.
Enjoy your dish of bone building foods.
Learn more: List of easy Korean food recipes
We have shown you a list of best bone building foods. In general, there are many other natural sources of bone building nutrients, but we only list out some of them on this topic because, among the whole range of bone building foods, names appearing in the list are considered as the most nutritious foods for your bones. Therefore, you should enhance to eat these foods. If you have any question and feedback, you can leave them on this topic. For more information, please visit our main site Health
Want More Content Like This In Your Inbox?
Join The Discussion