If you have a green garden, I recommend you to plant summer products right now. One of the best green products you should plant right now to improve your overall health is green beans. They are beautiful and plump hanging there on the vine, but it gets old eating them sautéed and steamed all the time. You should apply these green beans recipes and add them to your daily diet. They are something you should definitely add to your repertoire to make your family and friends will thank you.
Fresh And Canned Green Beans Recipes – Healthy Dishes For Families:
Beans are good for elderly, young children, women, patients of constipation, high blood pressure, hot liver, kidney stones, and pimples. They are suitable for people to consume in summer days to gain weight, lose weight, or maintain current healthy weight depending on your own recipe. More importantly, you will be able to stabilize your health, nurture silky black hair, and brighten your skin if you consume it regularly in moderation. Here are some healthy fresh and canned green beans recipes you can apply.
1. Sweet And Spicy Green Beans: 
The very first of fresh green beans recipes I want to show you is the combination of sweet and spicy, making these green beans one single dish you will never forget. They are the ideal addition to any meal.

Ingredients:
2 teaspoons oil
1 teaspoon honey
1 teaspoon garlic chili sauce
1 minced garlic clove
2 tablespoons soy sauce
¾ pound trimmed fresh green beans
2. Southern Green Beans:
 The second of the green beans recipes I give you today is the special southern dish. Southern food is comfort food and this recipe is not an exception. After eating a bowl of this delicious dish, you will never want these green beans come to you in another way.
Ingredients:
Salt and pepper
2 to 4 cups chicken stock
1 ½ pounds fresh trimmed green beans, cut into pieces
¼ teaspoon cayenne pepper
2 minced garlic cloves
1 chopped medium onion
1 chopped shallot
4 chopped bacon slices
3. Herb Buttered Green Beans:
I absolutely love this recipe! It is such a simple and wonderful way to serve a common vegetable with loads of flavor that you will look forward to eating over and over again in your life.This is also an extremely great food that helps to boost your immune system.
Ingredients:
1/3 cup butter
¼ teaspoon crushed dried rosemary
¾ teaspoon dried oregano
¾ teaspoon dried basil
¾ teaspoon salt
2 tablespoons dried parsley
4 minced garlic cloves
3 tablespoons sesame seeds
1/3 cup celery, finely chopped
1/3 cup onion, finely chopped
1 ½ pounds fresh trimmed green beans
4. Balsamic Green Beans: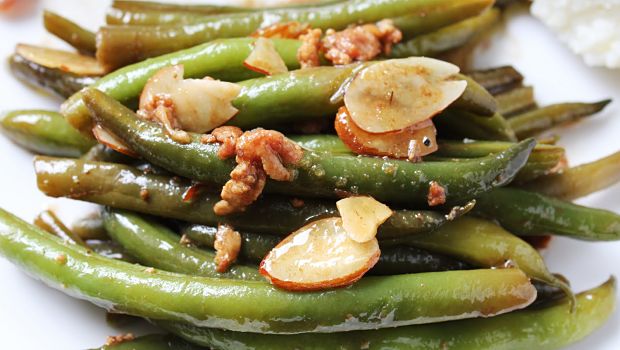 There is no doubt that this is one of the best fresh green beans recipes for your overall health. There is nothing like balsamic vinegar to add dimension and flavor to your dishes. It is actually a wonderful addition to this green bean recipe.
Ingredients:
½ cup cooked, crumbled bacon
½ cup roasted almonds, coarsely chopped, and lightly salted
Salt and pepper, to taste
3 tablespoons butter
1 tablespoon brown sugar
½ cup balsamic vinegar
Oil
6 large shallots
2 pounds trimmed green beans
5. Jamie Oliver's Best Ever Green Beans:
Well, if it is good enough for Jamie Oliver, it is good enough for you and anyone who wants to live a relaxing and healthy life! I like this style of cooking because it focuses on fresh, healthy foods that taste wonderful. You are going to love this great side dish.
Ingredients:
½ a lemon
Olive oil
1 ½ cups finely grated Parmesan cheese
3 sliced garlic cloves
Pinch salt
1 ¼ pounds green beans
6. Chinese Buffet Green Beans:
Sometimes vegetables just taste better in a restaurant. That is often because of the amount of unhealthy ingredients used. With this healthy food recipe with green beans, you can recreate a favorite dish which contains no harmful chemical. This can be considered as one of the best canned green beans recipes because you can use canned beans instead of fresh ones without destroying their flavor.
Ingredients:
2 teaspoons soy sauce
2 tablespoons oyster sauce
1 tablespoon sugar
1 pound fresh trimmed green beans
2 thinly sliced garlic cloves
1 tablespoon sesame oil
7. Green Beans With Roasted Nuts And Cranberries: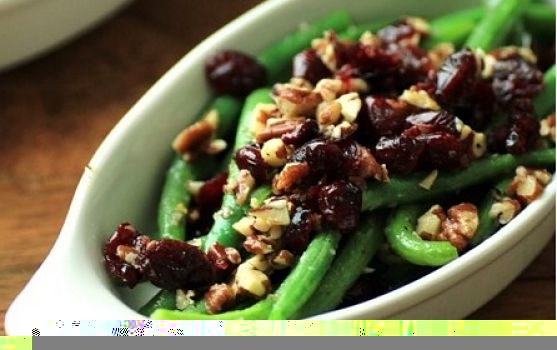 This is one of my favorite canned green beans recipes because it combines the nutty crunchiness of the other ingredients and the delicious taste of canned green beans. It is a great dish to serve in family gatherings, and it will become one of those recipes which everyone will ask you to make all the time quickly.
Ingredients:
¼ cup dried cranberries
½ cup roughly chopped unsalted mixed nuts, roasted
2 tablespoons olive oil
1 ½ pounds trimmed green beans
Salt and pepper
8. Aloe Vera – Green Beans Soup: 
Aloe vera – green beans soup is a delicious dish which helps to reduce heat in summer. In addition, aloe vera can help to beautify skin and clear acne and pimples effectively.
Ingredients:
1 aloe vera
150 grams green beans
100 grams sugar
Vanilla
9. Green Beans Longan Soup:
Green beans longan soup is a delicious dish which can be cooked with ease and becomes one of the best dishes for reducing heat in hot summer days and refreshments. Green beans longan soup is a harmonious combination of longan, green beans, and delicious jellies. This dish is also very good for your health.
Ingredients:
50 grams longan
Half a bowl green beans
Sugar
1 bunch of pineapple leaves
Coconut jelly
10. Green Beans With Hollandaise Sauce:
Tie green beans in small bundles of 5 or 6 with chives that have been boiled within 5 seconds.
Ingredients:
1 pound haricots verts (thin green beans), blanched or steamed
Dash of hot sauce (optional)
1/8 teaspoon ground white pepper
1/2 teaspoon kosher salt
2 tablespoons fresh lemon juice
4 large pasteurized egg yolks
1/2 cup butter
11. Green Beans With Tomato Sauce:
If you love Italian, you will actually love this hearty green bean side. Serve it with biscuit-topped chicken pot pie for a complete meal. This is also one of the best canned green beans recipes because you can use canned green beans instead of the fresh ones.
Ingredients:
Salt and pepper to taste
2 teaspoons fresh thyme leaves
1 (24-oz.) jar pasta sauce (such as garlic and bertolli olive oil)
1 tablespoon minced shallot
1 tablespoon butter
2 (16-oz.) packages frozen cut pole beans
12. Green Bean Casserole: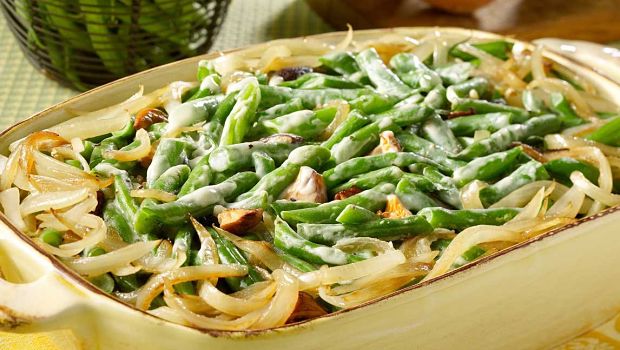 Go beyond the standard "recipe on the can" casserole by adding Alfredo sauce instead of cream of water chestnuts, mushroom soup, toasted pecans, and Parmesan cheese.
Ingredients:
1/2 cup chopped pecans
1 (6-ounce) can French fried onions, divided
1/2 teaspoon freshly ground pepper
1 cup (4 ounce) shredded Parmesan cheese
1 (6-ounce) jar sliced mushrooms, drained
1 (8-ounce) can diced water chestnuts, drained
1 (10-ounce) container refrigerated Alfredo sauce
2 (16-ounce) packages frozen French-cut green beans, thawed
13. Green Beans With Bacon Vinaigrette:
Ingredients:
2 tablespoons olive oil
2 tablespoons whole-grain mustard
2 tablespoons cider vinegar
2 shallots, sliced
6 slices bacon
2 pounds green beans, trimmed
kosher salt and black pepper
Nutritional Information – Per Serving
Calories 121
Fat 8 g
Sat Fat 2 g
Cholesterol 8 mg
Sodium 516 mg
Protein 4 g
Carbohydrate 9 g
Sugar 2 g
Fiber 4 g
Iron 1 mg
Calcium 43 mg
14. Garlicky Green Beans With Pine Nuts:
Ingredients:
kosher salt and pepper
1/3 cup (about 2 ounces) pine nuts
2 large cloves garlic, thinly sliced
1 1/2 pounds green beans, trimmed 2 tablespoons olive oil
Nutrition information:
Calories 140
Fat 11 g
Sat Fat 1 g
Cholesterol 0 mg
Sodium 167 mg
Protein 3 g
Carbohydrate 9.5 g
Sugar 4 g
Fiber 3.5 g
Iron 2 mg
Calcium 46 mg
15. Caramelized Spicy Green Bean Recipe: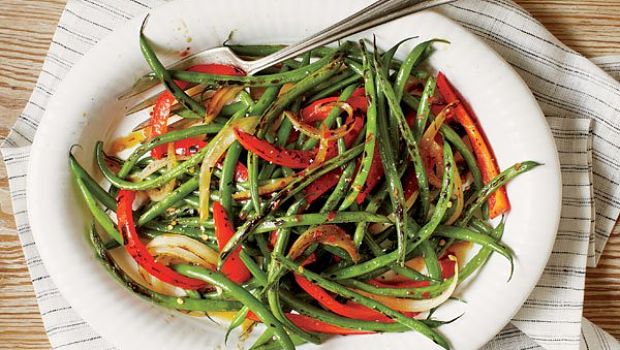 This is also one of the best fresh green beans recipes you should try! The great thing about cooking with fresh green bean is that it is amazingly versatile veggie. Whether you sauté, bake, or boil,  these green bean recipes are amped with flavor.
Ingredients:
3/4 teaspoon seasoned salt
1 teaspoon peanut oil
1/2 medium-size sweet onion, sliced
1 medium-size red bell pepper, sliced
1/2 teaspoon dried crushed red pepper
1 tablespoon soy sauce
2 tablespoons light brown sugar
1 pound fresh haricots verts (tiny green beans)
16. Green Beans With Citrus and Pecans:
A citrus vinaigrette adds fresh zing to crisp-tender green beans. This is also one of the best fresh green beans recipes you should try!
Ingredients:
1/2 cup chopped toasted pecans
2 oranges, sectioned
2 pounds haricots verts (thin green beans)
1/4 cup cane syrup
1/3 cup fresh lemon juice
1/3 cup fresh orange juice
1 tablespoon orange zest
3/4 cup olive oil
1 shallot, diced
17. Pork-And-Green Bean Stir-Fry:
The key to this dish is creating a nice char on the green beans. For doing this, you need to heat the oil in your skillet until it almost smokes before adding the beans. Let them sear, stirring every twenty to thirty seconds, and they will take on color. Instead of hot chilies, you should feel free to sub thinly sliced strips of red bell pepper.
Ingredients:
Garnishes: thinly sliced red jalapeño pepper, lime halves
Hot cooked rice or thin rice noodles
1 tablespoon fresh lime juice
1/2 teaspoon loosely packed lime zest
3/4 cup triple-ginger or regular teriyaki sauce
1 tablespoon peanut oil or vegetable oil
1 (8-oz.) package haricots verts (thin green beans)
1/4 teaspoon ground red pepper
1/2 teaspoon table salt
2 garlic cloves, thinly sliced
1 1/2 pounds ground pork
18. Skillet Green Beans:
Pencil-thin green beans laced with crispy bits of pan-fried bacon and Candied Jalapeños turn up the heat on tradition.
Ingredients:
Field Pea Relish
Candied Jalapeños
Freshly ground black pepper
Kosher salt
2 tablespoons red wine vinegar
1/4 cup syrup from Candied Jalapeños
1 tablespoon olive oil
6 large shallots, quartered
4 thick hickory-smoked bacon slices, cut crosswise into 1/4-inch-thick pieces
2 pounds haricots verts (thin green beans), trimmed
19. Snappy Beans And Peas With Pecorino:
Before serving, you should add the amount of olive oil mixture you want to the bean mixture and toss to coat. Do not forget to season the dish with salt and pepper. Here is what you need to make this delicious dish:
Ingredients:
Table salt and pepper to taste
1/4 cup thinly sliced chives
1 large shallot, finely chopped
1/2 cup frozen green peas, thawed
2/3 cup roasted walnut halves
2 cups thinly sliced radicchio
1/2 pound sugar snap peas, trimmed
1/2 pound fresh yellow wax beans, trimmed
6 cups water, divided
1/2 pound haricots verts (thin green beans)
Table salt and black pepper to taste
1 teaspoon Dijon mustard
1 teaspoon anchovy paste
1 garlic clove, minced
1/4 cup fresh lemon juice 
1/2 cup olive oil
1 cup (about 1 1/2 ounce) Parmesan cheese or grated pecorino
20. Green Bean Lasagna:
This creamy update on the iconic casserole is topped with crushed crackers and fried onions.
Ingredients:
3 tablespoons butter, melted
1 (6-oz.) container French fried onions
1 1/2 cups crushed round buttery crackers
Parmesan Cream Sauce
5 cups (20 oz.) shredded Italian cheese blend, divided
1 (15-oz.) container ricotta cheese
1/4 cup white wine
8 ounces assorted fresh mushrooms, trimmed and sliced
2 large sweet onions, halved and sliced
1/4 cup butter, divided
12 uncooked lasagna noodles
2 (14.4-oz.) packages frozen French-cut green beans, thawed
21. Green Bean-Goat Cheese Gratin:
This over-the-top cheesy side is guaranteed to be a crowd-pleaser.
Ingredients:
1/4 teaspoon pepper
1/4 teaspoon kosher salt
1/2 cup whipping cream
2 ounces goat cheese, crumbled
1 pound fresh haricots verts (tiny green beans), trimmed
1/3 cup finely chopped pecans
3/4 cup (3 oz.) freshly shredded Parmesan cheese, divided
1 tablespoon olive oil
2 white bread slices
22. Fresh Pear-And-Green Bean Salad With Sorghum Vinaigrette:
Sweet sorghum vinaigrette and spicy pecans add full flavor to this hearty side salad.
Ingredients:
Sorghum Vinaigrette
1 cup Sweet and Spicy Pecans
4 ounces Gorgonzola cheese, crumbled
1/2 small red onion, sliced
2 red Bartlett pears, cut into thin strips
1 (5-oz.) package gourmet mixed salad greens
8 ounces haricots verts (tiny green beans), trimmed
23. Green Bean, Grape, and Pasta Salad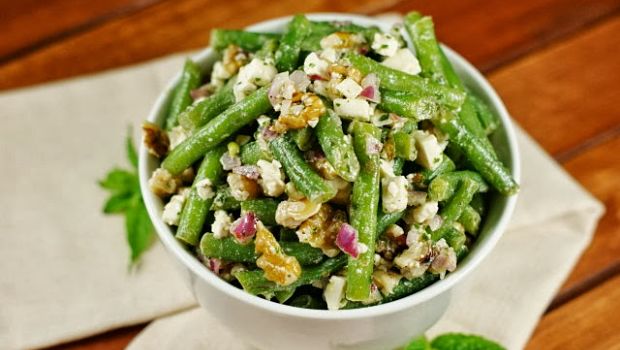 If you are a fan of broccoli salad, you will definitely love the combination of these colorful ingredients. This is the last out of fresh and canned bean recipes I want to show you to day. Make use of this simple dish and see how amazingly your healthy will be improved!
Ingredients:
Salt to taste
1/3 cup diced red onion
2 cups seedless red grapes, cut in half
1 teaspoon salt
1/3 cup red wine vinegar
1/3 cup sugar
1 cup mayonnaise
1 (8-oz.) package penne pasta
1 pound thin fresh green beans, trimmed and cut in half
8 bacon slices
1 cup chopped pecans
This is the list of 23 fresh and canned green beans recipes that are very easy to prepare and cook, as well as tasting wonderful, helping my readers who are visiting VKool.com live a healthier life.
If you think that my fresh and canned green beans recipes are good for you, you should leave your comments below and feel free to show me your own opinions!
Want More Content Like This In Your Inbox?
Join The Discussion