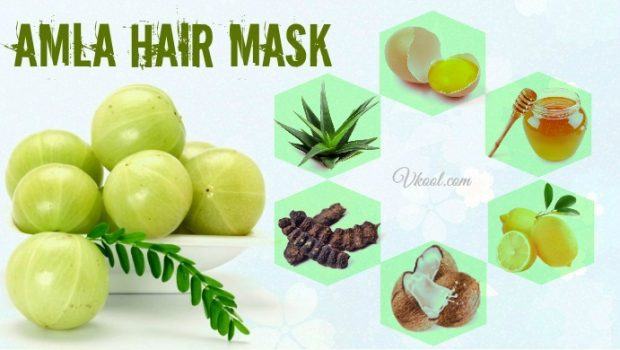 Amla or Indian gooseberry is one of the best natural remedies for hair. It is a great source of anti-oxidants and vitamin C that prevent premature hair graying and promote hair growth. Lack of vitamin C can lead to hair breakage and amla can give results against hair breakage due to its rich vitamin C. In addition, it contains fatty acids that strengthen hair follicle and deeply nourish hair scalp, thus deeply condition the hair. Last but not least amla comprises of antiviral, antimicrobial and antifungal characteristics that make it fight dandruff problem. All of those beneficial properties make amla become a great option for hair care. Now, VKool.com will show you 6 ways on how to make amla hair mask. Read on and remember!
6 Ways On How To Make Amla Hair Mask You Should Know
1. Amla, Shikakai, And Fenugreek Seeds Mask For Graying Hair
Amla not only improves your immune system but also prevents graying hair efficiently. Basically, amla with fenugreek seeds and shikakai is one of the most useful packs for the graying hair treatment. As mentioned above, amla contains antioxidants and vitamin C. It also comprises of anti-aging benefits while shikakai is used to make the hair root healthier and stronger and for preventing graying hair as well. Shikakai helps nourish the scalp due to its anti-fungal properties plus other nutrients. Another ingredient in this mask is fenugreek seeds. They are packed with nutrients like vitamin C, potassium, Iron, lysine, alkaloids and L-tryptophan that contain amazing benefits for the skin of scalp and hair strand, leading to the prevention of premature graying. Here is the recipe to make this amla hair mask:
You will need:
5 to 6 pieces of healthy Amla
2 tbsp Shikakai powder
2 tbsp Fenugreek seeds
How to make:
First of all, add a few fenugreek seeds in a bowl and next add a little water in it.
Then, soak these fenugreek seeds in that water entire night. Fenugreek seeds will have swollen and softened in the morning.
Afterward, take about 5 to 6 pieces of fresh amla. Bring it a boil for 5 minutes.
Now grind ingredients, amla pieces, and swollen fenugreek seeds together in a mixer or grind.
Then, add 2 tbsp of shikakai powders in the mixture.
Now add some drops of water to create a paste. Mix all the ingredients properly with the help of a spoon.
Now apply this paste on scalp for about 30 to 45 minutes.
After this, wash your hair by using a mild shampoo.
You should use this paste two times in a week for preventing and treating graying hair.
Read on: 23 Solutions For Grey Hair To Turn Black At Young Age
2. Amla, Egg, And Shikakai Mask For Hair Conditioning
As you know, protein is a main property of the hair. Hence, you need to provide enough amount of protein to your hair. The egg is a great choice for your hair because it offers protein and also offers vitamins, antioxidants, minerals, and essential fatty acids to the hair and scalp as well. This hair mask helps deeply condition your hair and make them flawlessly beautiful and lustrous. Let's see the recipe to make this amla hair mask below:
You will need:
1 cup of fresh amla juice
2 eggs
1-2 cup of shikakai powder
How to make:
First of all, break the eggs and next pour its yolk into one large mixing bowl.
Then, add shikakai powder into that bowl and now mix both ingredients well.
After this, add the amla juice into the mixture while mixing it properly with the help of a mixing spoon.
Leave it aside for half an hour and then apply this pack on your scalp and hair.
Let the pack dry for around 1-2 hours.
Afterward, rinse off the pack by using tepid water and later apply regular oil on the hair. Keep the oil entire night and wash off the hair in the next morning.
You will notice a remarkable change in your hair.
Read on: Top 9 Beauty & Health Advantages Of Eating Eggs

3. Amla, Shikakai, Lemon Juice, And Aloe Vera Hair Mask For Dandruff
Aloe Vera in this mask can remove yeast and fungus causing dandruff on your scalp thanks to its anti-fungal and antiseptic characteristics. The anti-inflammatory property in it contains a compound known as glycoproteins that help reduce sensation and inflammation caused by the itchy scalp. Another ingredient is lemon juice. It is acidic in nature making it work wonder in alleviating dead skin cells from the scalp and also cures white flake syndrome that happens due to dandruff. Follow the steps below:
You will need:
½ cup of amla juice
3-4 tablespoon of Aloe Vera gel
1 cup of shikakai powder
3-4 tablespoon of lemon juice
How to make:
The first step is to grind few fresh amla fruits using a food processor of grate them in order to squeeze out the juice into one small bowl.
To make homemade shikakai powder, you need to dry shikakai into the sum for a few days and after this, crush it into one powder form. Or you can use store-bought shikakai powder.
Squeeze one aloe vera leaf in order to extract the fresh gel in another bowl.
Then, add amla juice, lemon juice, aloe vera gel and shikakai powder into the bowl and now mix all ingredients well.
Thereafter, apply this pack properly onto the scalp and hair.
Allow it to sit for 40-50 minutes and finally, rinse off by using plain water.
It is suggested to use this pack once per week to keep dandruff at bay.
4. Amla, Honey, And Shikakai Hair Pack For Treating Split Ends
A combination of amla with honey and shikakai pack works great for curing the trouble of split ends. Honey in this pack is a natural antioxidant that makes your scalp healthy and encourages hair growth. Here is the recipe that explains you on how to make amla hair mask at home:
You will need:
1 tbsp of amla juice
2 tbsp of honey
1 tbsp of shikakai power
How to make:
The first step is to put one tablespoon of shikakai powder in a container.
Then, add one tablespoon of amla juice into the container and mix it properly.
After this, add two tablespoons of honey in that container and now mix it well.
Now apply this pack on the scalp and keep it about 40-50 minutes.
Finally, wash out the hair pack by using lukewarm water.
Use this pack two times a week for the desired results.
Read on: Total Hair Regrowth Review
5. Amla, Shikakai, Coconut Milk, And Gram Flour Hair Pack For Hair Fall
Coconut milk in this pack is one of the richest sources of protein that aids with hair breakage as well as shedding. Generally, it acts as one natural conditioner as well as moisturize for scalp skin. On the other hand, gram flour helps in strengthening your hair roots without leaving your hair strands to look dull. The recipe is:
You will need:
½ cup of amla powder
3-4 tbsp gram flour
½ cup of shikakai powder
1 cup of coconut milk
How to make:
Put all of the ingredients in one mixing bowl to make a thick paste.
Now blend all the ingredients well with the help of a spoon and set it aside for twenty minutes.
After that, apply it on your scalp using your fingers or using a hair brush.
Keep it applied for half an hour and then remove this pack with some water.
Properly massage it onto the scalp and after this, rinse off by using tepid water.
Repeat this pack two or three times in every fortnight to curb baldness or hair fall. It not only manages hair fall, but also enhances hair growth.
Read on: 18 Coconut Milk Advantages On Skin, Hair And Health
6. Amla , Lemon Juice, And Aloe Vera Hair Mask
You will need:
5 tbsp amla powder
Aloe vera juice (as per required)
3 tbsp lemon juice
How to make:
First of all, combine lemon juice and amla powder. Next, to it add aloe vera juice till a smooth paste is formed.
Now apply it on your scalp and hair from the root to tips
Allow it to dry for around 2-3 hours and then wash off with gentle scalp scrubbing.
If needed, you can conditioner and shampoo.
Read on: 41 Health And Beauty Advantages Of Lemon Juice, Oil And Peel
Recommended articles:
14 Best DIY Hair Mask Recipes For Hair Growth
15 Natural Homemade Recipes For Hair Growth Treatments
You can go to our Beauty page to get more information linked to helpful tips & natural remedies for taking care of your hair. Have you ever used lemon Amla for hair? How did Amla help your hair? Share your thoughts with us in the comments box given below.
Want More Content Like This In Your Inbox?
Join The Discussion