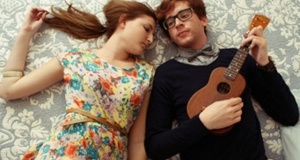 Updated: 07/31/2023
Do you want to play ukulele professionally within a short period of time? Then, you are in the right place because my entire Ukulele Buddy lessons review will offer you the best solution:

Ukulele Buddy – What Is It?
Ukulele Buddy is found by JP Allen, who has been teaching and performing music for more than two decades and particularly loves teaching ukulele. This Ukulele Buddy lesson review on VKool.com is based on the real user named Tung Nguyen. In fact, this is considered as the only 100% video-based program that will enable you to professionally play your favorite songs by strumming along with just three 7-minute video each week. Tung Nguyen shared with VKool that he tried Uke for Dummies book yet got bored.
The author claims that his e-course makes use of the proven principles of a method called "Deliberate Practise" that focuses on turning your own practice weaknesses to strengths by making the entire learning process exciting, fun and avoid inefficient method that make you bored. By using this 71-video e-course, you will not have to learn boring ineffective lessons. It does not force you to pause the video and practice just alone, like tons of uke video lessons floating on the Internet. With over 25 years of experience, this program is really one-of-a kind and really delivers on its promises. It does not matter if you are a newbie to uke, this e-course will work for beginners since it begins from the basics and allows just anyone to take advantage of. With the lessons in this Ukulele Buddy, you will be able to play various music styles including Hawaiian, pop, soul, classical, reggae, the blues, folk, and rock. To understand clearly about JP Allen's Ukulele Buddy, keep reading the following parts in my Ukulele Buddy review below.

Ukulele Buddy Lessons Review – How It Works?
The key ingredient to this method is that you will not have to practice alone. Containing 71 high-quality videos, the program will take you step-by-step through a process of learning techniques on how to be able to play ukulele fluently in just several months. Here is the list of lessons introduced in the program:
Body parts of uke and the reason why you need to acknowledge them

The C, F, G, A, D chord

Accenting 2 and 4 over the C,F, and A chord

Jamming from C to G

Exercising F to C

Hokey pokey to warm up

Itsy bitsy spider in C, F

Strumming-swinging 8ths

Jamming from A to E7

Secrets of the transposition

Amazing grace

The most common and easiest strumming patterns

How to play by ear and ear training tips

Steps to write songs with the uke

Advanced chords

Focus enhancing tricks

Playing for your enjoyment

Hitting making strumming patterns

Ukulele picking

Improving listening skills

Awesome grooves

Transitioning between chords

Play along over strumming patterns

Great vibes and waterfalls

Anything is possible

Left hand muting techniques

Right hand muting

Hey jude

Gorgeous rock ballad

Lion sleeps tonight

Somewhere over the rainbow

Strumming along with other musicians

Lock it down with a solid sense of rhythm
When using the Ukulele Buddy lessons program, you will get 10 hours of video guidelines. By following the instructions in this e-course, you will soon master the easy must-know chords for playing your fancy songs. Also, you are about to explore the tips and tricks on how to move from one chord to another smoothly without effort.
Ukulele Buddy Review – Product Details
Take a closer look into what you are about to discover in this e-guide, just several minutes mastering the simple techniques delivered in the system, you will refresh your approach to strumming the ukulele and will empower you to decode any given strum within just seconds by ear. When it comes to counting beats, no matter you are playing solo, or in a certain group, a strong sense of rhythm and timing is considered as one of the utmost importance. Within the system, the author recommends you to count out loud whilst practicing strumming. This will be useful for you when you have been having a hard time coordinating singing and strumming.
Included in the e-guide are advanced strumming techniques, such as straight strumming and swing strumming. By applying these techniques, you will create complete harmony melody ukulele solos. Besides, you will get to know a simple method to learn chords and keys. To take your ukulele playing skills to the next level, the creator introduces to you step-by-step tips on:
How to immediately identify chord changes
How to easily transpose a given chord progression into your favorite key
How to hit the right note whenever you play and even sound like a pro
How to increase your own chord vocabulary. Your vocabulary will build upon the basic chord shapes that you already know and add spice and interest to your playing. By this way, you will bring a new breath into those old songs and have more fun when playing.
How to play jazzy, fun sounding licks
How to eventually let your imagination as well as inner creativity come shining through
When asked about what feature of this program attract the most, Tung Nguyen, a real user said that is the companion of learning and practicing. In simple words, when learning this e-course, you will practice playing uke with a world-class uke player named Mitch. He is a graduate of the University of Hawaii so he can entertain you and also blow your mind with his crazy yet professional uke skills.
Here is what people said about this product:
Cost Of Ukulele Buddy?
Maybe this is the next thing you concern about when reading my entire Ukulele Buddy review. If so, you had better not miss this part as the following thing that I am going to tell you will instantly awaken your mind. Fact is, if you take personal tutorial lessons with the author or Mitch, then you might have to spend more than $2000. Can you afford this price? Maybe, yes, but if there is another option for you to learn the same quality training course while still saving money, what do you think? And, if you are fed up with a long time of throwing your money, time, and effort into those expensive yet ineffective ukulele lessons course, then you should not overlook this user-friendly program. Right now, you have 2 options to make use of this program:
Option 1– physical version – $97- includes 10 hours of DVDs which will be delivered right directly to your door. There will be no shipping cost no matter where you are living.
Option 2 – online version – $67- contains 10 hours of online lessons that could play on your own computer, mobile device or tablet.
That is an affordable cost for a new revolutionary product that couldassist you in catching your dream of becoming a great ukulele player.
To know more details about the components of the product, refer the next part.
The Full Package Of Ukulele Buddy
After placing your order ofUkulele Buddy lessons program with the best option for you, you will get videos and many valuable bonuses, including:
Ukulele Buddy Play Along Schedule
The Secret To Increasing Your Chord Vocabulary
The "Big Three" Chords
Improvising: How To Play Like A Pro!
Advanced Strumming Techniques
Ukulele Favorites Volume 1, 2, 3, 4
Ukulele Festive Favorites
Uke Chord Chart
Online Metronome, Tick Tock!
Remember that all of the above bonuses are free if you take action right now. Do you want to be a professional ukulele player? If yes, catch this unique chance!
If you are among the people who are still wondering if this product is really worth a try or if it can work for you, then the full money back guarantee from the author will eliminate all of your doubts. As the author – JP Allen – is so confident about his own training course; therefore, he offers every client a satisfaction guarantee. For any reason, you are not pleased with the result gained from Ukulele Buddy lessons, then 100% your investment will be refunded without any hassle or question asked. No risk at all. Do not hesitate to giving this e-course a try now!
Does The Author Offer Any Support?
For any further question regarding the product, feel free to contact JP Allen through this address: jp [at] ukulelebuddy dot com
Leave your comments below if you want to contribute any idea about my entire Ukulele Buddy review or any other entertainment topics in VKool.com. I will respond all soon!
Want More Content Like This In Your Inbox?
Join The Discussion