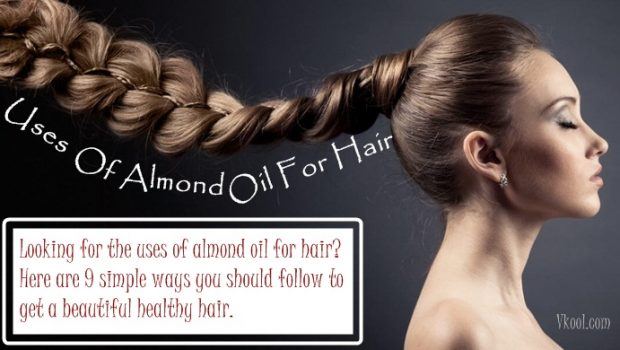 Almonds come with many health and beauty advantages. They are packed with high-quality protein, vitamin E, magnesium, fiber as well as essential amino acids. Besides, they also contain copper, potassium, vitamin B, calcium, phosphorus, iron and healthy fats. Thus, the almond oil benefits are vast. Almond oil is also extensively used for different skin ailments as well. Now VKool.com will reveal you 9 uses of almond oil for hair. Read this post to know what they are.
9 Amazing Uses Of Almond Oil For Hair You Should Miss
1. Almond Oil For Naturally Healthy And Long Hair
Almond oil is not only good for the health but also effective for treating some problems related to hair. This oil is a powerful source of magnesium that is used in variety products for hair. Lack of magnesium can cause a heavy hair loss. This problem can be solved by applying almond oil about once or twice per week. Daily application will help improve the quality of hair. It'll make your hair long and also nourish them. Here is the recipe to take advantages of uses of almond oil for hair:
Instructions:
The first step is to take a few almond oil drops and next massage your scalp, tips, and hair.
After massaging, keep for a couple of minutes. Later, take a little hot water and dip a towel in it.
Now cover your hair by using the soaked towel. This step will help your hair absorb the oil better.
Keep it for a few minutes.
Follow this process once or twice in a week.
2. Almond Oil Helps In Reducing Scalp Inflammation
This is also one of the great uses of almond oil for hair. The scalp is often exposed to dust, pollution, heat, and chemical styling products as well. Such products and environmental effects can lead to inflammation in your scalp and hair. Neglecting these factors can result in scalp infections, dandruff, and even weaken hair too. The inflammation can be reduced by regular applying almond oil on the scalp. Almond oil softens and helps moisturize the scalp tissues due to its content of fatty acids. Besides, it helps enhance the blood circulation in your scalp. Last but not least this also aids in reducing the risks of scalp infection, dandruff. The method is:
Instructions:
You need to apply a small quantity of almond oil every day to prevent the scalp from the tear and wear caused by chemical products or environmental factors.
Stay away from using chemical styling products.
Remember to cover your hair when you go out.
Read on: Natural Hair Mask Recipes For Dry Scalp

3. Almond Oil As A Leave-In Conditioners And Shine Enhancers
Almond oil can be a great substitute for your leave-in conditioners and shine enhancers for hair. Almond oil comprises off high moisturizing properties due to its essential fatty acids. Hence, it is ideal for people who have dry hair. The method to take advantages of uses of almond oil for hair is:
Instructions:
First of all, take an adequate quantity of almond oil and then use it to massage the scalp hair and ends.
Keep it on for a few minutes prior to your shampoo.
You can see the desired result after a few weeks.
Repeat this process around 2-3 times per week for several weeks.
You can also add a few almond oil drops in your leave in conditioners or shine enhancers.
4. Almond Oil For Stimulating Hair Growth And Hair Loss
This is also one of the most excellent uses of almond oil for hair. Hair fall is considered as one of the common troubles related to hair. Using almond oil to massage on the scalp may help enhance hair growth effectively. Also, it may help to prevent hair loss. Besides, massaging of sweet almond oil on your scalp gives strengthening qualities of magnesium and vitamins  at the hair root. Moreover, it will also protect against excessive breakage. The recipe is:
Instructions:
Daily massaging of sweet almond oil on your hair.
You can notice the desired result with daily use of almond oil within a few weeks.
Read on: Total Hair Regrowth Review
5. Almond Oil Makes Hair Soft And Shiny
Almond oil can be an excellent idea for making the hair shiny, soft, and silky. Almond oil comes with the essential nutrients that help keep your hair healthy by making up for the harm caused by environment and cosmetic used as well. Follow these steps below:
Instructions:
Firstly, take mashed avocado and next mix it with an enough amount of almond oil.
Now apply this mixture onto your hair as a hair mask. Leave it to settle for around 30 minutes.
After half an hour, wash it off by using your regular shampoo. This hair mask recipe will make your hair softer and shinier.
Alternatively, you can mix herbal henna powder and water to create a thick paste.
Mix the two ingredients and leave it overnight.
Add 3 tablespoons of almond oil and an egg into the mixture the next day. Mix well.
Allow it to stay for 10 minutes.
Now apply this mixture on the hair and keep it on for an hour.
At last, wash it off by using water. Pat your hair dries using a towel.
You can add a few lavender oil drops in the mixture if you do not like the egg smell.
Then, apply almond oil to the scalp and keep it overnight prior to shampooing your hair again.
You should follow this procedure on the weekend because it will take much time to complete.
6. Almond Oil For Treating Hair Dandruff
Aside from repairing and strengthening, almond oil also acts efficiently in removing dandruff by alleviating dead cells. In addition, it also helps in preventing itchy scalp caused by dandruff. Hence, treating dandruff is also one of the best uses of almond oil for hair. Here is the method.
Instructions:
First of all, take some quantity of mashed gooseberry and next mix it with the almond oil well.
Then, apply this mixture on your hair and keep it on for half an hour.
After that, wash your hair by using an anti-dandruff shampoo.
Daily application of almond oil will help soothe your scalp and make it dandruff-free.
Read on: Top 26 Natural Solutions For Dandruff In Winter
7. Almond Oil For Reducing Itchiness
As we all know, almond oil comprises of amazing anti-inflammatory agents, it is highly recommended to apply it to people who are suffering from skin troubles like psoriasis and eczema. The application of almond oil helps remove dead skin cells from your skin and decreases irritating rashes. This oil contains a zinc component that can help you to cure torn as well as racked skin portions. Here is the recipe:
Instructions:
Simply massage almond oil every day to your scalp.
Keep it on for a couple of minutes and after this, wash it off.
8. Almond Oil For As A Moisture Hair Mask
This mask is safe and very easy to prepare, inexpensive and also very effective in keeping a healthy hair and scalp. Follow these easy steps follow:
Instructions:
The first step is to take extra virgin olive oil (1 tbsp), organic almond oil (2 tbsp), raw honey (1 tbsp) and pure tea tree oil (2 drops). Then, mix all of these ingredients well.
Now apply the mixture on the scalp and keep it on for half an hour.
Use a towel to cover your head. This will keep this mixture from dripping.
Don't forget, apply this mixture to the towel dried hair and then double this mixture if you own long hair.
9. Almond Oil Repairs And Strengthens Split Ends
Almond oil comes with vitamin A, B and E together with omega 3, 6 and 9 fatty acids as well. All these nutrients aid in making your hair strong and healthy. It helps prevent your hair against breakage. Plus, the oil contains natural moisture sealing effects which help replenish your hair and also inhibit split ends by keeping the level of moisture in hair for a longer time.
Read on: 26 Natural Solutions For Split Ends
Uses Of Almond Oil For Hair – Additional tips:
Keep the following tips in mind prior to using any of the natural remedies mentioned above.
Always buy certified organic almond oil.
Check the ingredients to ensure that you are buying a genuine product.
Ensure to read these products' labels to know that bottle is fresh.
You can keep the almond oil for up to one year.
The result of above-mentioned remedies can vary from person to person.
Recommended articles:
Advantages Of Almonds For Health, Skin And Hair
16 Uses Of Almond Oil For Dark Circles Under Eyes
To find more the useful articles related to hair, you can visit our main Beauty page. Have you ever get uses of almond oil for hair treatment? How did almond oil help your hair? Share your ideas with us in the comments section below.
Want More Content Like This In Your Inbox?
Join The Discussion