Bug bites or insect bites are caused by different kinds of insects including bees, hornets, wasps, ants, etc. The bites are really painful, itchy, and uncomfortable but almost of them are harmless. Babies and kids easily get the problem because their skin is more sensitive than the adults'. Mosquitoes feed on animal and human blood for their survival and you can get some symptoms of mosquito bites are bruising, skin rashes, swelling, and itchiness. In this article, VKool.com will show you top 10 natural home remedies for bug bites on kids and babies. Hopefully, you will get some useful treatments to eliminate the problem effectually at home.
10 Natural Home Remedies For Bugs Bites On Kids And Babies
In fact, bug bites can be prevented and treated at home without taking drugs. Here are top 10 natural home remedies for bug bites that parents should know:

1. Lemon
Lemon includes anesthetic and anti-inflammatory properties that can treat some skin conditions including bug bites. Here are some ways that you can use lemon to treat bug bites for your kids and babies:
Method 1:
Prepare a lemon and cut it into two pieces.
Rub the pieces on the skin to relieve itchiness on the skin.
You also can rub the yellow rind of the lemon on the skin.
Method 2: You can extract lemon juice and apply it on the bug bites to reduce infection and slow down the development of the bite.
Method 3: You mix lemon juice with some crushed basil leaves and apply the mixture on the affected regions.
Learn more: Bump Treatment Book
2. Garlic
Garlic is one of the most powerful home remedies for bug bites. Garlic is not only good for health, but it is really helpful for treating insect bites. You can add garlic into delicious dishes and use it to soothe itching and reduce swelling instantly. The method is:
You mince some garlic cloves.
Apply it on the affected skin for some minutes.
Wash it off with fresh water.
You also replace garlic by onions, which have the same advantages in healing the issue.
3. Baking Soda
Baking soda is commonly used on skin care and you can believe in this ingredient because it can decrease itchiness and swelling instantly and it is worth adding into the list of home remedies for bug bites. This ingredient is good in alkaline and it might relieve the pain as well as neutralize the pH level.
Method 1:
You add a teaspoon of baking soda into a cup of water.
Use a clean cloth and dip it into the mixture.
Put the mixture on the affected area for 10-20 minutes before washing with water.
Method 2:
Mix baking soda and witch hazel as a good paste.
Apply it on the bites for 10 minutes.
Wash the region with lukewarm water.
4. Aloe Vera
Aloe vera contains antiseptic property that can treat mosquito bites very well. This ingredient can support the healing process, reduce itching, swelling, and pain very well.
Cut some aloe vera leaves and extract the gel.
Store aloe vera gel in the refrigerator for 10-15 minutes.
Then, you rub the gel on the affected area.
Now, keep reading the article and find out more useful home remedies for bugs bites on kids and babies.
5. Salt
Another simple remedy for treating bug bites is salt, which is great in anti-inflammatory and antiseptic properties. You just need to follow the instruction as below:
Method 1:
Mix some salt with some drops of water.
Apply the paste on the infected area.
Method 2:
Combine some water, salt, and garlic.
Apply the mixture on the infected skin to relieve the pain.
It might cause some burning sensation for some seconds.
Method 3: you can go to the beach and bathe there.
6. Ice
Using ice to cure bug bites is also a great way for you as it can reduce inflammation and reduce significantly their numbness.
Method 1:
You wrap some ice cubes in a washcloth and hold it on the affected skin for 10-15 minutes.
The remedy will reduce itchiness and swelling quickly.
Method 2:
You also can hold the infected region under the cool water or use a cold bottle of water, frozen vegetables or frozen fruits on the bites.
7. Alcohol
To reduce irritation on skin and limit the development of the bug bites, you can use alcohol to rub on the bites. Simply, you do as this:
Use a cotton ball and dip it into the alcohol.
Rub it on the affected area to relieve swelling and itching.
8. Tea Tree Oil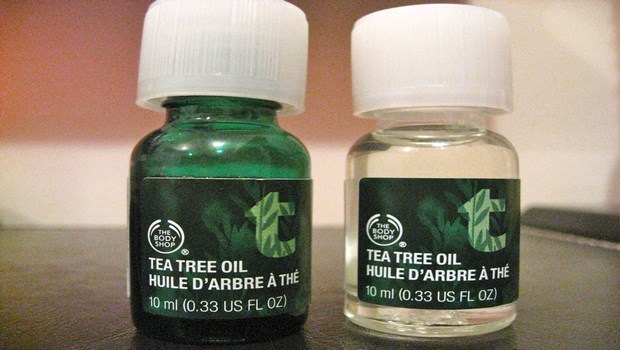 Being good in antiseptic property, tea tree oil can fight bacteria and reduce acne as well as bug bites really well. This oil also helps you ease itchiness and swelling from the bites. Simply, you use a cotton ball, dip it in tea tree oil, and apply it on the affected region. You also can try cedar oil or lavender oil instead of tea tree oil. Make sure that you are not allergic with the oil.
9. Toothpaste
Toothpaste is not only for washing teeth, toothpaste can help you reduce bug bites and get rid of itchiness very well. You just prepare some toothpaste and dab it on the infected region. You also should use peppermint toothpaste or menthol, baking soda toothpaste for a better result.
10. Aspirin
Aspirin includes anti-inflammatory property that can reduce swelling from bug bites successfully. Here are some solutions to treat the problem with aspirin:
Method 1:
Grind aspirin and add some water in it.
Apply the mixture on the affected area for some hours.
Then, wash with lukewarm water.
Method 2:
You also can wet the skin and rub aspirin onto the bites.
To know more about other health problems & effective homemade remedies, go to our main Remedies Index page. After reading the writing of top 10 natural home remedies for bug bites on babies and kids, I hope that you have learned some useful treatments to get rid of the symptoms effectively at home. However, the writing is solely for the informational purpose, so you need to get advice from your doctor before applying any home remedy. If you have any question, please leave them below.
Related articles on insect bites:
How To Treat Spider Bites At Home
How To Cure Bee Stings Naturally
Natural Remedies For Mosquito Bites
Want More Content Like This In Your Inbox?
Join The Discussion