Cracked or dry hands mean that your body lack of natural oils and it can be a sign of some medical conditions like eczema. there are many reasons can make your hands crack including dry climate, hot water, wet socks, wet shoes, stress, allergies, etc. Actually, cracked hands can be healed by several natural ways at home and you will find them in this article. VKool.com will show you top 7 simple home remedies for cracked hands skin you should know. The writing is a collection of the best, safest and most effective solutions to heal cracked hands from reliable sources. However, it is not intended to give medical advice and it is solely for the informational purpose. Keep reading this writing to learn more!
Top 7 Simple Home Remedies For Cracked Hands Skin  
Any disease will result side effects for your life expectancy and your work. Whenever knowing the reasons, you will avoid them and treat the problem more successfully. Here are top 7 home remedies for cracked hands you should read immediately. They are:

1. Coconut Oil
Coconut oil is one of the best home remedies for cracked hands, feet, fingers, and every part of the body. This ingredient is so perfect to moisturize your hand skin as it contains antifungal, antimicrobial properties that can kill bacterial infections very well. What is the method to use coconut oil for cracked hands?
This method should be applied before bedtime. You soak your hands in warm water and scrub them with loofah.
Dry the hands and apply coconut oil gently.
You can wear soft gloves through the night and wash them in the next morning.
You can do this treatment every day to get the best benefits.
Learn more: other coconut oil uses for skin care
2. Scrub Your Hand Skin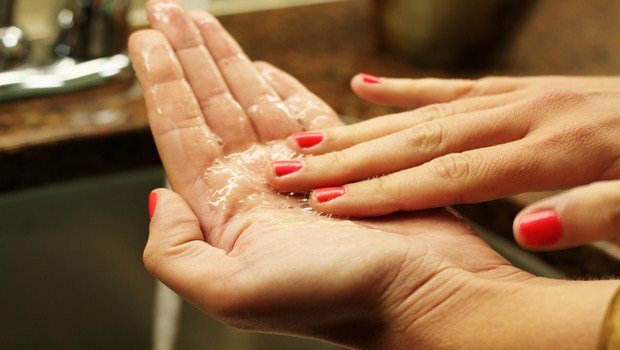 For cracked hands or dry feet, elbow, you need to scrub it several times each week because scrubbing will help you remove dead skin and make your skin soft. How to scrub your hands effectively? Here is the method:
Combine warm water with some liquid soap in a basin.
Soak your hands in the mixture for 15-20 minutes.
Then you wash off your hands with fresh water and pat it dry with a towel.
Now you use some hand cream to moisturize your hands and you might wear some cotton gloves overnights.
You can use this remedy every day to heal cracked hands.
3. Glycerin
If you really want to have a nice skin on hands and other regions such as feet, thighs, legs, etc, you should take advantage of glycerin. This ingredient is very useful for moisturizing skin and it can eliminate cracked hands effectually. Now you need to:
Combine lemon juice, rose water, and some glycerin.
Apply it on your affected hands, gently massage it.
Leave it for 20 minutes before rinsing off with water.
You can do this method every day within 2 weeks to make change on hand skin.
Read more: The Book Of Removing Skin Tags
4. Epsom Salt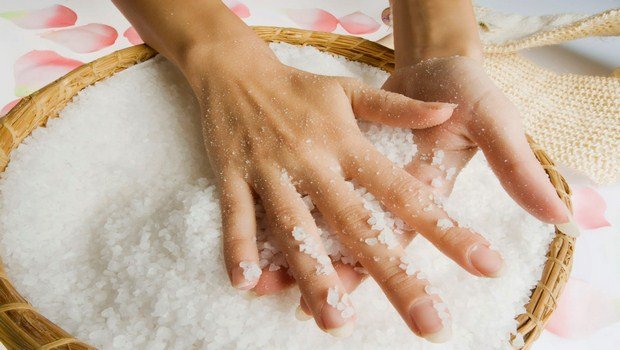 Epsom salt is commonly used in exfoliating skin. This ingredient is great for promoting circulation and improving your skin health as well as remove toxins and dead skin cells. Like other home remedies for cracked hands, it is so easy and simple to use this ingredient to treat the problem. Here is the way to soften your hands:
Mix warm water with ½ cup of Epsom salt in a basin.
Soak your hands for 7-15 minutes.
You can rub your hands with a pumice stone for some minutes.
Then put the hands to the salt mixture for another 15 minutes.
Dry your hands completely and apply petroleum jelly or use natural moisturizer.
You can do this method 2-3 days each week.
5. Vinegar
Acetic acid in vinegar will make your skin soft and vinegar is one of the safest home remedies for cracked hands. If you soak your hands on vinegar more frequently, you will surprise about your skin change. What is the way to use vinegar for dry skin and cracked hands? Here is the detailed instruction:
Method 1:
Combine some cups of water with a cup of apple cider vinegar or white vinegar.
Soak your hands 7-15 minutes.
Scrub the hands with a scrubber.
Wash your hands with clean water and apply petroleum jelly or moisturizer.
Method 2:
Combine apple cider vinegar, raw honey, and rice flour as a good paste.
Add some olive oil if you want.
Wash your hands and massage your hands gently with the thick paste in some minutes.
Wash the hands with lukewarm water.
You can do this remedy twice per week to get the best advantage.
6. Olive Oil 
If you do not have coconut oil, you can use olive oil instead. This ingredient has the same functions to your hands because it can soothe dryness and keep your skin moisturized.  Before applying olive oil on your hands, you should soak them into warm water and you can use this method before going to sleep at night. Massage gently before wearing gloves overnight. You can do this remedy every day before bedtime when all the works in day are finished.
Read more: Other benefits of using olive oil you should know
7. Lemon
Lemon is worth adding into the secrets of home remedies for cracked hands because it is helpful in exfoliating skin and making your skin more beautiful. Here is the solution with lemon:
Method 1:
Mix warm water and lemon juice
Soak your hands for 7 minutes.
Next, scrub your hands with a scrubber.
Then you wash your hands, pat them dry and apply the moisturizer as usual.
You can do this method several times each week.
Method 2:
Mix petroleum jelly and a lemon together.
Wash your hands and pat it dry naturally
Apply the mixture on the affected areas.
You can do this method every day.
Method 3:
Mix some lemon juice, olive oil, and some sea salt together.
Apply it on cracked hands for 15 minutes before rinsing off with water.
You can do this method once or twice each week.
Related articles on cracked hands:
How To Make Hand Cream At Home
If you want to get more useful and home remedies for many diseases, you might visit our main Home Remedies page. After reading the article about top 7 home remedies for cracked hands skin, I hope that you have found some useful solutions for your problem and help your hand skin as well as other skin areas of the body more beautiful. However, the writing is solely for the informational purpose, so you need to get advice from your doctor before applying any home remedy. If you have any question, or you know other home remedies for cracked hands, please leave them below.
Want More Content Like This In Your Inbox?
Join The Discussion