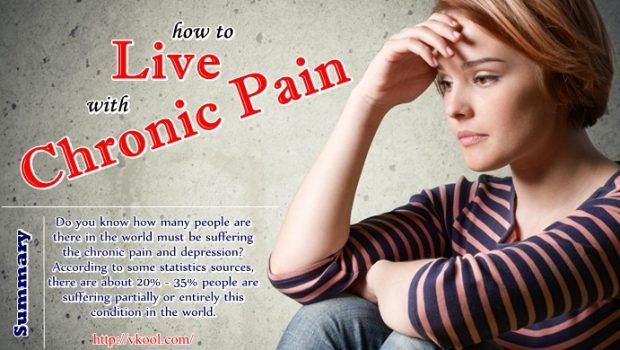 What Is Chronic Pain Syndrome?
Do you know how many people are there in the world must be suffering the chronic pain and depression? According to some statistics sources, there are about 20% – 35% people are suffering partially or entirely this condition in the world. The topic on how to live with chronic pain and depression is always an interesting topic with many people. But before we discover the solutions, we need to know what chronic pain syndrome is.
Basically, chronic pain syndrome is understood as a type of symptoms that has no well reaction with the model of medical care in the western. Then, why do we call it chronic pain? According to the health care providers, if the pain is greater than the average time for healing, it will be called chronic pain. So, what is the average time for healing? Some clinicians think that it should be greater than six months. Some others said that three months can be acceptable. However, in summary, when the pain lasts from 1 month to 6 months, it is the sub-acute pain, and the pain lasts more than 6 months, it will be defined as a chronic pain.
Actually, this syndrome is not obvious and becoming a big challenge to all health care provider. The main cause of this situation is that the cause for this syndrome is not discovered while this condition has a poor response to the model of medical treatment. The pathology of this condition seems quite complicated because it is related to the different factors that are very difficult to define.  Some people think that chronic pain syndrome is linked closely to various emotions like daily responsibilities, sex, sadness, guilt, fear, or even depression.
In fact, this condition has the serious affect on many people's lives. Any emotional symptoms like fatigue, depression, or abuse of alcohol or drugs or some things like that can have an influence on the pain of the patients. In many cases, the patients can overcome their emotional symptoms by themselves. Instead of this, they suffer the chronic pain.
Chronic pain syndrome includes cognitive and psychological symptoms. Normally, the cognitive problems are closed with the depression symptoms.
In general, the thing that most of us want to know is how to live with chronic pain syndrome. Now VKool will show you some basic tips that may be helpful for us to practice
The Useful Tips On How To Live With Chronic Pain Syndrome
Although chronic pain syndrome is extremely comfortable, you may think that everything is bad, you may change your mind because your condition may be improved when you reading the following writing. Before you read, you should remember that nothing is impossible with a willing heart. You absolutely live with chronic pain without worrying anything if you follow these notes:
1. How To Live With Chronic Pain By Finding Natural Ways
The first tip guide how to live with chronic pain syndrome that we want to share with you is about coping with pain by finding natural ways. It is put on the first of the list because of its importance. As we know, anxiety can cause chronic pain syndrome. So it is possible to manage the pain – associated anxiety and keep it under control. By ensuring their quality of life through different natural treatments, we can control the pain. Looking for a natural ways like regimen of exercise, diet, cognitive behavioral therapy is preferred to using medication because the effect of these natural ways seems more positive. Some medication can make the enjoyment of life of the patients reduce. This can affect the process of healing.
Read more: How To Deal With Infertility Depression: Myths & Tips
Make use of natural methods to fight against chronic pain fast and safely!

2. Doing Exercise To Strengthen The Mental And Physical Health
If you ask any health care providers about the ways to control the pain, you will get the answer that one of the best ways on how to live with chronic pain syndrome is doing exercise. According to many studies, when doing exercise, your body can produce a type of hormones called endorphins that can help enhance the mood to combat the pain. The sufferer should have daily exercise to improve their situations. Doing exercise can help the sufferer fight against the chronic pain, at the same time, improve the physical health to fight against the other diseases. Many studies proved that doing exercise is not only useful for treating the various disorders including chronic pain syndrome but also helps the sufferer enjoy their life best.
Read more: 54 Simple Yoga Exercises For Women To Do At Home Or Work
3. Making Some Behavioral Changes
Making some behavioral changes is always a good choice for many people that are treating disorders. That is why this solution is considered as one of the good ways of learning how to live with chronic pain syndrome that many health care providers advise their patients to apply. But how do you know what they should change? It depends on each person and their feelings as well as their behaviors. Checking the feelings and the behaviors can affect their feelings is very important. Depending on the result, we can consider what behaviors should be changed and what behavior should be kept. Of course, it includes the attitude not only behavior.
Read more: Body Cleanse Diet: Healthy Ways To Follow
4. Limiting Stress, Anxiety, And Depression In Your Life
Most of us know that all the disorders like anger, stress, anxiety, and depression can intensify chronic pain. So if you need to find the way on how to live with chronic pain syndrome, you need to find the way to reduce the stress. You can see these tips on this writing for reference. They are also good for reducing stress. Or you can find many other methods like listening music, painting, or anything you know to reduce stress. It is always better than keeping it in your brain.
Read more: 10 Negative Effects Of Stress On The Body You Should Not Ignore
5. Giving Up Alcohol And Smoking
If you are facing with chronic pain, you may be experiencing the difficulty in sleeping. It is obvious that alcohol can make this condition get worse and worse. So if you want to improve your health condition, you need to learn how to give it up. There are many ways to give up alcohol. If you are addicted, you can ask health supporter for the help.
Like alcohol, smoking is also a bad agent can worsen your pain. If you abuse it for a long time, you can face the high risk of cancer and heart diseases. More seriously, smoking can affect the health of the people around us like your parents, your wife, and your children
6. How To Live With Chronic Pain – Trying To Think Positively
As we mentioned on the above, mental factors are have the big influence on the chronic pain syndrome. Any disorders like depression or anxiety can impact on the situation of this syndrome. So controlling these causes can help to improve the condition. And trying to think positively is such great way to practice. Certainly, for this action for a healthy person is not an easy thing not just for the sufferer with chronic pain syndrome. In order to practice this thing very well, the sufferer need to try more and more.
7. Learning Deep Breathing And Meditation
Among the way on how to live with chronic pain syndrome, deep breathing and meditation is always a great ways to help the body to relax and reduce the pain caused by the cognitive factors. There are many studies showed the benefits of meditation for the human health, especially for the mentality. The energy is produced by meditation is immeasurable. Although there are many forms of meditation, the main factors of meditation still support the mental health of the human through practicing main action like focusing on the breath, ignoring the thoughts during practice. However, learning meditation for relaxing should be guided by the experienced supporters.
In addition, learning deep breathing is very useful. If we want to control chronic pain, we need to know its main characteristics to control. As mentioned on the above, you can see that learning deep practicing is very necessary for reducing the pain. All things you need to do are to look for a quiet place and a comfortable position for your body and sit down. Throw all the distracting thought out of your brain. Don't think about them. All things you have to follow include thinking a spot below navel and filling that spot with air. After that, let it out and repeat this action again. This is a great action can help adjust your negative mood. It should be combined with the other tips on how to live with chronic pain syndrome so as to get the best effect.
8. Using Pain Medications
Normally, any treatment is involved in medications. For this condition, medication often has the benefits of supporting the cognitive and physical methods on the above. Certainly medications only help to reduce the pain temporarily. That is why the natural ways play an important role in treating this condition and mentioned on the first of the writing.
9. Meeting People Living With Chronic Pain
Many people may feel nervous or puzzled; the advice for them is to take part in some support group to meet the people who are living with chronic pain. Taking part in these groups will help them understand more about the things they may experience and especially, they will never feel alone. At the same time, they can share their difficulties to get the help from support group.
In fact, this action can help them to cope with the difficulties better. Besides that, helping and sharing with the other can help them avoid the negative thought that can affect their pain.
10. How To Live With Chronic Pain – A Healthy Diet For Strong Body
A healthy diet is always for the human health. It can help to prevent and reduce the risk of many diseases like heart diseases, diabetes. For the people that suffering this pain, this is really a necessary tip to support them to improve the condition. A healthy diet should be included more vegetables and fruits and limit the processed food.
After learning how to live with chronic pain syndrome naturally at home, what you need to do now is to spend time reading another article that can help you overcome a common chronic pain naturally at home – the An Athlete's Guide To Chronic Knee Pain Review article. It is actually an entire review that comes with the major aim – to introduce an amazing guidebook that combines information and several useful tips to deal with chronic knee pain – a common chronic pain in the world. If you are among people who are trying to fight against and beat off the chronic knee pain at home without making use of drugs, pills, or medications, then this suggested article is definitely for you! What you need to do is just to spend time reading it right away and give it a chance to help you overcome the current chronic knee pain issue as soon as possible!
The above are some basic tips to guide how to live with chronic pain syndrome better. It is the best if these tips can be combined together cleverly and properly. If you have any question or idea for this topic, please leave your comment. We are always trying to reply to you soon.
Related articles about tips and techniques and natural treatments for pains, bone, and joint related diseases:
18 Benefits Of Meditation & Mindfulness Study On The Body 2023
11 Best Ways On How To Use Turmeric For Arthritis Treatment
Blue Heron Guide For Healing Arthritis Review – Is It Reliable?
11 Ways on How to Use Apple Cider Vinegar for Arthritis Pain
List Of 10 Foods To Avoid With Arthritis Pain
Want More Content Like This In Your Inbox?
Join The Discussion