Ramadan is all about fasting, prayers, and feasts as well. For all the Muslims, Ramadan is a very crucial Islamic month and it lasts for a lunar month. So, it's very important to choose the food during Ramadan to avoid becoming unhealthy or any sickness. A balanced and healthy diet is essential during Ramadan. A balanced diet usually consists of foods from various food groups in the proper amounts. Spicy and oily foods should be avoided as these can cause indigestion and heartburn. As we know, Muslims hold a fast the total day and later break their fast in the evening with an iftar meal during the Ramadan month. This meal needs to be rich in nutrient value to satisfy for a whole day of fasting, before as well as after. Below are top 16 healthy Ramadan recipes for iftar that are easy to make and healthy too. To understand more, continue reading this post in the line of Health on VKool.com site.
Top 16 Healthy Ramadan Recipes For Iftar You Should Know
1. Ramadan Recipes For Iftar – Kulfi
These Ramadan iftar recipes add the color, nutrition and variety to your Ramadan iftar table. This is a delightful Ramadan dish. This is also one of the easiest and healthiest Ramadan recipes for iftar to try out.
Get these:
Cardamoms
Milk
Sugar
Blanched almonds
Instructions:
In a heavy pot, boil 2 liters of milk. When the milk begins rising, turn down the heat to let the milk simmer firmly without over boiling.
Next, add 10 cardamoms and stir frequently. Then, remove the cardamom pods and to it, add 5 tablespoons of sugar and 10 chopped and blanched almonds.
Now gently stir and simmer for three minutes. Pour this reduced milk into 1 bowl and completely cool.
Stir in a few chopped unsalted pistachios and after that, stir in. Now cover and place it in the freezer.
Stir that ice cream every fifteen minutes to break up the crystals. As it is difficult to stir, you separate the ice cream into six yogurt pots or small cups. Cover and freeze.
Finally, unmold and serve.
2. Chilled Cucumber & Orange Juice With Oregano
The healthy Ramadan recipes for iftar must consist of this dish. A chilled cucumber juice glass with hues of oregano and hints of tang make way for a delicious drink that is sure to fill you post a day long fast. This recipe will rehydrate you as well as make you feel energized instantly.
Get these:
Cucumbers
Sugar
Fresh orange juice
Dried oregano
Instructions:
Firstly, take 2 cucumbers, trim the ends of them and later scrub the peels. Then, rid each cucumber of ½ of their peels and if they are large, remove the seeds. Cut these cucumbers into chunks and then, put in a blender or food processor.
Next, pour in 2/14 cup of fresh orange juice and then, sprinkle in ½ tsp of dried oregano and 1 ½ tsp of sugar.
Blend for a minimum of a minute or until finely puréed. Finally, taste for seasoning and sweetness and adjust as needed.
3. Ramadan Recipes For Iftar – Tawa Fish
This is one of the most popular Ramadan recipes for iftar. This dish can be munched with coleslaw and fries for a culinary experience.
Get these:
Fish – 500 grams
Crushed red chili – 2 teaspoons
Turmeric powder – ¼ teaspoon
Carom seeds – 1 pinch
Lemon juice – 2 tablespoons
Dry coriander – 1 tablespoon
Garam masala – 1 teaspoon
Chat masala – 2 teaspoons
Ginger garlic paste – 2 teaspoons
Gram flour – 4 tablespoons
Salt – ½ teaspoon
Water – 2 tablespoons
Instructions:
Mix all of these ingredients except fish together in a bowl.
In the prepared mixture, marinate 500 g fish for half an hour. After that, in a skillet fry marinated fish.
Garnish it with wedges of lime and enjoy the delicious tawa fish.
4. Thalassery Fish Curry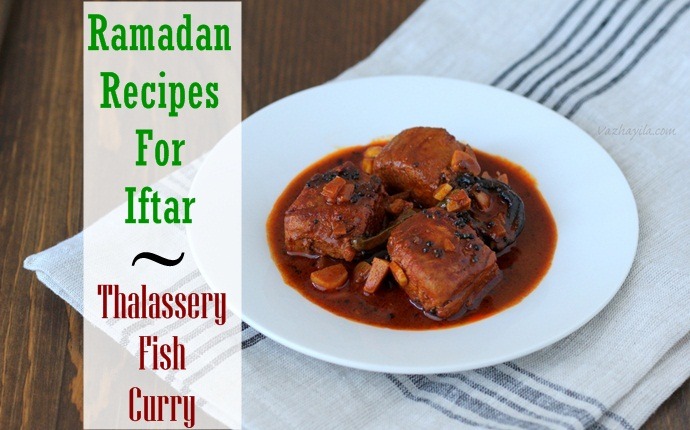 This traditional Thalassery curry is full of the goodness of coconut. This will make you never forget. This, the healthy Ramadan recipes for iftar must consist of this dish.
Get these:
Fish – ½ kg
Turmeric powder – 1 teaspoon
Chopped raw mangoes – 2
Cumin seeds – ¼ teaspoon
Chili powder – 1 teaspoon
Ginger pieces – 1 tablespoon
Chopped tomato – 1
Curry leaves
Coconut oil – ¾ cup + 1 teaspoon
Salt
Instructions:
Firstly, mix cut & cleaned pieces of fish with salt and set aside.
Cook a chopped tomato with water in a clay pot and add 2 chopped raw mangoes, ½ teaspoon of chili powder, 1/2 teaspoon of turmeric powder, 1 tablespoon of ginger pieces, salt and curry leaves.
Grind ¾ cup of coconut with ¼ teaspoon of cumin seeds, ½ teaspoon of turmeric powder, and ½ teaspoon of chili powder at the same time. To the gravy, add Beavis Fish curry masala and the ground paste.
Then, take that gravy to a boil and add fish pieces to it. Cook on low flame till the fish pieces are cooked well.
After that, pour coconut oil (1 teaspoon) over the fish curry. Finally, garnish with curry leaves.
5. Ramadan Recipes For Iftar – Shahi Egg Rolls
Basically, this recipe is loaded with nutrients that will satiate your hunger pangs immediately.
Get these:
Chopped onion – 1
Chopped ginger piece – 1
Ghee – 3 tablespoons
Garlic cloves – 4
Chopped chilies – 4
Kheema – 250 g
Raisins – 3 teaspoons , fried
Fried and sliced almonds – 2 tablespoons
Mint leaves
Coriander leaves
Garam masala – 1 teaspoon
Saffron essence – 1 teaspoon
Eggs – 5
Fried and sliced pistachio – 2 tablespoons
Flour – 11 tablespoons
Instructions:
Firstly, fry a chopped onion, 4 cloves garlic, 1 piece chopped ginger, together with 4 chopped chilies in ghee (3 tablespoons) till soft. Then, add 250 g of cooked kheema till brown on all sides.
Then, mix chopped coriander and mint leaves, 2 tablespoons of fried, 3 teaspoons of fried raisins, fried, and sliced pistachios and almonds, 1teaspoon of the essence of saffron, 1 teaspoon of garam masala well and take out from the fire.
After that, beat 5 egg yolks and whites separately. Use salt to season the yolk and fold into the white, with 11 tablespoons of flour.
Heat a griddle or flat pan and grease it well. Later spread the egg mixture (2 tablespoons) to a round, thin shape. Fry until firm on both sides and thereafter, remove onto a plate.
Now place a portion of this Kheema filling on an end of each omelet and then roll it into a tight roll.
Use toothpicks to secure it and thereafter, deep fry until it is golden.
Drain and place it in a serving dish. Cover with tomato sauce and garnish with beetroot and shredded cucumber. Finally, serve surrounded with potato chips or crisp wafers.
6. Eggplant With Garlic Yogurt
Generally speaking, this is also regarded as among the best recipes Ramadan recipes for iftar. It oozes flavor and is delicious as well.
Get these:
Medium eggplant – 4
Milk – 3 tablespoons
Minced garlic cloves – 2
Onion
Yogurt – ½ cup
Salt
Pepper
Instructions:
Take 4 medium eggplants and cut them length-wise into wedges. Next, pat dry and deep fry in the oil until golden brown. Then, drain any excess oil.
In an oven tray, arrange the eggplant and season with pepper and salt. Pour the dissolved Maggi Chicken Bouillon over it.
In the preheated oven, bake at 180°C for about 15 to 20 minutes and after that, remove from the oven.
Now combine ½ cup of yogurt, two minced garlic cloves and 3 tablespoon milk and smear all over the eggplant.
Garnish with fried onions afterward and serve warm.
7. Ramadan Recipes For Iftar – Shish Barak With Yoghurt
This is a traditional Lebanese dish and is made of yogurt as well as spices such as mint, cilantro and garlic.
Get these:
Yogurt – 6 cups
Chicken stock – 1 cup
Crushed cloves – 2
Corn flour
Chopped coriander – ½ cup
Instructions:
In 1 large saucepan, pour in the yogurt and later add 1 cup of chicken stock combined with the corn flour. Then, stir all the ingredients properly until thoroughly mixed.
Then, place the saucepan on low heat until this yogurt begins to boil, stirring often in the same direction.
After that, add 2 crushed garlic cloves and ½ cup of chopped coriander, let the sauce simmer while that saucepan is uncovered for ten minutes. At one time, bake the dish in the hot oven until the color turns golden.
Gently add this dish to the yogurt sauce and finally, serve.
8. Dry Fruit Milk Shake
The healthy and yummy Ramadan for iftar must include this dish.
Get these:
Almonds – ¼ cup
Pistachios, unsalted variety – ¼ cup
Unshelled cashews – ¼ cup
Dried raisins – ¼ cup
Unseeded dates – 8 pieces
Dried figs – 3
Milk – ½ cup
Instructions:
Firstly, chop all the nuts and blend them in ½ cup of milk in a blender. Later add 2 cups of milk and sugar as required.
Then, blend till they become frothy. After that, stir and pour into the glasses.
Garnish with some slices of dry fruit and finally, serve the dry fruits milkshake instantly.
9. Afghan Tomato, Onion And Cucumber Salad
This recipe is not only to make but also is healthy and tasty. It is also a powerhouse of nutrients.
Get these:
Finely diced tomatoes – 3
Baby cucumber
Diced sweet onion – 1
Freshly chopped cilantro – ¾ cup
Freshly extracted lemon juice – 3 tablespoons
Salt to taste
Instructions:
Firstly, peel & dice the cucumber. Later combine all the veggies and once done, you toss all of the vegetables together.
Then, pour in a little lemon juice and sprinkle some salt prior to tossing again.
After that, refrigerate for an hour and garnish with cilantro prior to serving.
10. Ramadan Recipes For Iftar – Chakchouka (Shakshouka)
This Ramadan recipe is loved by both children and adults. Try the recipe below:
Get these:
Olive oil
Finely minced, chopped onions – 1 1/3 cups
Thinly sliced bell peppers – 1 cup
Finely minced garlic cloves – 2
Tomatoes
Ground cumin – 1 whole teaspoon
Paprika – 1 teaspoon
Salt
Instructions:
At first, in a skillet, heat the olive oil. Stir in the thinly sliced bell peppers and the finely chopped onion as well.
Later add to it 2 minced garlic cloves. Then, cook and stir for about 5 minutes until the onion has become translucent and these vegetables have softened.
Then, combine the tomatoes, 1 teaspoon of paprika, salt, 1 finely chopped chili pepper and a whole teaspoon of ground cumin into a bowl and briefly mix it.
Into the skillet, pour the tomato mixture and then, stir to combine. After that, simmer, uncovered about 10 minutes till the juices of tomato have cooked off.
In the tomato mixture, make four indentations for the eggs. Crack these eggs into the indentations.
Cover the skillet and leave the eggs to cook about 5 minutes until they're firm but not dry. Finally, enjoy it.
11. Saag Qeema
The Saag qeema is made up with rotis and rice. This is also one of the favorite Ramadan recipes for iftar. Plus, this dish is nutritious, healthy and filling as well.
Get these:
Dill – 1 teaspoon
Chopped bunches of spinach
Fenugreek seeds – 1 teaspoon
Lamb – ½ kg
Turmeric – 1 tablespoon
red chili powder – 1 tablespoon
ginger garlic paste – 1 tablespoon
Finely chopped chilies – 6
Finely chopped onion – ½ teaspoon
Instructions:
Wash the chopped bunches of spinach, fenugreek and dill thoroughly and later soak them in water with turmeric (½ teaspoon) for 20 minutes.
Then, in a skillet, heat oil and sauté the finely chopped onions (1/2 teaspoon) in it. Add a tablespoon each of turmeric powder, red chili powder and ginger garlic paste and thereafter, cook them for a while.
Then, add in the lamb and salt and leave it to cook with other ingredients. As the water dries out, you add in finely chopped green chilies and all of the soaked green veggies.
Mix them well. As the oil comes out, you add in butter (1 tablespoon) and now cover it to be cooked well.
Let excess water dry out, and after that, serve.
12. Ramadan Recipes For Iftar – Crispy Mutton Strips
Basically, this is also considered as one of the delicious and healthy Ramadan recipes for iftar.
Get these:
Mutton mince – 300 grams
Green chilies – 3
Coriander leaves – ¼ bunch
Spring onion – 1
Garlic paste – 1 tablespoon
Corn flour – 2 tablespoons
Flour – 1 tablespoon
Egg – 1
Oil
Salt
Black pepper
Lemon juice
Instructions:
Firstly, in the chopper, add together 300 g mutton mince, ¼ bunch of coriander leaves, 3 green chilies, 1 spring onion together with1tablespoon garlic paste to make a mixture.
Later shift this mixture to a bowl and add 1 egg, 1tablespoon of flour, 2 tablespoon corn flour, salt, lemon juice and black pepper. Mix them well.
Remove crust from bread slices and use a rolling pin to press well. Now spread the mince mixture on the bread slices and after that, roll in them.
Heat oil in a wok. Deep fry and remove on absorbent paper. Finally, serve with sauce.
13. Bedouin Fresh Date Sweet
Like other dishes, this is also healthy and yummy Ramadan recipe for iftar. Try it right now.
Get these:
Butter – 4/12 tablespoons
Finely ground rice flour – 3 ½ tablespoons
A few dates
Cardamom
Instructions:
Firstly, remove pits from several dates and later arrange on 1 small plate. Then, in a saucepan, melt butter (4/12 tablespoons) and stir in finely ground rice flour (3 1/2 tablespoons). Cook over medium heat, turning constantly, until the flour becomes light- medium golden brown. Thereafter, remove from the heat.
Now stir in some freshly ground cardamom. Let it cool slightly, stirring continuously.
While still warm, you pour over the dates. Let it cool to room temperature prior to serving.
14. Harira, The Moroccan Soup
Generally, this is also one of the easiest Ramadan recipes for iftar. It is delicious and healthy as well.
Get these:
Olive oil – 4 tablespoons
Finely minced onions – ½ cup
Diced stalks of celery – 2
Diced large tomatoes – 4
Garlic cloves – 3
Tomato paste – 2 tablespoons
Cooked brown lentils – 1 cup
Cooked chickpeas – 2 cups
Instructions:
You need to heat 4 tablespoons of olive oil in 1 large Dutch oven in mild flame. Next, add the minced onions (1/2 cup) and cook until translucent.
Then, add 2 diced celery stalks and now continue to sauté. To the oven, add 4 diced tomatoes and cook down for a gap of 1 and 2 minutes prior to adding the minced garlic together with tomato paste (2 tablespoons).
Stir to combine and add 1 cup of cooked brown lentils together with 2 cups of cooked chickpeas.
You can also add ground spices such as cumin, coriander, cinnamon, smoked paprika, black pepper, red pepper flakes and salt for flavor. Plus, add some chopped fresh cilantro, parsley and mint, too. This intensifies the flavor and aroma.
Pour in lamb broth (a whole carton) and now bring this mixture to a boil. Lower the heat to medium to low and cover. Let the dish cook for about twenty minutes.
Lastly, add chopped fresh spinach & kale, and slightly stir to combine. Increase the heat slightly and leave it to cook for a gap of 10 and 12 minutes.
Remove from heat when finished and serve with a lime or lemon wedge.
15. Ramadan Recipes For Iftar – Algerian Kefta
Below is also one of the best healthy Ramadan recipes for iftar.
Get these:
Lean ground beef – 1 lb
Minced garlic cloves – 2
Finely chopped onion – 1 tablespoon
Oil – 4 cups
Pepper – 1 teaspoon
Salt to taste
Instructions:
Firstly, mix the ground beef with 1 tablespoon of finely minced garlic and 1 tablespoon of chopped onions. Use your hands to knead the mixture gently until fully incorporated.
Shape this meat mixture into oblong patties (1 1/2-inch thick) such that you have 12-14 meatballs.
Heat 1 skillet over medium to high heat. Then, brown these patties in batches about 10 minutes until they're crispy on both sides and no longer pink in their center.
Leave these meatballs aside in one rimmed serving dish. Lower the heat to medium. Then, stir in ¼ cup of chopped onion and add salt & pepper.
Now in the drippings, cook the onions, stirring often, until these onions have softened and turned translucent.
Thereafter, stir in two garlic cloves and cook for more 30 seconds. Stir in 1teaspoon of dried parsley, 3 diced Roma tomatoes, ½ teaspoon of ras el hanout, and some water. Cook about 5 minutes until these tomatoes are soft.
Pour this tomato sauce over those meatballs and finally, serve.
16. Mango Kesar Kulfi
The best and healthy Ramadan recipes for iftar must consist of this dessert. This dessert incorporates the taste of mangoes with crunchy pistachios.
Get these:
Milk – 500ml
Sugar – 1 ½ cups
Saffron strands – a few
Mango pulp – 1 ¼ cups
Pistachio – 2 tablespoons
Kulfi moulds – 8
Ice cream sticks – 8
Instructions:
In a wide pan, heat milk and later bring to a boil. Then, in a small bowl, leave aside 1 to 2 tablespoons of the boiled milk. To it, add the saffron strands.
Then, lower the larger amount of milk on one medium flame. Prevent burning by stirring it occasionally.
To the reducing milk, add the soaked saffron, stirring all the while. Then, reduce to half. Now add the cream and sugar, and later cook it for another one to two minutes.
After lowering the milk, leave it to cool down completely. Add mango pulp with pistachios after it cools down and pour into the kulfi moulds.
 After that, set the moulds in your freezer for two hours. Take them out after two hours. Take the ice cream sticks and insert them into each of these kulfi moulds.
Leave it to set for another 4 hours and finally, serve.
So, these were a few of the Ramadan recipes for iftar and try them during the month of Ramadan. Which is your preferred dish? Share your Ramadan recipes for iftar with by commenting in the box below.
Recommended articles:
Easy And Healthy Vegetable Side Dish Recipes
Atkins Diet Recipes For Atkins Diet Followers
Hearty Vegetarian Recipes Even Meat-Eaters
High Protein Salad Recipes And Toppings
Want More Content Like This In Your Inbox?
Join The Discussion