Gluten is known as a protein composite of gliadin and glutenin that found in wheat and related grains like rye and barley. It can help give a chewy texture for the final product. It is also used as an additive to other low-protein foods. However, there are many people that are sensitive to gluten and need to avoid this composite. But gluten is found in many foods that are good for the health. So for many people sensitive to gluten, what could they do to have the good gluten-free diet with the gluten-free foods?
Quick And Easy Gluten Free Recipes For The People Sensitive To Gluten
A gluten-free diet means that there is no protein gluten in your foods.
It is very beneficial for the people sensitive to gluten. Furthermore, this diet is also used for treating celiac. Applying this diet can help the patients control the signs and symptoms of celiac as well as avoid complications. If you think that a gluten-free diet is less nutritious and unappetizing, let's read the following quick and easy gluten free recipes and your thought will be changed.

1. Almond Milk
This gluten free drink is known as a great choice among quick and easy gluten free recipes that we want to share with you. It is also very good for the vegetarian. Its ingredients are very simple and easy to find. And it takes you only 10 minutes to get a healthy gluten free drink.
Ingredients:
1 cup of almonds
1 tablespoon of date molasses or called date honey
3 cups of spring water
How to make:
Put all the ingredients into the blender and process at low speed for about 1 minute. Continue to process at high speed for about 3 minutes until the mixture gets smooth. Then you need to strain the smooth mixture through a cheese cloth to separate the solids and get perfect almond milk. Keep it in the refrigerator if you are not ready to use.
Read more: eat, drink and shrink recipes book review – is it reliable?
8 useful tips to treat celiac disease naturally
2. Simple Chopped Salad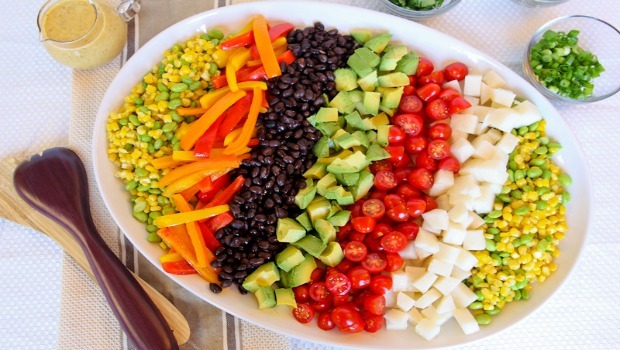 This is really a simple salad for anybody to make with the extremely natural ingredients. Especially, it is very good for the vegetarians. All things you need are the necessary ingredients with a good knife and a big chopping board and be careful with your fingers. Now, let's start with its ingredients.
Ingredients:
1 cucumber
2 small ripe avocados
4 spring onions
1 round lettuce
1 punnet of cress
A few sprigs of fresh basil
3 tablespoons of extra virgin olive oil
Sea salt
Freshly ground black pepper
1 lemon
How to do:
Firstly, you need to remove the ends off cucumber and onions and chop roughly them. After that, you chop roughly the basil leaves, throw the stalks out. Put them to the middle of the board with chopped cucumber and spring onions. Then continue chopping and mixing them together. Put them into a large bowl
For avocados, you need to cut the way along the avocado lengthways. Notice that it should be cut deeply into the stones carefully. Then hold the avocado in your hands and twist it until you get two halves from pulling them. Now you can remove the stones and scoop the flesh with a teaspoon. Place it into the large bowl.
With the cress, you also snip it over and chop it. Continue to place it into the large bowl.
When everything is chopped and mixed them together, you add the extra virgin olive oil, a tiny pinch of salt and pepper, and squeezed the lemon into the bowl. Continue to toss them together. Now you get a delicious gluten free salad.
See more: top 11 most common signs of a gluten allergy
3. Fruit And Chicken Salad
One of quick and easy gluten free recipes that you can do is fruit and chicken salad. This salad includes chicken and some types of fruits and greens will be your nutritious appetizers.
Ingredients:
2 cups of sliced chicken breast
8 cups of mixed salad greens
2 cups of chopped melon like honey dew and cantaloupe
¼ cup of crumbled feta cheese
¼ cup of chopped walnuts
1 ½ teaspoons of poppy seeds
¼ teaspoon of salt
4 teaspoons of sugar
3 teaspoons of vinegar
¼ cup of low-fat sour cream
Freshly ground pepper
How to make:
Firstly, you place the skinless and boneless chicken breast in a saucepan or skillet. Add a little salt water and cover. Then you need to bring to a boil. When boiling, you should lower the heat and simmer until the chicken is cooked through. It may take about 10 to 12 minutes.
With the nuts, you need make a dry skillet hot with medium-low heat and then pour the nuts into it. Stirring them until the nuts turn into lightly brown with fragrance. It may take about 2 or 3 minutes
Now you can make this salad. You need to put all the ingredients including salt, pepper, poppy seeds, sugar, vinegar, sour cream in a large bowl and whisk them until you get a smooth mixture. After that, you put ¼ cup of the dressing into a small bowl. Take the mixed greens to add into the large bowl and toss them until the greens are coated. Put this mixture in 4 plates and top with feta, walnut, melon, and chicken. Finally, you take 1 tablespoon of the rest of the dressing to sprinkle on the mixture and serve.
Find more: the pros and cons of eating vegetable salads regularly
20 best easy healthy salad recipes for people at all ages

4. Beef With Beans
This dish is very easy to prepare. Beef and beans are very rich in necessary nutrients for the healthy body. This recipe is prepared for about 4 servings. You can enjoy it in 40 minutes. This recipe is considered as a quick and easy gluten free recipe to cook. It is very excellent if it can be served with steamed rice. Let's see what you should do:
Ingredients:
700 grams lean beef mince
400 grams red kidney beans
400 grams tomatoes
1/6 cup of tomato paste
1 teaspoon of chilli powder
1 teaspoon of ground coriander
1 teaspoon of ground cumin
1 teaspoon of dried oregano
1 red capsicum
2 garlic cloves
2 brown onions
1/6 cup of vegetable oil
How to make
Onions and garlic cloves are chopped finely. Cut the red capsicum in halves, deseed and cut into 1-cm pieces. Rinse the beans and drain. Tomatoes are diced.
Now, let's start to cook. Firstly, you pour 1 teaspoon of vegetable oil in a heavy-based stockpot with a medium-high heat. Then throw the mince into the stockpot and use a wooden spoon to stir well for about 5 minutes until the color of the mince is changed. Now you can pour in a large bowl.
Next, you continue to heat the oil in the stockpot with the medium-high heat. Then you throw the onion, capsicum, and garlic in it and stir. Cook for about 4 minutes until the onion gets soft. Continue to add coriander, cumin, oregano, chilli and cook for about 1 minute. Finally, you add the cooked mince, tomato, kidney bean, tomato paste in the stockpot and stir well. When bringing to the boil, you have to reduce the heat to the medium-low and continue to cook for about 20 minutes. During your cooking, you should stir occasionally. When it is cooked through, you can season with pepper and salt if you want.
Read more: 12 health benefits of beans and legumes in diet you might not know
5. Roasted Shrimp
If you love shrimp, it may be a strange and delicious recipe for you to try. Of course, it is among the quick and easy gluten free recipes.
Ingredients:
2 pounds shrimp
1 tablespoon of olive oil
4 teaspoons of Old Bay seasoning
1 teaspoon of freshly ground pepper
1 teaspoon of coarse salt
Juice of 1 lemon
How to make
Firstly, your shrimp need peeling, deveining, and cleaning. Then you need to preheat the oven to 400 degrees. Place the shrimp on a sheet pan and sprinkle pepper, salt, olive oil, old bay seasoning, lemon juice and toss to coat. Then you need to spread them out. Put them into the oven to roast for about 5 to 6 minutes. And finally, you get a good dish for the people who want to have a gluten free diet.
Find more: 7 health and nutritional benefits of shrimp
29 best easy healthy shrimp recipes people should try
6. Easy Corn Pudding
This is an easy-to-make dessert and very good for your health with nutritious ingredients like peppers, onion, milk, corn kernels, eggs. With this dessert, you don't need completely to worry about the lack of nutrients for your body.
Ingredients:
2 cups of fresh corn kernels (thawed frozen corn kernels can be replaced)
2 large eggs
2 tablespoons of gluten-free tapioca starch or sweet rice flour
½ pound white onion
1 red bell pepper
1 jalapeno pepper
½ teaspoon of freshly ground black pepper
1 ½ cups of milk
1 teaspoon of kosher salt
1 teaspoon of dry mustard
Gluten-free non-stick cooking spray
How to make:
Red bell pepper needs seeding and dicing. Jalapeno pepper is veined and discarded the seeds and diced finely. Onion is diced. And eggs should be beaten lightly.
Firstly, you need to preheat the oven to about 350 degrees F and use cooking spray to spray a 2-quart baking dish.
Put all the ingredients including pepper, salt, mustard, flour or starch, onion, peppers, corn in a large bowl to mix them together. Whisk the eggs and milk in another bowl. Combine two mixtures and mix them well. Finally, pour them into the prepared baking dish and bake. The normal time for baking is about 45 minutes. It is great if it is served when being warm.
Read more: guilt free dessert recipes review – is Kelley's cookbook useful?
The above include some quick and easy gluten free recipes for the people with celiac disease or gluten intolerance that we want to share with you. All of them are very rich in various nutrients necessary for your body. There are many other gluten free recipes for you to choose. Or you can create your own easy gluten free recipes. It must be interesting. If you feel that this writing is useful for you or you have any idea for it, please leave your comment. We will reply for you soon. And you can visit our website, VKool.com to see more useful information.
Want More Content Like This In Your Inbox?
Join The Discussion