The purpose of cake decoration is turning a simple cake into a wonderful piece of food art. Learning how to decorate a cake can be as simple or as complex as you want. Even an easy cake decoration can be highly efficient, so you should not be afraid that you do not have the skills necessary to be a good decorator. The following easy ways to decorate a cake will help you make professional-looking cakes with almost no difficulty.
9 Easy Ways To Decorate A Cake That Looks Wonderful And Yummy
Decorating cake seems very difficult to many people as a wonderful cake requires many skills that look hard. People may think that to make a piece of art as a well-decorated cake will take a long time to learn complex skills. However, in fact, it is not difficult at all if you apply the easy ways to decorate a cake that I am going to offer:
1. Use Beautiful Serving Plates 
The first of easy ways to decorate a cake that I want to share here is that you should choose serving plates for your cakes that are beautiful and suitable.
– You should ensure that the plate that you use to put the cake on is suitable and harmonic with the overall design. This will contribute to decide the cake's final decorative look.
– You definitely should not use plates with patterns that are clash with your cake decorative design. Nevertheless, you can use a patterned plate to set a cake that is plainly decorated off perfectly.
– You can use cake stands because they are suitable for almost every decorated cake. They will lift the cake up for people view it easily and turn it into the centerpiece on the table.
– Plates that are made from glass are very lovely for decorated cakes. A cake on glass will bring about an old world effect.
– Bold colors on plates can work well provided it does not clash with the cake's main color.
– In fact, basic white plates are easy and elegant to match to every decorative style, so you should pick up a plainly white plate whenever you find it is hard to choose one.

If you do not want to use a cake stand or a plate, you should use a cake board. This assistant will make it easy for you to deliver and transport the cake to another place, whether it is from the kitchen to the dining room or from your kitchen through the car to anywhere else. Cake boards can be made at home by yourself using thin wooden board covered with foil or cardboard, or you can also purchase the ready-made board from a store selling cake decorating supplies.
Besides, if you are among people who are chocolate lovers, you should learn special, yummy chocolate recipes to get more chocolate cake recipes.
2. Use Ready-Made Decorations
While there is no need to make your cake over-complicated with anything inedible, sometimes you should add paper or plastic decorations for special touches that none of the other methods can help you achieve. Here are some examples:
Animals for a zoo scene, theme park, or farm: where making all these animals in modeling paste may be so frustrating or time-consuming, turning to the plastic equivalent is a cinch. You just need to ensure that they are thoroughly washed first.

Wedding cake toppers: such as an archway bells, doves, or depictions of the groom and bride.
3. Learning How To Turn An Ordinary Piece Of Food Into A Decorative One
– There is not enough time to explain the art of cake decorations out of vegetables, dried fruit, candies, other baked goods, and so on. However, it is needed to be creative when you are trying to highlight your cake with specific features. For instance, you can make a perfect mouse by using a date with 2 tucked small candies to make ears and a long licorice rope sticking out to make a tail. When you place them on a cake, it will make a realistic mouse appears. Or else, you can use round candies to make porthole windows in a ship, button candies as keys on a phone pad or keyboard, sliced marshmallows as flower petals, form a white frosting ball as a golf ball, and so on. You can also put many candies for imaginative use as tails, ears, whiskers, noses, and eyes.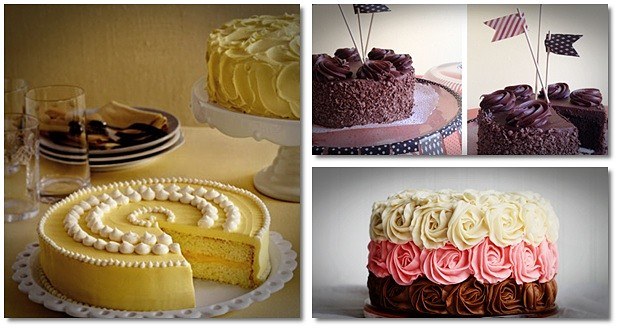 – You can also search on the internet for cake decorations (blogs, photos) to explore new ideas for creatively using food items on your cakes.
Or if you are totally a newbie for cake making, firstly you should learn simple ways to make yummy cakes.
4. Use Color Creatively
When you choose the color themes for your cake, you should make use of the following tips to choose the right colors:
Using sprinkles, different types of chocolate, or other frosting colors for extra color.

Is your cake for a special occasion, such as a graduation party? In this example, you will love to use the person's future college colors.

If the cake needs to be colored in a special way, for example, many children's cakes will be like this, you can make use of photos online to direct your coloring choices.

If the cake is for someone who loves a particular color, you should, of course, make the cake in that color.
5. Learn Some Other Essential Techniques Required For Decorating Cakes Successfully
There are a variety of useful techniques that can help you improve your experience:
Always decorate the rim of the cake unless this would detract from your design.

Shaping cakes

Piping on icing or frosting

Stippling.

Painting on sugar
6. Think Beyond Icing Or Frosting
There are many other means for decorating a cake besides frosting or icing. You can use such items in the combination with icing, or add them directly to the cake. These contain: preserves, shapes, shards, toffee strands, coconut, streusel topping, nuts, dusted cocoa or other chocolate, drizzled chocolate, candies, cream, jam, and flowers.
While cake is always one of the best desserts, you can also pick up other healthy and delicious desserts as an additional choice for a great party.
7. Decide On The Type Of Icing Or Frosting You Would Like To Work With If Icing A Cake
You need to feel comfortable with the icing or frosting tips that are required for cake decoration. Some of the tips are more complex than others, and if you are just the newbies, you will be recommended not to take on difficult decoration projects until you are confident about it. Typical icing or frosting styles include:
Dusted icing sugar: while very simple, this can be very efficient on the right type of cake, especially where the cake's constitution is sufficiently rich without adding frosting or icing.

Pre-made icing sheets with printed designs: these are popular for children's cakes and feature such designs as TV show, cartoon, and movie characters. You should follow the instructions to learn how to apply these to the cake's surface.

Modeling paste – this is a combination of gum tragacanth mixed with sugar paste to make an edible modeling paste.

Petal paste – this icing is ideal for making flowers, as it produces extremely fine detail. It is a great idea to dampen your fingers slightly when working with this paste.

Pastillage – this icing comes from the cake decorating supplier in powder form and is very effective for intricate decorating work that you need to keep in shape.

Royal icing – this is the same with sugar paste and is often available ready-made.

Sugar paste – sugar paste is rolled fondant. It is often the easiest to purchase it ready-made from cake decorating suppliers.

Sugar glue – this is not icing but a "glue" that allows you to stick together pieces modeled from icing.


Fluffy frosting – this uses a frosting created by beating in an electric mixer. This must be used on the day it is to be served. In addition, it has a marshmallow type consistency. In short, the frosting loses its gloss and becomes a little crisp.

Buttercream or Vienna cream: this is an easy-to-apply frosting that fills gaps and covers up all sorts of unsightly cake dips and bumps.
Besides, if you want to learn more decorating tips to make wonderful cakes, you should learn unique tips to decorate a cake and the art of cake making and decoration.
8.  Choosing The Right Type Of Cake To Decorate
To decorate a wonderful cake, you will need to spend a lot of efforts. Hence, you should definitely decorate it to be a great one. It is also worth trying to decorate cakes that can be eaten warm from the oven, such as a cake topped in sauce or syrup. Such cakes are already as good as they need to be. In fact, some cakes are fine with decoration or even without decoration, like fruit cakes. Cakes that need decorations include:
Cakes being entered into competitions

Photo op cakes – cakes being photographed for a special occasion, an instructional article, a Flickr photo stream, a blog, etc.

Cakes for fundraising at bazaars, fairs, galas, etc.

Gift cakes

Novelty "geek" cakes, often based on a computer, electronic, science fiction, etc., theme; often very fiddly work!

Farewell cakes

A doll cake
Special age birthday party cakes

Children's party cakes

Wedding cakes

Christmas cakes

Cupcakes
Besides, if you decide to make a cake for preparing before a special occasion, you should also perfect your party with some delicious juice recipes or juice that good for health. I believe that when you put a cake on the center of the table with many colorful glasses of juice around, your party table will become a wonderful picture.
9. Visit A Cake Decorating Supplier
The last of easy ways to decorate a cake that I will list down here is that you should go to a store or a cake decorating supplier to find things you need to decorate your cake.
It is worth spending time to go to a cake decorating store and look for what you need to decorate your cake and what makes you love to purchase. If there available the items you love, you should talk with the store assistant to discover more about them and make your own decision.
Besides, once you can make your own wonderful cakes and you want to make money from them, you should learn to make money from cakes.
All of the above easy ways to decorate a cake are very effectively that a lot of people have applied and get desirable results. I have studied them for a long time, and now, I am glad to share them with anyone who desires to decorate wonderful cakes.
If you feel the easy ways to decorate a cake I offer in this article are really useful for your current expectation, just feel free to leave all your comments/feedbacks at the end of this post. We appreciate your contribution and will respond all as soon as possible.
Want More Content Like This In Your Inbox?
Join The Discussion