In winter, apart from keeping you warm, you also should enjoy some hot drinks. These drinks will help keep you warm inside. There are many ways to make a hot drink. These recipes are not difficult to make and also good for your health because they contain many beneficial properties.
In this post, VKool.com will introduce you top 15 healthy winter hot drinks recipes that help you deal with the chills well. In this wacky weather, stay warm and hydrated and don't forget enjoy a cup of hot drink!
15 Easy And Healthy Winter Hot Drink Recipes You Should Know
1. Lemon And Hot Water Infusion
These healthy hot drink recipes will keep you comfortable and warm in this winter. Ph.D. Kantha Shelke, a principal at Corvus Blue LLC said that this hot drink contains antioxidant and anti-inflammatory properties of turmeric while the lemon and hot water combination flushes the kidneys and liver of toxins. Therefore, this is one of the healthiest hot drink recipes.
You will need:
Boiling water (1 to 1 1/2 cups)
Turmeric (1/4 teaspoon)
Juice of half freshly squeezed lemon
Pinch of cayenne or red chili powder (boosts metabolism)
Pinch of raw cane sugar such as Sucanat
A pinch of coarse sea salt
Process:
Mix all the ingredients in a mug and next stir well.
Finally, enjoy it.
Read on: 41 Health And Beauty Advantages Of Lemon Juice, Oil And Peel
2. Chai Tea Recipe
This spicy tea has all the spices that prevent and heal cold and cough. It is not only great to taste but also great for your health!
buy Tadalafil generic https://buynoprescriptiononlinerxx.net over the counter

You will need:
8 cardamom seeds
2 cinnamon sticks
3 cloves
1- inch fresh ginger piece
1 cup of milk combined with a cup of coconut milk, or 2 cups of whole milk
Sugar as per taste
3 black tea bags
Process:
The first step is to take all the ingredients except tea bags and next boil it in milk and then pour it in one cup.
After this, soak tea bags in this for ten minutes.
Enjoy immediately.
3. Hot Ginger Tea
As we know, ginger contains lots of healthy properties. It promotes good digestion, and also can eliminate discomfort related to conditions such as fibromyalgia and osteoarthritis, which are usually more troublesome in winter. In addition, it contains anti-tussive properties, thereby can relieve coughing. Plus, it contains anti-inflammatory and antiseptic properties which help to enhance the immune system. Furthermore, it works as a decongestant and antihistamine that helps to get rid of colds symptoms. Thus, it is no double that this is also one of the best winter hot drink recipes.
You will need:
Water (1 cup)
3 ounces ginger root, thinly-sliced
Process:
First of all, take ginger with water; next boil it and then strain.
You can add honey to improve the taste
Finally, consume it.
Read on: 12 Easy And Simple Ways To Use Ginger For Treating Flu

4. Cleansing Ginger Turmeric Tea
Looking for the healthy hot drink recipes, you should not pass this one. Turmeric and ginger have anti-inflammatory ingredients curcumin and gingerols respectively, which play an important role in treating aching muscle, healing joint pain, as well as relieving chronic arthritic pain. Thus, drinking this drink can soothe the inflamed muscles and enhance your rheumatic (osteoarthritis, rheumatoid arthritis, etc.) conditions, thereby decreasing facilitating and swelling movements. In addition, both turmeric and ginger can keep the gastrointestinal system healthy by lowering intestinal gas and making digestion easier due to their anti-inflammatory agent. Moreover, turmeric and ginger both are highly effective in curing inflammation of the respiratory system. So, having this tea daily can help you keep cold, flue and cough at bay, and remove a sore throat, too.
You will need:
Pure raw honey (2 teaspoons)
Fresh ginger (2-inch long root)
Boiled milk (2 teaspoons)
Water (1 large cup)
Black pepper powder (½ teaspoon)
Process:
The first step is to wash the fresh ginger roots and turmeric and peel them off. Then, finely grate them.
After this, pour the water into one small saucepan and put it over medium to high flame. Leave it to come to a boil.
To the boiling water, add grated ginger and turmeric and stir using a spoon for about 1-2 seconds.
Now reduce the heat and let the concoction boil in simmer for another 10 to 15 minutes. Remember to cover the saucepan using a lid.
Thereafter, turn the heat off. Now pour the boiled milk into this tea infusion.
Stir for one minute and later strain it into one cup.
Then, add honey to that tea infusion and now mix well.
Lastly, sprinkle that black pepper powder over this tea and serve.
Read on: Nasal Polyps Treatment Review
5. Healthy Almond Milk Coffee
Jaggery in this recipe has all the nutrients which are not found in refined white sugar. Daily intake has benefits like cleansing the liver, preventing constipation, increasing immunity, and reducing premenstrual syndrome (PMS) as well. Due to its iron, jaggery is beneficial for the anemia patients. Almond milk is good for people with lactose intolerant. Plus, it helps in managing your weight, keeps your bones strong, and keeps your heart healthy. It also is useful for your skin.
buy abilify generic https://buynoprescriptiononlinerxx.net/abilify.html over the counter

Cinnamon controls blood sugar, helps digestion, helps in weight loss, and boosts memory and immunity due to its anti-oxidants properties.
You will need:
Decaffeinated coffee powder (1 tablespoon)
A pinch cinnamon powder
Jaggery (1 ½ tablespoons)
Almond milk (half cup)
Low-fat milk (half cup)
Process:
In a mug or cup, add coffee, jaggery and cinnamon powder. To it add 1 tablespoon water.
Then, whip it for about 3-4 minutes till a thick frothy paste is formed.
After this, add low-fat milk and almond milk to it and mix well again.
Finally, serve chilled or hot!
Read on: Advantages Of Almonds For Health, Skin And Hair
6. Eggnog Recipe
You will need:
Heavy cream (2 cups)
Sugar (½ cup)
Nutmeg (½ teaspoon)
4 eggs
Brandy (¾ cup)
Process:
In one medium saucepan, take the heavy cream, nutmeg, and sugar just to a simmer.
Blend the eggs in a blender on low speed for one minute.
Slowly add this hot cream mixture with the motor running.
Now blend until frothy around 30 seconds more.
Add the brandy to it and then blend to combine.
Lastly, serve warm.
7. Hot Cocoa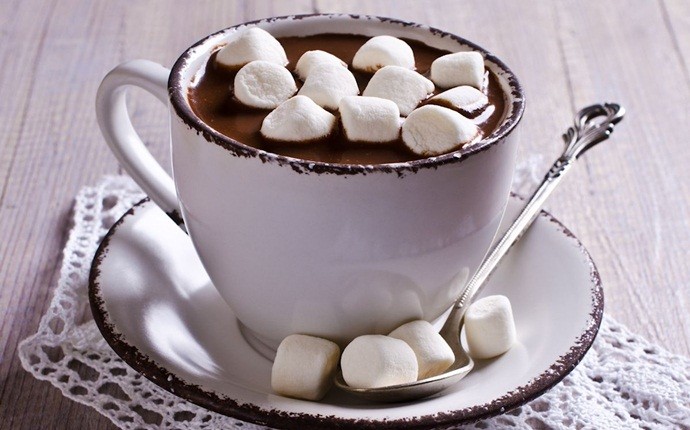 You will need:
Powdered sugar (2 cups)
Cocoa powder (1 cup)
milk powder (2 ½ cup)
A pinch of salt
Cornstarch (1 ½ teaspoons)
Process:
In a mixing bowl, combine all ingredients and next incorporate evenly.
Heat 4 to 6 cups water in a small pot.
Then, fill the mug half full with this mixture and now pour in hot water.
Stir to combine. Finally, serve hot!
8. Hibiscus With Apple Cider Tea
This drink is tasty and also is good for the immune system. Apple cider is a rich source of iron and vitamin C, and also has the soluble fiber pectin that may aid in decreasing cholesterol. Dr. Janet McKenzie at Summit Natural Health Center said that vitamin C is necessary for tissue regeneration and repair, and provides for the healthy functioning of your immune system. Thus, this is also considered as one of the top winter hot drink recipes.
You will need:
5 dried hibiscus flowers
Water (2 cups)
Apple cider (2 tablespoons)
Process:
Combine all these ingredients and then simmer for 30 minutes.
You can also add some drops lemon if you want a citrusy sour taste.
Finally, serve warm.
9. Mexican Spiced Hot Cocoa
You will need:
2 pinches of ground chipotle chili pepper
A serving hot cocoa mix
2 pinches of ground cinnamon
Sweetened whipped cream (2tablespoons)
Process:
The first step is to make the hot cocoa mix as per the package directions.
Next, mix it with half the cinnamon and half the chipotle.
Top with this whipped cream.
Sprinkle with the remaining cinnamon and chipotle
Enjoy it.
10. Mulled Wine With Cranberries
You will need:
Cranberry juice cocktail (1 1/2cups)
Sugar (1/2 cup)
2 cinnamon sticks
Dry red wine (3cups) (such as Cabernet Sauvignon or Merlot)
2 pieces star anise
Fresh cranberries (1/2cup)
Process:
Combine the sugar, cranberry juice cocktail cinnamon sticks, and star anise in a large saucepan. Then, simmer for 15 minutes.
Stir in the cranberries and wine and after this, bring back to one simmer.
Serve warm.
11. Warm Hazelnut Toddy
You will need:
1 1/2 ounces Frangelico
Hot water (1/2cup)
Lightly whipped heavy cream (2tablespoons)
Process:
Stir together the hot water and Frangelico in a mug.
Then, before serving, spoon this whipped cream over the drink's top.
buy valtrex generic https://buynoprescriptiononlinerxx.net/valtrex.html over the counter

12. Warm Mulled Cider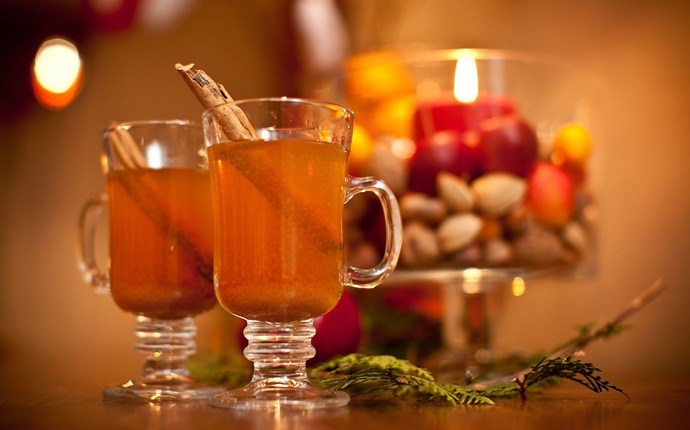 This is also one of the healthiest and easiest hot drink recipes.
You will need:
1/2 gallon of apple cider (not juice)
1 navel orange
Honey (2tablespoons)
6 whole cloves
5 whole allspice berries
Pinch ground nutmeg
1 1/2-inch piece of ginger, thinly sliced
8 cinnamon sticks
Process:
Firstly, peel the zest from your orange with a vegetable peeler to create long strips.
Mix the cider, allspice, honey, cloves, nutmeg, orange zest, and ginger in a medium pot and then simmer it.
Don't boil. Heat, uncovered, for half an hour.
Ladle into cups and after this serve warm with these cinnamon sticks.
13. Tea And Cider Wassail
You will need:
Freshly brewed hot tea (6 cups)
Cranberry juice (6 cups)
Orange juice (3 cups)
Apple juice or apple cider (6 cups)
Sugar (1 1/2 cups)
9 stick cinnamon, broken
Lemon juice (1 1/4 cups)
Whole cloves (3/4 teaspoon)
Apple slices (optional)
Process:
Combine tea, apple cider, cranberry juice, orange juice, lemon juice, and sugar in a Dutch oven.
For spice bag, place cloves and cinnamon in the center of one double-thick, six-inch square of 100% cotton cheesecloth.
Next, bring the cheesecloth's the corners together and then tie with clean string. After this, add spice bag to the juice mixture.
Bring mixture to a boil. Stir using a wooden spoon in order to dissolve sugar. Then reduce the heat.
Cover and simmer for half an hour. After this, remove plus discard spice bag.
Ladle the wassail into one heatproof punch bowl and then serve. Garnish with apple slices if wanted.
14. Hot Turmeric Milk
Turmeric in this recipe contains a plethora of benefits. However, its standout feature is having the compound called curcumin, excellent for curing inflammation and joint pain as well.
You will need:
Unsweetened almond milk (2 cups)
Raw honey (2 tablespoons)
Light coconut milk (1/2 cup) (from the can)
Ground turmeric (1 teaspoon)
Cinnamon (1/2 teaspoon)
Ground ginger (1/2 teaspoon)
1 black peppercorn
Vanilla extract (1/2 teaspoon)
Pinch nutmeg
Pinch cayenne
1 tablespoon Chia seeds (optional)
Process:
First of all, add all the ingredients to one blender and then process until it is combined well about one minute.
On low-medium heat, heat the liquid mixture on stovetop till it has come to wanted temperature.
Serve immediately.
Read on: Health Advantages Of Turmeric For Humans
15. Spicy Coconut Tea Tonic
Shelley Hillesheim, founder of A Nourished Life, holistic health coach, and certified natural foods chef said that this recipe will help soothe digestive discomfort and inflammation. Additionally, it will provide anti-microbial, anti-bacterial, and anti-oxidant protection. Thus, this is one of the best hot drink recipes for winter.
You will need:
Full-fat coconut milk (1/2 cup)
Filtered water (1/2 cup)
Turmeric (1/4 teaspoon)
Ground clove (1/4 teaspoon)
Ground ginger (1/4 teaspoon)
Vanilla (1/4 teaspoon)
1 Rooibos teabag of your choice
Dash cayenne
One drop of pure cinnamon essential oil (optional)
A cinnamon stick, for serving
Process:
Bring all ingredients in a small saucepan (except cinnamon essential oil) to a gradual simmer.
Let simmer for five minutes. Then, remove from the heat and now stir in the cinnamon essential oil.
Strain, if wanted, or pour straight into one teacup to sip and enjoy.
To get more information linked to healthy recipes, go to our main Health page. Hope that this article will help you know more healthy winter hot drink recipes. If you have any question or comment, please leave them below, we will respond you soon. You can also share with us the other hot drink recipes for winter in the comments section.
Recommended articles:
11 Healthy Drinks Besides Tea And Water
9 Best Healthy Drink Ideas For Diabetics
13 Best Drinks For Weight Loss
Want More Content Like This In Your Inbox?
Join The Discussion