Updates: 05/28/2014
Scars may be affected from a lot of skin wounds, such as acne inflammation, cuts, burns, or sometimes from over stretch marks. Professional treatments and many supermarket goods for scar removal are either costly; not guaranteed to be effective, or require a lot of time for the recovery-post process. Nevertheless, there are lots of home remedies for scars, dark spots & blemishes you could do frequently just as well.
Top 20 Home Remedies For Scars, Dark Spots & Blemishes
While almost scars can fade themselves, some of them take several months or even years to disappear. In some cases, when the scars are too deep and severe, they will stay on the skin forever. Nevertheless, there are a variety of effective methods that you can apply to speed up the healing process and avoid the hyperpigmentation in the future. In reality, you cannot make scars disappear for just one day, but now I will introduce some useful and natural remedies, ingredients, treatments, products, and skincare routines that will actually help you achieve a positive difference and improvement over time. All you need to do is just choosing the methods that are suitable for your own skin type.  

1. Do Not Pick At Scars: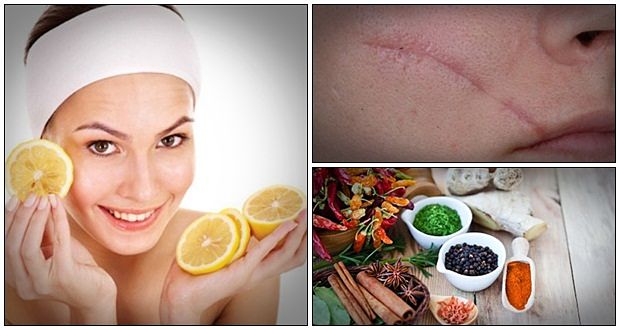 The first of home remedies for scars that I want to introduce today is that you should not pick or squeeze at your scars. Scarring will be actually much more serious when people try to pick at their wounds cuts, and scabs. You should avoid elective or aesthetic surgical procedures as possible, and if you are prone to form thick scars. If it is necessary for operation, you should discuss your concern about any potential scars with a person who will be able to operate on you. A steroid, known as "triamcinolone acetonide" can be added to the carving to minimize the risk of any kind of scars. Still, this may also barrier the healing process of the skin. Thus, if picking skin is one of your bad habits that are hard to get rid, you should learn ways to stop picking right away.
  2. Massage:  
Massage can also help to soften scars. A lot of studies indicated that pulsed electrotherapy considerably can reduce the nourishment of hypertrophic scars and keloids. By rubbing and rolling scars several times throughout the day, you will be able to make the scars look more faded and break down the scar tissue.