A toned inner thigh is a healthy inner thigh – strong and attractive. Read on and practice these 15 inner thigh exercises at home for men and women to keep you feel confident in those skinny jeans and leggings all winter long, collected by VKool.com!
15 Inner Thigh Exercises – Best At-Home Exercises Of All Time For Men And Women
1. Cossack Squat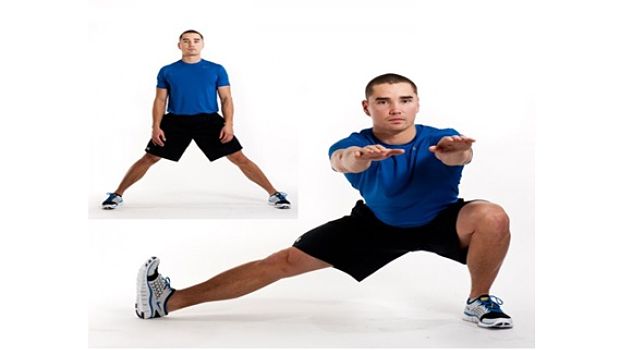 This first routine will supply you with an unique training stimulus for your lower body, shaping the glutes as well as thighs from different angles, according to fitness experts.
How to practice:
First, you stand with feet wider than shoulder-width a little bit, your arms relaxed by your sides.
Squat your whole body as deeply as you could to the left, whilst turning the right toes up; keep the right foot flexible (the right leg keeps straight and the torso might lean forwards for maintaining balance)
Then, extend the arms straight out, right from the shoulders
Turn back to the beginning position.
Do the same with the opposite side to finish one rep.
Practice the exercise 2-4 sets with 8-12 repetitions each set.
2. Criss-Cross Power Jacks
Among simple-to-follow inner thigh exercises, this might be one of the simplest. This movement can effectively target your inner-thigh muscles whilst also engaging the whole body and enhancing heart rate, thereby burning more calories.
How to practice:
Stand with your feet together; take one deep breath in.
Exhale and jump feet wider shoulder-width, cross the arms over your head
From there, you scissor your legs; cross the left leg right in front of the right one. Your left arm crosses over the right one, at the chest level.
Repeat instantly the routine, switch side each time.
It is recommended to do this exercise as part of a regular circuit. Do the exercise for about 30-45 seconds before moving to the next exercise.
3. Inner-Thigh Blaster
This low-impact exercise does not take too much time from you to practice. Also, it can shape your legs as well inner thighs fast.
How to practice:
First, stand with the forearms distance away from the countertop or sturdy chair.
Hold on slightly with your right hand
Step out your feet, hip-width apart, your toes pointed ahead
Place a small, soft ball between your inner thighs
With the left hand on your hips, you lift the heels, balancing on balls of feet
Then, bend your knees before lowering for approximately 1 inch
Press the inner thighs into that ball while keeping your shoulders stacked over the hips, your hips stacked over the ankles, your core tight
After that, raise the hips back up, move the left arm over your head
Squeeze that ball using your inner thighs
Lower about 1 inch before repeating
Do this exercise for about 30 repetitions, switch up the other side.
4. Tree Lean To Side Lunge
This exercise is loved by both men and women as it not only targets the inner thighs, but also works their hips, core, and also the whole lower body. Moreover, it can work muscles up drastically whilst enhancing range of motion, strength and endurance as well.
How to practice:
Stand tall with your feet together, your arms over the head
Laterally flex your spine so that your shoulders and arms reach left whilst your hips sway right
Sweep the arms up and then over, making a half of circle down towards the right, the left leg then steps out forming a side lunge.
Land in a deep side with your left hand resting right on your thigh and your right hand touch on the ground.
Push off the ground, then circle arms back over your head to return to the lateral lean when the left foot return to the right.
Practice this routine 10 repetitions and switch up to the other side
5. Scissor Legs Plank
Aside from targeting your inner thighs, doing this exercise also forces your chest, arms, glutes and core to engage in.
How to practice:
Start with the full plank position with each of your feet on the folded towel, gliding disc, or paper plate.
Then, keep the upper body still before sliding feet apart, opening the legs as wide you as you could
Slowly squeeze the inner thighs to slide feet back together
Practice the exercise for 2 sets with 15 repetitions each set. Take a rest between sets if necessary
Recommend reading: how to lose man boobs
6. Frog Bend
This frog bend exercise is great when you are busy or are traveling as you just need gravity for resistance, without any special equipment.
How to practice:
First, lie facing up with your legs straight over your hips and extended, your feet flexed, your heels together, and your toes turned out
Then, slowly bend your knees out to your sides, straighten after that. Use the inner thigh muscles to take control of the movement.
Practice this routine 3 sets with 12 repetitions each set
Take a rest between rest if necessary
7. Squeeze Then Lift

The next one in the list of inner thigh exercises is squeeze & lift. The small motion range of this isolated movement will make it a good option for those with weak inner-thigh muscles or a groin pain. Besides, it is easy to follow so you could practice it almost everywhere.
How to practice:
Initially, you place a small ball between your ankles. Use soft balls to feel comfortable
Lie on your right side, supporting your head with your bent right arm.
Then, bend the top of your arm and press the hand on the ground right in front of chest to stabilize your own body
Squeeze the inner thighs keep the ball
Lengthen the legs before pressing bottom let up towards top for lifting both of your legs for about 6 inches off the floor.
Keep for about 5 seconds.
Practice the exercise for 10 reps before switch up on the other side
8. Barbell Squat
For those who want to decrease their thigh size and make their thigh muscles toned, this is the exact exercise for them. In order to burn fat and sculpt such sexy legs by tightening your inner thighs, practicing this exercise will help you a lot. This exercise recruits multiple muscles such as barbell squats. The more muscles you work up, the more calories you can burn.
How to practice:
Place the barbell across your shoulders, yet not on top of the neck, and then stand with the feet wider than shoulder-width a little bit, your toes turned out for 10-15 degrees.
Then, bend at your knees and hips as well; lower the body as close to the ground as you could
Keep the knees wide and tracking in the same direction as the toes in order to avoid allowing your knees to drop in towards the midline of your body.
After that, reverse that motion, stand up afterwards.
Practice the exercise for 3-4 sets with 8-12 reps each one.
9. Around-The-Room Froggies
When it comes to inner thigh exercises, this might be one of the most interesting ones. You can use this movement to tighten up the inner thighs, and also increase your heart rate, burning more calories.
How to practice:
Stand with your feet wide, your knees as well as toes pointed out
Reach the hands down, touching the ground
Squat down as low as you could whilst still keeping your chest lifted, your knees tracking over the toes.
After that, jump up in the air, and then rotate the body a quarter turn to the right, whilst bringing your feet together; swing the arms over your head for propelling body up
Now, land in the deep squat, your face towards the right side of the room.
Keep doing to finish a full rotation.
Do this routine as many times as you could for about 1 minute
Switch up on the other side
When practicing this exercise, you should make yourself breathless, so take 20-40 seconds for appropriately recovering before repeating or moving to the next exercise.
Check out: tips for tone abs
10. Pilates Side Splits
The Pilates exercise should be typically done on the reformer, yet without springs to help the movement. The standing version will challenge your own body more. Actually, it is a superior inner-thigh exercise, as it mobilizes your whole inner thighs to execute the major move of drawing your legs together.
How to practice:
Stand with your feet hip-width apart, and parallel
Then, place a gliding disc or hand the towel under your right foot
Extend the arms straight out from your shoulders, your palms forwards
After that, slide the right leg to the same side, open your legs apart wide (for 2-4 feet)
Now, press into the left foot and take your inner thighs to draw the right leg back to start, keep the legs straight
Do this for 15 reps and repeat to the other side
11. Forward Lunge To Single-Leg Deadlift
Actually, the main role of the inner-thigh muscle, actually, is flexing as well as extending the thigh bone (femur) whilst walking – when your leg is in front of your body, your inner thighs will create extension; and when your leg is behind your body, it will create flexion. This exercise will be great for training muscles, together with glutes and hamstrings. This exercise uses the inner thigh muscles in the manner they are designed to be used and promote toning while still not enhancing size of the muscle fibers.
How to practice:
Let your arm by sides, you step the right foot forwards, and lower your body into the lung position.
Shift your whole weight into the right leg and then stand up, keep balancing on your right leg with the left knee bent.
Extend the left leg back whilst the right knee slightly bends, hinging forwards from your hips. Instantly swing the left leg forwards, forming the lunge position and then switch up on the other side.
Do the exercise for 2-4 sets with 8-12 repetitions each set. Take a rest of 30 to 45 seconds between sets.
12. Reverse Clamshells
This thigh-toning exercise will make your thighs toner and harder with ease.
How to practice:
Place the squishy ball (pillow is okay) between the legs and lie on side, your arm cradling your head and your knees bent.
Then, inhale and right on the exhale, you press the top knee down forcing into that ball. Keep for about 4 counts
After that, inhale slightly to release
Repeat the exercise for 12 to 15 repetitions before switching up on the opposite side.
13. Side-Lying Double Leg Lifts
This is a new version of normal leg lifts while lying on sides. In this exercise, the top leg will act as the resistance training upon raising the bottom one.  You will work your inner thighs while also targeting your outer thighs as well as obliques.
How to practice:
Lie on your left side with your body straight out in one line, your bottom arm extended for supporting both your head and your neck. Leg stacked with knees and your toes pointing forwards.
Place the top hand on the floor right in front of the chest for slight support, keep your belly tight, and squeeze your inner thighs together.
Try keeping your legs together and slowly raise them off the floor, hinging from your hip.
Keep the position for about 1-2 seconds and then slowly lower to hovering above the ground before repeating.
Practice the exercise for 1-2 sets with 15-20 repetitions each one.
14. Inner-Thigh Circles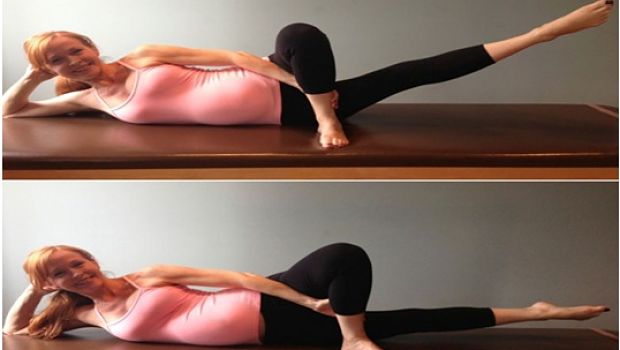 If you want to get toned thighs quickly, then this move is exactly for you. Really, it is an effective and safe way for even pregnant women to build strength during pregnancy.
How to practice:
First, you lie on the right side, your arm bent to support the head.
Bend the top leg and place the foot firmly right on the floor, in front of the bottom leg, holding on to your ankle to support.
Then, in the swooping motion, you tract a circle with the lifted leg
Imagine as if you are slowly drawing the circles on the back wall, lengthen your inner thigh, keep the abs pulled tight, torso still.
Do the routine for 10-20 circles in every direction, then switch up the side.
15. Bodyweight Lunges
With this exercise, your inner thigh muscles will do more functions during lunges. Besides, you also get the additional bonus of exercising your hamstrings, glutes, quadriceps, core and calves, thereby burning more calories.
How to practice:
Stand with your feet hip-width apart, your arms by your sides.
Keep the chest lifted and your back straight
Take a big step forward with your right foot and then lower into the lunge till your thigh is parallel to the ground
After that, push off the right foot to return to the beginning point
To get the best result, you should do this exercise for 3 sets with 10-15 repetitions each set. Practice 2-3 times each week.
Above are top 15 best inner thigh exercises that do not require any special equipment, so you can do it right instantly at your home. Some of these exercises are suitable for men while some for women. Hence, try out and choose the best ones for you.
Let us know your thoughts by dropping your words below this post of "Inner thigh exercises for men and women". We will respond all soon.
Want More Content Like This In Your Inbox?
Join The Discussion