Low calorie food often equals weight loss that is what most people normally want. Weight loss is a mixture of diet and exercise, but today VKool site will introduce some low calorie Indian food recipes that help in losing weight. Here is the menu for low calorie Indian food for weight loss. Keep reading this post to discover these low calorie Indian food recipes.
Low Calorie Indian Food For Weight Loss: 27 Best Recipes You Should Know
1. Low Fat Paneer Wrap
Low calorie Indian food recipe is not easy to find but also super delicious.
Ingredients:
300 grams of whole wheat flour
For chutney: Pudina, jeera, coriander, ginger, salt.
Filling: Onion, spring onion, capsicum, ¼ cup of paneer, olive oil
Procedure:
Prepare one roti from wheat flour.
Next mix and grind coriander, pudina, jeera, salt and ginger to make chutney.
Then, take oil in one pan. Heat it. Add capsicum and onion. After that, add spring onion and paneer. Add little black pepper and salt and cook till done.
Now take roti, and apply pudina chutney to this.
Finally, place this mixture and create a roll.
2. Mung Dal And Oats Chilla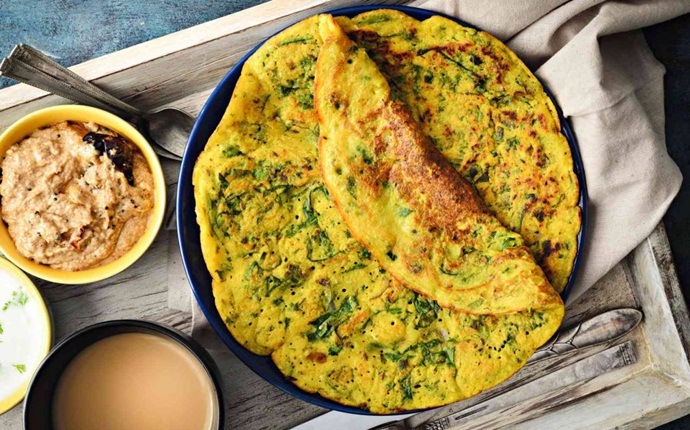 This low calorie Indian food recipe is easy to make.
Ingredients:
1 katori of mung dal
1/4 katori of rice
2 teaspoons of oats
½ katori of grated carrot, cabbage
½ onion
Coriander
¼ teaspoon of cumin seed powder
Salt to taste
Procedure:
Soak rice and mung dal separately for 4 hours.
Grind them separately after four hours. Mix and add cumin seeds, oats, and salt.
Prepare the batter of a medium consistency. Then, cut coriander and onion into small pieces.
Take a nonstick pan, spread batter as hot, add grated cabbage and carrot, onion and coriander.
Cook till done. Afterwards, serve hot with chutney.
3. Grilled Chicken Skewers With One Tangy Side Sauce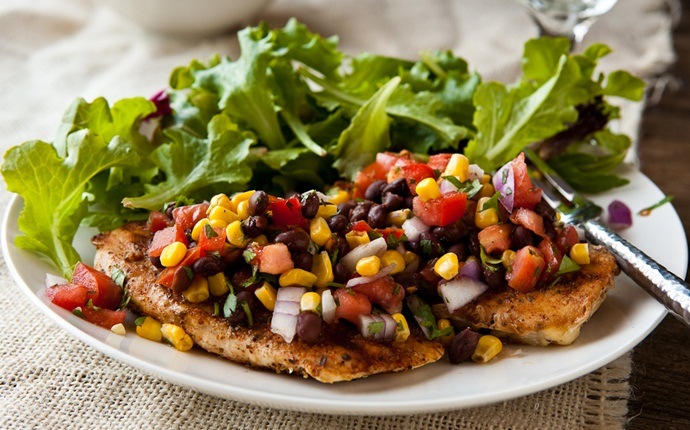 Ingredients:
1 cup of low fat yogurt
Couple of garlic cloves
Juice of one lemon
Chicken breasts, cut them in large square chunks
One cup of finely diced tomatoes, onion, cucumber
1 tablespoon of olive oil
2 tablespoons of fresh mozzarella
Procedure:
For the marinade: You mix together chicken breasts together with garlic and yogurt and keep it aside for one hour or so.
For that tangy side sauce: You mix together all these above ingredients and then serve it with your preferred poison to fight the summer heat.
Learn more: 10 Health And Nutritional Advantages Of Chicken For Everyone
4. Paneer Ka Chilla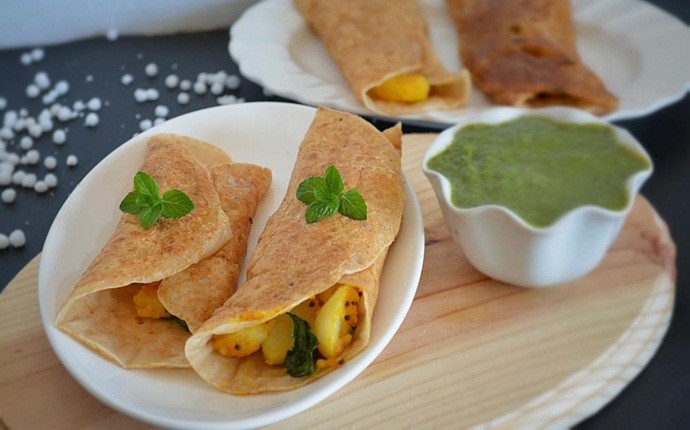 Ingredients:
Water
1 tablespoon oil
Chilli powder
Turmeric powder
Dry coriander
1 cup of besan
Salt to taste
For the filling:
½ a cup grated paneer
1 green chilli, finely chopped
Coriander
Procedure:
Heat oil in a pan. Then, mix the besan mixture in that pan till there's no lumps left in this mixture.
Now pour the mixture into that pan and cook gently from both sides until golden brown.
Fill in this paneer mixture as done and after that serve hot.
5. Low Calorie Upma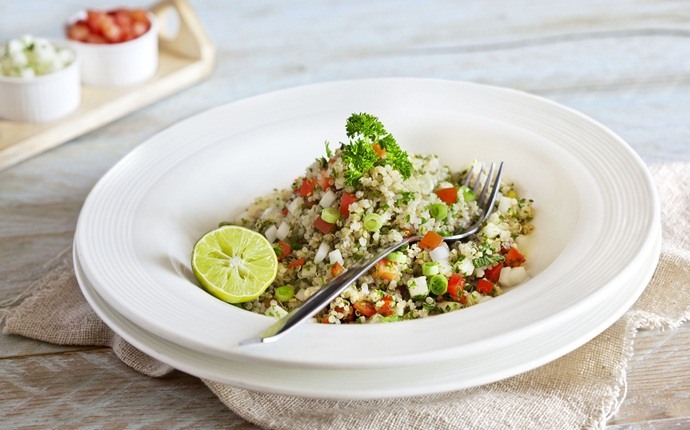 How to make this low calorie Indian food recipe for weight loss? Here are detailed guides:

Ingredients:
1/2 cup of semolina (sooji)
1/2 inch finely chopped ginger
1 finely chopped small onion
1 finely chopped green chili
1 teaspoon of black mustard seed
1 teaspoon of black gram
1 teaspoon of Bengal gram
Few curry leaves
2 teaspoons of oil
Salt to taste
1 teaspoon of lemon juice
1/2 teaspoon of finely chopped coriander leaves
Water
Procedure:
Heat a pan and next dry roast this sooji on a low flame until one nice aroma comes out. Then, take out on one plate. Ensure the sooji doesn't get too brown.
Now in a pan, heat 2 teaspoons of oil and after that add mustard seed and curry leaves. When the mustard seeds start to crack, add urad dal, chana dal and green chili as well. Fry it for some minutes.
Add onions and fry until it is translucent. Then, add ginger and sauté for two minutes and add 1/2 cup water and salt to it and leave the water to boil. Then gradually add sooji.
You can also add a few chopped vegetables like beans, carrot, and cauliflower. Sauté them with ginger.
Keep stirring it often so that no lumps are made.
Cover it for some seconds and leave it to cook till it starts getting pulpy.
Turn off the heat and lastly add lemon juice and then mix it well.
Garnish the upma with coriander leaves.
6. Mattar Tofu (Paneer)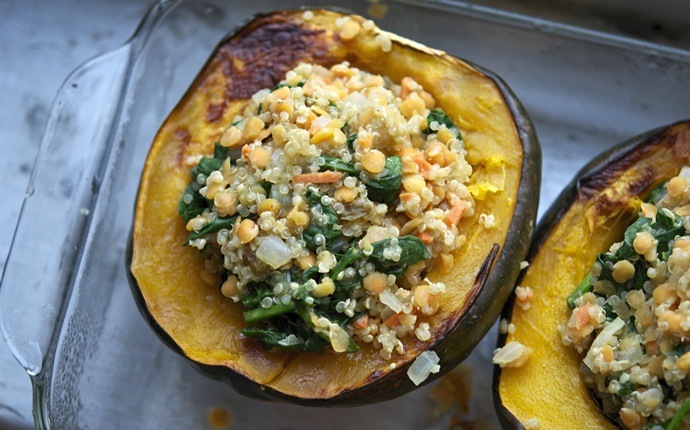 Ingredients:
2 cloves garlic – minced
1/4 to 1/3 cup frozen peas
1 red onion
Extra firm tofu, cut into cubes
3/4-1 bottle Maya Kaimal Madras Curry
Procedure:
Sauté the onions and garlic with 1 teaspoon of canola oil over medium – high heat, till these onions have cooked down plus are translucent.
Add the tofu, the peas and the curry sauce, stir to combine.
Leave it all to simmer together for around 10-15 minutes, till that Mattar Tofu is cooked through plus ready to eat.
7. Soya Chunks Bhurji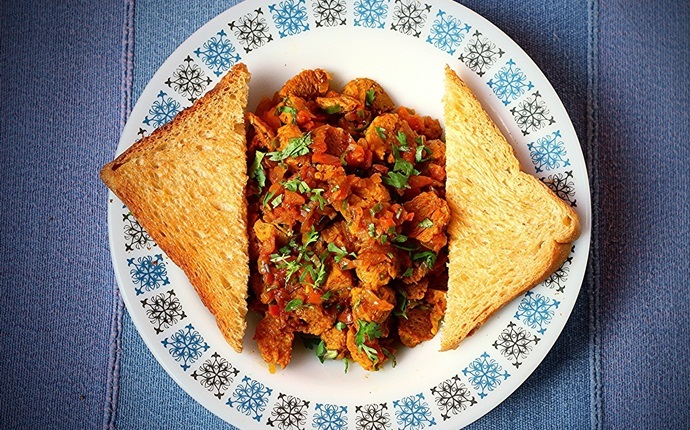 Here is the recipe to make this low calorie Indian food:

Ingredients:
1 cup of soya chunks
1 chopped onion
1 chopped bell pepper
1/2 teaspoon of mustard seeds
1/2 teaspoon of fennel seeds
1 teaspoon of ginger- garlic paste
1 teaspoon of chilli powder
1 teaspoon of coriander powder
1/2 teaspoon of garam masala
1/4 teaspoon of turmeric powder
Lime (optional)
Kasoori methi (optional)
A few coriander leaves
Oil
Salt
Procedure:
In a vessel, boil about three cups of water, add a little salt and soya chunks. Leave it to cook for ten minutes.
Turn off the stove, close its vessel with a lid and set it aside for 15 minutes. Then, drain this water and once cooled, lightly squeeze out the water from these soya chunks. Now pulse these soya chunks in one blender about 2-3 times to gain a crumbled form. Leave aside.
Heat oil in one pan. Splutter fennel and mustard seeds. Sauté ginger-garlic paste and onion until the onions become slight brown.
Then, add this bell pepper, sprinkle some water, cover and cook till the bell pepper is cooked completely. Sauté in between.
Now add chilli powder, turmeric powder, salt and coriander powder. Sauté well and add these crumbled soya chunks.
Mix thoroughly and allow it to cook for a few minutes. If this mixture is too dry, you can sprinkle some water.
After that, add garam masala. Combine everything well and lastly, add this coriander leaves and mix. If you want, squeeze one lime on this.
Serve hot as one side dish with chapathi, rice, or use as a filling for sandwiches. Enjoy!
8. Salmon Curry
This low calorie Indian food recipe is not difficult to make and also healthy.
Ingredients:
2 pounds salmon steaks
1 chopped large onion
1 chopped large tomato
2 tablespoons of lemon juice
1teaspoon of garlic paste
1teaspoon of ginger paste
1 teaspoon of red chili powder
1teaspoon of turmeric powder
1tablespoon of coriander powder
1teaspoon of poppy seeds
Fresh coriander leaves
Salt
1 tablespoon of oil
Procedure:
Marinate with lemon juice, turmeric powder and salt and 1/2 tablespoon of oil, and allow it to stand for 20 minutes.
In ½ tablespoon of oil, stir fry onions plus ginger garlic paste till they turn light brown.
Then, add poppy seeds, turmeric powder, red chili powder, coriander powder and salt.
After that, add marinated salmon steaks and chopped tomatoes to the mixture. Cook till salmon steaks are cooked.
Lastly, garnish with the chopped coriander leaves.
Learn more: 12 Easy, Healthy Recipes With Salmon For People At All Ages!
9. Beetroot Curry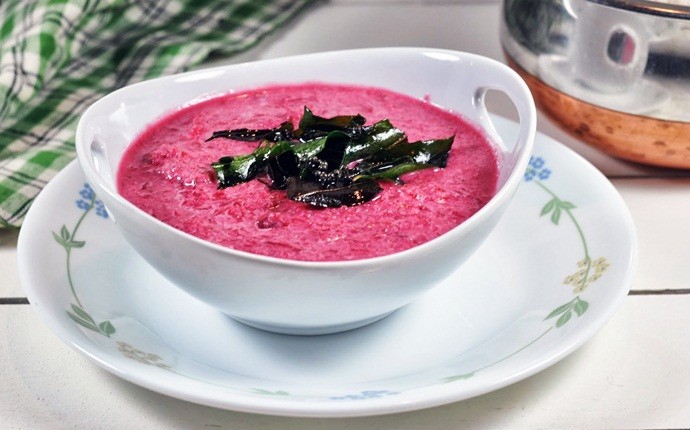 Ingredients:
3 cups chopped beetroot
½ teaspoon of cumin seeds
A whole dry red chilli
4 curry leaves
¼ tablespoon of hing
¼ tablespoon of turmeric powder
¼ cup of fresh grated coconut
1 teaspoon of sunflower oil
Salt to taste
Procedure:
Steam the beetroot, till soft and tender.
For tadka, you heat oil in one kadhai, add curry leaves, cumin seeds, and red chilli.
Then, add hing, beetroot, turmeric powder, and salt as well. Sauté for few minutes.
After that, garnish with the fresh grated coconut and now serve with hot chapatti or rice.
10. Moong Dal Cheela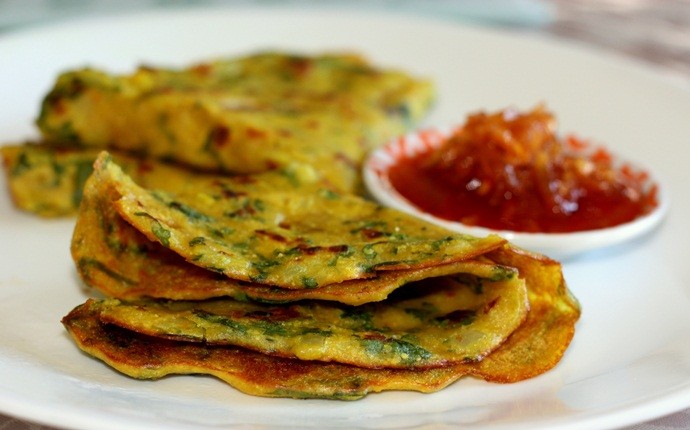 Ingredients:
1 cup of moong dal
½ a tablespoon cumin powder
1 tablespoon ginger-chilli paste
Salt to taste
1 tablespoon olive oil
Procedure:
Drain this moong dal and next grind it in one processor till a non-lumpy, thick mixture is formed.
Add the rest of ingredients to this mixture and mix well.
Now, in a flat nonstick pan, heat oil and then spread the dough evenly with the back of one serving spoon.
Evenly pour the mixture on the surface of that pan.
Turn this pancake over, and ensure it is brown slightly from both the sides.
Serve with tomato or green chutney sauce.
11. Healthy Egg Curry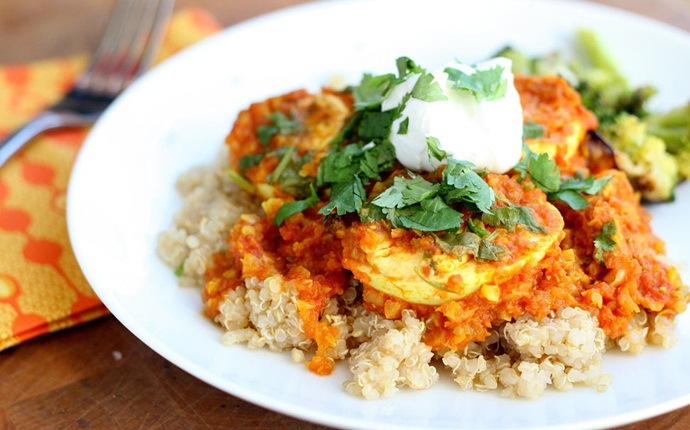 Ingredients:
4 eggs
1 tomato (pureed)
1 onion
1-2 green chilies
1/2-inch ginger piece
3-4 garlic flakes
2 tablespoon of chopped coriander leaves
3/4th teaspoon of turmeric powder
Red chili powder as per taste
1/2 teaspoon of coriander powder
3/4 teaspoon of garam masala
2 tablespoons of olive oil
Salt to taste
Procedure:
First of all, take some boiled eggs and next remove shells. Then cut into cubes and leave aside.
Now, chop onion, green chillies and ginger.
Meanwhile, in a kadhai, heat olive oil and add onion plus garlic paste.
Now add spices to this mixture, such as salt, chilli powder and turmeric, together with garam masala.
Sauté this mixture and then add tomato puree to this.
Afterwards add the boiled eggs. Stir until the eggs are soaked well in the curry.
Allow it to simmer for a minimum of ten minutes, stirring it often.
Serve immediately.
Learn more: Top 9 Beauty & Health Advantages Of Eating Eggs
12. Almond Burfi
When looking for the best low calorie Indian food recipes, you should not skip this dish.

Ingredients:
125grams of sugar
250grams of almond meal
50ml water
3-4 sheets of varak
Procedure:
In one deep pan, add 125grams of sugar and 50ml water. Boil about 6-7 minutes until you get a lace, thick-like syrup.
Now turn off the flame and then add 250 grams of almond meal to this sugar syrup.
Stir well to stay away from lumps. Once it cools, it will become thick.
This is when you shift it to one slightly greased surface and then roll out to the wanted burfi thickness.
Leave it to cool and add 3-4 varak sheets. Let it stay for an hour and afterwards cut into diamonds or squares.
Learn more: Advantages Of Almond For Health, Skin And Hair
13. Pears Or Figs In Cinnamon And Honey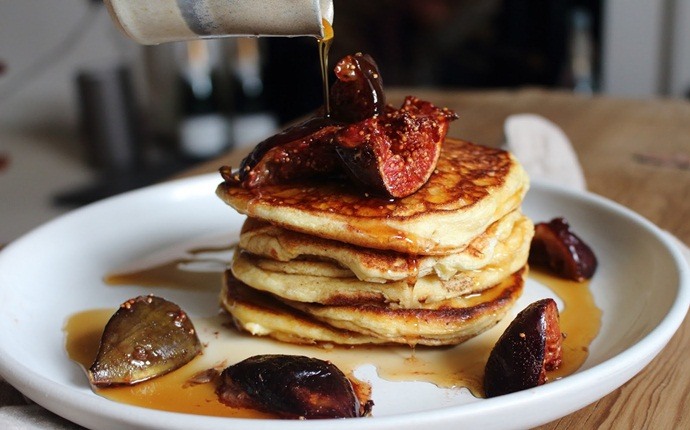 Ingredients:
500 grams of fresh figs
500 ml dessert wine
2 cinnamon sticks
3 tablespoons of honey
Vanilla essence
Procedure:
In a nonstick pan, lightly toss the figs.
Next add the honey, cinnamon sticks and vanilla essence.
Allow the mixture to cool so that it's just war. And then pour the wine and now serve with low cal vanilla ice cream if wanted. You can replace these figs with pears too.
Learn more: Natural Health Advantages Of Honey For Skin, Hair And Body
14. Low Calorie Chicken Curry
Here is the recipe that explains you on how to make this low calorie Indian food:
Ingredients:
600g boneless and skinless chicken breast, diced
1 onion, chopped
200ml of water
3 garlic cloves, minced
10g of butter
1 tablespoon of oil
2 tablespoons of garam masala
½ teaspoon of dried mint
1 teaspoon of ground coriander
Procedure:
In a large pan, heat the butter and the oil together.
Add garlic and onions, and fry until this onion is softened.
Add garam masala, mint and coriander, and stir.
Add the chicken, and then fry for five minutes, or till it gets one thin golden crust.
Pour this water over, and now cook on medium heat for around 15-20 minutes, or till the chicken is soft.
Serve the dish warm afterwards. Garnish with fresh coriander.
23 Quick And Easy Chicken Ideas For Dinner For Families!
15. Lamb Masala Kebabs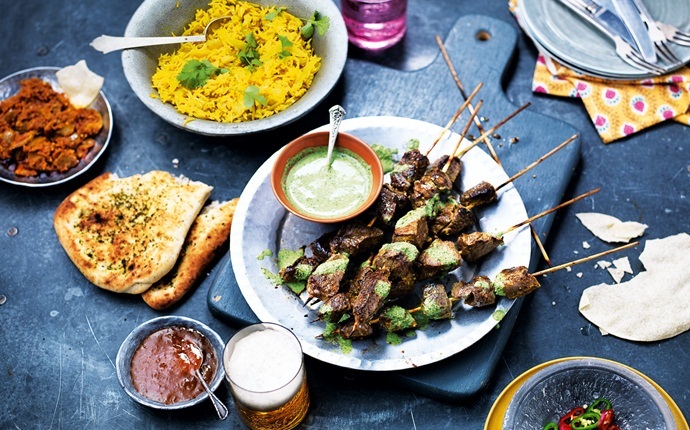 Ingredients:
1 teaspoon of ginger, ground
600g lean lamb neck fillet
1 teaspoon of ground coriander
1 teaspoon of ground cumin seeds
½ teaspoon of ground cinnamon
1 teaspoon of chili powder
1 teaspoon of ground turmeric
1 teaspoon of garam masala
½ teaspoon of salt
1 tablespoon of oil
1 teaspoon of lemon juice
Procedure:
Cut the lamb into two –inch squares.
Combine all these spices together, and next mix them with salt, oil, and lemon juice in one large bowl.
Marinate the meat for a minimum of 1 hour in your refrigerator.
Thread these lamb squares on skewers and then grill them or bake them in your oven.
Serve warm after that.
16. Spinach Pilau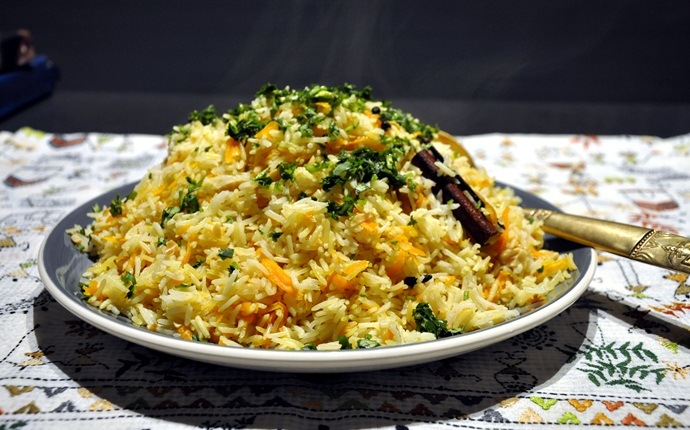 This low calorie Indian food recipe is also healthy that you can try.
Ingredients:
150g of spinach
1 medium onion, chopped
150g of basmati rice
1 garlic clove, minced
1 tablespoon of oil
½ of finely chopped green chili pepper and seeds removed
1 medium carrot, grated
1 teaspoon of ground ginger
1 teaspoon of turmeric powder
20g of almonds
Procedure:
On the stove, place water with one pinch of salt, and next bring to a boil.
Add rice and then simmer for around ten minutes. Boil the spinach in a separate pan, keep cool and chop.
Heat the oil, and later add ginger and turmeric. Fry until these spices release the aroma.
Add onion, chili pepper and garlic. Add carrot, and now fry for another three minutes.
Strain the rice, and place this in an oven dish.
Add the spinach and the vegetables, and mix well.
Cover the oven dish using a lid, and afterwards bake in the oven for about 15 minutes on 250C.
Serve warm and then decorate with almonds.
Learn more: Easy And Healthy Cooked Spinach Ideas
17. Masoor Dal Soup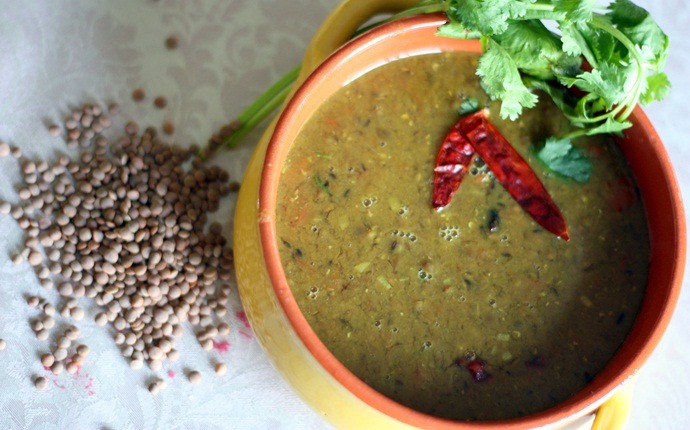 This low calorie Indian food recipe is simply delicious, and very healthy. Try it now!
Ingredients:
¾  cup of lentils
5 garlic cloves, minced
1 small onion, chopped
¼  teaspoon of turmeric
1 teaspoon of salt
10 black peppercorns
2 tablespoons of lemon juice
Procedure:
In a saucepan, place 2½ cups water and next bring to a boil.
Then add onion, peppercorns, garlic, turmeric, salt and lentils. Bring to one boil once more.
Lower the heat, and then simmer for about twenty minutes, or till lentils are cooked, and the water evaporates.
Now mash lentils using a hand blender. Then, pour in six cups of water, and now bring to a boil.
Lower the heat, and then simmer for around 10 to 15 minutes. After that, add salt and lemon juice to taste.
Serve your soup warm with some rice.
18. Cucumber And Mint Raita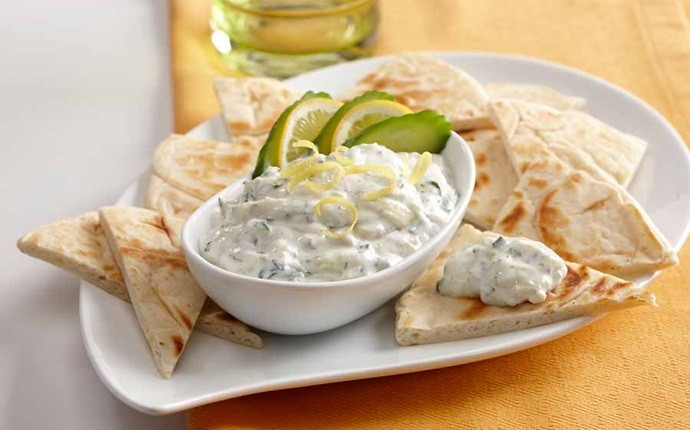 Ingredients:
1 cucumber, finely grated or diced
1 cup low fat yogurt
2 teaspoons of dried or fresh mint
Procedure:
You need to mix all these ingredients together.
Season with some pepper and salt and maybe a little lemon juice, if you want.
Enjoy it.
19. Low Calorie Cheese Cake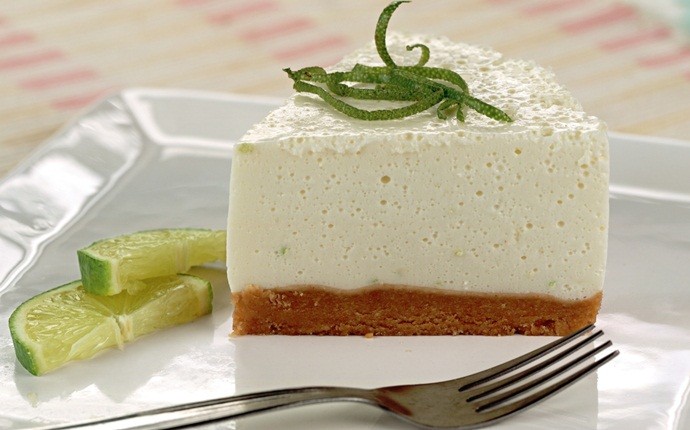 You also should not pass this dish when seeking the best low calorie Indian food recipe.
Ingredients:
¾ cup of sugar
2 envelopes of unflavored gelatin
3 eggs, separated
¼ teaspoon of salt
1 ½ cup of skimmed milk
1 teaspoon of grated lemon rind
3 cups of cottage cheese
1 teaspoon of vanilla
3 tablespoons of lemon juice
1/3 cup of graham cracker crumbs
Procedure:
In a double boiler, mix the gelatin with six tablespoons of sugar and the salt over boiling water.
Beat these egg yolks with the milk and later add it to this gelatin mixture. Keep stirring this mixture (for about six minutes) till it thickens slightly.
Stop heating and after that add the lemon rind.
Chill the mixture till it mounds a bit as it is dropped from one spoon. While you are chilling this mixture, beat this cottage cheese at one high speed for about 3 minutes.
Then add the lemon juice and the vanilla. Fold in this chilled gelatin mixture. Now beat the egg whites until they are stiff yet not dry.
Then add the rest of sugar and beat it until it is very stiff. Now fold into that gelatin mixture.
Sprinkle these Graham cracker crumbs and then turn into the pan.
After that, chill it until its firm.
20. Banana Walnut Cake
 Ingredients:
2/3 cup of mashed bananas
½ cup of softened butter
¾ cup of water
3 eggs
2 cups of unbleached flour
2 teaspoon of baking powder
1 teaspoon of cinnamon
1 teaspoon of Soda
½ cup of raisins
½ cup of chopped walnuts
Procedure:
Beat the butter and the bananas until they are creamy.
Next add the water and eggs, and beat it well. Now stir in the baking powder, unbleached flour, the soda as well as the other dry ingredients.
Beat the mixture till it is smooth. Add the nuts and the raisins.
Evenly, spread the batter on to an oiled and floured 13 inch by nine-inch pan.
Bake it at 350 °F for around 20 minutes. Insert one knife and check whether this comes out clean.
Cool and serve this in square cut pieces.
Learn more: 20 Easy And Health Smoothie Recipes With Banana For Breakfast
21. Cabbage Apple Delight Recipe
Ingredients:
2 medium sized apple, sliced
1 sliced red cabbage or normal cabbage
1 medium sized onion, chopped
1/2 cup of vinegar
4 pepper corns
2 cloves
1/2 –inch cinnamon
1 teaspoon of oil
1 tablespoon of fine wheat flour
1/2 liter of water
Lemon juice to taste
Artificial sweetener to taste
Salt to taste
Procedure:
Heat oil in one Teflon-coated pan.
Sauté the onion for a little while.
Add apples and then cook for some minutes.
Add sweet-n-low, peppercorns, cloves, cinnamon, vinegar, salt, water and lemon juice and then bring to a boil.
Add chopped cabbage, cover plus cook on one low flame.
When it is done, just prior to serving, add flour, stirring often to avoid lumps.
Serve immediately.
22. Aked Vegetable Jalfrazie
Ingredients:
1 cup of mixed boiled vegetables (Carrots, cauliflower, French beans, green peas), chopped
2 chopped onions
4 tablespoons of chopped capsicum
1 chopped tomatoes
½ – 1 teaspoon of chili powder
A pinch of garam masala
2 tablespoons of chopped coriander
4 tablespoons of grated paneer
1-1/2 cup of tomato gravy
4 teaspoons of oil
Salt to taste
Procedure:
Heat the oil and next fry these onions for ½ minute.
Then, add the tomatoes and capsicum and fry again for two minutes.
Add the vegetables, garam masala, chilli powder, salt and coriander and cook for some minutes.
Spread this tomato gravy on the top and sprinkle some grated paneer over it.
Bake in one hot oven at 200°C for ten minutes.
23. Suji Halwa Recipe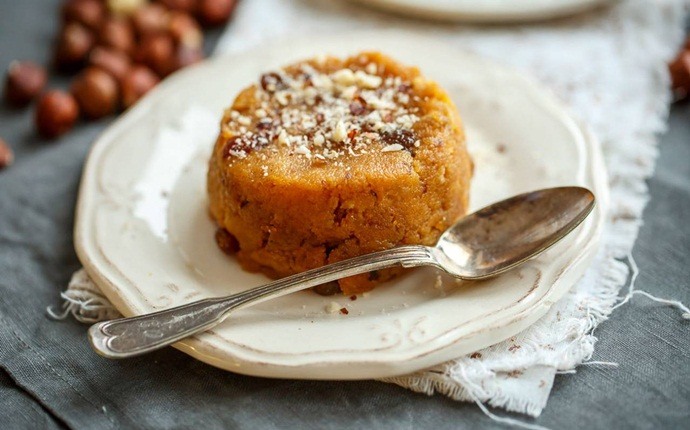 Ingredients:
1/4 cup of suji (semolina)
3/4 cup of water
4 teaspoons of sugar
1/2 teaspoon of green cardamom powder (elaichi)
1 -2 soaked plus chopped almonds
5 – 6 kishmish (raisins)
Procedure:
Take one heavy bottom kadai and next add suji to it.
Using the flame on low, you stir suji often until slightly brown in color plus one mild sweet aroma is let out.
Turn off the flame but maintain stirring the suji until it acquires one uniform light brown color. This whole process accounts up to 10 minutes.
Boil the water with raisins and sugar in a separate pan. Keep aside
Then switch on the flame and now add water-sugar syrup. Reduce the flame and allow suji to cook till this mixture gets thick and keep stirring continuously.
Afterwards, add the cardamom powder. Now mix well.
Garnish with chopped almonds and then serve hot.
24. Spinach Souffle Surprise Recipe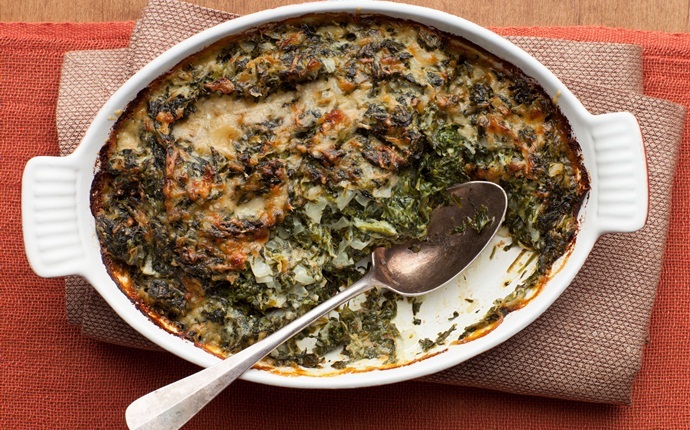 Here is the recipe to make this low calorie Indian food:
Ingredients:
500 grams of spinach
25 grams of cottage cheese (Paneer)
1 tablespoon of fine wheat flour (maida)
1 small sized onion
1 teaspoon of cinnamon Powder
1 tablespoon of oil
A pinch of nutmeg powder
Salt to taste
2 small sized eggs
150 ml skimmed milk
Procedure:
Chop spinach and next puree it.
Blend maida with some milk and create a smooth paste.
Add the remaining milk, mix well and then bring to a boil.
Separate egg whites from their yolks.
In a pan, heat oil, sauté the chopped onion for 2 minutes, add spinach puree.
Allow it to cool, add 2 well-beaten egg yolks, nutmeg and cinnamon powder.
Beat egg whites until stiff and then fold in carefully into this mixture.
Season with salt and now pour this mixture into one greased baking tray.
Sprinkle grated cottage cheese over it and after that bake on medium temperature for 30 minutes.
25. Weet And Sour Vegetables
This low calorie Indian food recipe is easy to make at home.
Ingredients:
1 sliced onion
1 teaspoon of turmeric
1 tablespoon of oil
1 teaspoon of fenugreek seeds
1 teaspoon of cumin seed
1 teaspoon of aniseed
1/2 teaspoon of onion seeds
200 grams of brinjals (biangan)
10 grams of chopped green chilly
100 grams of yellow and red capsicum, cut into strips
500 grams of chopped cabbage
1 tablespoon of vinegar
150 grams of French beans
Sugar or artificial sweetener to taste
Procedure:
In a pan, heat oil and next fry the onions until they turn transparent.
Then, add fenugreek, cummin, onion seeds and aniseed and fry for one minute.
Add chillies and turmeric.
Stir in cauliflower, sugar (or artificial sweetener) and cabbage.
Cover and then cook on one low flame for around 5 to 7 minutes.
Add pepper strips and now sprinkle vinegar on top.
Cook for another 5 minutes until the vegetables are tender.
26. Garlic Tomato Soup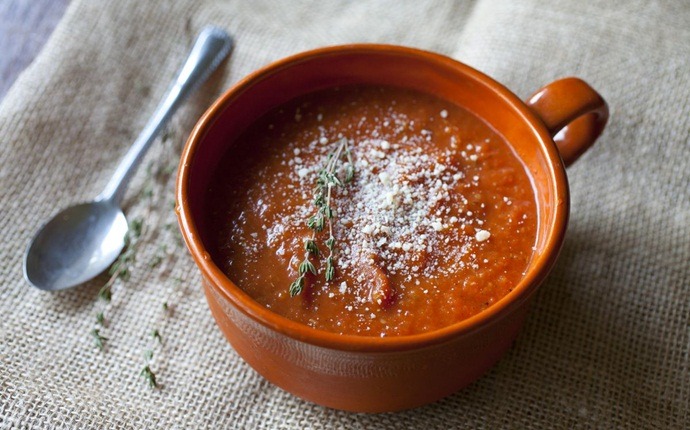 How to make this low calorie Indian food recipe? Here are detailed directions:
Ingredients:
6 medium sized tomatoes
10 grams of gelatin powder
2 cloves garlic
2 bay leaves
½ teaspoon of crushed pepper corn
½ teaspoon of mixed herbs
Salt to taste
4 tablespoons of port wine (optional)
2 teaspoons of skimmed milk yogurt
2 teaspoons of lemon juice
4 sprigs fresh mint
Procedure:
Wash and finely chop these tomatoes. Next peel garlic and crush. Then, soak the gelatin in quarter cup of cold water and keep.
In a saucepan, cook the tomatoes together with the bay leaves, crushed garlic and cook these tomatoes in one saucepan along with the bay leaves, crushed game, and crushed pepper corn for around 5-6 minutes or till soft.
Take it out the heat, cover and keep to infuse for 20 minutes.
Remove these bay leaves, puree this mixture and pass using a sieve.
Stir in the salt, mixed herbs, and wine. Now whisk this skimmed milk yogurt and then mix into this tomato mixture.
Heat the gelatin gently on a double boiler in order to dissolve and add to that tomato mixture. After that, mix in this lemon juice and now stir well.
For individual serving, pour this into the small ceramic pots. Refrigerate for threat to 4 hours to set. Don't freeze.
Serve chilled in the similar pot garnished with fresh mint sprigs.
Learn more: Health Advantages Of Garlic To The Human Body
27. Palak Dosa Recipe
Ingredients:
1 cup of boiled palak
1/2 cup of gram flour (besan)
1/2 cup of rice flour
1-inch ginger grated
3-4 green chilies
A pinch asafetida (hing)
Water for mixing
Salt as per taste
Oil for making dosa
Procedure:
First of all make the puree of this palak.
Mix together rice flour, ginger, palak puree, besan, hing, chopped green chillies and salt in a bowl.
Now gradually add water and make one fine batter for this dosa. Ensure there are no lumps.
Heat a nonstick tawa and keep the flame low.
Now pour about 4 tablespoons of batter and then spread it in a circular motion on that tawa using a ladle to create a circular chilla.
As the top side starts getting dry, you pour oil (few drops) from all sides. Test the lower side if it has become brown flip the side slightly and then cook the other side. Hold pressing the chilla often with a flat spatula.
When brown, serve the palak chillas hot with tomato or green chutney sauce.
If you want to know more about various useful recipes for losing weight, go to our main Weight Loss page. Hope that this post will help you know more a couple of easy and healthy low calorie Indian food recipes. If you have any question or comment, please leave them below, I will reply you as soon as possible. Do you know other low calorie Indian food recipes? Then share with us. Please leave a comment below!
Recommended articles:
Best Healthy Low Calorie Snack Ideas For Weight Loss
25 Best Healthy Low Calorie Diet Recipes For Weight Loss
25 Best Low-Calorie Dessert Ideas For Weight Loss
14 Easy And Simple Weight Loss Recipes At Home
Top 13 Healthy Salads Recipes For Weight Loss
34 Best Raw Food Diet Ideas For Weight Loss For Everyone!
22 Best Tips For Losing Weight
Natural Solutions For Weight Loss Fast
The Book For Eat, Drink And Shrink Recipes
Want More Content Like This In Your Inbox?
Join The Discussion