Squash is a delicious and versatile vegetable available around the world. It contains many healthy, medicinal benefits. It encompasses a number of various types of vegetables, including zucchinis, pumpkins, courgettes, and marrows as well. The individual species consist of dozens of varieties, containing hubbard squash, buttercup squash, cushaw squash, acorn squash, pumpkins, summer squash, zucchini, winter squash and autumn squash. The impressive health squash benefits are often derived from the nutrients, organic compounds, minerals, and vitamins that they contain. Squash contains many minerals such as magnesium, manganese, potassium, copper, phosphorous, iron and calcium. It also contains a big amount of vitamin A, and significant amounts of vitamins E, B6, C, niacin, thiamin, folate, and pantothenic acid. In addition, they are rich sources of carotenoids, antioxidant compounds as well as an important anti-inflammatory. To understand more health benefits of squash, please continue reading this article at VKool.com.
Top 12 Health Benefits Of Squash You Should Know
1. Help In Weight Loss
One of the best health benefits of squash is aiding in weight loss. It is a great choice for losing weight because it is low in calories and fat-free as well. Apart from being cholesterol free, 1 cup of yellow squash provides about 36 calories, less than 1 gram fat, 1 gram protein and 7 grams carbohydrates.  Therefore, instead of using higher calorie vegetables like corn and potatoes, you should use yellow squash to lose weight.
2. Heart Health
The vitamins, antioxidants and minerals of squash care for the overall health of your heart. Improving heart health is also one of the greatest health benefits of squash. Potassium present in squash is a vasodilator, which helps to relax the tension of blood arteries and vessels, thereby reducing the stress and increasing blood flow to the heart. The presence of magnesium in the vegetable significantly lessens the vulnerability to a paralytic stroke and heart attack as well. To keep your heart healthy, you can take two yellow squashes and cut them into slices. Then, eat them with your lunch and dinner. It is recommended to follow this daily.
3. Health Benefits Of Squash To Improve Immune System
As mentioned above, squash is a powerful source of many nutrients, consisting of magnesium, vitamin C, and other antioxidant compounds as well. These minerals and vitamins are vital antioxidant components in your body, which help to counteract free radicals throughout your body. Besides, squash is rich in vitamin A, consisting of carotenoid phytonutrients such as zeaxanthin and lutein. Thus, due to its minerals and vitamins, squash helps the body to enhance its immune response and fight against the foreign substances, and the free radicals as well.

4. Cure Ulcerative Colitis
One of the best benefits of squash is curing ulcerative colitis. It can treat this condition because it comes with beta-carotene, vitamin C, as well as other key elements. For treating it, you need to take a squash vegetable and roast it thoroughly. Later mash the roasted vegetable and add it to any soup of your option. Afterward, consume this soup directly.  Have this soup regularly until your ulcerative colitis is cured completely.
5. Health Benefits Of Squash To Regulate Blood Pressure
Regulating blood pressure is also one of the greatest benefits of squash because this vegetable is high in potassium. Basically, intake of potassium can aid in relaxation of blood arteries and vessels. Potassium is needed by your body for fluid balance in cells and tissues. It reduces high blood pressure very effectively. In addition, this vegetable comes with magnesium, which is essential for aborting potassium. Furthermore, the presence of zinc in it plays a role in keeping normal blood pressure in the body.
6. Eliminate Premenstrual Syndrome Symptoms
Today, many women face the problem of premenstrual syndrome. And, one of the best and natural remedies for this condition is using a summer squash vegetable. The vegetable can alleviate the symptoms because it is rich in manganese. For eliminating the symptoms, all you need to do is take squash vegetable slices (about 2 cups) and later add them to your regular salad. After that, have it with your lunch. It is suggested to repeat this every day to experience relief.
7. Transportation Of Nerve Impulses And Improvement In Muscle Contraction
As mentioned above, butternut squash contains calcium, magnesium, and potassium, all of which help in the muscles' contraction and stimulate nerve impulses. Magnesium helps to relax heart muscles while calcium aids in their contraction. Potassium helps to start the electrical impulses that regulate your heartbeat while it helps to stimulate muscle contraction in conjunction with sodium.
8. Prevent Constipation
Preventing constipation is also one of the greatest benefits of squash. Due to its dietary fiber, the humble butternut squash can prevent constipation.  The fiber promotes the good bacteria growth in your gastrointestinal system. So, have some summer squash if you are facing constipation. To prevent and treat constipation, you take butternut squash slices (1 cup) and directly have them with your breakfast. It is suggested to repeat this with your lunch and dinner as well. Follow this remedy every day and constipation will soon disappear.
9. Healthy Bones
Generally, yellow squash is a good for healthy bones because it comprises of abundant amounts of vitamin C and manganese. Vitamin C is great for the collagen production, which is important for building bone mass. Manganese helps to maintain healthy bone structure, enzyme creation, bone building and calcium absorption. In addition, it contributes to the health of bones and joints. Besides, squash contains iron, folate, phosphorus and zinc, which protect the body from osteoporosis.
10. Health Benefits Of Squash For Eye Health
Basically, summer squash is a rich source of lutein and beta-carotene. Dietary lutein plays a vital role in triggering the onset of macular degeneration and cataracts, which often results in blindness. One cup of summer squash provides about 2400 micrograms of lutein and 135 milligrams of beta carotene. Besides, the presence of carotenoids winter squash helps to decrease the chance of macular degeneration.
11. Prevent Asthma Prevention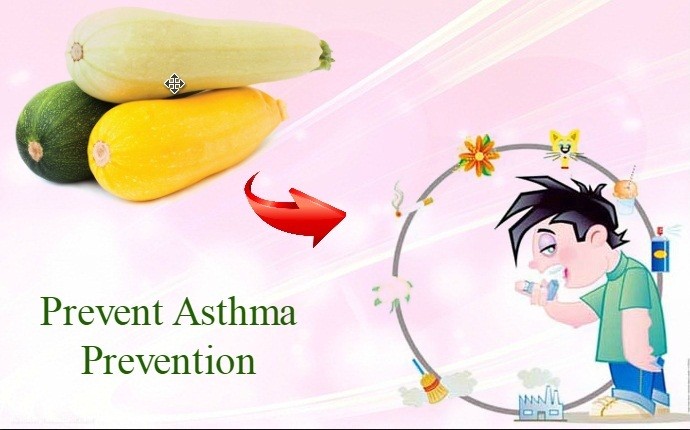 One of the outmost benefits of squash is asthma prevention. The anti-inflammatory and antioxidant qualities of squash have been associated with an asthma reduction, primarily because the irritation causing asthma can be removed by eating a diet rich in squash. So, now you know the vegetable can prevent asthma onset in you as well as your loved ones.
12. Health Benefits Of Squash For Blood Circulation
A lot of different varieties of squash contain high levels of copper and iron, which are both necessary elements of red blood cells. As a result, you can decrease the chances of developing anemia and you can generally enhance circulation within the bloodstream, which can improve oxygenation, brain function, as well as overall energy levels by eating a diet rich in squash.
Apart from benefits of squash, we also want to introduce our readers some easy recipes with squash that are good for your health and beauty:
Recipe 1:
Ingredients:
2 cups of cooked acorn squash
1 cup of chopped onion
1 cup of chopped hazelnuts
½ bowl of veggie stock
1 tsp of pepper
1 tsp of salt
1 tsp of white miso
Process:
Take cooked acorn squash (2 cups) and mash it well.
Then, take a cup each of chopped onion, chopped hazelnuts, together with ½ bowl veggie stocks.
Thereafter, put the hazelnuts, mashed acorn squash, veggie stock and onion in a saucepan. Boil all these ingredients together and simmer them for about 30 minutes.
Keep stirring it on & off during these half an hour. Afterward, in the saucepan, add 1 teaspoon each of pepper & salt and 1 teaspoon of white miso.
Presently, blend this mixture in a food processor. Now, this hazelnut squash soup is ready to be served.
Recipe 2:
Ingredients:
2 yellow squashes
2 tsp of olive oil
2 zucchinis
1 minced garlic clove
½ tsp of black pepper
½ tsp of salt
1 tbsp of chopped onions
1 tsp of chopped basil
Process:
Take a nonstick skillet at first, pour 1 tablespoon of olive oil in it and later heat the oil.
Then, cut two yellow squashes into slices diagonally and slice 2 zucchinis them into diagonal pieces.
After that, add the slices of zucchinis and squashes in the skillet. Then, take a minced garlic clove, 1 teaspoon of chopped basil and 1 tablespoon of chopped onions.
Add them in that skillet and cook for around ten minutes while simultaneously stirring.
Now add ½ teaspoon each of black pepper& salt and again stir well.
Now, your yummy squash recipe is ready to be consumed.
Recipe 3(Squash Face Pack)
Ingredients:
2 cups of squash vegetable slices
Process:
Take squash vegetable slices (2 cups) at first and later mash them into 1 smooth paste.
Then, directly spread this paste on your face and leave it undisturbed for around 45 minutes.
At last, rinse your face using cold water. This process should be repeated every day and obtain a very healthy skin.
Recommended articles:
30 Advantages Of Pumpkin Seeds For Skin, Hair And Health
Top 12 Health Advantages Of Peaches
In conclusion, from the benefits of squash for health mentioned above, it's clear that squash is absolutely a tasty and healthy choice to be a great part of your diet. If you want to see more our informative articles, please visit our main Health page. For any question or comment, leave in the box below please.
Want More Content Like This In Your Inbox?
Join The Discussion