A sebaceous cyst grows under the skin and they can go away naturally. In some cases, sebaceous cysts have smell pungent and it includes the yellow liquid. This condition can appear in any part of the body except feet and the palm. Sebaceous cysts occur in the face, breast, back, head, etc. Some reasons of the problem are skin trauma, sun exposure, acne, shaving, waxing, swollen hair, excessive testosterone, blockage of oil, and so on. Whenever getting this disease, your skin will be sore, red, and you will get some smell or pain beneath the skin. In this article, VKool.com will show you top 25 home remedies for sebaceous cysts removal.
Top 25 Home Remedies For Sebaceous Cyst Removal You Should Know
1. Warm Compress
Warm compress is one of the best home remedies for sebaceous cyst and a lot of other health problems. a warm compress can reduce pain, reduce swelling from the cyst effectively.  This is a great and easy way to treat the problem at home and here is the instruction how to do the remedy:
You prepare a washcloth and dip it in a bowl of hot water.
Put the cloth over the cyst and leave it for 10 minutes.
Repeat this treatment 3-4 times each day to increase blood circulation better.
You also can use a heating pad instead of using a warm compress.
You should avoid using too much heat because it can cause burn and cause infection.
Read more: Bump Treatments

2. Apple Cider Vinegar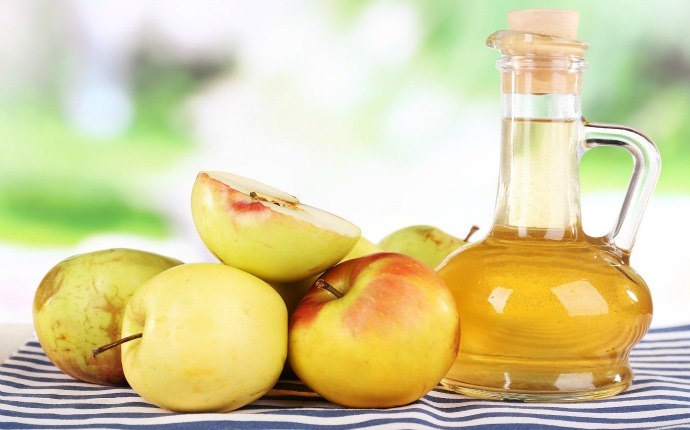 Apple cider vinegar is great in acetic acid that can kill the bacteria and avoid infection. The ingredient has amazing benefits for health and beauty such as making your hair shiny, regulating pH level, removing stains, soothing sunburn, aiding the weight loss, eliminating Candida, reducing heartburn, repelling fleas, freshening your room, etc. This is a natural ingredient you can take advantage of to get rid of the cyst.
You prepare some apple cider vinegar and apply it directly on the infected area.
Now you cover a bandage over the cyst and change it every day.
Then you clean the cyst with a dry washcloth.
You should do this method every week until the cyst is gone.
3. Epsom Salt
Epsom salt has been used for many years and it can cure some skin problems, soothe back pain, limb ache, relieve muscle strain, heal cuts, treat cold, congestion, relieve stress, ease constipation, and eliminate toxins from the body. You can use this ingredient to improve your health as well as use for the beauty like treating foot odor, removing hairspray, cleansing the skin, exfoliating the skin, etc. How to treat sebaceous cyst with Epsom salt?
You fill a bathtub with some warm water and add ½ cup of Epsom salt.
Bath the water every day to relieve the problem.
4. Castor Oil
In traditionally, castor oil has been used for many years with a lot of benefits such as treating hair loss, arthritis pain, constipation, migraines, acne, sunburn, inflammation, ringworm, and yeast infections. Here is the direction to get rid of sebaceous cyst with castor oil at home:
You put some castor oil in a bowl and dip a cotton swab in the oil.
Apply the oil over the infected area and place a hot bad over the swab.
You should do this method every day until the problem is reduced.
5. Honey
Honey is one of the best foods for health and beauty. You can use honey to beautify your skin, hair & treat some health problems including sebaceous cyst. How to use honey to treat sebaceous cyst? The method is:
–    Method 1:
You put some honey with some banana or wheatgrass in the blender.
Blend the mixture and then apply it on your affected region.
Then you cover a washcloth on the cyst and leave it over the night.
Remove the cloth in the morning and wash the water.
–    Method 2:
You can mix some cinnamon powder with some honey and apply on the cyst before washing off with water.
–    Method 3:
Alternatively, you can combine a tablespoon of honey with an egg white.
Then you spread it over the cyst.
6. Turmeric
Turmeric is a powerful ingredient for health and for beauty. It can help you treat pain, chronic inflammation, rheumatoid arthritis, depression, diabetes, cancer, improve brain health, memory, and slow down aging very well. Turmeric is one of the most effective home remedies for sebaceous cyst removal and you might follow this instruction:
–    Method 1:
You boil a glass of water and add a tablespoon of turmeric in it.
Cool it and drink the fluid each night.
–    Method 2:
Mix some turmeric powder with mint juice as a good paste.
Apply it on the cyst and leave it for 15 minutes before rinsing off with water.
Alternatively, you can combine honey, water, and turmeric and apply on the sebaceous cyst about 15-20 minutes before washing off with water.
–    Method 3:
Another treatment is to mix turmeric, lemon juice, and honey as a great paste.
Apply it over the cyst and wash off with water after 15 minutes.
7. Potassium Iodide
Potassium iodide is a kind of salt that can protect the thyroid from the radioactive iodine. Potassium iodide can treat some problems including a sebaceous cyst on hands, legs, etc, but you might get rashes, inflammation, allergy, or stomach upset if you use it improperly. The remedy is to apply some potassium iodide on the cyst directly every week. For sure, you might check if it can cause allergy for the skin. If the skin is red or swollen, you should not use this treatment. As the consequence, you can check if the remedy is suitable for the skin before applying onto the skin.
8. Cabbage
Cabbage is a healthy food in the world as it can prevent cancer, fight inflammation, improve your eyesight, lose weight, improve your brain, regulate blood pressure, improve your bone, slow down premature aging, treat muscle aches, and detoxify the body. Moreover, cabbage is very high in iodine that can stimulate the functions of the brain and nervous system as well as treat varicose veins, duodenal ulcers, and strengthen your eyes, skin, etc. That is very simple, you just boil the cabbage leaves in the water and apply it onto the cyst. Then you cover the area with a dry cloth. You totally can eat cabbage every day to get its advantages.
9. Milk
Milk is a nutritious source of babies, infants, and everyone. It has colostrums that can reduce the risks of a lot of diseases including sebaceous cyst. How to use milk for treating this problem? Here are steps:
Put some milk in a bowl and soak a tea bag in it.
Then you wrap the cloth and keep it over the night.
Next, you remove the cloth in the morning.
Do it every day until the problem is reduced.
Alternatively, you can drink milk every day for strengthening your immune system and speeding the healing process.
10. Bee Pollen
Bee pollen is a nutritious food that can cure some health problems as it includes lipids, protein, carbohydrates, minerals, and vital vitamins. Bee pollen is not natural honey, but it can be used in some food stores. This ingredient can soften the skin, treat eczema or diaper rash. Also, it can be used to treat stomach problem, allergies, asthma, and here is the way to use bee pollen for sebaceous cyst:
You just intake some tablespoons of bee pollen every day.
Follow it until the problem is gone.
11. Baking Soda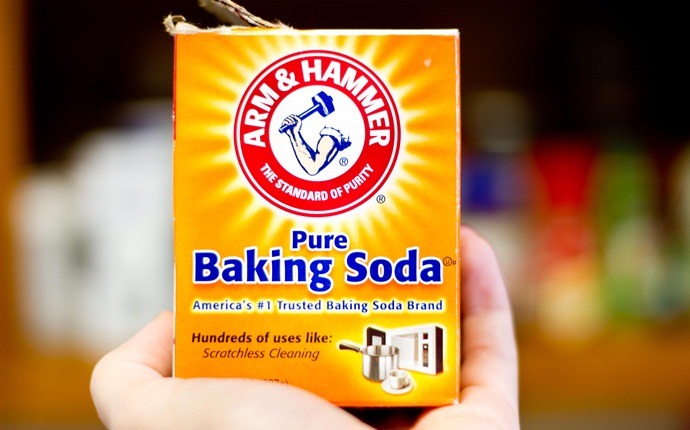 Baking soda is a fantastic ingredient that can help you clean the teeth, exfoliate the skin, treat itchy skin, soften your hand, improve your hair, soothe the feet, freshen sponges, clean the furniture, clean the floors, oven, and etc. Obviously, this is a perfect ingredient with a lot of advantages in life. Now you can follow this instruction to cure sebaceous cyst:
You mix some salt, water, and baking soda as a good paste.
You spread the mixture on the cyst.
You should do it every day to treat the cyst better.
12. Potato
Potato is a popular food and it is a great source of fiber, phosphorus, manganese, vitamin C, potassium, copper, and pantothenic acid. This food is beneficial in lowering blood pressure, building your cells, protecting cardiovascular, losing weight, and improving nervous system. Potato is one of the safest home remedies for sebaceous cyst at home and here is the way to apply potato for healing the issue:
–    Method 1:
Cut a potato into different slices and place on the cyst.
Then you cover the cyst with a washcloth.
Leave it over the night and remove the cloth in the morning.
–    Method 2:
You can extract potato juice and use a cotton swab to dip into the juice.
Apply it over the cyst and leave it over the night.
You should do this method every night to reduce the cyst size fast.
Another way to take the effectiveness of potato is to use it for making healthy recipes.
13. Sandalwood
Sandalwood is a kind of woods of genus santalum. The woods are yellow, fine-grained, and heavy and contain some fragrance. Sandalwood is conventionally used in fighting inflammation, relaxing, calming, boosting memory, reducing aging process, treating dry skin, etc. Here is the method to cure sebaceous cyst with sandalwood:
You mix some rose water with some sandalwood as a great paste.
Apply the mixture over the cyst until it is dry.
Then remove and wash with water.
Do this method 2-3 times each day to reduce inflammation.
14. Tea Tree Oil
Tea tree oil is extracted from tea leaves and you can use the oil to treat acne, scabies, lice, fungal infections, ringworm, boils, stings, insect bites, burns, sore throat, ear infections, and so on. Tea tree oil can fight inflammation, kill bacteria and you can do the method as below:
–    Method 1: you mix some tea tree oil with water and apply it on the cyst.
–    Method 2: you just need to apply some drops of tea tree oil over the cyst directly and cover the cyst with a bandage.
15. Milk Thistle
Milk thistle is a kind of herb that is connected to the daisy family. This herb is used for treating liver problems such as hepatitis, jaundice, cirrhosis, and gallbladder conditions. In addition, milk thistle can help you regulate blood sugar level, cholesterol level, and improve diabetes. It is also effective for cleansing the body, reduce soreness, inflammation, and removing the toxins from the body due to bioflavonoid presented in the ingredient. To treat a sebaceous cyst, you can consume milk thistle tea or the capsule that includes milk thistle. However, you should ask the doctor before consuming any drug.
16. Aloe Vera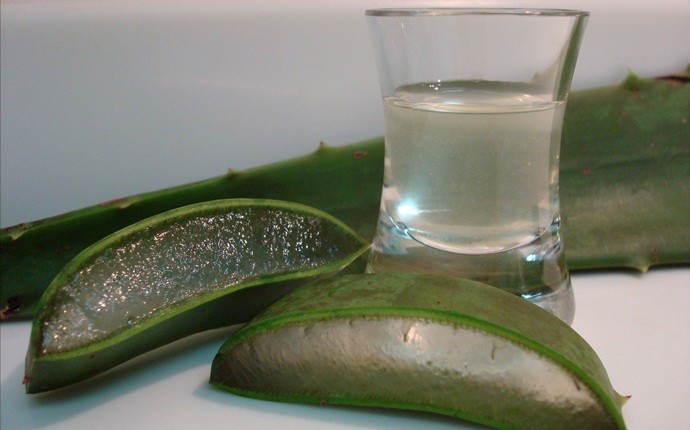 Aloe vera is an amazing ingredient for your hair, skin, and health. You can use aloe vera to treat psoriasis, acne, pimples, and rosacea, prevent stretch marks, cure eczema, reduce wrinkles, brighten your skin, clear dark spots, reduce pigmentation, treat dandruff, remove makeup, soothe your hair, etc. Here is the instruction how to get rid of sebaceous cyst with aloe vera:
–    Method 1:
You squeeze some aloe vera leaves and get its juice.
Apply the juice on the cyst.
You should do this method several times each day.
–    Method 2: You extract aloe vera juice and drink it every day to eliminate the cyst faster.
17. Switch Hazel
Switch hazel is a plant and human use the twigs, bark, and leaf in medicine industry. You can use switch hazel to treat diarrhea, cough, vomiting, tumors, fevers, colds, tuberculosis, hemorrhoids, insect bites, varicose veins, burns, and irritated skin.
–    Method 1:
You grind some switch hazel bark or leaves in some water.
You apply the mixture over the cyst as it is great in tannins.
You should follow it regularly to get rid of extra oil and tighten the pores.
18. Dandelion And Viola
Dandelion and viola are used in treating pain, swelling, redness, skin inflammation, ulcers, carbuncles, and urinary tract infections. For healing sebaceous cyst, you can follow these steps:
You put a tablespoon f dandelion and viola in the water, and then steep it in it for 45 minutes.
Now you strain the mixture and drink 3-4 times each day.
You should do it for one week to remove toxins from your body, fight infection from the sebaceous cyst.
19. Guava Leaves
Guava is a common fruit in the Asian region and it is also available in the Western countries. This fruit is good in vitamin A, vitamin C, phosphorus, manganese, iron, copper, calcium, folate, fiber, vitamin E, vitamin K, vitamin B2 to benefit your health. Moreover, you can use guava leaves to improve your heart, treat diarrhea, cure diabetes, improve the immune system, reduce the risks of cancer, increase eyesight, strengthen your skin, and regulate the thyroid health. So you should add guava leaves as one of the best home remedies for sebaceous cyst. The solution is:
You boil a cup of water and add some guava leaves in it.
Now you boil for 15 minutes before straining.
Then you use the water to treat sebaceous cyst.
You should do it every day to reduce itching, inflammation from the cyst.
20. Echinacea
Echinacea is a kind of herb that you can use the root, flower, and its leaves. Echinacea is commonly used in treating cold, flu, urinary tract infections, herpes, yeast infections, typhoid, gum disease, dizziness, migraines, indigestion, bee stings, eczema, burns, ulcers, wounds on the skin, etc.
You steep some Echinacea leaves in a cup of water.
You strain the mixture and cook it down.
Next, you sip the tea twice per day to improve the immune system.
Do you want to get more useful home remedies for sebaceous cyst? Keep reading the article and find out more tips.
21. Water
Drinking water is very important to strengthen every part of the body. Water can regulate blood pressure, treat dry skin, improve your kidney health, fuel your muscle, reduce fatigue, prevent pain, boost up your brain, and it is very good for weight loss. It is necessary to drink at least 8 cups of water and add some fruits every day. Drinking enough water also can eliminate the toxins from the body  and you can eat water-rich foods such as cucumber, iceberg lettuce, celery, radishes, green peppers, cauliflower, watermelon, spinach, star fruit, strawberries, broccoli, grapefruit, baby carrots, cantaloupe, etc. You also can supply water through the diet by eating soups, fluids.
22. Keep Cleaning
Along with the treatments mentioned above, you should keep the sebaceous cyst clean every moment. Make sure that you wash the hands before touching the cyst and wash the cyst after applying the remedies. Also, you use a fresh and clean cloth to apply the cyst. If possible, you should replace the bandage or cyst dressing more frequently. Whenever going out, you should wear the long dress to cover the cyst and avoid dust as well as avoid using drugs or medication without doctor's advice. You should avoid touching chemicals or some toxins that are harmful to your skin as well as the cyst. Along with that, keeping the environment clean and replace the clothes is one of the best ways to treat the cyst naturally without taking drugs.
23. Healthy Foods
With other helpful remedies for treating a sebaceous cyst, you can take advantage of the healthy foods such as dark leafy vegetables, fruits, antioxidants, whole grains, and citrus fruits. It is crucial because healthy foods can improve the immune system and detoxify the body very well. Also, fruits and vegetables contain fluid and they can supply water for the body as well as treating the sebaceous cyst. Furthermore, you should not eat caffeinated foods, spicy and salty foods. Some great foods for sebaceous cyst removal are flaxseed oil, fish, avocados, seeds, nuts, fish oil, primrose oil, and water-rich foods.
24. Lime Powder
Why is lime powder beneficial for health? Because it can treat urinary disorders gums, gout, respiratory disorders, piles, scurvy, improve vision, relieve constipation, improve digestion, take care of the skin, treat diabetes, improve heart, and aid weight loss.
You mix some water with some lime powder to have a great paste.
Then you apply the mixture on the cyst directly.
Leave it and wash the cyst whenever it is dry.
This treatment can cause some irritation, but it is very useful for treating inflammation.
25. Avoid Excessive Sun Exposure
Sunlight can supply significant vitamin D for your body. However, you should not have excessive sun exposure because it causes the skin irritated and painful. If the cyst is too dry, you might get pain and the problem might get worst. So wear the long clothes or cover the cyst when getting the sebaceous cyst. Excessive sun exposure not only causes sebaceous cyst worst, but it also causes some skin problems such as moles, freckles, headache, nausea, fainting, confusion, etc. As the result, you should avoid getting sunlight too much in a day.
You might visit our main page to get more useful information to treat health problems from Home Remedies. After reading the article about top 25 home remedies for sebaceous cyst, I hope that you have learned some helpful methods to treat the problem for the removal. If you have any question, please leave your comments below.
Related articles about sebaceous cyst:
Healing Sebaceous Cysts Naturally
How to Get Rid Of Swollen Gums Naturally
How to Use Aloe Vera For Sunburn
How To Use Tea Tree Oil For Ear Infection
Useful Ways For Treating Cellulitis At Home
The Swollen Lymph Nodes Treatments
Want More Content Like This In Your Inbox?
Join The Discussion