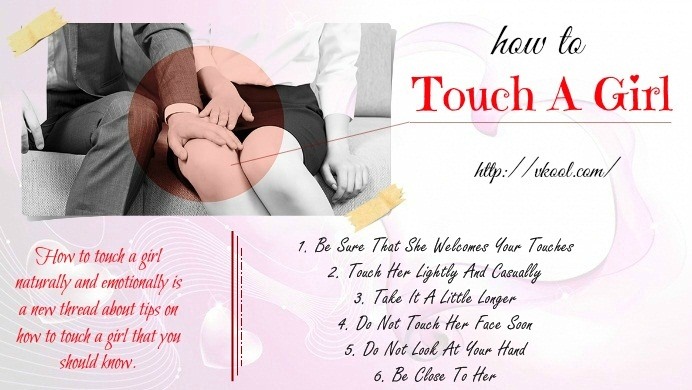 Women often feel uncomfortable when being touched. It likes a type of barrier between you and the one you like. How to touch a girl seems to be an easy question but actually, it is hard to solve. If you break the barrier with a wrong message and in a wrong way, your girl will think you are impolite and your relationship will be problematic.
In fact, touching a girl is not something abnormal, which illustrates that your relationship is moving on another stage. Nevertheless, initially, there might be shyness and awkwardness.  Therefore, you should consider many things carefully whenever you want to touch your girl. Don't worry too much. This time, VKool.com would like to share with you some tips that you need to know about this topic, how to touch a girl naturally and emotionally. Let's see what we should do to solve this question. Come on, guys! It is time for you to understand your girl's thoughts and feelings.
How To Touch A Girl Naturally And Emotionally – 8 Tips
1. Be Sure That She Welcomes Your Touches
It is undeniable that the feeling of women decides whether you can touch her or not. That is why the first thing you should confirm before planning to touch her is her thoughts and feelings. Of course, she will drop some messages for you to understand. For example, if she allows you to do, she will feel free to stand by you, closer and closer. If not, she will try to create a barrier or space with you. Besides, her gestures will tell you something as well. If she smiles, laughs a lot and makes eye contact with you, it means that you should keep your right track. If not, you are off the track, and of course, you should think about your plan to touch her. Sometimes, if you do things according to your emotions, the result might be so bad.
Try to think about the following advice if you do not know how to touch a girl. It is very important to look at her eye contact to make a guess about what is her feeling because the eyes always tell the truth. Hence, you should bear in your mind that if she takes a glance at you, holds your gaze, or even pull away immediately, it also means she actually likes you. Furthermore, you also need to assess her personality because it helps you know whether you have a chance to give her a touch or not. For instance, a girl who is friendly and outgoing will be easy to accept your touches, in comparison with a girl who is reserved and shy. In general, personality also plays an important role in breaking the barrier between you and your girl.
Learn more: Best Tongue Kissing Tips For Guys
2. Touch Her Lightly And Casually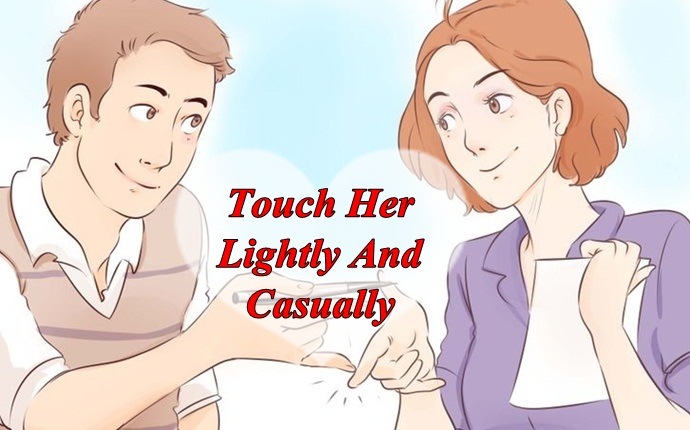 Touching her lightly and casually is another tip on how to touch a girl that you also need to know. When you have a plan to violate the touch barrier, you are advised to start with a casual and friendly touch first. It is because you need to know how she will react to your first touch. If you go too far right from the start, she will be angry and misunderstand your personality. You can lightly put your hand on her back, let your hand closer to her, take a high-five with her, or casually rub her head. These gestures may not make her feel inconvenient, which helps you know whether she likes you or not. You need to be a gentleman in her eyes, thereby trying to make it as naturally as possible.
Read more: Best Beautiful Flowers For girls

3. Take It A Little Longer
The third step you need to follow is to take your action a little bit longer that is necessary for your plan. As said before, you should not be so hasty that everything will be broken up. Take it slow! If your lady feels okay with your initial touches, as mentioned above, next time, you can touch her for quite a longer time. It will promote your relationship and help you come closer to her. Be active to touch her!
For instance, when you lead your girl through a door, you should put your hand on her back and try to hold it for a few seconds even though both of you have entered the room already. Another suggestion for those who do not know how to touch a girl naturally is to hold her hand for an extra second when you give her something. In another case, if two of you have a meal together, your legs suddenly brush under the table, you should not move yours away, try to maintain it for a while.
Lasting the time you touch her is a tip on warming the girl up before you intend to have intimate touches.
Read more: 24 Best Cheap Gifts For Women With Coolest Ideas
4. Do Not Touch Her Face Soon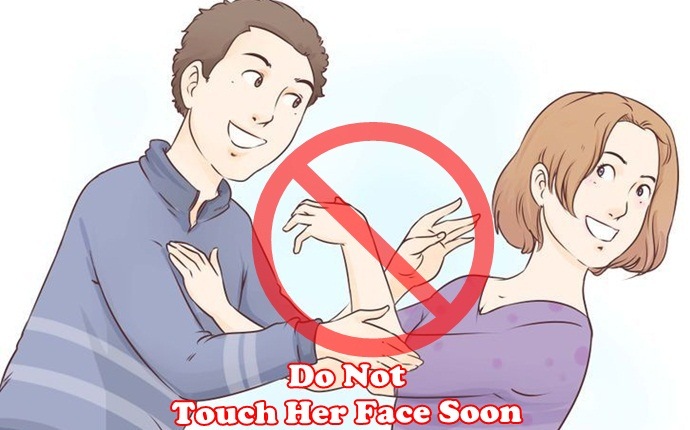 People, especially women, are often sensitive whenever someone touches their face if that one is not familiar with them. In fact, it is necessary to bear in your mind this tip on how to touch a girl. Being touched that way brings women uncomfortable feeling, even they find it impolite. As a result, you should consider your Body Languages. Do not make her feel upset and disappointed. After both of you feel comfortable and have a good time together, you should think about that touch. At that time, she will welcome it and find it very sweet when you touch her face. Time is an important factor, which decides your relationship.
Learn more: Female Orgasm Secrets Review
5. Do Not Look At Your Hand
One of the most useful tips that you should remember is that when you touch your girl, you are not advised to look at your hand because it will make your touches sound unnatural. As mentioned, the natural is what we want to achieve when attempting to violate the touch barrier. An inexperienced man does not know how to touch a girl in a natural way often looks at his hand while giving his lady a touch. This is definitely not encouraged at all. Instead of looking at your hands, you are supposed to use eye contact with her to know her feeling and to make your touches more emotional. Remember this tip and try to make your touches more naturally.
Do not look at your hand because it makes your touches unnatural.
Learn more: How To Seduce A Teenage Girl
6. Be Close To Her
Apart from using eye contact, you also need to be closer to her if you are giving her a touch. It is unnecessary to explain the reason for that. You should be closer to her when touching her. Let's imagine what will it be if you are making an effort to reach her while you stand far away from her. Your touches will have no meaning at all. It cannot bring her emotions and feelings about you and your relationship. Come closer to her and take it naturally. That is what you should do to promote your relationship.
Read more: Easy Tips On How To Be A Better Kisser
7. Give Her A Touch On The High Point
Among the topic how to touch a girl, we would like to share with you another tip, which is also helpful. If she is happy and laughing a lot, you are advised to give her a smile and a touch immediately. As you know, if you try to poke her when she feels inconvenient or upset, she might react negatively. Hence, choosing the moment to touch is also important. Besides, a man should aware that a high point touch might be to cup her elbow in his hands when his lady laughs. Pressing lightly on the high point sounds very easy and good, which should be encouraged to do.
Read more: Fun Things To Do With Boyfriend At Home
8. Do Not Go Too Far
A thing that men can aware of but we still need to remind you of is not going overboard. As you know, girls are often extremely sensitive with touching, especially sexual touch. You should control your emotions and actions and do not let you go too far. That you can break the barrier does not mean you have right to have more intimate and sexual touches. You are advised to stop at pressing lightly on her hands, back, elbow before she drops you some messages allowing you to do further. Otherwise, she may assume your touch as a form of sexual harassment
Learn more: Free Online Dating Sites For Teenagers
Recommended article: How To Seduce A Mature Woman
We have shared with you 8 tips on how to touch a girl naturally and emotionally. We hope that this article will be one of your favorite threads, which can help men have a good relationship with the one they like. We also expect that you and your girl will have great moments together. If you have something stuck in your mind, you can share with us as well. As said before, VKool.com always welcomes your recommendations and reviews about our topic. Thanks to that, we can improve our topics as well as help you solve your problems how to touch a girl. For those who want to know more tips and advice for your Relationships & Dating problems, you are encouraged to visit our main page.
Want More Content Like This In Your Inbox?
Join The Discussion