There is a special household pest making all pet owners suffer from nightmares, which is fleas. Fleas are known as a nuisance because they can make you pet have itchy sensations and even cause an infection. A clear symptom of this condition, occurring in a severely infested dog or cat, is anemia. If the condition of infestation is heavy, fleas can not only be harmful to your pets but also invade your house and then inhabit in there. Therefore, it is very necessary to find out some home remedies to get rid of fleas.
In fact, there are various kinds of prescription and nonprescription flea treatment product to help you deal with them. Applying these available products can aid you in combating infestations. However, these products are commonly gone with side effects, which may range from mild to severe effects. Besides, the cost of such treatments is not cheap. Hence, you can look for many natural homemade treatments for fleas, which can safely be applied to pets as well as around your home. And this writing in VKool page will show you 15 natural home remedies to get rid of fleas on dogs, cats, and in the house. Keep reading to discover them!
Top 15 Natural Home Remedies To Get Rid Of Fleas On Dogs, Cats, & In The House
I. Natural Home Remedies To Get Rid Of Fleas On Dogs & Cats
1. Flea Collar
The first of home remedies to get rid of fleas on dogs and cats is to use a flea collar. It will not only help you to keep the flea in check constantly but also kill them well.
Ingredients:
Lavender oil or cedar oil – 3 to 5 drops
Water – 1 to 3 tablespoons
An empty eye dropper
Your dog's collar
How to use:
You mix 2 or 3 drops of lavender or cedar oil with the water.
Next, you put the mixture in the empty eye dropper. You drop 5 to 10 drops of this mixture directly to the collar of your pet and rub two sides of the collar together.
Now, you tie it in the neck of your pet and repeat this oil solution to the collar every week.
2. Home Remedies To Get Rid Of Fleas – Liquid Dish Soap
Liquid dish soap is another of home remedies to get rid of fleas on pets and around the house because it has the ability to destroy the exoskeleton of fleas. This soap is particularly useful for young kittens and puppies.
How to use:
You prepare a tub filled with the solution of lukewarm water mixed with mild dish soap. Then you allow your pet to soak in this bath water for 7 to 10 minutes. After that, you rinse your pet with clean water and the fleas will be removed. Keep doing this several times weekly within 1 or 2 weeks.
Also, you put some cups of boiling water in a large bowl and then add the mild dish soap (1 or 2 tablespoons) in this. You stir well and dip a flea comb directly in this solution. You use this dipped comb to comb the pet's fur. Remember to do this again when you need to comb your pet.
In addition, if your house has an infestation, you just put the hot water to fill some shallow bowls and then add some drops of this liquid dish soap directly in these bowls. You stir well until the water gets sudsy. Now, you put all the bowls in various rooms of the house and put a table lamp over these bowls. The warmth of the lamp will attract fleas and they will jump in the water. Fleas cannot get out because the soap will break the tension of water surface. Apply this regularly to keep fleas at bay.
Read more: Easy Natural Homemade Hand Soap – 14 Best Homemade Hand Soaps
3. Lemon
Another of top 15 home remedies to get rid of fleas is a lemon. Lemon, in fact, is able to remove any types of existing flea as well as remove the eggs which have been laid. Here is a natural homemade treatment for fleas with lemon you should try:
How to use:
Firstly slice 1 or 2 fresh lemons in many thin slices.
Then, put all lemon slices into water contained in a pan and boil the water well.
After the water boils, remove the pan from the heat and allow this solution to steep overnight.
Strain the lemon water and put it in an empty spray bottle in the next morning.
Now, simply spray this solution directly on your pet to make its fur dampen. Remember to carefully avoid allowing the mixture to contact to its eyes, nose, and ears.
Use a flea comb to thoroughly comb the pet's fur.
You may even spray this mixture onto areas where fleas hang out.
To discover more home remedies to get rid of fleas on dogs and cats, keep following our next post!
See more: 27 Useful Ways On How To Use Lemon For Dandruff Treatment

4. Rosemary
Are you looking for some natural home remedies to get rid of fleas with rosemary? If your answer is "yes", let read this tip. Because fleas hate rosemary, you can use it to make some homemade treatments to get rid of them:
You simply boil a large pan containing the fresh rosemary sprigs (2 cups) and full of water. After the water boils, you simmer it for 27 to 30 minutes and strain the liquid. Now, you mix this rosemary solution with 1 liter of lukewarm water and let it become cooler. You use this rosemary water to saturate your pet and let its fur dry naturally. You can repeat this again if you need.
Or you grind the rosemary seeds into a powder and then sprinkle this rosemary powder directly all over the skin of your pet.
To more simply, you can add some drops of rosemary essential oil in the pet's bath water and bath it with this water.
If you want to keep fleas at bay in future, you can grow the rosemary plant in the garden.
Note: Avoid applying rosemary treatment for cats.
Learn more: 10 Health Benefits Of Rosemary
5. Home Remedies To Get Rid Of Fleas Using Aloe Vera
This is one of top 15 home remedies to get rid of fleas, which you can easily apply. Aloe Vera is considered as a very helpful treatment for irritated skin problems and has been widely used for years. This plant is non-toxic, hence, it will not bring any side effects when you applying it.
How to use:
You extract the Aloe Vera gel and boil this gel with water.
Then you use the aloe Vera water to bath your pet. This, in turn, gives your pet a relief from the condition of skin irritation caused when it is bitten and scratched by fleas.
6. Coconut Oil
Coconut oil is a helpful way, which will aid you in getting rid of fleas on dogs and cats. Coconut oil is loaded with antifungal and antiviral properties along with the antibacterial property. In the unprocessed state, this oil possesses lauric acid which is known as a flea repellent in nature.
Therefore, you just rub a bit of unprocessed and pure coconut oil on your pet's fur. Apart from removing fleas, coconut oil is beneficial in enhancing the shine of your pet's fur and reducing its body odor. In addition, when you allow the pet to take it internally, coconut oil will help to kill or remove parasites in the intestine of your pet.
7. Natural Home Remedies To Get Rid Of Fleas with Indian Lilac
Also called as neem, Indian lilac is another of natural home remedies to get rid of fleas. This herb can aid in controlling the condition of flea infestation in both your pet and your house. However, remember to avoid using Indian lilac for cats because they are very sensitive to this herb. The odor of Indian lilac will help you to remove unwanted pests. You can use both the oil and leaf of Indian lilac to deal with this condition.
Way 1: Indian lilac leaves
You take a handful of Indian lilac leaves and then soak it in four cups of boiling water.
You let it stay overnight and grind the soaked Indian lilac leaves with the water.
Next, you use a cheese cloth to strain the Indian lilac water.
Now, you pour this solution into an empty spray bottle and directly spray this on your pet.
Besides, you may also spray this solution on floor and bedding.
Way 2: Indian lilac oil
You mix the therapeutic grade Indian lilac oil (12 drops) in a small spray bottle and spray it as mentioned in the way 1. Or you can also soak the collar of your pet in this solution for a few hours. Then you let it dry completely and put it on your pet.
Another choice with Indian lilac oil is to dilute it with almond oil or water at the ratio of 1:10. Then you use your palms to gently rub this diluted oil through your pet's fur.
Learn more: 22 Amazing Benefits Of Neem For Hair, Skin And Health
8. Apple Cider Vinegar
This is another of effective home remedies to get rid of a flea infestation in your pet. Apple cider vinegar will not only kill fleas but also keep them at bay because fleas hate the taste and smell of apple cider vinegar. Besides, this vinegar is non-toxic to both cats and dogs.
How to use:
You mix apple cider vinegar with water at an equal ratio and pour the mixture into an empty spray bottle.
Now, you spray this onto your pet's fur. You should avoid spraying this directly in the pet's ears, nose, and eyes.
Do this again every day to remove fleas completely.
Similarly, you spray this homemade solution on your windowsills, baseboards, furniture, wooden floors, carpets,.., where fleas often appear.
II. Natural Home Remedies To Get Rid Of Fleas In Your House
1. Pennyroyal
Pennyroyal acts as a powerful flea repellent. You simply grind some pennyroyal leaves so that its aroma can be capable of preventing fleas from attacking your pet and your house. However, pennyroyal contains abortive properties, which can cause serious damage to the reproductive systems of both human and animal. If you ensure a completely protected body when using pennyroyal, it will be a simple and effective way to prevent fleas from harming your pet and house. But if you cannot do it, it can cause long-term effects on both your pet and your family members. The reproductive complication is the warning you have to keep in mind when considering to applying pennyroyal to get rid of fleas.
2. Borax
Known as an effective and natural insecticide, borax can desiccate (dry out) fleas, eggs, larvae, and pupae, which, in turn, kills them completely. Here is one of the great home remedies to get rid of fleas in the house with borax, which you can try:
How to use:
Now, you firstly vacuum the carpets along with other areas where fleas stay.
You wear your mask and then sprinkle the borax powder directly on carpets and these areas.
Let it sit for 6 to 8 hours and thoroughly vacuum the carpets and areas where you applied borax once more time.
You may also spread borax on the lawn area around your house to keep fleas at bay.
Note: Borax is very harmful to your lovely pets. Also, be careful when you use it for getting rid fleas, particularly when there are children in the house.
3. Wash The Pet's Belongings
When fleas attack your house by inhabiting your pet, you have to keep an eye on the pet and its belongings. In fact, you have always to check your pet whether its body has fleas or not before you bring it in your house.
You need to rinse areas where your pet lives and its belongings by hot water.
You should also use hot water to wash bedding and clothes of your pet in the washing machine and then let them dry in the sunshine.
Besides, you also have to clean and wash everything which your pet regularly lies or sleeps on.
If the belongings of your pet are not salvageable or are extremely dirty, you'd better throw them away and buy new ones.
4. Food-Grade Diatomaceous Earth
Commonly called as DE, diatomaceous earth can assist you in fighting against a flea infestation in the house. Diatomaceous earth, in fact, contains sharp particles which will be beneficial in penetrating the thin, waxy outer coating of fleas, which will make them dehydrated and then die of lacking water. Because it is food-grade, diatomaceous earth is safe for both humans and animals.
How to use:
You firstly sweep areas where fleas often appear.
Now, you sprinkle a DE powder layer directly on infested areas.
You let the DE sit for about half a day and then vacuum again.
You should reapply this process every week within 2 to 3 weeks.
In addition, you can also use DE to keep this infestation condition in your garden at bay. However, you have to apply it when the weather is dry. You just sprinkle this DE powder in your garden yard for several times weekly.
Note: Do not forget to wear a dust mask whenever you apply this product because breathing DE can irritate your lungs.
5. Citronella Essential Oil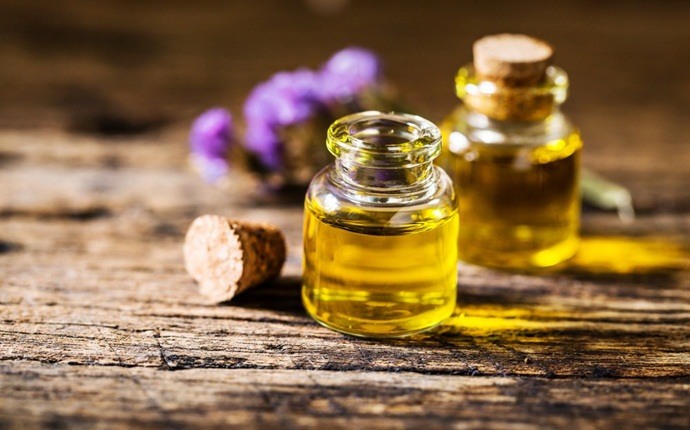 You can also use citronella oil as one of the natural home remedies to get rid of fleas in the house. This oil is safe for both human and pet. Citronella oil is capable of repelling and killing insects such as fleas and ticks, black flies, mosquitoes, etc. You can combine citronella oil with geranium oil, lemongrass oil, and tea tree oil to aid in getting rid of fleas better.
Ingredients:
5 drops of geranium oil
10 drops of lemongrass oil
20 drops of citronella oil
1 liter of warm water
10 drops of tea tree oil
How to use:
You mix all ingredients above together and use this oil mixture to mop your house for about 2 first days.
Then you can mop your house with this once a week to prevent mosquitoes and fleas from attacking your house again.
6. Salt
Applying salt is one the effective home remedies to get rid of fleas in the house. Being a non-chemical and non-toxic ingredient, salt can be applied safely indoors to get rid of fleas. Because it is hygroscopic, the salt will attract moisture while fleas hate moist places. Additionally, the salt also works as a dehydration agent that will be able to dry out the body of fleas, thus causing their death.
How to use:
You just sprinkle a bit of highly refined salt over the wooden floors, carpets, and possible infested areas.
You let the salt stay on there for about 48 hours and then vacuum thoroughly.
Keep doing this on a regular basis within at least a week.
Note: Because salt has the ability to attract moisture, this remedy may be not suitable for humid or very hot conditions.
Learn more: Making Sugar & Sea Salt Scrub Recipes – 19 Recipes For Clear Skin
7. Home Remedies To Get Rid Of Fleas With Horse Apples
Horse apple is a member of the mulberry family and often called as Osage orange. It also has other names such as monkey ball, bodock, bodark, Bois d'arc, or hedge apple. This fruit is often used to help you get rid of insects, including fleas. You simply put one horse apple in each room of your house. It can survive for about 2 to 3 months in the air-conditioned environment. You should also put this fruit in all others parts of your house, especially window sills.
Home Remedies To Get Rid Of Fleas – Additional Tips:
A vacuum cleaner is one of the best weapons to help you fight against fleas. You have to vacuum every area in the house and ensure to immediately clean the vacuum bag.
You should frequently comb the fur of your pet with the help of a fine-toothed comb particularly designed to get rid of fleas.
Do not forget to prune foliage as well as trim grass in the backyard or garden to let flea larvae expose to the sunshine.
Besides, you may also buy electronic traps and sticky flea pads.
Related article: How To Prevent Bed Bugs From Spreading In Your Home: 8 Tips
How To Get Rid Of Bed Bug Bites On Your Skin Naturally – 20 Tips
With 15 natural home remedies to get rid of fleas on dogs, cats, and in the house, I hope that you will find the best way to get rid of fleas on your dogs and cats as well as in your house quickly and effectively. If you need to know about natural tips for various problems related to health, home and life, please access Lifestyle page. Also, share us if you have other effective home remedies to get rid of fleas or leave your comment if you have any question about this problem.
Want More Content Like This In Your Inbox?
Join The Discussion