Are you a fan of peppers? Green peppers, yellow peppers and red peppers, there are various colors for you to choose or mix them together in your healthy bell pepper recipes. Today, if you want to cook a new dish with this lovely vegetable, check out this article on our VKool site immediately!
Healthy Bell Pepper Recipes For People At All Age!
1. Kate's Black-Eyed Pea Salad

Yield: 6 servings 

Ingredients
15 ounces of drained black-eyed peas
2 stalks of chopped celery
1 bunch of chopped green onions
1 chopped green bell pepper
1/4 cup of sugar
3 ounces of bacon bits
1/4 cup of red wine vinegar
2 ounces of drained and diced pimentos
1/4 cup of olive oil
Pepper and salt
2 tablespoons of balsamic vinegar
Prep: 15 mins
Ready in: 3 hrs 15 mins
Instructions
In a large mixing bowl, mix the green onions, black-eyed peas, celery, pimentos, bacon bits and bell pepper
In another bowl, mix the red wine vinegar, sugar, olive oil, salt, pepper and balsamic vinegar
Toss with all the salad ingredients
Chill within 3 hrs before serving
Read on: Paleo Cookbooks
2. Sausage & Peppers For A Dozen
Another choice for your breakfast – Sausage & Peppers For A Dozen. Learn to cook this dish among delicious bell pepper recipes below!
Yield: 12 servings
Read on: 6 easy hearty vegetarian recipes even meat-eaters will love
Ingredients
3 pounds of sweet Italian pork sausages
3 green peppers (cut into 2-inch strips)
3 sliced onions
1 jar of Prego Traditional Italian Sauce
Grated Parmesan cheese
12 Pepperidge Farm Classic Sandwich Buns
Prep: 10 mins
Cook: 1 hr 30 mins
Ready in: 1 hr 40 mins
Instructions
First, put the sausage in a disposable foil pan
Next, bake at 4250F for about 45 mins until the sausage becomes browned, then carefully pour the juices in the pan off
Stir in the peppers onions and pasta sauce, then cover the pan
Bake for about 45 mins more
Then divide the peppers and sausage among roll halves
Top with some cheese and the remaining roll halves
Read on: Fatty Liver Freedom Cookbook
3. Grilled Bell Peppers & Goat Cheese
If you love green bell pepper, try cooking this delicious dish – Grilled Bell Peppers & Goat Cheese among quick bell pepper recipes.
Yield: 12 pieces
Ingredients
2 medium green bell peppers
1 clove garlic (minced)
2 tablespoons of olive oil
1/2 cup of goat cheese
1 tablespoon of lemon pepper seasoning
Prep: 5 mins
Cook: 5 mins
Ready in: 30 mins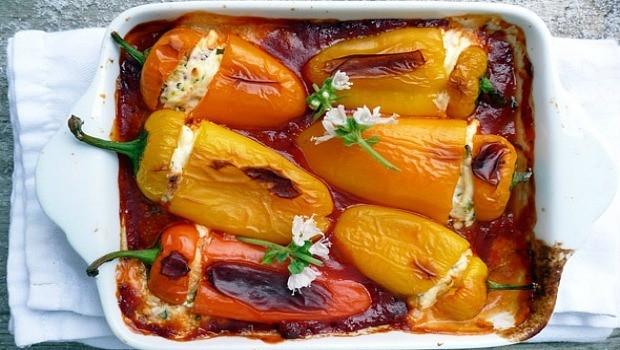 Instructions
First, core and seed the green bell peppers
Next, cut each into 6 wedges, them place into a plastic bag
Add some garlic and drizzle with the olive oil
Next, toss, seal, set aside within 20 mins
Preheat your outdoor grill, and oil the grate lightly
Stir the lemon pepper seasoning and goat cheese together in a bowl; then set aside
Next, cook the peppers, on the preheated grill until they are lightly charred for 3 mins
Flip the peppers over, then carefully spoon some cheese onto the peppers
Close the lid of barbecue, and cook until the cheese is warm and the bottoms are charred lightly for 2 – 3 mins
Read on: 29 good, healthy oatmeal recipes: simple recipes to learn
4. Sausage & Peppers Lasagna
Among simple bell pepper recipes for breakfasts, you just need to spend 30 mins cooking Sausage & Peppers Lasagna and start your working day with full of energy.
Ingredients
1/2 pound of Italian sausage
1 chopped onion
1/2 cup of chopped green pepper
1/2 cup of chopped red pepper
8 ounces of softened PHILADELPHIA Cream Cheese
1/2 cup of milk
2 1/2 cups of KRAFT Shredded Low-Moisture Part-Skim Mozzarella Cheese
1/2 cup of KRAFT Grated Parmesan Cheese
24 ounces of spaghetti sauce
1/2 cup of water
1/2 teaspoon of dried oregano leaves
12 lasagna noodles (cooked)
12 slices of PEPPERIDGE FARM Garlic Texas Toast
Prep: 30 mins
Ready in: 1 hr 30 mins
Read on: 13 easy pork recipes for dinner that everyone loves to cook
Instructions
First, heat your oven to 3500F
Next, brown sausage the peppers and onions
Meanwhile, beat the milk and cream cheese with a mixer until well blended
Then, combine the Parmesan and mozzarella. Reserve 1 to 1/2 cups; and mix the remaining with the cream cheese mixture
Next, drain the sausage; return to the skillet
Stir the spaghetti sauce, oregano and water into the meat sauce
Spread 1/3 meat sauce onto the bottom of a 13×9-inch baking dish
Cover with 3 noodles, plus 1/2 cream cheese mixture
Next, top with 3 noodles, 1/2 remaining meat sauce, plus 3 noodles
Cover with the layers of remaining noodles, cream cheese mixture, reserved cheese and meat sauce
Cover with the foil sprayed with the cooking spray
Bake for about 1 hr until heated through
Then, remove the foil after 45 mins
Let it stand for 15 mins more before cutting and serve
Serve with the toast
Read on: 22 healthy, quick and easy asparagus recipes for asparagus lovers
5. Italian Sausage, Peppers & Onions
Next to bell pepper recipes, you can try cooking Italian Sausage, Peppers & Onions for your dinner tonight!
Yield: 6 servings
Ingredients
4 ounces of sweet Italian sausage
2 tablespoons of butter
1 sliced yellow onion
½ sliced red onion
4 cloves of garlic (minced)
1 red bell pepper (sliced)
1 green bell pepper (sliced)
1 teaspoon of dried basil
1 teaspoon of dried oregano
1/4 cup of white wine
Prep: 15 mins
Cook: 25 mins
Ready in: 40 mins
Instructions
First, place the sausage in a skillet over medium-low heat
Brown on all the sides, then remove from the skillet and slice
Next, melt the butter in the large skillet, stir in the red onion, garlic and yellow onion; cook for 2 – 3 mins
Then, mix in the green bell pepper and red bell pepper
Season with the oregano and basil
Stir in the white wine and continue cooking and stirring until all the peppers and the onions become tender
Next, return the sausage slices to the skillet with all the vegetables
Cover the lid, lower the heat and simmer for about15 mins until the sausage is thoroughly heated
6. Chicken Chorizo On Quinoa &Peppers
Yield: 6 servings
Ingredients
2 tablespoons of butter
6 cups of chicken stock
½ diced onion
3 cups of quinoa
2 tablespoons of extra-virgin olive oil
Pepper and sea salt
1 teaspoon of ground cumin
4 ounces of chicken chorizo sausage links
2 yellow bell peppers (cut into strips)
4 cloves garlic (minced)
1 onion (cut into strips)
2 red bell peppers (cut into strips)
2 teaspoons of Spanish paprika
2 poblano chile peppers (cut into strips)
1 cup of chicken stock
Prep: 35 mins
Cook: 40 mins
Ready in: 1 hr 15 mins
Instructions
First, melt the butter in a pot over medium-low heat
Next, stir in the sea salt and diced onion
Cook and stir occasionally until the onion turns into deep brown for 15 mins
As caramelized, pour in the chicken stock and quinoa
Boil over high-medium heat, then reduce the heat to low
Cover the lid, and simmer for 20 – 25 mins until the quinoa is tender
While cooking quinoa, heat the olive oil in a skillet over medium heat
Brown the sausages in the oil, then turn off the heat
Remove and cut them into ½-inch slices
Return the sausages to your skillet, and cook until they become browned on all the sides
Remove to drain and keep warm
Next, reduce the heat to low, and stir the sliced onion into the oil in the skillet
Continue cooking for about 3 – 5 mins until the onion edges turn golden
Next add the garlic, and continue cooking for 1 min more
Season with the cumin and paprika, then stir in the green pepper, yellow pepper poblano chile peppers, red bell peppers, and the chicken stock. Simmer for about 10 – 15 mins until all the peppers soften, the mixture thickens and reduces
Return the sausages to the large skillet, then season with pepper and salt to tast
Continue cooking 5 to 10 minutes until the sausages are hot
Serve over the bed of quinoa
Read on: Top Quinoa Recipes
Bottom line:
Is there any dish that is new to you in these 6 healthy bell pepper recipes above? Just try cooking and enjoy your favorite bell pepper dishes at home with your family and guests. Thanks for reading. For any comment on the writing on these bell pepper recipes, feel free to drop your feedback at the end of the post!
Want More Content Like This In Your Inbox?
Join The Discussion